Recap: No. 24 Seton Hall Takes Down UConn in Big East Overtime Classic, 90-87
Date: January 9, 2022
By: Ben Harris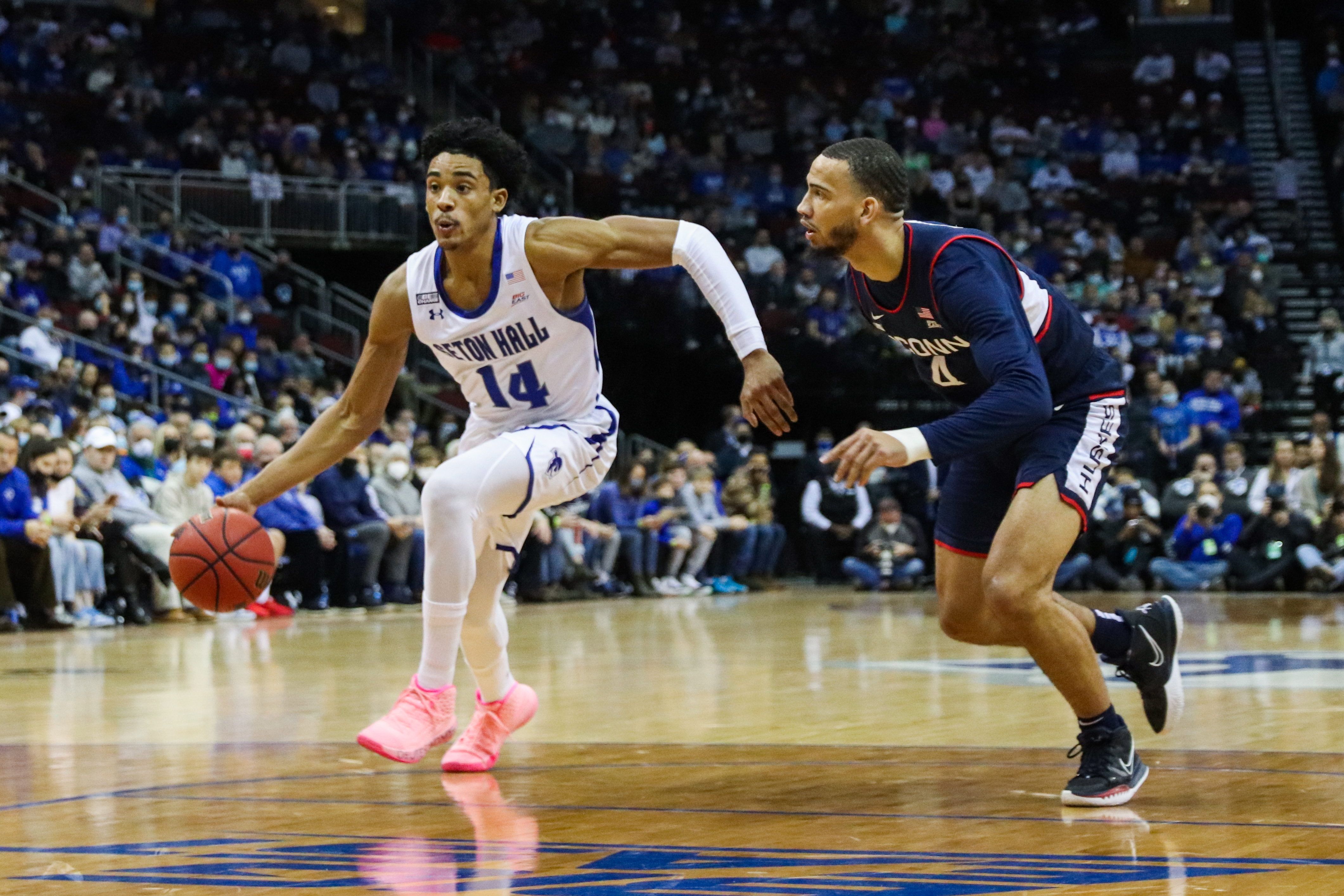 Kayla Fonseca/WSOU Sports
On Saturday afternoon, the No. 24 Seton Hall Pirates men's basketball team (11-3 overall, 2-2 conference) claimed a thrilling overtime victory over the Connecticut Huskies (10-4 overall, 1-2 conference), 90-87, earning their second victory since the start of Big East conference play.
In what many are considering one of the best games of the college basketball season to date, the Pirates backcourt put on a scoring clinic as Bryce Aiken and Kadary Richmond combined for 49 points.
Got it done in overtime ✔️#HALLin ⚪️ pic.twitter.com/byLo9g3xs1

— Seton Hall Men's Basketball (@SetonHallMBB) January 8, 2022
Richmond was the star of the show, however, tallying a career-high 27 points. Despite putting up a forgettable two points and two turnovers in the first half off of the bench, the Syracuse transfer returned after halftime looking like a completely different player out there.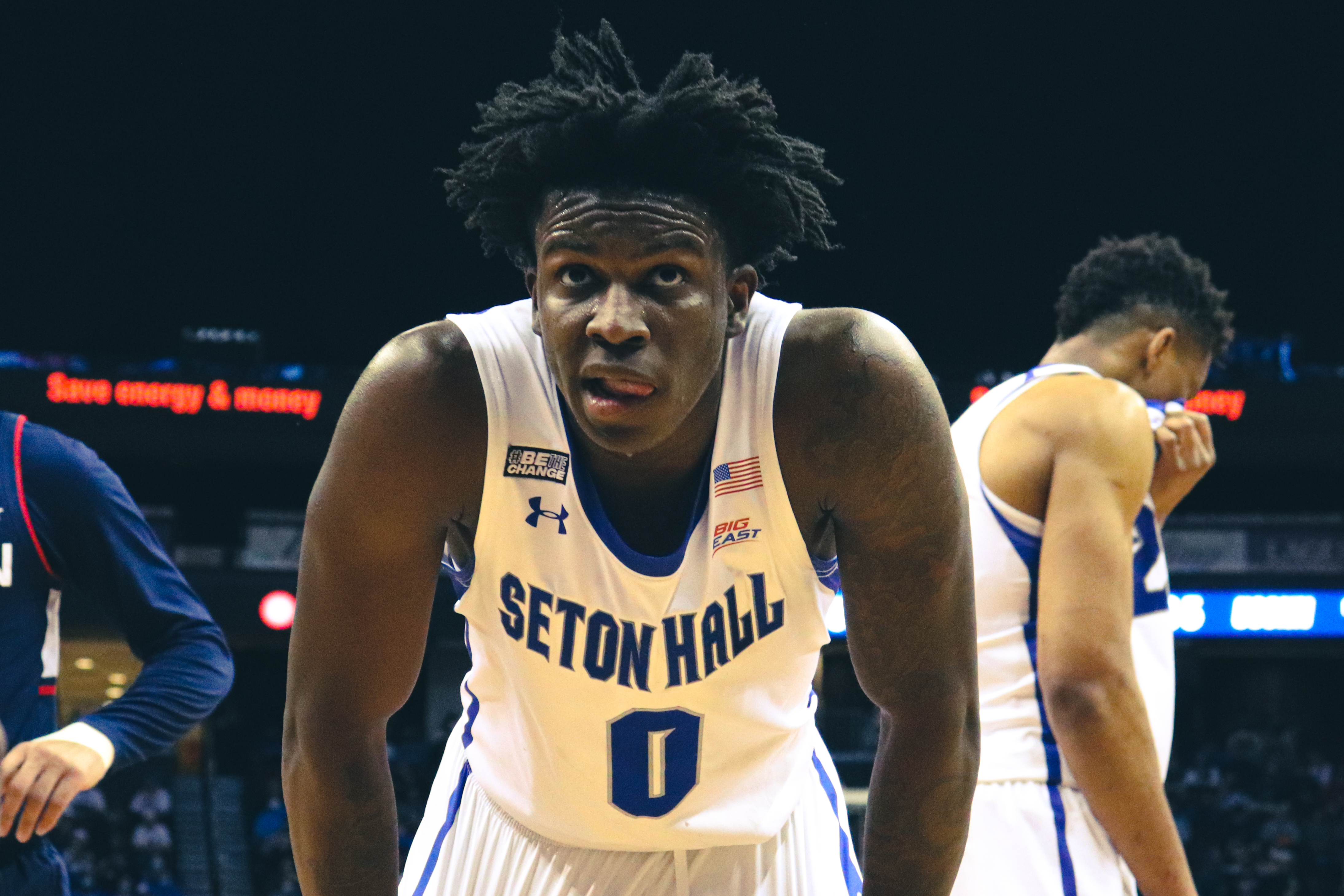 Kayla Fonseca/WSOU Sports
Richmond scored 25 of his 27 points in the second half alone with the majority of them being scored as a part of an insane, single-handed 17-point scoring onslaught from the slashing guard. It was genuinely the type of performance you only see happen once in a lifetime.
The hot hand continues! @KadaryRichmond3 sinks it and draws the foul to give @SetonHallMBB the lead pic.twitter.com/Ywa7hsQYYi

— FOX College Hoops (@CBBonFOX) January 8, 2022
Add some to it #HALLin ⚪️ pic.twitter.com/C8DUgQMOPT

— Seton Hall Men's Basketball (@SetonHallMBB) January 8, 2022
The first half featured some great action, including a Tray Jackson scoring clinic, as the junior forward started hot with a dunk and two straight three-pointers. Jackson finished with 10 points on 4/5 shooting, all in the first half.
Aiken was making great early contributions too, scoring five points but putting his focus on facilitating and running the break, earning five of his seven assists before halftime creating great chances for his teammates.
TJ has hit a bunch of these so far #HALLin ⚪️ pic.twitter.com/UJaCzluksm

— Seton Hall Men's Basketball (@SetonHallMBB) January 8, 2022
Then in the second half, UConn controlled the first four or so minutes, stacking up their biggest lead of the game, 54-45, thanks to a Tyrese Jackson three-ball. This lead was chomped into bit-by-bit as the nine-point lead was combatted by Richmond's 17-point assault.
Down the stretch, Huskies star big man Adama Sanogo made his impact felt on the glass, pulling down 13 of his 16 rebounds in the second period. Sanogo finished with a Huskies-high of 18 points on the afternoon.
However, his scoring was held stagnant, going 2/9 from the field in the second half thanks to some stifling defense from Ike Obiagu, who had six blocks, and Tyrese Samuel, who returned from both COVID and Canada in this game.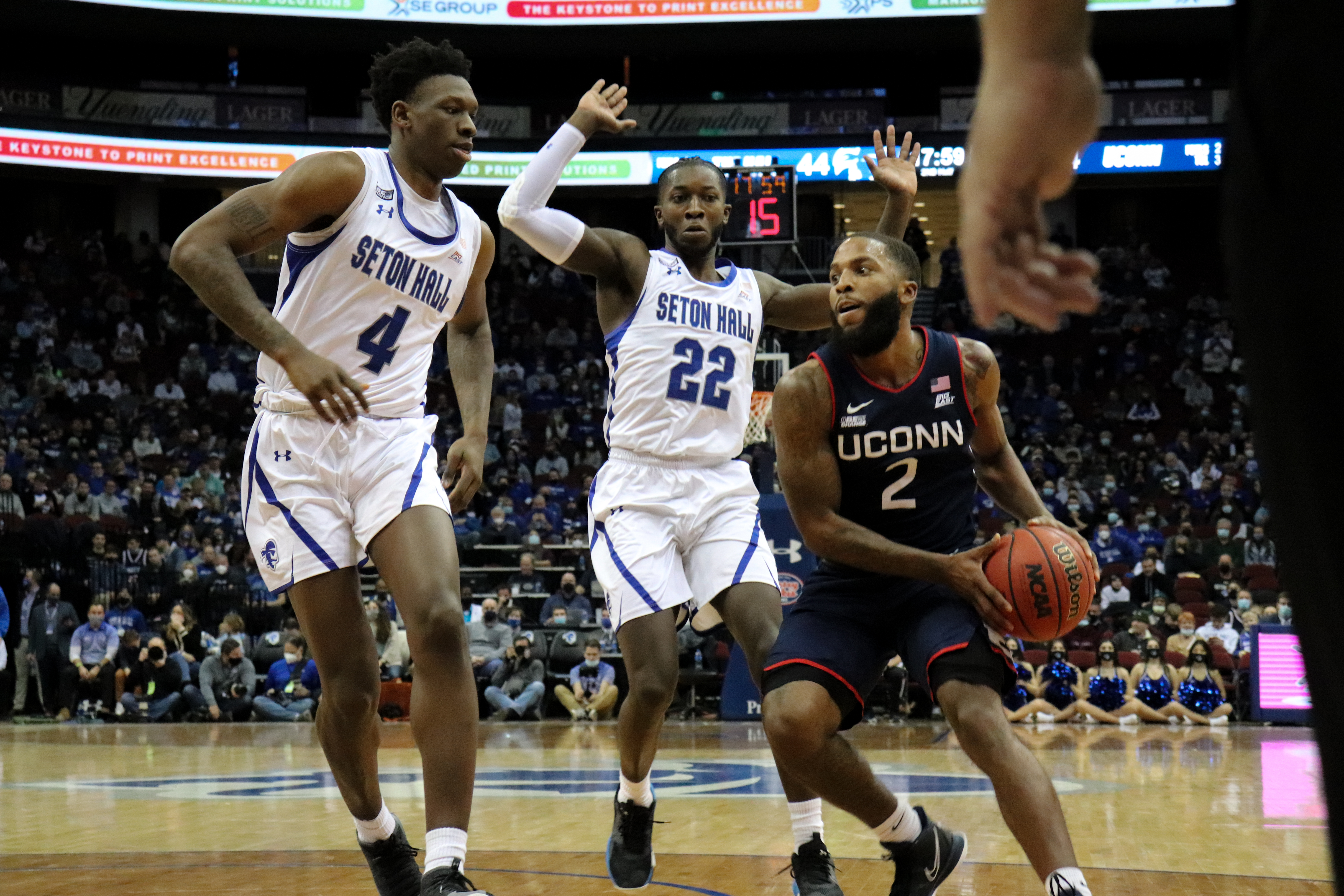 Kayla Fonseca/WSOU Sports
Regulation ended at a 77-77 stalemate as the two teams missed their final five combined shots, including an Aiken three-pointer that was just a little strong at the buzzer.
The overtime period started shakily with only one basket in the first two minutes, but once each squad found a rhythm, the game returned to its hotly contested glory. This one ended up being decided by a clutch defensive stop from senior forward Jared Rhoden, as he stood his ground and disrupted UConn's clock-killing final play, stealing the ball and earning the Pirates possession with just 2.7 seconds left in extra time.
THE STEAL!

Jared Rhoden comes up with a BIG snag to give @SetonHallMBB the ball back! pic.twitter.com/ZjNjvEEF0D

— FOX College Hoops (@CBBonFOX) January 8, 2022
UConn guard R.J. Cole, who scored 15 points for the Huskies, fouled out swiping at Aiken. This burned one second off the clock and sent Aiken to the charity stripe where he sunk both shots to post the final score of 90-87. In short, everyone who bet the over is having a wonderful day.
As if the hard-fought overtime win was not enough to entertain or intrigue, narratives surrounding two of Seton Hall's all-time greats in the making came to light as Rhoden and Myles Cale achieved some impressive career milestones.
Rhoden shot his way into the 1000-point club, dropping a cool 15 points to land exactly on the landmark number. He's now the 47th Pirate in program history to hit the milestone.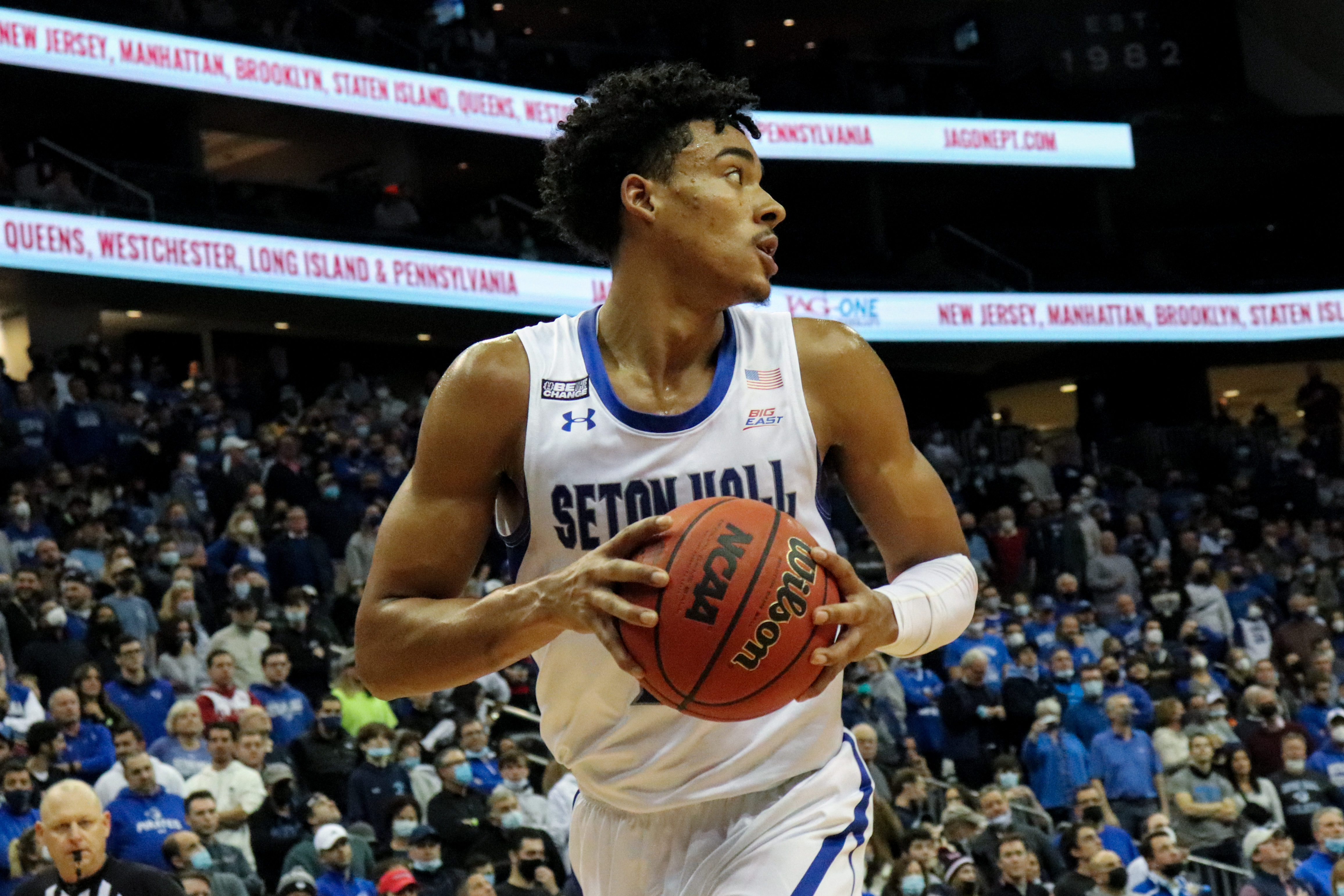 Kayla Fonseca/WSOU Sports
As for Cale, he became Seton Hall's all-time leader in career games played, with his start against UConn being his 136th game in blue and white.
When asked about breaking his former teammate Michael Nzei's record, who color commentated the game for AM 970 for the special occasion, Cale said, "It's an honor, you know? I'm blessed to even be in this position that I'm in now…I just did it through hard work throughout my whole five years here and I'm glad I could be stamped in Seton Hall history."
Cale's record will likely stand the test of time, as he was able to achieve it via the fifth season of play that was granted by the NCAA's COVID eligibility extension.
There's the record! @Killem_Myles ➡️ 136 career games played#HALLin ⚪️ pic.twitter.com/XVY8E52Qve

— Seton Hall Men's Basketball (@SetonHallMBB) January 8, 2022
I also had the chance to ask head coach Kevin Willard what these two players and their milestones meant to him, with Willard saying that "Cale is one of the most consistent and one of the best players that I've ever coached. I know what I'm getting every night, I never worry about Myles Cale. He's a superior young man, he's a great teammate and phenomenal defender."
Willard then said that "Rhoden's probably one of the hardest workers I've ever had…I think the best thing about both of them is that they're both high-level people, and I think that's why they've achieved what they've achieved."
Let's get to the highlights...#HALLin ⚪️ pic.twitter.com/xVU7Pojtox

— Seton Hall Men's Basketball (@SetonHallMBB) January 8, 2022
The Pirates will play their next game this upcoming Thursday as they travel to Chicago to take on Javon Freeman-Liberty and the DePaul Blue Demons.
Of course, WSOU 89.5 FM, your home for Seton Hall hoops, will bring you radio coverage via the broadcasting duo of Heaven Hill and Joe Matthews for the 5:00 p.m. tipoff. The Pirates will look to continue their winning streak and move up in the national polls in what should be an exciting Big East matchup.
Ben Harris can be reached at benjamin.harris@student.shu.edu.
Posted in: Men's Basketball, Sports, WSOU