Recap: No. 24 Seton Hall Picks Up First Big East Victory at Butler, 71-56
Date: January 5, 2022
By: Justin Nicosia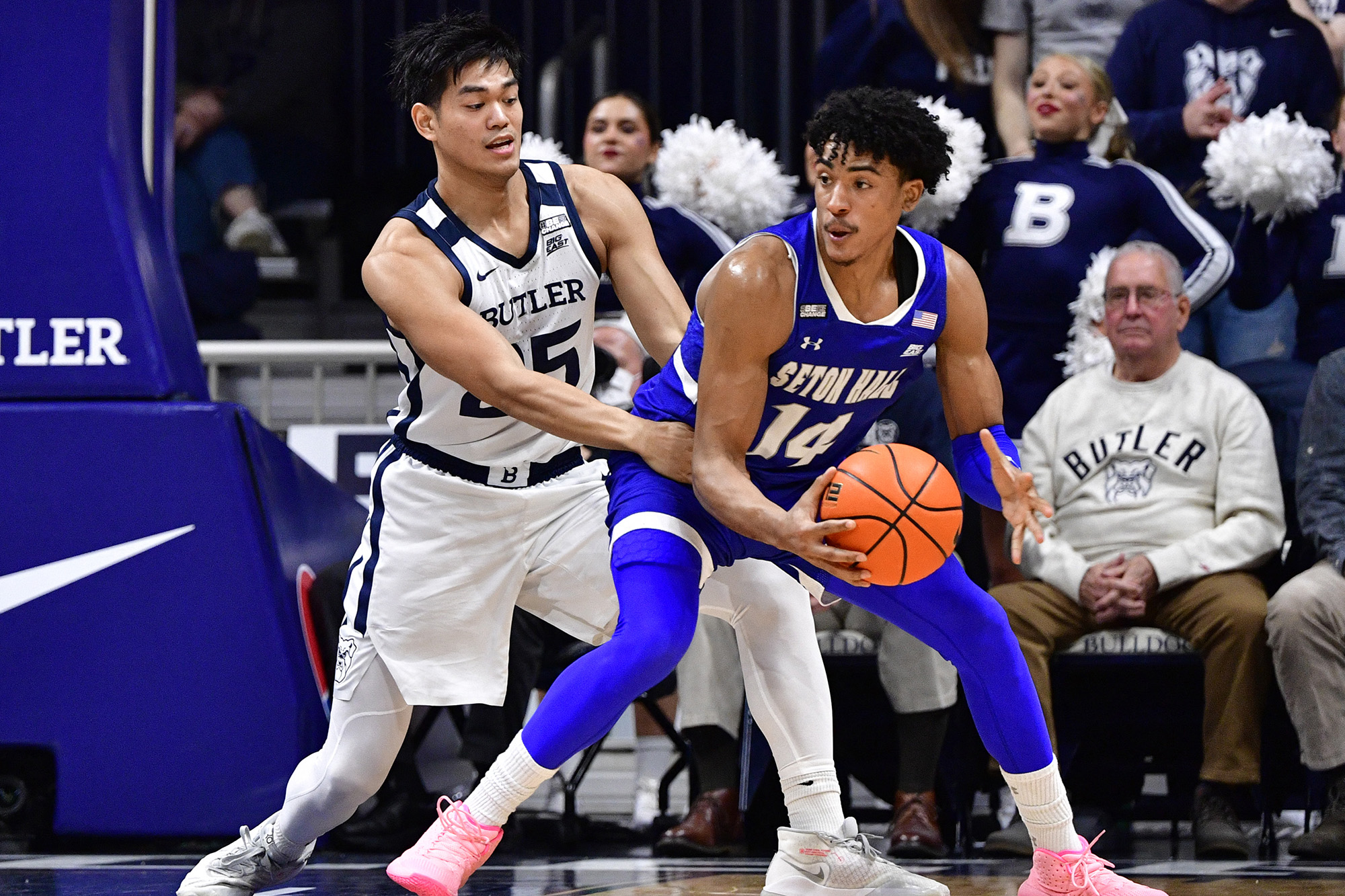 USA TODAY Sports
The Seton Hall men's basketball team (10-3, 1-2 Big East) defeated the Butler Bulldogs (8-5, 1-1 Big East) in Indianapolis Tuesday night by a final score of 71-56.
The No. 24 Pirates got a much-needed victory after dropping their two games last week. While the losses could be excused by the adversity the team faced due to COVID protocols, Seton Hall could not afford falling to 0-3 to start conference play.
"I love their heart, their resilience. ... [Jared Rhoden] had COVID and he's out here playing 32 minutes a game."

—@SetonHallMBB head coach Kevin Willard after the Pirates' first @BIGEASTMBB win pic.twitter.com/DaU1npc3Av

— CBS Sports Network (@CBSSportsNet) January 5, 2022
The biggest surprise of the night came pregame, when the team announced the return of three players from COVID protocols, the biggest being Ike Obiagu. Just this past Saturday, head coach Kevin Willard said the team did not expect anybody to return from protocols until after Tuesday's game.
Players available tonight for @SetonHallMBB

Ike Obiagu
Ryan Conway
Tyler Powell

— Adam Zagoria (@AdamZagoria) January 5, 2022
As for Tyrese Samuel, Seton Hall's other rotational member in COVID protocols, his status for Saturday's game against UConn remains unknown. During CBS Sports Network's broadcast of the game, it was reported that Samuel was in his hometown of Montreal, Canada for the Christmas break and was in isolation there. Jerry Carino reports that he returned to the states today.
Kevin Willard says he will have to see how Tyrese Samuel looks before he decides if he'll play Saturday vs @UConnMBB

He's been out on Covid protocols

— Adam Zagoria (@AdamZagoria) January 5, 2022
It was said during the TV broadcast that Seton Hall forward Tyrese Samuel is stuck in Canada.
While his return may have been delayed -- I don't know his COVID dynamics -- I have it on good authority that he returned to the U.S. today. He's back on campus.

— Jerry Carino (@NJHoopsHaven) January 5, 2022
The return of Obiagu and his interior presence was felt the entire time that he was on the court. He finished the game with two blocks and eight points on 3/3 shooting, including a pair of dunks. While Obiagu was not initially expected to play significant minutes, he felt well enough throughout the game to play 28 total minutes.
Willard, telling Cohen & Pop why he played Ikey 28 minutes:
"I kept asking the big fella, 'How you feeling?'"
"He said, 'Coach, I feel fine.'
"I said, 'As long as you keep feeling fine, you're going to keep staying out there.'

— Jerry Carino (@NJHoopsHaven) January 5, 2022
Perhaps the biggest impact of Obiagu's return was that it boosted Seton Hall's size advantage, paving the way for the team to win the rebounding margin, 36-25. Although Obiagu only grabbed three rebounds, his presence on the court paved the way for forwards Alexis Yetna and Tray Jackson to grab 10 and six rebounds, respectively.
The aforementioned Yetna also finished with 14 points and a pair of three-pointers, as he notched his fourth double-double of the season.
FINAL - Seton Hall 71, Butler 56

In a game the Pirates needed, they earn their first Big East W. Ike Obiagu made a big difference in his return that stats don't even tell - 8 points, 2 blocks. Alexis Yetna posted a double double with 14 and 10. Up next for SHU: UConn. Saturday.

— John Fanta (@John_Fanta) January 5, 2022
Other Pirates in double figures included Jared Rhoden and Bryce Aiken. Rhoden finished with 17 points, including making 3/7 from behind the arc and all six of his free throws. Twice at the beginning of the second half, Butler hit a three pointer to cut Seton Hall's lead to just five. Both times, Rhoden responded with a three of his own.
J Body is that dude #HALLin ⚪️ pic.twitter.com/zYVJoSDfSp

— Seton Hall Men's Basketball (@SetonHallMBB) January 5, 2022
As for Aiken, his 12 points came off of a very efficient 4/6 from the field and ½ from three. He also had a great impact in the passing game, assisting on seven of Seton Hall's shots. His seven assists accounted for more than half of the team's total of 13.
On the Butler side of things, senior forward Bryce Golden led the way with 19 points on 7/9 shooting and 2/3 from behind the arc. Seton Hall did a good job at containing the rest of the team, especially from the perimeter, as the rest of the Bulldogs combined for just 4/22 from three-point land.
The two Bulldogs who struggled from behind the arc the most were senior forward Bryce Nze and freshman guard Jayden Taylor.
Nze entered Tuesday shooting just 30.0% from behind the arc, and his woes continued, making just 1/7 such attempts. He was a force to be reckoned with defensively, however, as he recorded three steals and two blocks.
Taylor entered the day with only a 26.3% shooting percentage from outside, and he was just two of even from downtown Tuesday. He also had two steals on defense.
With Tuesday's win, the Pirates improve their record to 10-3 and 1-2 in conference play. The 56 points by Butler was Seton Hall's best defensive performance against a power conference school since Feb. 17 of last season when DePaul scored 52.
"After last week, I called my financial advisor and I made sure to buy TONS of stock in Seton Hall."

—@JonRothstein on @SetonHallMBB pic.twitter.com/3lM1m3A3Ay

— CBS Sports Network (@CBSSportsNet) January 4, 2022
Seton Hall will return to action Saturday at noon when they take on UConn from the Prudential Center. WSOU's coverage of that game will begin at 11:30 a.m., with Heaven Hill and Rony Jerez on the call, and Joe Matthews and Jorie Mickens on Hall Line.
Justin Nicosia can be reached at justin.nicosia@student.shu.edu.
Posted in: Men's Basketball, Sports, WSOU