Recap: No. 21 Seton Hall Drops Heartbreaker to Ohio State in Fort Myers Tip-Off, 79-76
Date: November 22, 2021
By: Jorie Mickens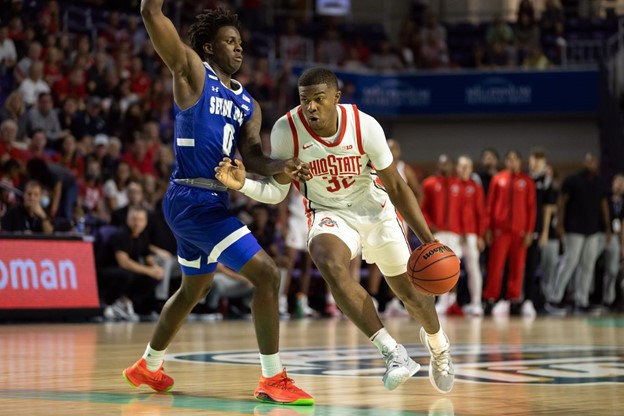 Matt Pendleton/USA TODAY Sports
The No. 21 Seton Hall men's basketball team fell to the Ohio State Buckeyes in their first game of the Rocket Mortgage Fort Myers Tip-Off Monday by a score of 79-76.
The first 10 minutes of the contest was a back-and-forth affair. Neither team took more than a three-point lead until the 9:04 mark when senior Myles Cale gave the Pirates a five-point lead (24-19).
But that basket proved costly for the Pirates as Cale suffered a lower body injury on the play. He did not return for the rest of this game and if he misses an extended period of time, that could be detrimental for Seton Hall. The Buckeyes went on a 14-2 run over the next four minutes and led 33-26 with 4:59 remaining in the first half.
A midrange jumper by Seton Hall's Jared Rhoden ended the scoring drought for the Pirates, and Seton Hall finished the first half on a 7-2 scoring run, trailing by just five heading into the halftime break.
Jared Rhoden drills the 3 for @SetonHallMBB 🔥

The Pirates have an answer for everything Ohio State is throwing at them so far 😤 pic.twitter.com/oYQrQScgJM

— FOX College Hoops (@CBBonFOX) November 22, 2021
Rhoden had a game-high 16 points and four rebounds in the first half for Seton Hall, but no other Pirate scored more than six points. Ohio State's E.J. Liddell matched Rhoden's 16 points through the first 20 minutes of the contest.
The Buckeyes opened the second half on a 5-0 run, pushing their lead to 10 before Rhoden knocked down a free throw to give Seton Hall their first points of the second half.
A dunk by Ohio State's Zed Key and a three-pointer from Kyle Young pushed the Buckeyes' lead to 11 with 15:16 remaining, the second-largest lead of the game for either squad.
Down 10 points with 10:36 remaining, the Pirates went on a 12-2 run to cut the lead to two points (63-61). But the Buckeyes never looked rattled, as Justin Ahrens knocked down a three-pointer to push their lead to five with 6:59 remaining.
BRING THAT ENERGY BRYCE#HALLin 🔵⚪️ pic.twitter.com/K9FtJCEbgm

— Seton Hall Men's Basketball (@SetonHallMBB) November 23, 2021
A layup by Rhoden brought Seton Hall back within three points with 5:13 remaining, but Ohio State converted four straight free throws and pushed their lead back to seven (72-65).
With 3:26 remaining, Seton Hall scored back-to-back buckets to bring themselves back within two: first a midrange jumper from Rhoden and then Bryce Aiken drilled a deep three-pointer for the Pirates.
"𝘣𝘪𝘨 𝘵𝘪𝘮𝘦 𝘥𝘦𝘭𝘪𝘷𝘦𝘳𝘺!"

Jared Rhoden has a career-high 2⃣7⃣ for @SetonHallMBB and the Pirates are right in it. Get to FS1! @CBBonFOX x #BIGEASThoops pic.twitter.com/FQLMWKzqVu

— BIG EAST MBB (@BIGEASTMBB) November 23, 2021
With 1:27 remaining, following three straight free throws from Ohio State, Rhoden scored his 28th and 29th points of the game at the free throw line, bringing the Pirates within two (76-74).
Three possessions later, with 14 seconds remaining in the game, Jamir Harris intercepted a pass and converted a game-tying layup on the other end (76-76). But the Buckeyes got the last laugh as Meechie Johnson Jr. knocked down a game-winning three-pointer with two seconds remaining in the game, subsequently handing the Pirates a 79-76 loss.
ICE IN HIS VEINS 🥶 @MeechieJohnson0 MY GOODNESS

Go ahead bucket for @OhioStateHoops! pic.twitter.com/2qXEIYZbfy

— FOX College Hoops (@CBBonFOX) November 23, 2021
Rhoden scored a new career-high in the defeat, totaling 29 points to go along with five rebounds, one block and one steal. Aiken added a season-high 16 points for Seton Hall as well. Liddell scored 28 points for Buckeyes in the win.
On to the next one. pic.twitter.com/52y8fmcYsL

— WSOU Sports (@WSOUSports) November 23, 2021
The Pirates are now 3-1 on the season and will take on the loser of the Florida-California game this Wednesday. Stay tuned into 89.5 FM WSOU to hear Heaven Hill and Wilnir Louis on the call from Florida.
Jorie Mickens is an Assistant Sports Director for WSOU Sports and can be reached at jorie.mickens@student.shu.edu.
Posted in: Men's Basketball, Sports, WSOU