Recap: No. 20 Seton Hall Drops Big East Clash at DePaul, 96-92
Date: January 13, 2022
By: Joe Cammarota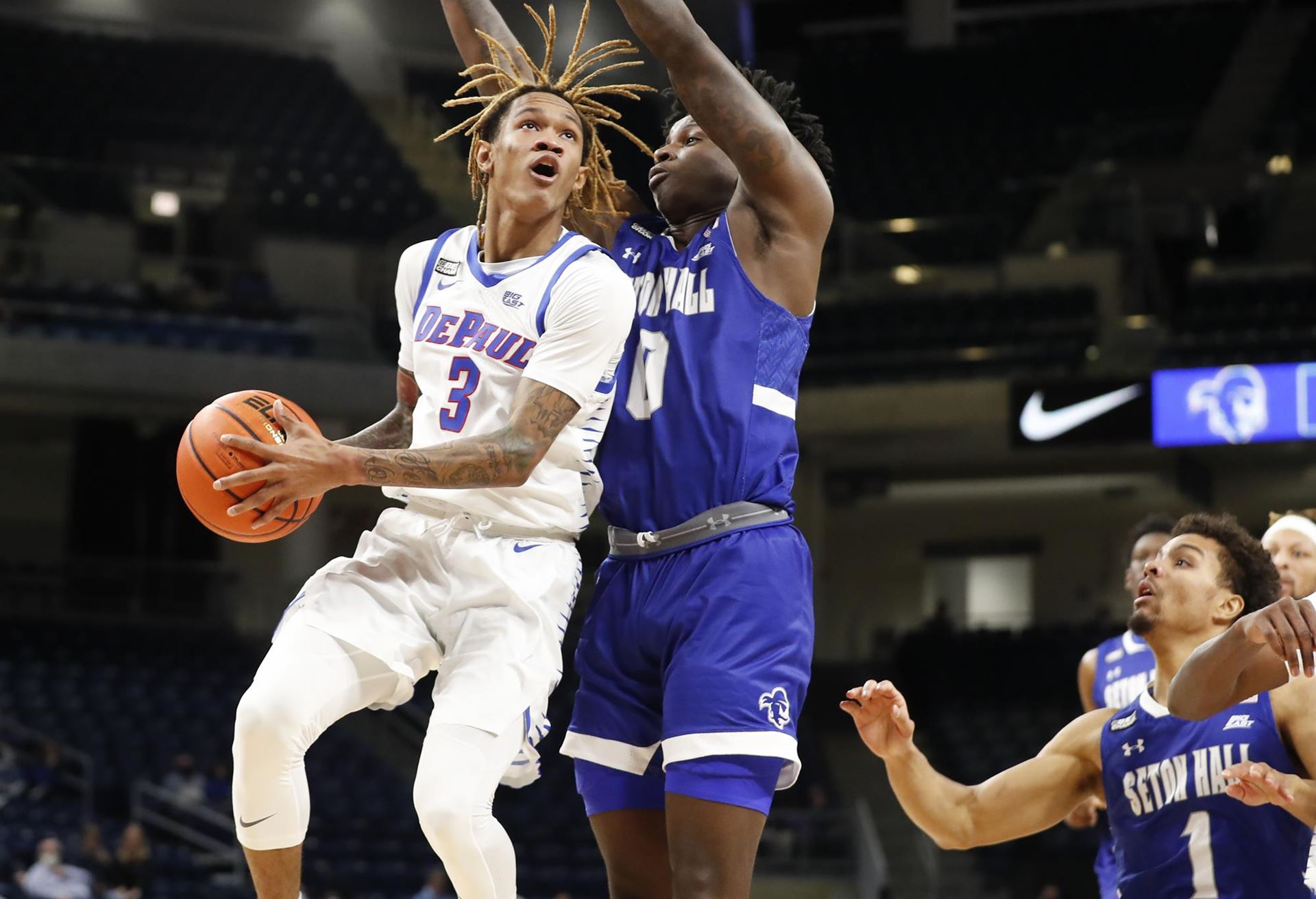 Steve Woltmann/DePaul Athletics
The Seton Hall men's basketball team (11-4, 2-3 conference) allowed the most points they have so far this season in a half (52), and they fell to the DePaul Blue Demons (10-6, 1-5 conference), 96-92, despite a late comeback attempt.
Seton Hall got off to a slow start, as they dug themselves into a hole that was a bit too deep to climb out of. The Pirates never got their feet under them, as right from the get-go, the upset-minded Blue Demons got up big.
To start the contest, DePaul, led by Javon Freeman-Liberty, landed early uppercut blows on offense. At one point before the under-12 media timeout, the Blue Demons led 20-9. DePaul was able to pound the rock down low and get easy buckets on the Pirates.
As the first half progressed, DePaul had an answer for everything Seton Hall threw at them. A deep Bryce Aiken three that cut the DePaul lead to seven was answered by a three Jalen Terry to restore the Blue Demon's lead to double-digits.
has made it to Chicago. @SetonHallMBB x #BIGEASThoops pic.twitter.com/8JfDPSAtug

— BIG EAST MBB (@BIGEASTMBB) January 13, 2022
However, as the first half was coming to an end, the upset-minded Blue Demons took it up another notch. DePaul was able to get to the foul line and force multiple turnovers and extended their lead to 17 to end the half.
Part of the DePaul's early success was due to their shooting. At one point early in the first half, DePaul was shooting over 50% from the field, which helped them jump out to the aforementioned 20-9 lead early on.
While they did cool down a bit, the Blue Demons still shot at a relatively high clip from the field and from behind the three-point line. At the end of the first half DePaul finished shooting at 46% from the field, 29% from three, and 93% from the charity stripe.
The swipe and the score

Deivi makes a hustle play. We're approaching halftime and building the lead pic.twitter.com/GKQXbVYTmU

— DePaul Basketball (@DePaulHoops) January 13, 2022
On the other hand, Seton Hall struggled with both turnovers and shooting in the first half. The Hall turned the ball over seven times, and shot only 38% from the field, 29% from three and only 75% from the free throw line.
The second half started as Seton Hall began to cut into the DePaul lead. Early on, Tray Jackson had a huge slam dunk to energize a Seton Hall team that badly needed to be woken up. Despite going on a bit of a run the first couple of minutes, at the under-16 media timeout, the Pirates still trailed by 17.
OMG THIS IS JUST NASTY‼️@_Trayjacks brining the pain as he slams it down for @SetonHallMBB pic.twitter.com/DxZCHzEdqB

— FOX College Hoops (@CBBonFOX) January 13, 2022
Unfortunately for DePaul, star guard Freeman-Liberty suffered a lower body injury for a few minutes but was able to return to the game. However, he could not play for much longer as he was in a lot of pain while back on the court.
DePaul did not miss a beat though, as both Terry and sophomore forward David Jones took the reins of the DePaul offense and had stellar offensive performances, finishing with 27 and 24 points, respectively.
Finding room, knocking it down ✅@JalenTerry makin' plays. pic.twitter.com/YW8x00SX9x

— DePaul Basketball (@DePaulHoops) January 13, 2022
With Freeman-Liberty out, Seton Hall was able to cut the deficit to two with just under 20 seconds to go, as they were able to force a ton of turnovers and hit clutch shots in the final two minutes of the half.
However, it was too little too late as Seton Hall just continued to get in their own way throughout the night with fouls and turnovers. In the end, Seton Hall picked up their first resume-hurting loss of the season, and DePaul picked up their first win of conference play.
Jared Rhoden and Aiken led the Pirates in the losing effort, as Rhoden scored a team-high 25, and Aiken followed with 22. They were certainly two bright spots for the Pirates on a tough night all around.
Fought till the end but wasn't our night. Quick turnaround and back at it on Saturday at Marquette.#HALLin ⚪️

— Seton Hall Men's Basketball (@SetonHallMBB) January 14, 2022
Seton Hall will be back in action on Saturday, as they take on Marquette at 12:00 p.m in a Big East matinee showdown in Milwaukee.
Joe Cammarota can be reached at joseph.cammarota@student.shu.edu.
Posted in: Men's Basketball, Sports, WSOU