Recap: Mamu scores 1,000th point as the Hall tops DePaul, 60-52
Date: February 18, 2021
By: Joe Matthews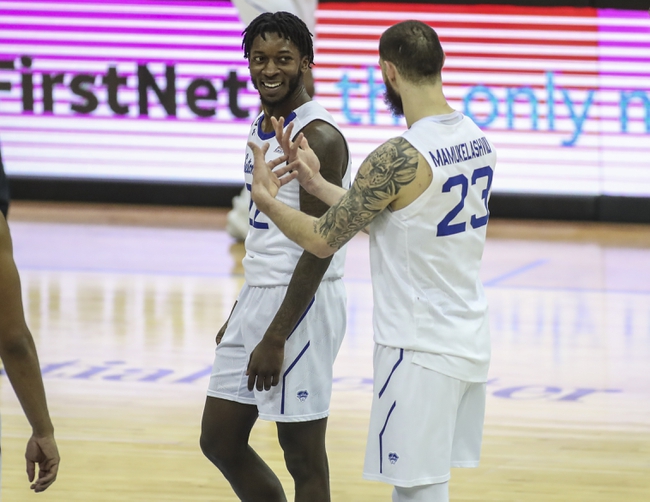 Wendell Cruz/USA TODAY Sports
Seton Hall escaped with another sloppy win against DePaul on Wednesday night. The Pirates' 60-52 victory extended their winning streak to four games.
The Pirates got out to a slow start, something we've seen a couple of times so far this year. They entered halftime trailing 31-27 to the Blue Demons. In the second half, they stepped up their play a bit. They pulled ahead in the second half with a 9-0 run and didn't relinquish the lead after that.
Mamu ➡️ Cale caps a 9-0 run and gives @SetonHallMBB its largest lead of the night! pic.twitter.com/k8v4YOxTkT

— #BIGEASThoops (@BIGEASTMBB) February 18, 2021
The big storyline of the night for the Pirates, however, was Sandro Mamukelashvili. He had another dominant night, scoring 25 points and grabbing 11 boards. It was not only an impressive showing for Mamu, but a record-setting one. Within those 25 points came the 1,000th of Mamu's collegiate career.
After sinking a free throw in the second half, he became the 45th member of an exclusive Seton Hall Pirate club. Mamu's stellar senior season just continues to etch him into both Seton Hall history, and nation-wide recognition.
On route to Sandro Mamukelashvili scoring a team-high 25 points tonight, he became the 45th player in Seton Hall's history to score 1,000 career points!

Congratulations @Mamukelashvili5 pic.twitter.com/EwxAFNyY20

— WSOU Sports (@WSOUSports) February 18, 2021
Other than Mamu, the Pirates also got support from Jared Rhoden, who dropped 17 points to go along with four rebounds and three blocks. Myles Cale also scored in double figures, with 11 points of his own. However, outside of those three, the Pirates had trouble finding scoring. The big three of Cale, Mamu, and Rhoden wound up accounting for 53 of the Pirates' 60.
Only two other Pirates, Tyrese Samuel and Jahari Long, scored points tonight, with five and two, respectively. Shavar Reynolds in particular had an off-night shooting, going 0 of 7 from the field. Reynolds still contributed with five assists and six rebounds.
DePaul played a solid game, led by 15 points from Pauly Paulicap, and 13 from Kobe Elvis. However, the Blue Demons were ultimately done in by costly turnovers and fouls. Seton Hall shot 11 more free throws than DePaul in the contest.
The game doesn't leave Pirates fans with a great taste in their mouth, but a win is a win, nonetheless. The Pirates have four more games on their schedule to finish out the season, and no team stands out as a huge roadblock. They face four beatable teams in Georgetown, Butler, UConn and St. John's.
.@SetonHallMBB puts the clamps on late and nabs its 10th #BIGEASThoops win! pic.twitter.com/QstDJG8ue0

— #BIGEASThoops (@BIGEASTMBB) February 18, 2021
As Kevin Willard and his team look to put a bow on their NCAA tourney resume, it's crucial for them to not fall prey to a trap game in any of their final four contests. With some clean play, the team can certainly run the table, and find themselves going dancing in March.
The Pirates' next contest comes on Feb. 20 at Georgetown. Be sure to tune in to 89.5 FM WSOU for all the coverage you need for the late-season Big East brawl between two of the original teams of the conference.
Joe Matthews can be reached at joseph.matthews@student.shu.edu.
Posted in: Men's Basketball, Sports