Recap: LPL and AEH lead the Pirates back to a victory over the Hoyas, 79-72
Date: February 18, 2021
By: Jonathan Heite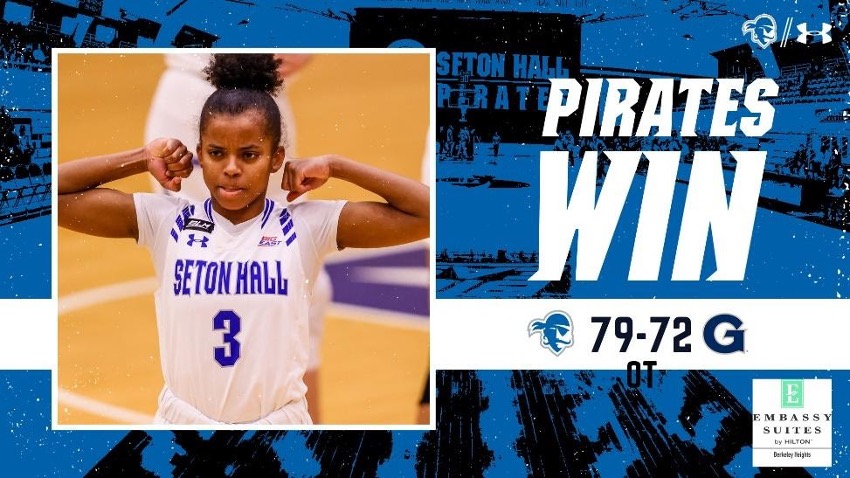 Seton Hall Athletics
On a snowy Thursday morning, Seton Hall avoided a potential upset and defeated Georgetown 79-72 in overtime. The Pirates improved to 10-6 (8-5 conference), while the Hoyas dropped to 1-12 overall. This game was an emotional rollercoaster from start to finish as the Pirates took home the victory behind some big-time performances.
Dynamic guard Lauren Park-Lane tallied a career high 32 points (9 of 17 from the field) and also recorded four assists to catapult the Pirates to their 10th win of the season. Offensive superstar Andra Espinoza-Hunter was right behind her with 26 points (5 of 11 from three) and five rebounds, and to complete the team's "big three", Desiree Elmore was just shy of a double-double, contributing 13 points and nine rebounds.
Lauren Park-Lane getting acrobatic for the AND ONE!!#HALLin pic.twitter.com/2yJPB5fhUS

— Seton Hall Women's Basketball (@SHUWBB) February 18, 2021
On the Hoyas side, this was a squad coming into the contest ranked dead last in the nation in three-point field goal percentage but had a plethora of scoring from players across the board. Sophomore Graceann Bennett led the way with 17 points and eight rebounds, junior Jillian Archer recorded 16 points and seven rebounds, and New Jersey native and freshman standout Kelsey Ransom almost had a triple double, finishing with 14 points, 10 assists, and eight rebounds in the loss. Georgetown's leading scorer on the season, Milan Bolden-Morris, was held to nine points on the day.
This was a must-win matchup for the Lady Pirates, who have lost their last three straight games against some of the best in the Big East (No. 1-ranked UConn, No. 19-ranked DePaul, tough Creighton team), and started off strong in the first quarter by jumping out to an early 16-6 lead. Espinoza-Hunter scored 10 points during this stretch while also going a perfect seven for seven from the free throw line.
By halftime, the Pirates still had a commanding 31-23 lead, despite Georgetown holding their own throughout the entire second quarter. However, the Hoyas took over the game in the third, outscoring Seton Hall 23-16. Bennett was an x-factor throughout this stretch, tallying nine points on a perfect 4 of 4 shooting from the field. The Pirates simply broke down defensively, and the Hoyas even took the lead with 1:38 remaining after a Bennett layup.
Graceann Bennett with the cut! @GeorgetownWBB take their first lead of the game!#BIGEASTwbb pic.twitter.com/EaK54xwiB1

— BIG EAST WBB (@BIGEASTWBB) February 18, 2021
The Hoyas continued to gain momentum in the fourth period, despite the Pirates originally maintaining a 47-46 lead. Each team hit clutch baskets throughout the entire quarter, but the biggest of them all was an Espinoza-Hunter three pointer to tie the game 64-64 at the end of regulation. This shot arguably saved the Pirates' season, as a fourth straight loss could have eliminated the team's NCAA tournament hopes once and for all.
ANDRA ESPINOZA-HUNTER TIES THE GAME!!! W''RE GOING TO OVERTIME!!!#HALLIn pic.twitter.com/Otl3P0nhYw

— Seton Hall Women's Basketball (@SHUWBB) February 18, 2021
After the game was sent into overtime, Seton Hall gained momentum and outscored the Hoyas 15-8 to give the Pirates the much-needed victory. Park-Lane continued her offensive prowess and knocked down multiple clutch free throws, finishing 11 of 12 from the line on the day.
Despite stealing a win against a hungry Georgetown team who wanted to win more than one game this season, more work needs to be done to have a respectable finish to the season. Outside of their three top scorers, the Pirates only had six total bench points (all from transfer sophomore Mya Bembry), and only had one other offensive contribution in sophomore Mya Jackson, who struggled with two points on one of six shooting. Look for Jackson, junior Alexia Allesch, senior Jasmine Smith, and freshman Amari Wright to have better performances during the remainder of their conference schedule.
Mya Bembry has scored the last four points for The Hall, including a huge three-pointer. Pirates lead, 51-50, with 4:48 left to play. Media timeout.#HALLin pic.twitter.com/wnjSkwBHxk

— Seton Hall Women's Basketball (@SHUWBB) February 18, 2021
Up next, the Hoyas will be back at home on Sunday against Villanova, while the Pirates will look to start a new winning streak against the Providence Friars on Saturday once again at Walsh Gymnasium. 89.5 FM WSOU will have gameday coverage beginning at 12:45 p.m. with Liam Plate and yours truly on the call. Make sure to tune in!
Jonathan Heite can be reached at jonathan.heite@student.shu.edu.
Posted in: Sports, Women's Basketball