Preview: Streaking Pirates Take on No. 20 Golden Eagles at The Rock
Date: January 20, 2023
By: Matthew Soetebeer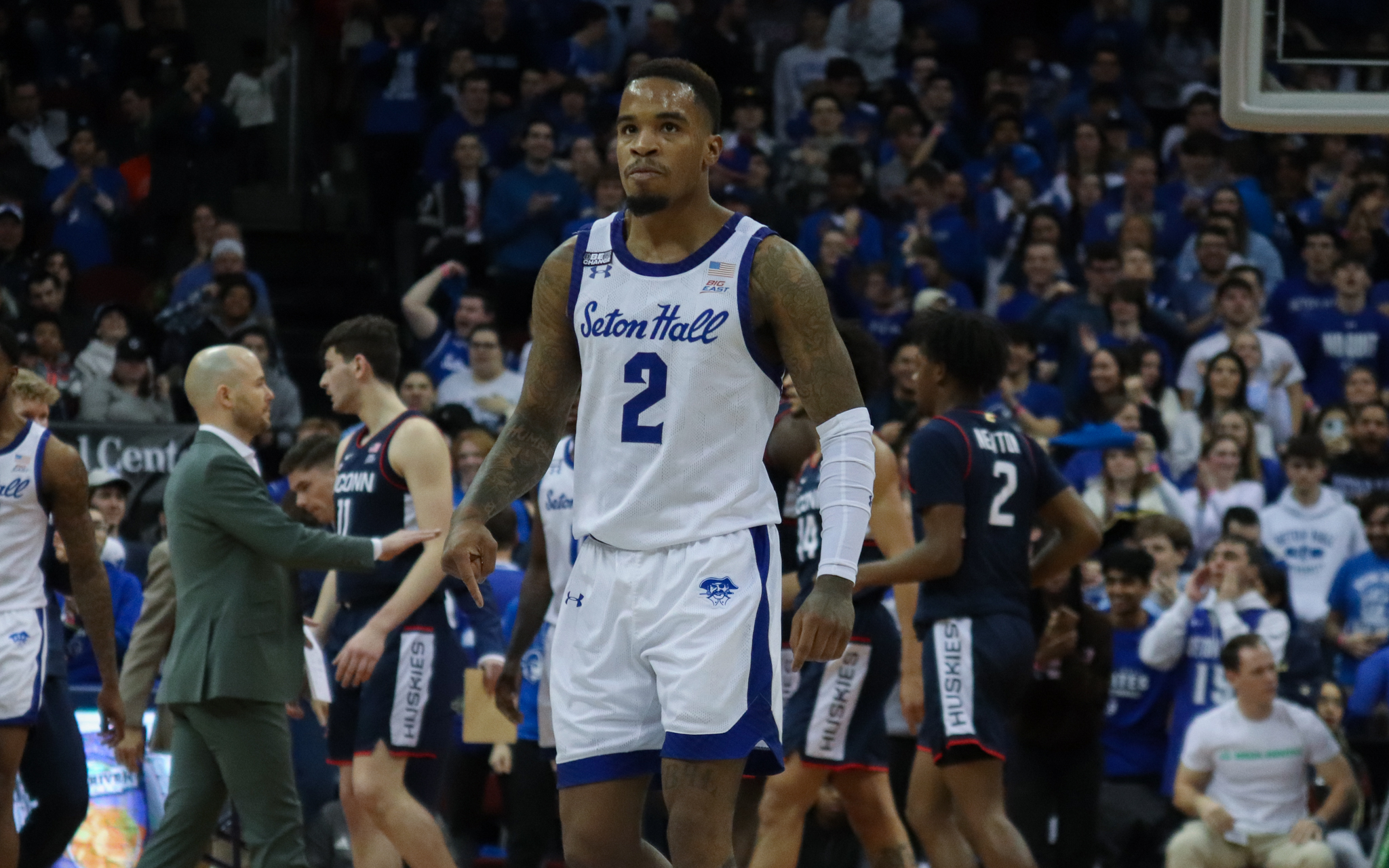 Kayla Fonseca/WSOU
On Wednesday, the Seton Hall Pirates (12-8, 5-4 CONF) came back from a seemingly insurmountable 17-point deficit to get their biggest win of the season over the No. 15 UConn Huskies. KC Ndefo powered through contact to put the Pirates ahead, 67-66, with less than two seconds remaining; The Hall would go on to win the game.
Here is the KC Ndefo AND ONE that won the game for the Seton Hall Pirates. pic.twitter.com/axSasena4g

— WSOU Sports (@WSOUSports) January 19, 2023
This was Ndefo's second straight game in double-figures, as he continues to pay dividends for the Pirates. The St. Peter's transfer plays with exceptional intensity and is the grittiest defender in the BIG EAST. Despite being undersized for a power forward, he more than makes up for it with his blocking ability.
Seton Hall has established themselves as a defensive team, and they win nearly every game in which they hold a team under 70 points. Players such as Kadary Richmond, Femi Odukale, Tyrese Samuel, and the aforementioned KC Ndefo, have locked down nearly every offensive player in their line of sight.
The Marquette Golden Eagles (15-5, 7-2 CONF) will present a tough challenge, as they have only scored under 70 three times this year.
The Golden Eagles are led by sophomore Kam Jones, who has shown great improvement in the scoring category this season. He went from averaging 7.4 PPG last year to 16.1 PPG this season, and he already gave the Pirates a tough time in December, scoring 14 points on 6 of 10 shooting from the field in an 83-69 Marquette victory.
The implications of this game cannot be understated. The Golden Eagles are second in the BIG EAST, while the Pirates are at the fifth spot looking to surge ahead. The Hall have proven strong on their four-game win streak, but Marquette has already shown that they're capable of defeating them.
The Golden Eagles are coming off a victory over the Providence Friars in which Jones led the team with 21 points. He affected the game defensively too, recording three steals.
Five players on Marquette are averaging double digits, and they are loaded with talent. Guys like Olivier-Maxence Prosper, Oso Ighodaro, and Tyler Kolek are all threats to watch out for. Their long line of players that can get a bucket allows them to put more energy into their defense.
TK with the touch #MUBB | #WeAreMarquette pic.twitter.com/gZJv0q2OdZ

— Marquette Basketball (@MarquetteMBB) January 19, 2023
Marquette is one of the most talented teams in the conference, and this is a game that will go a long way in determining if the Pirates will have a chance at making the March Madness tournament.
If they are able to defeat a team with scoring, depth, and a rising star, it will show the committee how Seton Hall is a team that can step up to the plate and exceed all expectations.
Coverage on WSOU 89.5 FM starts at 3:30 p.m., before tipoff at 4:00.
Matthew Soetebeer can be reached at matthew.soetebeer@student.shu.edu.
Posted in: Sports, Game Previews, Men's Basketball