Preview: Pirates Look to Sweep Season Series Against Bulldogs in Saturday Brawl
Date: January 28, 2023
By: Antonio Dunston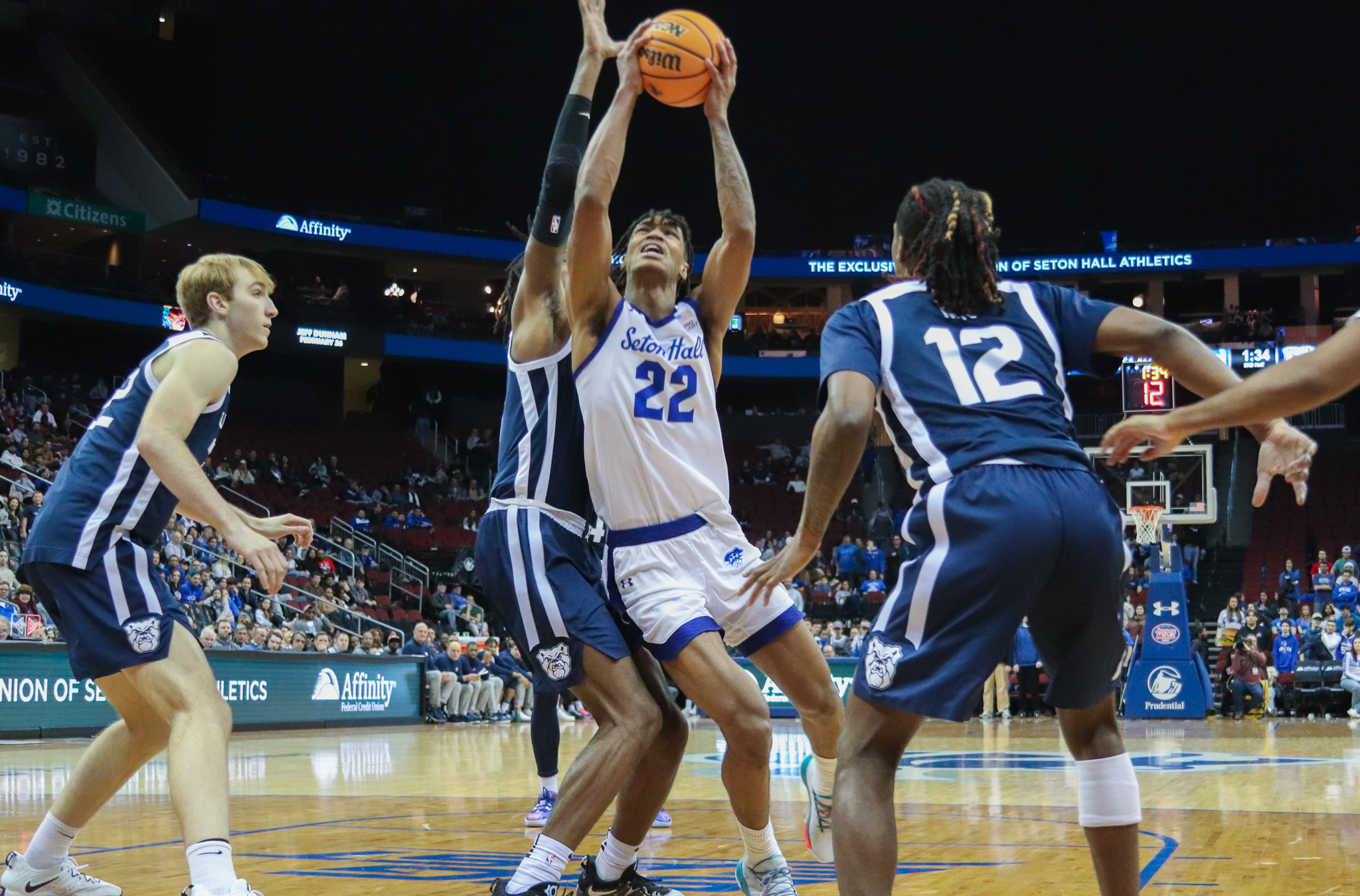 Kayla Fonseca/WSOU
The Seton Hall Pirates (12-9, 5-5 CONF) aim to get back on track this Saturday against the Butler Bulldogs (11-11, 3-8 CONF) in some BIG EAST action. After a poor performance against Marquette cost them their four-game win streak, the Pirates look to a Bulldogs team they beat handily a couple of weeks ago to start another.
Coming off the loss to the Golden Eagles, in such a disappointing fashion, these conference games elevate in importance as the gap grows larger between the teams separating themselves at the top from the rest of the pack.
Despite their latest showing, the stage is set for The Hall to get a much-needed road win in the Hinkle Fieldhouse.
Seton Hall has won six of the last seven meetings between the two programs, with a current three-game winning streak, and should be determined to shut the door on this season series.
Had to have it. .

Here's one final look back at Saturday night #HALLin ⚪️ pic.twitter.com/NYekjinhd2

— Seton Hall Men's Basketball (@SetonHallMBB) January 9, 2023
The Bulldogs, on the other hand, are in the midst of 20-game Big East conference slate, where they have lost their last three and fell to Providence with a final score of 79-58. Ignoring their recent shortcomings, Butler has been formidable at home this season, going 8-3 on their home court so far.
The Pirates are beginning to find a formula that works for them and play their percentages in a way where they are able to pull away in those close games and close them out.
Attacking the rim and the corresponding uptick in paint scoring allows them to not shoot themselves out of these games. The shooting struggles of the team are well documented, whether that be from the three-point line or the free throw line, and so to see the team play closer to the rim with the ability to kick out not only helps their offense but their defense as well.
In their last game against the Bulldogs, 40 of their 76 points came in the paint.
this finish...*chef's kiss*@SetonHallMBB x #BIGEASThoops pic.twitter.com/OC91QUQIfR

— BIG EAST MBB (@BIGEASTMBB) January 8, 2023
Butler may enter with a chip on their shoulder and knowledge of their success on their floor, however. The Bulldogs walk into the Hinkle Fieldhouse averaging 73.4 points per game while hitting 40% of their three-point attempts. They are 11-0 this season when leading at halftime and when scoring 70 or more points.
Butler is committing only 12.9 fouls per game, which leads the nation, and are glad to welcome back their star center Manny Bates for his second straight game. Bates is 16th nationally with a 62.5 field goal percentage and is 39th nationally in blocks per game at 1.9 per game, shoring up a defense that has been easily exploited and has allowed their opponents to average 73.3 points per game over their last 10 games.
Butler's top performers include Bates, and his 12.3 points and 5.7 rebounds, and Chuck Harris who has averaged 12 points over the last 10 games for Butler. The Bulldogs should hope to have a better performance than the one they displayed in the last matchup.
Though, that is easier said than done.
The Pirates put on a defensive clinic in that Jan. 7 victory. Butler was held to a season-worst 26.8% shooting performance and had only two starters with over eight points and four players total with contributions greater than three points.
Key contributions on the offense came from Tyrese Samuel, Kadary Richmond, Tray Jackson, and Al-Amir Dawes. Samuel finished with 19 points and seven rebounds and Richmond flirted with a triple-double as he ended with 11 points, nine assists, and eight rebounds. Jackson stepped up with 15 points and Dawes would add 12.
-!@SetonHallMBB x #BIGEASThoops pic.twitter.com/QByTctTyqF

— BIG EAST MBB (@BIGEASTMBB) January 8, 2023
What really secured that win was the effort shown on defense and how much that commitment impacted the game on both sides for the Pirates. If they can replicate that success, they should be able to effectively counteract the advantages the Bulldogs seem to find at home.
It should be a good matchup for two teams eager to beat a conference foe and find their way back in the win column. You can find coverage of the Pirates at Bulldogs at 4 p.m. right here on WSOU 89.5 FM, where Joe Matthews and Jonathan Heite will have the call.
Antonio Dunston can be reached at antonio.dunston@student.shu.edu.
Posted in: Sports, Game Previews, Men's Basketball