Preview: Pirates Look to Get Back on Track with Win Over Hoyas
Date: January 25, 2023
By: Dovid Holtzman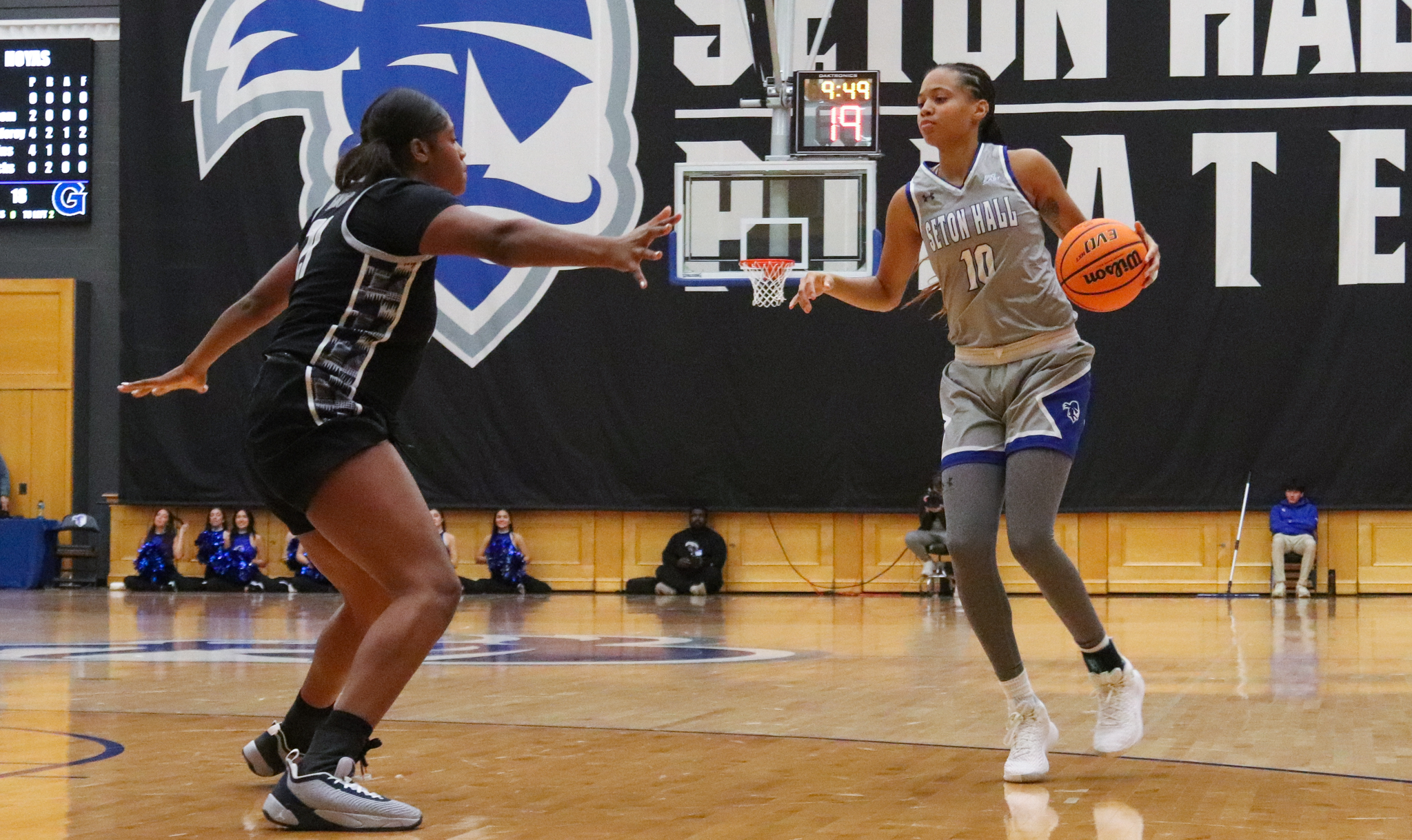 Kayla Fonseca/WSOU
The Seton Hall Pirates (13-7, 6-4 CONF) are seeking to come back from three tough losses as they face the Georgetown Hoyas (10-9, 3-7 CONF) in Washington, DC on Wednesday night.
The Pirates have been spotty this season—a win over No. 24 St. John's and a 22-point rout of Providence was followed by double-digit losses to three BIG EAST teams: Creighton, UConn, and Marquette.
Despite three players putting up double-digit games (Cooks, Park-Lane, and Hagans) against Marquette (12-7, 5-4 CONF), the Hall fell by 19 as the Golden Eagles were led to victory by the dominant performances of Chloe Marotta (19-12-5) and Mackenzie Hare (23 PTS, 3 REB).
Mya Bembry loves the mid-range baseline jumper!#HALLin pic.twitter.com/Nzeox71alw

— Seton Hall Women's Basketball (@SHUWBB) January 22, 2023
In the loss, the Pirates shot just 35% from the field and 16% from the three-point line, something they hope to bounce back from against the Hoyas.
Despite the losses, Seton Hall stands in fifth place in the BIG EAST at 6-4 in conference play. Placing 56th in the NET, the team is on the cusp of qualifying for the NCAA Tournament, and a win over Georgetown, at 100th, would give them a small boost.
The Pirates are led by star point guard Lauren Park-Lane, who averages 19.3 PPG, in addition to six APG, and 2.5 RPG.
Center Sidney Cooks averages 15 PPG and shoots over 50% from the field, while maintaining a 34% rate from behind the arc.
Shay Hagans has stepped up in a big way in the guard slot, averaging 10 PPG even and filling a needed role from the three-point line: she averages hitting 46% of her threes.
Pretty floater by Sha'Lynn Hagans...#HALLin pic.twitter.com/t9osokGd9P

— Seton Hall Women's Basketball (@SHUWBB) January 22, 2023
The Hoyas are led by a pair of guards averaging 12.5 PPG, Kennedy Fauntleroy and Kelsey Ransom. The team sits at eighth in the BIG EAST, running 3-7 in conference play and 10-9 overall on the season. The team is riding a two-game win streak, after defeating DePaul and Providence.
Seton Hall last faced Georgetown on Dec. 28 in Walsh Gymnasium, defeating them 72-62 on a fourth-quarter run, their eighth win over the Hoyas in the teams' last nine meetings.
One thing to look for during the game? Lauren Park Lane is on the edge of becoming the fifth and sixth all-time leading scorer in Seton Hall women's basketball history. She currently sits in seventh, with 1,604 total points since beginning to play in 2019. Just ahead on the all-time chart sits Dana Wynne (1993-1997) with 1,622 points. Beyond Wynne sits Debbie Hartnett (1985-1989) with 1,632 total points—so Park-Lane hopping two spots is conceivably in play in the next two games.
Coverage on WSOU 89.5 FM begins at 6:45 p.m. Wednesday night, with tip-off scheduled for 7:00. Announcers Jon Heite and Ryan Johnston will be on the call.
Dovid Holtzman can be reached at dovid.holtzman@student.shu.edu.
Posted in: Sports, Game Previews, Women's Basketball