Preview: Pirates Gear Up for First-Round NIT Battle with St. Joe's
Date: March 16, 2023
By: Dovid Holtzman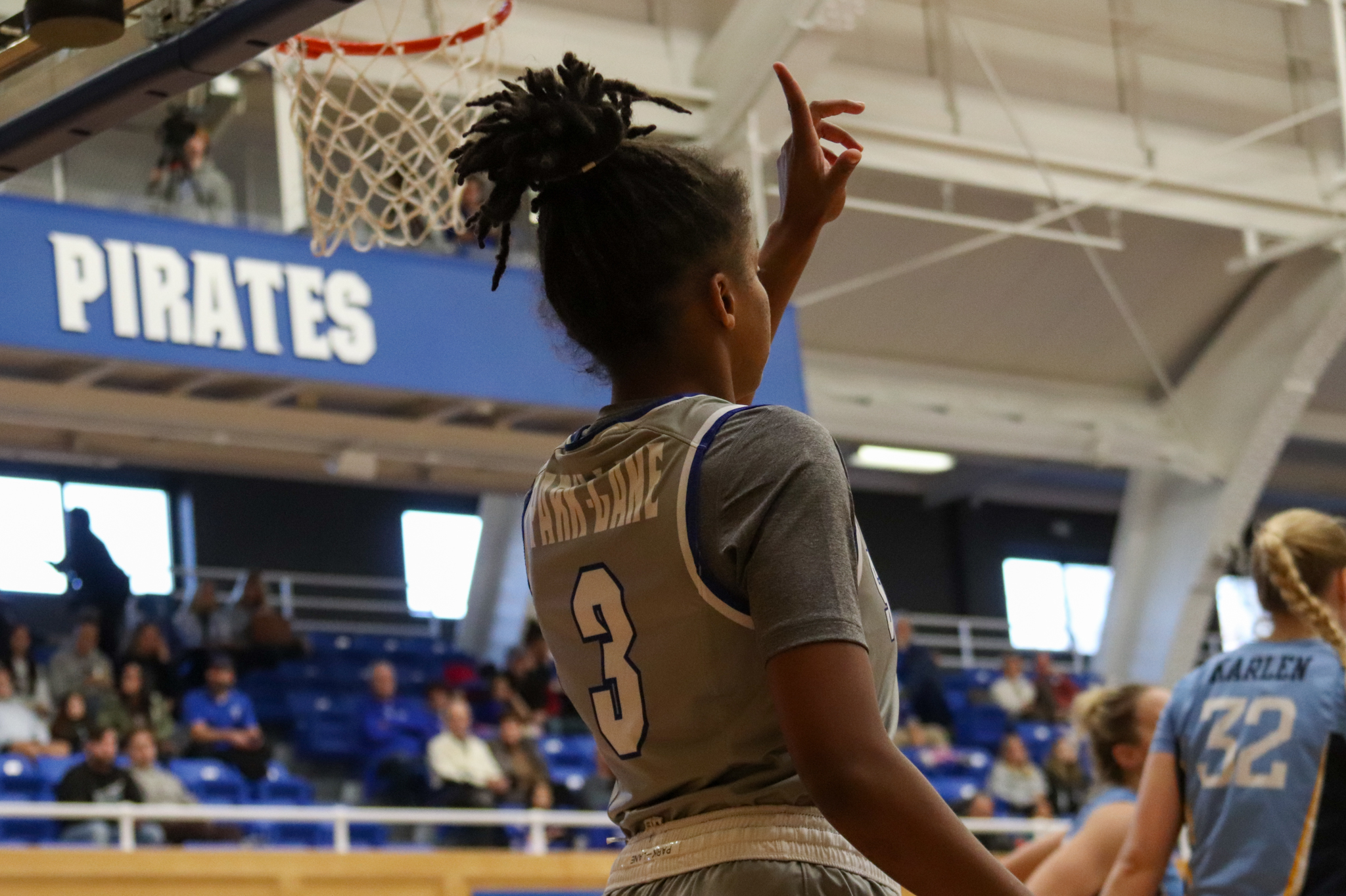 Kayla Fonseca/WSOU
Seton Hall Women's Basketball (18-14, 10-10 CONF) is in the postseason once again. Following a thrilling run to the WNIT Championship game last season, the Pirates are looking to open with a strong start against the St. Joseph's Hawks (20-10, 9-7 CONF) in Walsh Gymnasium at 7:00 p.m. Thursday evening.
The Pirates are coming off a season that landed them in one of the two NCAA tournaments for the seventh time in 10 years (even as COVID-19 prevented two additional years of inclusion).
Seton Hall was 18-14 overall, going 10-10 in BIG EAST conference play, but had spots of brightness that boosted their postseason resume. The team had two wins against ranked opponents for the first time since the 2015-2016 season.
When the game tips off, the Pirates will look to rely on the two team captains, Lauren Park-Lane and Sidney Cooks. Park-Lane (20.4 points-per-game, 6.4 assists-per-game) has had six 30-point games this season, and set Seton Hall's all-time single-game record with 39 points against DePaul last month.
A top-five finalist for the Nancy Lieberman Point Guard of the Year Award, Park-Lane looks for a convincing close to the season in WNIT play.
Lauren Park-Lane comes up with the steal and beats the buzzer!!!#HALLin @MarchMadnessWBB pic.twitter.com/633vCk2xo0

— Seton Hall Women's Basketball (@SHUWBB) March 5, 2023
In only 68 games in a Pirate uniform, Sidney Cooks (15.7 PPG, 5.8 RPG) racked up 1,073 points and achieved All-BIG EAST honors twice. Named to the Second Team, the graduate student scored more buckets than any other Pirate and is a vital piece of the team's offense at the center position.
But the Pirates are not lacking weapons beyond the stars. Azana Baines (8.1 PPG, 4.4 RPG) flourished as the season came to a close, scoring three double-doubles in her final five games, and scoring ten points or higher in five of her last six—including a 29-point performance at DePaul.
A versatile player who can take the guard or forward position, Baines adds depth to an already strong Pirates offense.
The Saint Joseph's Hawks are coming off a quarterfinal loss to Saint Louis, the eventual champions in the ATLANTIC-10 Tournament. The Hawks sit at 97 in the NCAA NET rankings, compared to Seton Hall's 64 position, and are coming off a season that showed promise.
The Hawks opened on a nine-game win streak, before falling to No. 25 Villanova in December. From there, it was mixed. St. Joe's went 11-9 through the A-10 season, but did not play another ranked opponent for the remainder of the season.
St. Joe's is led by a guard and a pair of forwards that combine for over 40 PPG. Sophomore guard Mackenzie Smith (14.0 PPG, 4.4 RPG) is a threat—she posted 38 points in January at Richmond and has breakout potential if her shooting gets hot in a game.
Freshman Laura Ziegler (11.6 PTS, 8.9 REB) was the A-10 rookie of the year and a seven-time rookie of the week. The Dutch forward played for Denmark's Women's National Team at age 18. And sophomore Talya Brugler (16.7 PTS, 5.0 REB) was named to the All-ATLANTIC-10 First Team.
The Pirates will be relying on the defense of Mya Bembry (4.6 PPG, 5.5 RPG) to counter the Hawks' weapons. At 6'1", Bembry is taller than all but two players on St. Joes—and the tallest the Hawks have to offer is 6'2". Her defense is stifling—opposing players must catch her off-balance if they want a chance at a basket.
One key to the game Seton Hall needs is a counter to St. Joe's defense. The Hawks allow an average of 60.6 PPG, almost a dozen fewer points than the Pirates' 71.8 scoring average. With seven seniors and three graduate students on Seton Hall's roster, The Hall hopes to use that experience against the younger St. Joe's team.


Last March, we made a thrilling run all the way to the @WomensNIT National Final, but came up a win short. Starting Thursday, we seek redemption.#HALLin #UnfinishedBusiness ‍☠️ pic.twitter.com/8unZ86MaZs

— Seton Hall Women's Basketball (@SHUWBB) March 14, 2023
Tipoff is scheduled for 7:00 p.m. in Walsh Gymnasium and coverage will begin at 6:30 on 89.5 FM WSOU. Jonathan Heite and Joe Morales will be on the call.
Dovid Holtzman can be reached at dovid.holtzman@student.shu.edu
Posted in: Sports, Women's Basketball, Game Previews