Preview: Pirates Face Butler Bulldogs in First Home Game of the New Year
Date: January 6, 2023
By: Alyssa Martinez-Tovar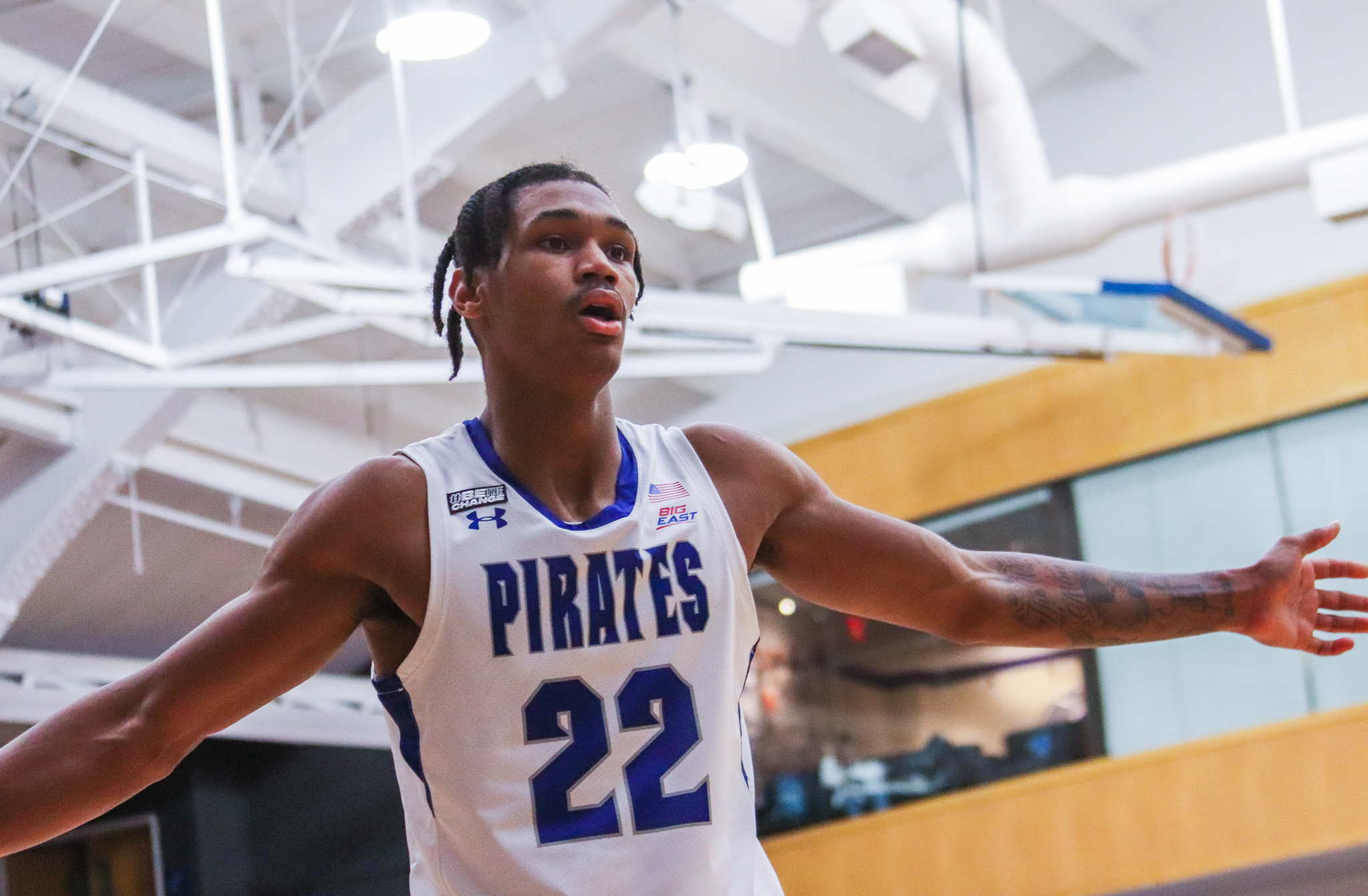 Kayla Fonseca/WSOU
The Seton Hall Pirates (8-8, 1-4 CONF) bring their conference play back to Prudential Center to take on the Butler Bulldogs (10-6, 2-3 CONF). After a tough loss against Creighton on Tuesday, the Pirates look to regain their confidence.
Although the Pirates are struggling as of late, the stage is set and the hopes are high as they play at The Rock, with fans to fuel them for the game. That being said, The Hall did earn their first BIG EAST win against St. John's just before 2022 had ended.
Butler on the other hand has the higher ground as they ended their game on Wednesday against DePaul with a final score of 78-70. The Bulldogs are on a two-game winning streak within BIG EAST play as they are now ranked No. 7 within the conference compared to the Pirates who are ranked No. 9.
Many of the struggles that The Hall has had in the past such as their free throws and turnovers are starting to lead into bettering the team. The Pirates have now learned that basketball is not just a game of shooting around the arc, but instead attacking and going into the paint.
In their last game against the Blue Jays, they had 24 points in the paint, while also having 13 second-chance points.
KC with the nice find underneath to Fem #HALLin ⚪️ pic.twitter.com/FtOgI5eUSG

— Seton Hall Men's Basketball (@SetonHallMBB) January 4, 2023
Shaheen Holloway is still learning as the team keeps playing and has to get all the adjustments down now that him and his Pirates have entered BIG EAST play. It is his first season as head coach for The Hall, and although we may not like it, it takes time to build a program and change outcomes of games.
Nonetheless, Kadary Richmond and Tyrese Samuel give the fans players they can't wait to watch.
Samuel and Richmond are the main men for the Pirates when it comes to scoring and rebounding, but last game, Femi Odukale would have himself a night scoring 16 points within the 26 mins he played, along with Tray Jackson stepping up and having 11 for himself.
Femi's up to 16 points, his most as a Pirate#HALLin ⚪️ pic.twitter.com/7zB7RX8oJc

— Seton Hall Men's Basketball (@SetonHallMBB) January 4, 2023
What really helped Seton Hall during last game and will help in the one to come against Butler is their bench. Last game, the Pirates' bench outscored the Blue Jays 27-17.
It will be a good matchup when the Pirates face the Bulldogs at 8:30 p.m. right here on WSOU 89.5 FM, where Ryan Johnston and Jonathan Heite will have the call.
Alyssa Martinez-Tovar can be reached at alyssa.martineztovar@student.shu.edu.
Posted in: Sports, Game Previews, Men's Basketball