Preview: Seton Hall Takes On No. 19 Ohio State in Rocket Mortgage Fort Myers Tip-Off
Date: November 21, 2021
By: Jorie Mickens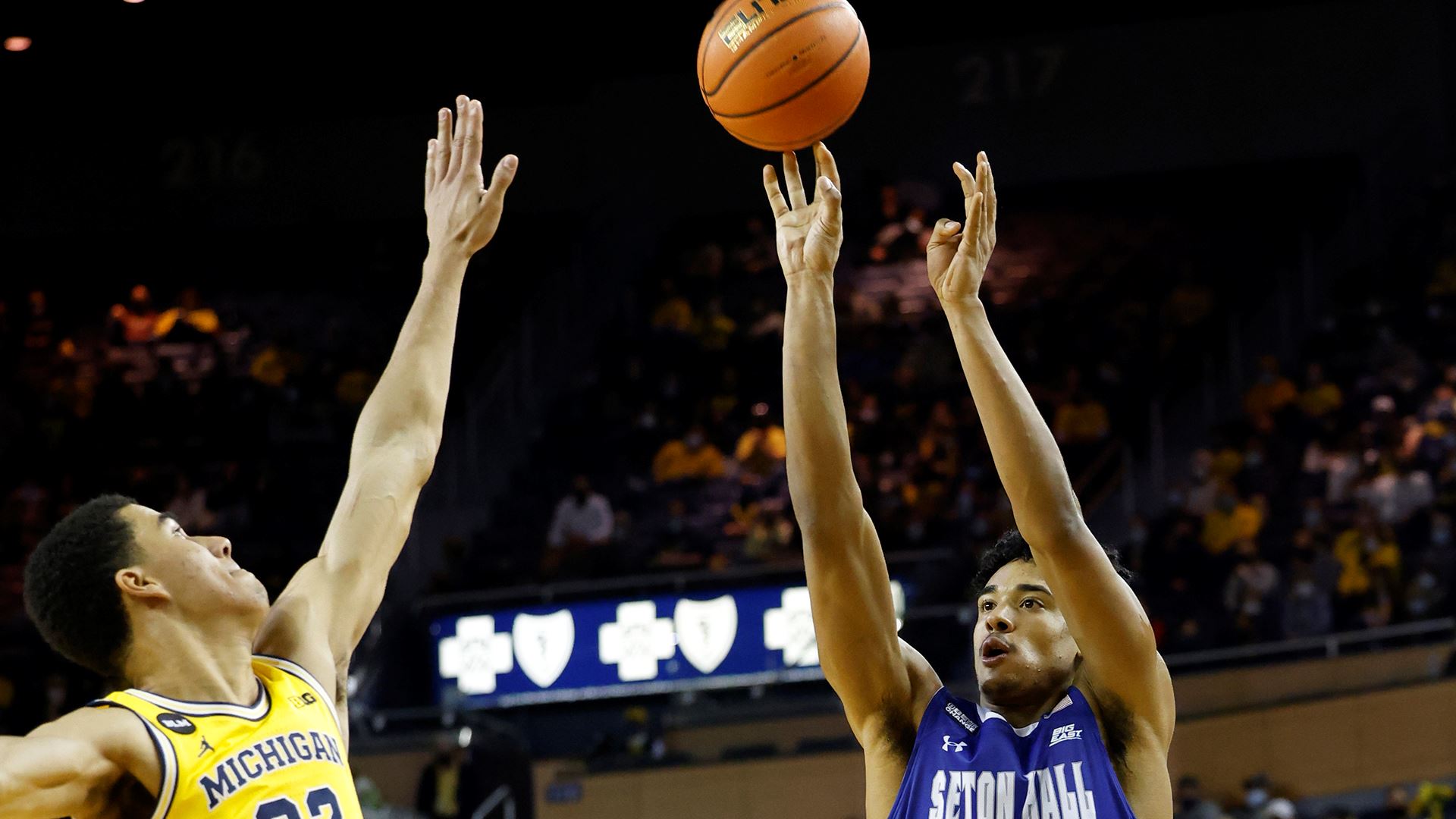 Rick Osentoski/USA TODAY Sports
On the heels of perhaps their biggest win in program history, the Seton Hall's men's basketball team travels to Fort Myers, Fla. this Monday to compete in the Rocket Mortgage Fort Myers Tip-Off.
Shootaround day in Fort Myers #HALLin ⚪️ | @FTMyersTipOff pic.twitter.com/Obp7tN3IAq

— Seton Hall Men's Basketball (@SetonHallMBB) November 21, 2021
After knocking off the No. 4 ranked Michigan Wolverines in Ann Arbor, Mich., the Pirates are expected to be ranked for the first time since the final Associated Press Top-25 Poll of the 2019-20 season, when Seton Hall was the No. 15 ranked team in the nation.
Before we turn the page to Fort Myers, one final look back ... #HALLin ⚪️ pic.twitter.com/7eJ2a2LSbi

— Seton Hall Men's Basketball (@SetonHallMBB) November 18, 2021
The Pirates, who are off to their first 3-0 start since the 2017-18 season, will face the No. 19 ranked Ohio State Buckeyes (3-1), whose lone loss this season came against a fellow Big East team in the Xavier Musketeers.
In a series that dates back to 1960, the Pirates are 2-3 all-time against the Buckeyes, with their last matchup coming on Dec. 20, 2003, a game Seton Hall won 75-59. Ohio State's head coach Chris Holtmann is also 5-1 against Seton Hall during his three-year tenure with the Butler Bulldogs.
The Pirates focal point in this game will be slowing down junior forward, E.J. Liddell. Through the first two weeks of the season, Liddell has looked like one of the best players in the country, as he is averaging 21.0 points, 6.5 rebounds and 3.8 blocks-per-game while shooting 65% from inside the arc.
Luckily for the Pirates, defense has been their calling card this season, as through three games, their opponents have shot just 31.4% from the field and 13.3% from the three-point line.
The Pirates' bench unit has also been outstanding this season. Through their first three contests, Seton Hall's reserves have outscored its opponents 95-34 and in their last outing against Michigan, 37 of the team's 67 points were scored by players off the bench.
It's Feast Week #HALLin ⚪️ | @FTMyersTipOff pic.twitter.com/J0QZbTGDwz

— Seton Hall Men's Basketball (@SetonHallMBB) November 21, 2021
The Pirates are 31-13 in in-season tournaments under head coach Kevin Willard and Seton Hall has won two regular season tournament titles in that time (2014 Paradise Jam, 2018 Wooden Legacy).
If the team's last performance is any indication of how they will fare this season, the Pirates could be on their way to adding another title to that list. Be sure to tune into 89.5 WSOU at 6 p.m. as Heaven Hill and Wilnir Louis will be on the call while the Pirates look to remain undefeated in the Sunshine State.
Jorie Mickens is an Assistant Sports Director for WSOU Sports and can be reached at jorie.mickens@student.shu.edu.
Posted in: Game Previews, Men's Basketball, Sports