Preview: Seton Hall Takes On Creighton in Road Conference Showdown
Date: January 13, 2022
By: Joe Walls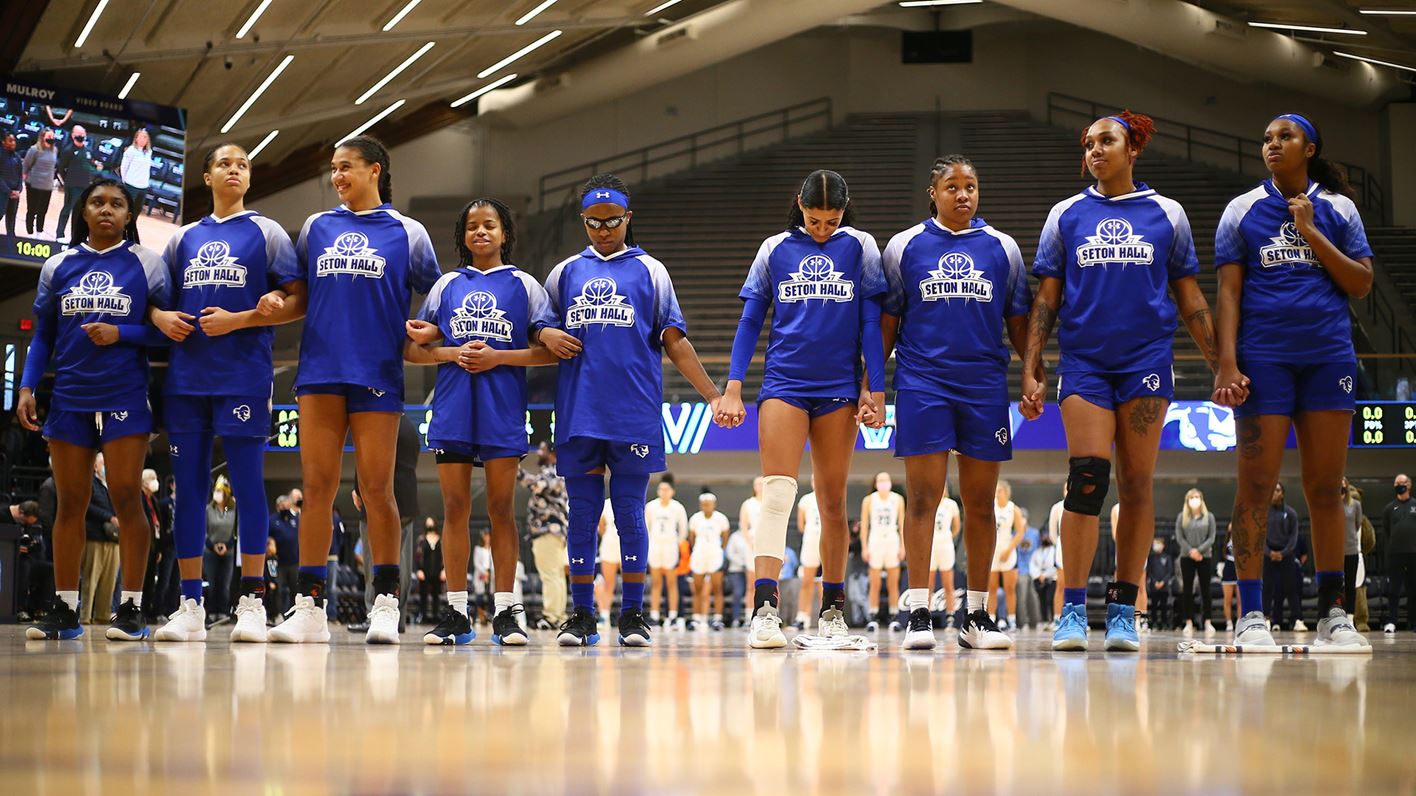 Matt Kipp/Seton Hall Athletics
Another day, another Seton Hall women's basketball contest, as the team will travel for an away tilt against the Creighton Blue Jays in Omaha, Neb. The Pirates come into the game with a 6-6 overall record on the season and a 1-3 record in Big East play.
Seton Hall has been sidelined since their close loss to Villanova on New Year's Eve, so a big key for the game against Creighton is hopefully having the full team close to 100 percent and having their players be well rested.
from our game at Villanova... #HALLin @mattkippmedia pic.twitter.com/H5U3andcOP

— Seton Hall Women's Basketball (@SHUWBB) January 6, 2022
There are so many stars to watch out for the Pirates. Obviously, fans will be looking for a big games out of Andra Espinoza-Hunter and Lauren Park-Lane, who both have been outstanding for Seton Hall this season.
Espinoza-Hunter is averaging a team-high 17.6 points-per-game on the year and is coming off a 20-point game against Villanova. Park-Lane is right behind her, averaging 17.3 points-per-game, and scored 12 points and 10 assists in 37 minutes of play against the Wildcats.
So hard to guard... pic.twitter.com/4XDA15hBHc

— Seton Hall Women's Basketball (@SHUWBB) December 31, 2021
Someone who fans should also look forward to is Sidney Cooks, who is averaging 14.4 points and 7.3 rebounds-per-game and scored 15 points and 12 rebounds in the Villanova loss.
On the other end of the floor is the Creighton Blue Jays, who come into the contest with a 10-4 overall record and a 5-1 record in the Big East. The Blue Jays come off of a tough loss to Connecticut on Jan. 9 (63-55), so the Pirates should take advantage of a hopefully tired Creighton team.
Players to look at on the Blue Jays include Emma Ronsiek, who averages 12.2 points-per-contest and contributed 10 points against the Huskies. Another is Morgan Maly, who averages 12.0 points-per-game and tallied 14 points vs. UConn.
Maly to Ronsiek, Ronsiek to Maly ...

Jays on the run to pull within five midway through the third!@CreightonWBB x #BIGEASTwbb pic.twitter.com/7yTQ3dQbdV

— BIG EAST WBB (@BIGEASTWBB) January 9, 2022
The keys for the Pirates in this game is going to be making a point of having tight defense on Creighton's leading scorers, but also feeding the hot hand on offense. As much as Espinoza-Hunter is dominant on offense, if there is another player who is on fire, whether that is Cooks or Park-Lane or anyone on that side of the floor, ball movement is important.
As long as the Pirates land their shots and keep Creighton at a distance, Seton Hall can take home the victory. To find out, be sure to listen live on 89.5 FM WSOU where Rony Jerez and Wilnir Louis will be bringing you all the action starting at 7:30.
Joe Walls can be reached at joseph.walls@student.shu.edu.
Posted in: Game Previews, Sports, Women's Basketball