Preview: Pirates Travel to Marist for Tuesday Night Showdown
Date: September 6, 2021
By: Jimmy Bliss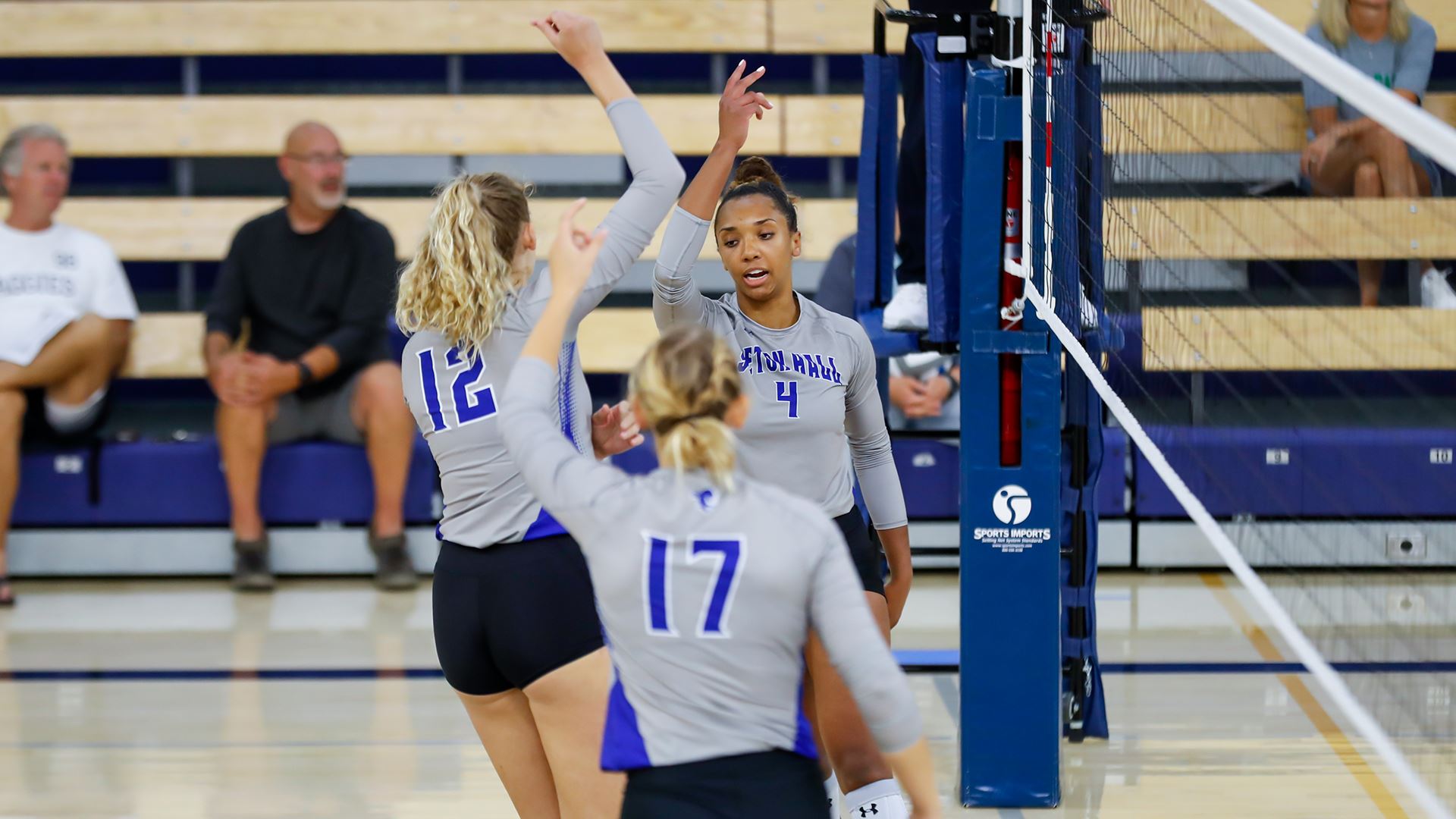 Seton Hall Athletics
The Seton Hall Pirates enjoyed a two-day stay at the Fairfield invitation from Sept. 3-4, which resulted in the Pirates winning all three matches. They defeated Fairfield, Hofstra and Kent State, while only dropping one set in the entire three match stint. On Tuesday evening, Seton Hall puts that three-game winning streak on the line against Marist.
The Pirates currently hold a 3-3 record going into their seventh match of the season. Perri Lucas has been the star all season long for Seton Hall, registering 64 points, with 3.05 kills-per-set and 58 kills in 19 sets. The sophomore from Chicago Illinois picked up right where she left off last season, being accountable for 135.5 points, 2.88 kills-per-set and 121 kills in 2020. She will be pivotal for the Pirates in this matchup, as she lines up in one of the most crucial positions in volleyball, outside hitter.
Check out the power on this Perri Lucas kill!! Timeout Fairfield! Pirates lead, 21-19, in set one!!#HALLin pic.twitter.com/dP5h34Nmbx

— Seton Hall Volleyball (@SHUVolley) September 3, 2021
Accompanying Lucas as an important player for Seton Hall is Amanda Rachwal. The graduate student has registered 50 points, 1.5 kills-per-set, and 30 kills in 20 sets. Rachwal cashed in on her extra year of eligibility, and it has paid off in a huge way. She's already outscored and outkilled her season total from last year, as she accumulated 35 points, 1.14 kills-per-set, and 25 kills overall in 22 sets in 2020. Expect to see another great outing by the Bethlehem, Pa. native on Tuesday evening, as she lines up as the middle blocker.
As for Marist, they enter Tuesday's contest with a 3-4 record. The Foxes are led by sophomore Sasha van der Merwe, as she has 78.5 points, 2.5 kills-per-set and 65 kills through 26 sets in the 2021 season. The outside hitter from Guelph, Canada didn't see too much action as a freshman, appearing in just three sets and one match. Van der Merwe has made a huge leap forward for Marist and will have her sights set on getting the Foxes back to .500 on the season.
SET 1 | UAlbany 15, Marist 10. Sasha van der Merwe is up to three kills so far! #GoRedFoxes pic.twitter.com/eoeLpR5rKo

— Marist Volleyball (@Maristvb) August 31, 2021
Van der Merwe is just one half of a dangerous outside hitter duo that Marist possesses. The second half includes fellow sophomore Gabriella Heimbauer. Heimbauer has scored 63 points, and has 2.52 kills-per-set, along with 58 kills overall in 23 sets. Much like her teammate van der Merwe, Heimbauer only played in two matches and four sets during 2020, so she's another relatively unknown weapon for opposition to prepare for. The Massapequa, N.Y. native is the tallest player on Marist's team and will be a player the Pirates should avoid all match long.
This is a season-defining matchup for Seton Hall. With a win, they improve to 4-3 on the back of a four-match win streak. They would, then, travel to the Big Apple Tournament to collide with Iona, Saint Francis – Brooklyn and Columbia with all the momentum in the world.
However, with a loss, the hard work that these ladies have instilled to get back to .500 would increase even more during the difficult schedule ahead. This is a game that you don't want to miss.
Jimmy Bliss can be reached at james.bliss@student.shu.edu.
Posted in: Game Previews, Sports, Volleyball