Preview: Pirates hope for more success at Hinkle as they visit Butler
Date: February 24, 2021
By: Dylan Camp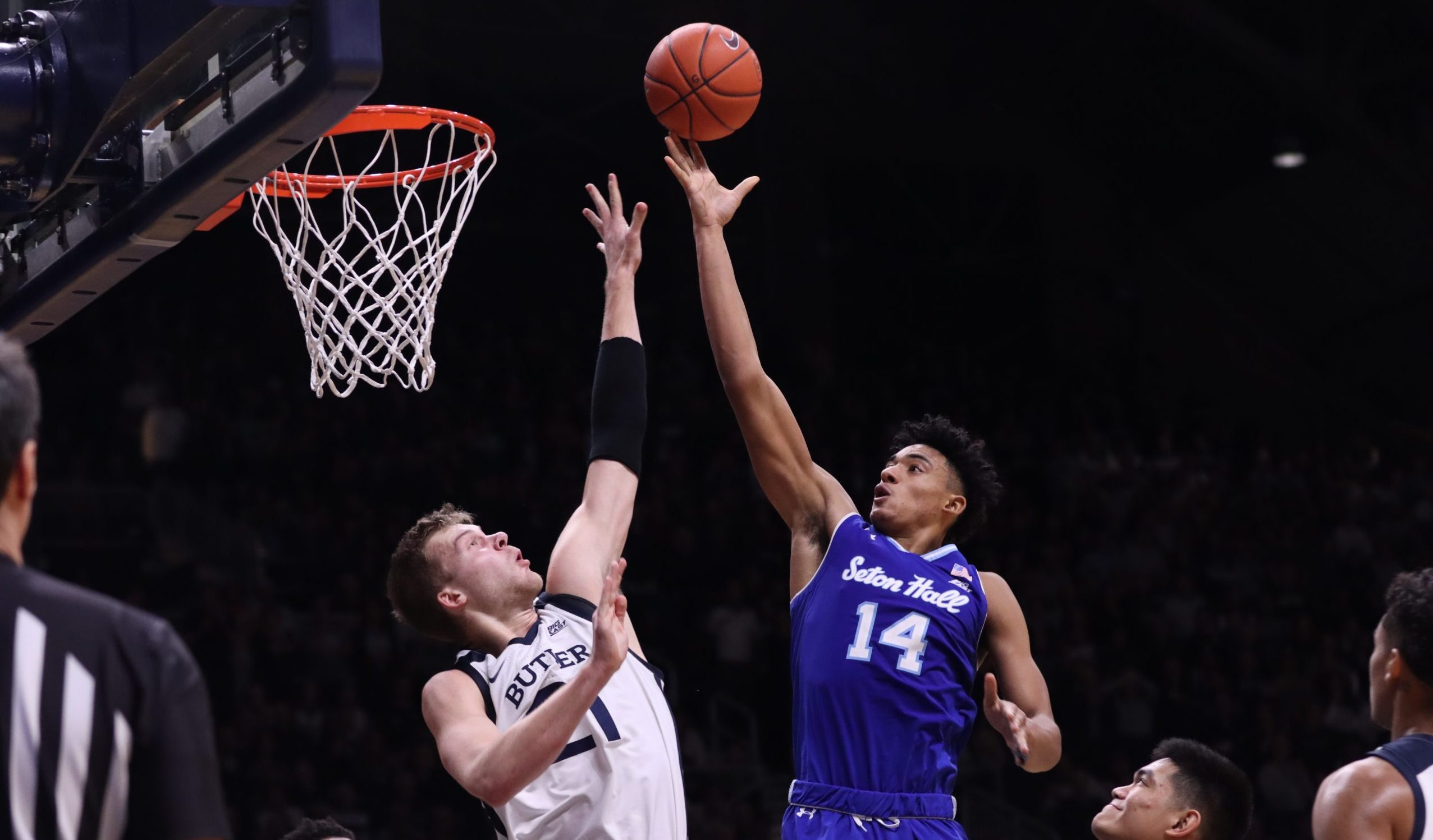 The Butler Collegian
Wednesday night Seton Hall will visit Butler in what seemingly will be a very telling game for the Pirates. The past three games for the Pirates have been very ugly despite two of them resulting in wins. This team desperately needs to get back on track and they should be able to do so against Butler who currently sits at tenth in the conference standings.
Kevin Willard needs to lead his team to a dominating effort to boost their spirits and get them ready for their remaining schedule. How the Pirates play on Wednesday night will be very telling of the mental makeup of the team. In the last three games the Pirates squeaked out two wins against Marquette and DePaul who are ninth and 11th in the conference, and then they lost to eighth place Georgetown.
The Pirates are desperate for a get right game and Georgetown is seemingly the right opponent for that. But after three straight less than convincing efforts will the Pirates be mentally and physically prepared to end their poor play? It is the head coaches' job to make sure his team is ready for each and every game and is not looking back or ahead on the schedule. The remaining regular season schedule is incredibly important for the Pirates and their NCAA tournament hopes, but this team needs to come out Wednesday solely focused on Butler and not UConn and St. John's who they will face in March.
5 observations on Seton Hall's loss at Georgetown: Bryce Aiken out indefinitely, second team takes a hit, Bracketology update, more https://t.co/neV29EDuVW pic.twitter.com/3qqgWa4Tap

— NJ.com Sports (@NJ_Sports) February 21, 2021
Seton Hall is a team that is heavily reliant on its starting five to pave the way to victory and the Pirates will need a strong performance from this group to return to their winning ways. Mamu, Rhoden, and Cale have been the key scoring trio for the Pirates, as each has averaged double digit points since the start of Big East play.
However, against Georgetown, Seton Hall's second and third options had very rough games. Rhoden and Cale combined for 17 points but shot a combined 30% from the field and only 20%from three. Good efforts off the bench from Tyrese Samuel and Takal Molson helped the Pirates stay in the game but moving forward the Pirates need Cale and Rhoden to get back to their scoring ways and that hopefully will start on Wednesday night.
The main member of the starting five who has been seemingly absent or at least limited in his presence on the score sheet is Ike Obiagu. Obiagu scored six points and grabbed four rebounds on Saturday against Georgetown. Many of the Pirates' faithful were hopeful for a jump much like Romaro Gill saw last season, however Obiagu has not elevated his play to that level.
Seton Hall basketball: Ike Obiagu a 7-foot-2, 270-pound key vs. Butler https://t.co/2vaXBLwpzR

— Record Sports (@TheRecordSports) February 23, 2021
Obiagu is a big bodied, seven-foot two-inch center who simply has not used his height and size appropriately to his advantage. Seton Hall often wins the rebound battle but could be dominant if Obiagu became the glass cleaning presence his height indicates he could be. The Pirates are not reliant on Obiagu scoring in spurts, but a better rebounding effort could propel Seton Hall not only against Butler but in Big East battles to come.
Butler much like Seton Hall is led by their starting five with crucial scoring efforts often coming from guard's freshman Chuck Harris and Senior Jair Bolden, who combined for 26 points in their most recent loss to Xavier. These two players will be a focus point for the Pirates on the defensive end and it will likely be a rotating unit to take on the responsibility. Look for Butler's guards to attack Shavar Reynolds who is great on the defensive end but has struggled with fouls consistently throughout the year.
Seton Hall has a very important game against Butler on Wednesday. Following three straight uninspiring efforts, this game hopefully will serve as a means to get the Pirates moving in the right direction as they near the end of their regular season. Michael Daly and Dalton Alison will be on the call for this all important get right game for the Seton Hall Pirates. Tip is just after 7:00 pm on Wednesday night from Hinkle Fieldhouse.
Dylan Camp can be reached at dylan.camp@student.shu.edu.
Posted in: Men's Basketball, Game Previews, Sports