Preview: Pirates head to D.C. for a matchup with the Hoyas
Date: February 19, 2021
By: Cameron Kharazmi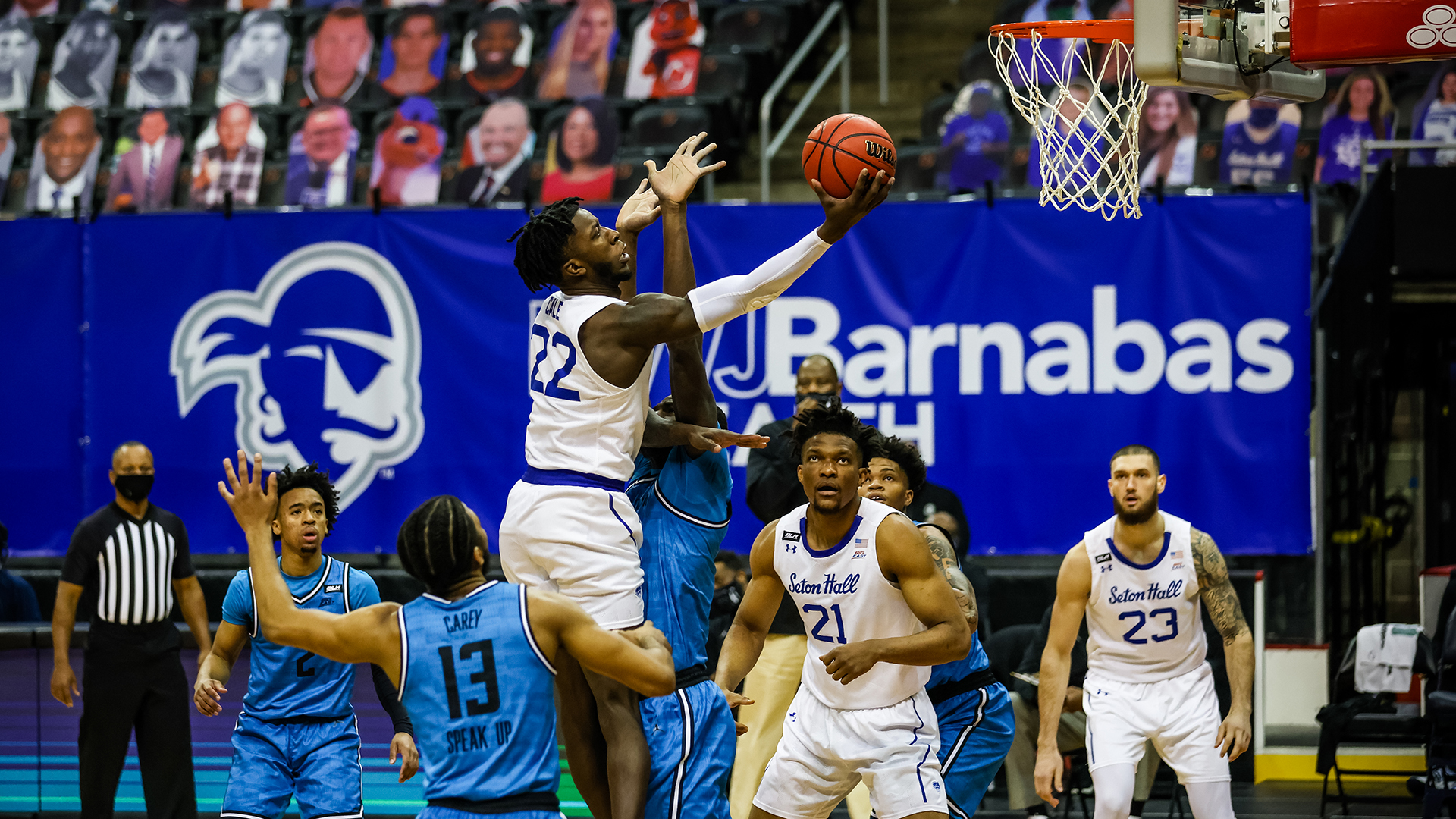 Seton Hall Athletics
In the midst of a patented February turnaround, the Seton Hall Pirates will travel to Washington, D.C. to play the Georgetown Hoyas in McDonough Arena at 5:30 p. m. After a set of bad losses to the conference's two best teams in Villanova and Creighton, the Pirates have now won four consecutive games, a feat that has vaulted them right back into NCAA Tournament conversation and placed them at third in the Big East standings.
The Hoyas find themselves in a similar circumstance, coming off a 78-63 route of Butler after consecutive losses to Villanova and Creighton. Historically, this matchup favors the Pirates, who are currently 21-16 all-time against the Hoyas, having won their last four matchups dating back to the first round of the Big East Tournament in 2019.
From a statistical perspective, the Pirates strengths and the Hoyas weaknesses seem correlated: The Pirates are 11-0 when holding their opponents below 70 points-per-game, while the Hoyas have not won a game when they score less than 70 points. Such held true for their last matchup that saw the Pirates win by a score of 78-67.
@ike_obiagu powerfully throwing this one down for @SetonHallMBB pic.twitter.com/EBwdquJv65

— FOX College Hoops (@CBBonFOX) December 23, 2020
Both teams have heavily relied upon their seniors this year, who have played considerably more minutes-per-game than their underclass counterparts. Georgetown's senior class, which includes Jahvon Blair, Jamarko Pickett, Qudus Wahab, Chudier Bile, and Donald Carey, lead the team in scoring in that order, accounting for roughly 86% of the team's total offense. Expect the Pirates' senior class to be just as important, as seniors Sandro Mamukelashvili, Myles Cale, and Shavar Reynolds are three of the team's top-four scorers, respectively.
While Blair and Mamukelashvili lead their teams in scoring with 17.0 and 18.0 points-per-game, respectively, expect seniors Cale and Wahab to be heavy impact players in this contest. Wahab made his presence known in their last matchup, as the center scored 16 points and added 13 rebounds, after two impressive performances against Villanova and Creighton, which saw him scoring in double digits with five plus rebounds. The Pirates have found some difficulty against big men this season, having been tagged for 23 points by Villanova forward Jeremiah-Robinson Earl and allowing 15 points and 10 rebounds to Paul Paulicap in recent contests.
I''s All Hoyas at McDonough! Jahvon Blair drills his second triple.@GeorgetownHoops x #BIGEASThoops pic.twitter.com/IpaKXYskqM

— #BIGEASThoops (@BIGEASTMBB) February 13, 2021
As Pirates fans know all too well, Cale has seemed to find a groove in the contests against Georgetown, having scored a career high 30(!) points, shooting 63% from the field and 55% from the three-point line. The senior is averaging a career high in points this season with 12.5, leading the team in shooting percentage and providing invaluable defense, particularly against the more difficult guard matchups in the Big East. Against a high-scoring player like Blair, this will be extremely important, and a key for the Pirates to get a win in D.C.
Both teams rely upon aggregate scoring approaches to win games, as different players seemingly rise to the occasion on any given night. While the Hoyas' NCAA tournament hopes are slim, they have shown upset potential, having handedly beating Creighton earlier in the season.
With tournament aspirations, the Pirates hope to continue their win streak, but as history has shown, it is always difficult to get a win in the Big East, with an entertaining matchup set to take place.
Cameron Kharazmi can be reached at cameron.kharazmi@student.shu.edu.
Posted in: Men's Basketball, Sports, Game Previews