Preview: No. 11 Seton Hall plays No. 17 Marquette in Big East Semifinal
Date: April 15, 2021
By: Jonathan Heite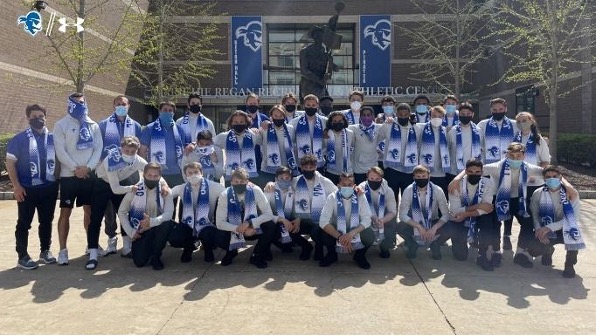 @SHUMSOC via Twitter
On Thursday afternoon at 3:30 p.m., the Seton Hall men's soccer team will accomplish an impressive feat that no squad in the program has touched since 2004: A Big East tournament semifinals appearance.
The Pirates (7-1-3 overall, 5-1-2 conference) will play against the Midwest Division champion, Marquette Golden Eagles (8-1-1 overall, 5-1-1 conference) at Georgetown's Shaw Field for a chance to make the Big East championship on Saturday at 3:00 p.m. The conference was split into two divisions this season because of the COVID-19 circumstances, and the Golden Eagles drew the No. 1 seed out of the Midwest, while the Pirates come out of the East division as the No. 2 seed.
In addition to the 17-year-old semifinals accomplishment, the game will also be the program's first Big East tournament berth since 2012, and the Pirates are searching for their first conference title in two decades (1991).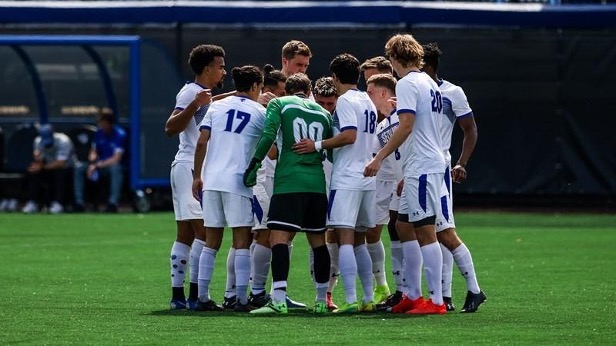 Seton Hall Athletics
The 2021 season has been nothing short of spectacular for head coach Andreas Lindberg and company, who have put the rest of the conference and country on notice with their outstanding play across the board. Lindberg and the entire coaching staff recently were awarded Big East coaching staff of the year, another impressive accolade for their third year in charge of the program.
Starting in net is not only the team's senior goalkeeper, but the backbone of the entire roster, Andreas Nota. The goalie from Rome, Italy had an outstanding 2021 season, tallying five shutouts, 27 saves, and a .597 goals-against-average, which is on track to overtake the Pirates' record in one season and ranks sixth in the country. Nota also secured a spot on the second All-Big East team to cap off his career campaign.
While we unfortunately won't see the team play today, @NotaAndreas is still one of the best goalkeepers this year in the Big East for @SHUMSOC 🥅⚽️ #HALLin

(Graphic: @jonathan_heite) pic.twitter.com/JdyaVoqc52

— WSOU Sports (@WSOUSports) April 3, 2021
WSOU Sports had the chance to talk with Nota before the most important game of his collegiate career about not only the successes of this season, but where the team's morale is after the unexpected quarantine.
"We feel very proud of what we are doing, and we know and understand that Seton Hall deserves to be in the Big East tournament," Nota explained. "The season has been amazing all the way through, and it feels like it was just yesterday that we played our first game and [now] we are already at the final tournament."
In front of Nota, the rest of the defensive core also exceled from start to finish to help Seton Hall become the Big East leader in shutouts (six) by season's end. Five defenders in particular, Jake Barrett, Eden O'Leary, Luca Dahn, Paavo Riihijarvi, and Maurice Williams not only earned weekly conference awards, but provided = sparks on the offensive side of the pitch to help the Pirates pick up pivotal victories down the stretch. O'Leary provided the equalizer in the 1-1 draw to No. 3 Georgetown on March 20, and Williams delivered a clutch header a week later in the 1-0 victory over the UConn Huskies on March 27.
Sure, the goal and celebration from @realmowill was nice, but how about the high-five from Luca Dahn?

Unassisted, of course. 🖐#HALLin 🔵⚪️ pic.twitter.com/0Sj4bltLgZ

— Seton Hall Men's Soccer (@SHUMSOC) April 1, 2021
With the loaded defensive core in full swing, the Pirates also come into this contest with elite talent on offense, led by junior striker, CJ Tibbling. The Swedish maestro tacked on nine points, including four goals (sixth in Big East), and served as one of the most important forces on the attack each and every game.
Along with senior Luca Dahn (five points), Tibbling also made the All-Big East first team, which puts him among the best goal scorers in the conference. Junior JP Marin was second on the squad with eight points, with four assists and two goals to his name. Marin joined sophomore Johannes Pex on the All-Big East third team, solidifying the Pirates as conference title contenders. Sophomore James Boote also rounded out Seton Hall's top point leaders with five total assists.
.@SHUMSOC is currently sitting at 7-1-3 overall with two more games scheduled in the regular season ⚽️

Leading the charge for the squad has been CJ Tibbling, who is 5th in the BIG EAST in points and 4th in goals! #HALLin

(Graphic: @jonathan_heite) pic.twitter.com/xq3Pnoocqo

— WSOU Sports (@WSOUSports) March 30, 2021
On Marquette's side, this year was also an instant success despite the COVID-19 stipulations, as the program is playing in their third conference tournament in a row and eighth overall since 2009. Additionally, this is arguably the best team since their 2012 Big East championship roster because both had very impressive starts in regular season play (12-0 in that title year).
In their offensive production, it is only fitting that a junior led the way on the stat sheet, as forward Lukas Sunesson (first team All-Big East) struck for 13 points and six goals, which put him third in the conference. The Golden Eagles also have one of the best breakout performers in the Big East, with Texas freshman Beto Soto delivering three goals (also took home conference Freshman of the Year).
Another stone-cold star is junior midfielder Zyan Andrade, who scored two goals (both game-winners) and collected two assists. Between the pipes is redshirt sophomore Chandler Hallwood, who managed a 0.60 goals-against-average of his own and collected 41 saves and three shutouts in nine games started.
𝐌𝐢𝐝𝐰𝐞𝐬𝐭 𝐃𝐢𝐯𝐢𝐬𝐢𝐨𝐧 𝐂𝐡𝐚𝐦𝐩𝐢𝐨𝐧𝐬!

The Golden Eagles are postseason bound 〽️#WeAreMarquette | #MarquetteSoccer pic.twitter.com/Nsp0m231Te

— Marquette Soccer (@marquettesoccer) April 10, 2021
Although these two dynamic teams were unable to face each other during the regular season, both have not played since Saturday, March 27 due to postponements and will most certainly be locked and ready to finally get back on the field when it matters the most. They each had to look for some positives during the time off, mainly making sure to stay fresh and ready to go before the dates of the playoffs were announced.
"We all wanted to play against Villanova and Providence because we wanted to have fun and playing against Big East teams is always motivating," explained Nota when asked about how the team prepared after the UConn contest, which was the last time the team suited up for a game. "But this quarantine helped up to recover from some injuries and get a small breath. The team is very pumped, and we have [still] been practicing really hard to be ready and prepared."
Both squads are evenly matched and well coached, which should make this semifinal matchup an instant classic. The clutch gene is prevalent in both lineups, and this game may ultimately be decided by whoever has the ball last. Both goalkeepers are among the best in the nation, so the two offenses will look to pepper the opposing goalie with shots to gain momentum early.
Set pieces are also a crucial component to overall strategy, so watch out for players like Boote, who has thrived in these situations, to capitalize whenever corner and free kicks occur in each half.
ᴏɴᴡᴀʀᴅ ᴀɴᴅ ᴜᴘᴡᴀʀᴅ🔥⚽️ #HALLin 🔵⚪️ pic.twitter.com/MW3zmsjGuJ

— Seton Hall Men's Soccer (@SHUMSOC) March 24, 2021
The Pirates and Golden Eagles have shown in numerous important wins throughout the year that late game heroics are a theme, and in the Pirates' case, many have argued that this really took flight during the middle of March.
"I have many good moments from this season, but my favorite one for sure is the [March 17] overtime win against St. John's," said Nota. "We were down 2-0 and getting it back and clutching up in overtime really showed our character and desire to win."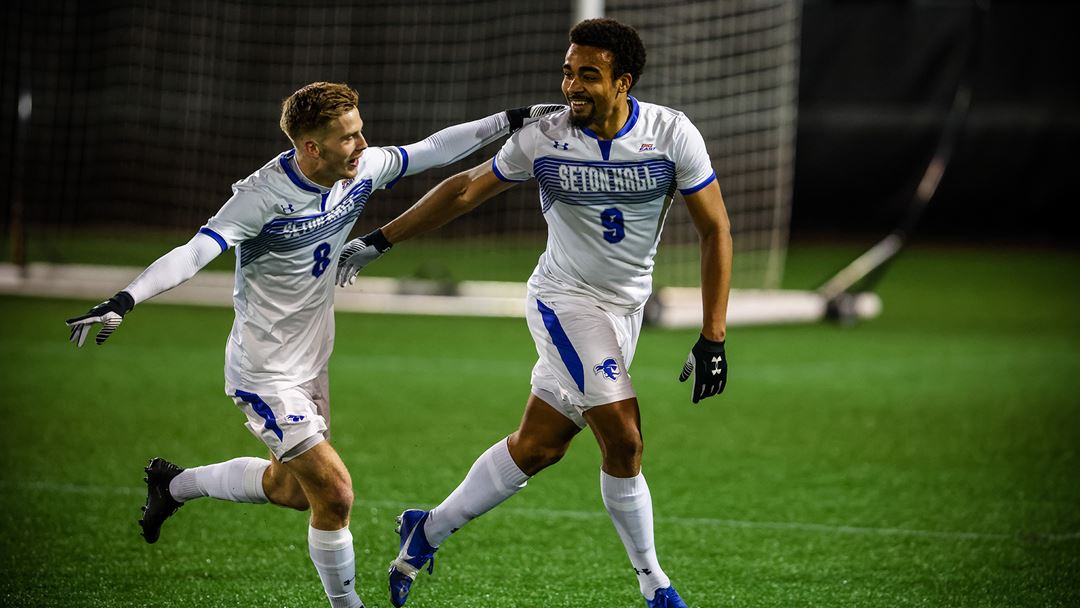 Seton Hall Athletics
Seton Hall will need this fire and more in their effort to take down the No. 1 seed in the Midwest, but history still has these two teams very close in comparison: tied up in an all-time record of 6-6-3. These two teams have not met since last season, where they played spoiler to Marquette's senior night by earning a 2-1 win.
Will the Pirates continue their dream season by knocking off another premier team in the conference? Can Marquette go back to the title game for the first time in nine years? These questions will be answered in a few hours, and one of these programs will go on to face the winner of No. 2 Midwest seed Creighton and No. 1 East seed Georgetown. Postseason soccer is officially back.
Jonathan Heite can be reached at jonathan.heite@student.shu.edu.
Posted in: Game Previews, Sports