Preview: No. 24 Seton Hall Hosts UConn in Big East Afternoon Showdown
Date: January 7, 2022
By: Ben Harris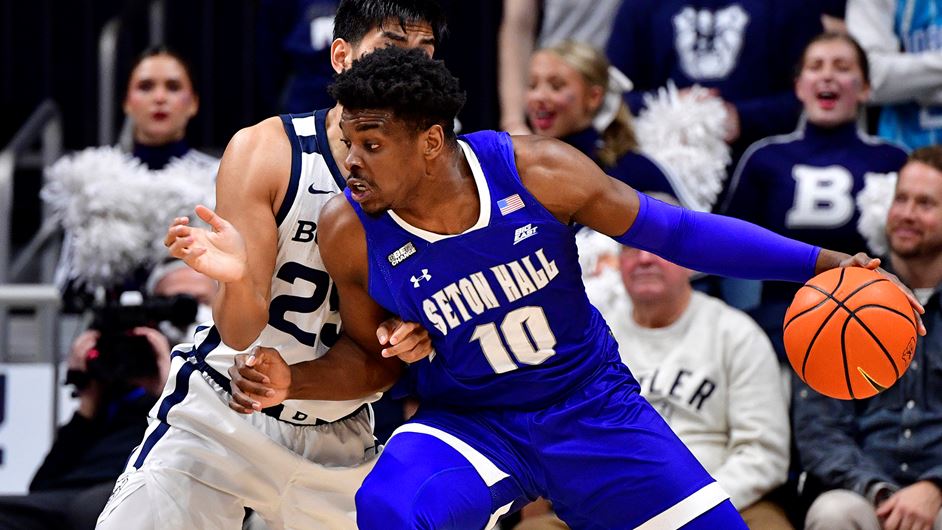 Marc Lebryk/USA TODAY Sports
Following their bounce-back win on the road against Butler, the No. 24 Seton Hall men's basketball team will look to earn a second-straight win as they take on the Connecticut Huskies at the Prudential Center this Saturday at noon.
The Pirates have not had the start to Big East Conference play that they might have preferred, starting off 1-2 after back-to-back losses to the then-ranked No. 21 and No. 22 Providence Friars and Villanova Wildcats.
"After last week, I called my financial advisor and I made sure to buy TONS of stock in Seton Hall."

—@JonRothstein on @SetonHallMBB pic.twitter.com/3lM1m3A3Ay

— CBS Sports Network (@CBSSportsNet) January 4, 2022
Granted, both of these contests were marginally close, each being decided down the stretch of the last few minutes, but the kicker is that Seton Hall was missing a massive chunk of their roster during these games due to COVID-19. The essential frontcourt pillars of Ike Obiagu and Tyrese Samuel, as well their entire freshman class of Brandon Weston, Tyler Powell, Ryan Conway were all M.I.A. due to COVID protocols in these two games.
The impact of Obiagu and Samuels' size in the paint and in the rebounding columns was sorely missed, exemplified by Villanova outrebounding the Pirates, 42-28. But upon Obiagu's return to the lineup, the Pirates were able to stop the skid in Indianapolis, drubbing the Butler Bulldogs, 71-56, in a much-needed win.
Seton Hall will have Ike Obiagu, Tyler Powell and Ryan Conway available at Butler tonight. Big development.

— Jerry Carino (@NJHoopsHaven) January 5, 2022
Great team defensive efforts and consistent scoring outputs from Jared Rhoden with 17 points, Alexis Yetna with 14, and Bryce Aiken with 12 helped push the Pirates to victory.
Last look at our Big East win in Indy #HALLin⚪️ pic.twitter.com/zeh1e2oAnV

— Seton Hall Men's Basketball (@SetonHallMBB) January 6, 2022
As for UConn, the Huskies come to Newark, N.J. having not played a game since a few days before Christmas when they defeated the Marquette Golden Eagles, 78-70, on the road. UConn is 10-3 on the year, and 1-1 in conference play losing to now-ranked No. 16 Providence Friars, 57-53, prior to Marquette.
They had scheduled contests against Xavier and Butler that each had to be postponed due to COVID-19. Under the Big East's newly updated COVID cancellation policy, a conference game will be canceled in the event a school has fewer than seven scholarship players and one coach available for a game.
The Big East office will then attempt to reschedule any such game(s) in accordance with parameters approved by Big East Directors of Athletics. In the event the rescheduling parameters cannot be fulfilled, the canceled game(s) will be designated as a no contest.
The wait is over‼️

We're back on the road tomorrow.#ThisIsUConn pic.twitter.com/gv5jSPFx8m

— UConn Men's Basketball (@UConnMBB) January 7, 2022
But looking at UConn's talent and what to expect from them today, the Huskies are led by Graduate guard R.J. Cole and sophomore big man, Adama Sanogo.
Cole is a great modern collegiate guard with a long-range arsenal and good passing ability, leading their team in scoring and assists with 16.3 points-per-game and 4.7 assists-per-game.
Sanogo, on the other hand, is one of the best two-way big men in the Big East, and maybe even the country. He can get it done on both ends of the floor, averaging 14.6 points-per-game and blocking almost two shots-per-game. This duo, along with Tyrese Martin, will likely lead the way for the Huskies on Saturday.
Adama Sanogo dealing with hamstring issue. pic.twitter.com/qxebYrfWa5

— David Borges (@DaveBorges) January 6, 2022
Last season, the Pirates split the season series with the Huskies, winning on the road but then losing at home at the Prudential Center.
In the Pirates win, they were able to use an 18-point first-half lead to propel them through the finish line, and in the unfortunate "Senior Night" home loss, a mid-game 18-2 UConn run was the deciding factor in the matchup. It will be interesting to see how the first matchup of this season between these two squads plays out.
As usual, WSOU will be bringing you the broadcast from the Prudential Center for this Saturday afternoon contest. WSOU Sports correspondents Heaven Hill and Rony Jerez will be on the call for this matchup, so make sure you tune in to 89.5 FM WSOU to follow this Big East battle!
Ben Harris can be reached at benjamin.harris@student.shu.edu.
Posted in: Game Previews, Men's Basketball, Sports