Preview: No. 19 Pirates Play Providence Friars at Home to Start Big East Schedule
Date: September 18, 2021
By: Jonathan Heite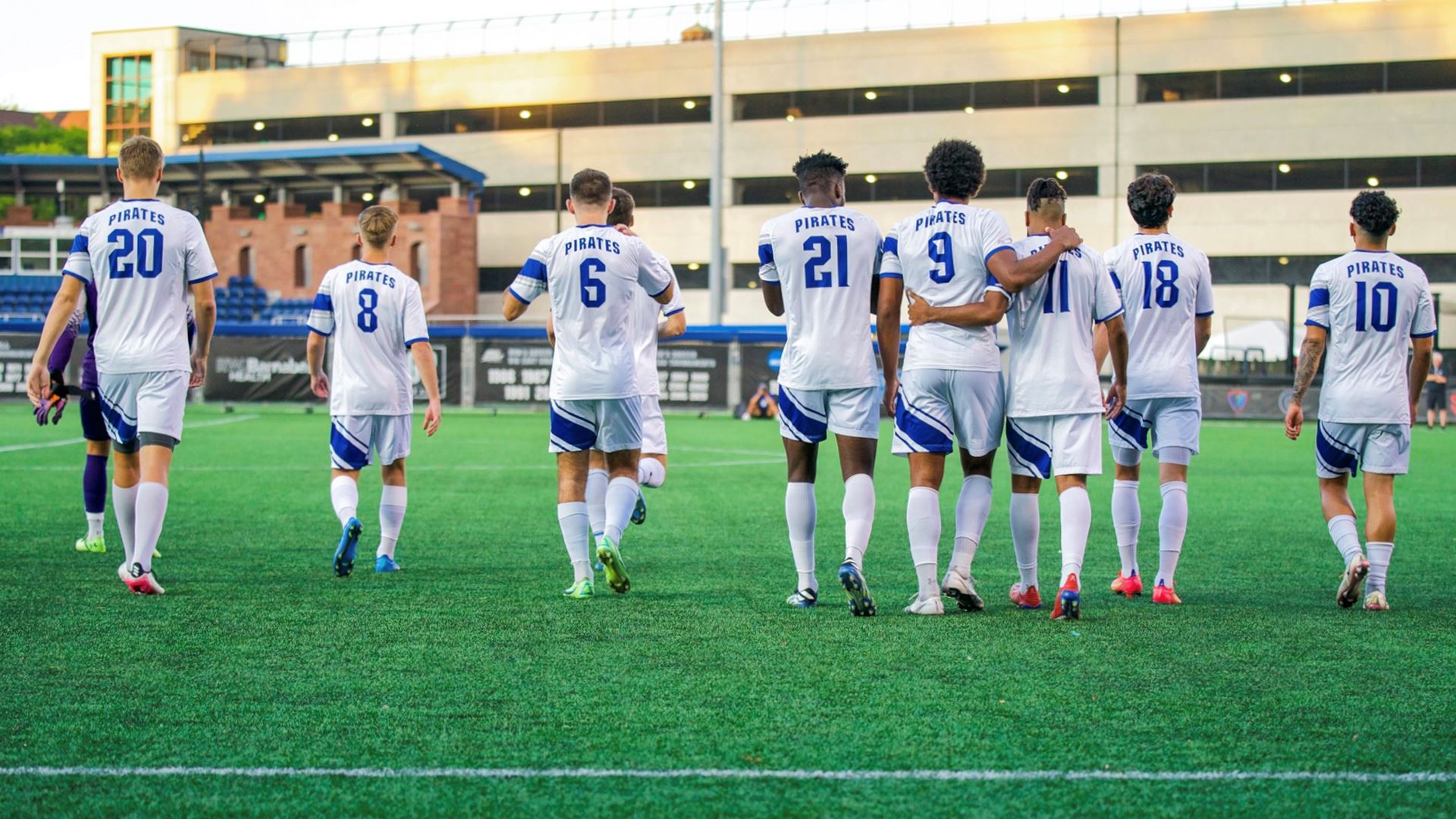 Seton Hall Athletics
Big East soccer is back!
Tonight, the No. 19 Seton Hall Pirates will look to extend their 682-day home unbeaten streak as they open up this season's Big East conference competition against the Providence Friars.
Any time the Pirates play at home is already a must-watch, and add the fact that it is the first conference game of the 2021 campaign, plus the 1991 Big East champion squad will be honored during the pregame Seton Hall men's soccer Alumni Celebration, Owen T. Carroll Field will be the place to be for the Seton Hall faithful.
The defending Big East champions have had an excellent start this season, securing a 4-0-2 record that also includes 17 total goals and 22 assists thus far, putting the squad second in the country in these offensive categories. Coach Andreas Lindberg's roster already found their groove after last season's Elite Eight appearance, and this has clearly showed so far in the encore with many players taking another big step in their careers in South Orange, N.J.
The Pirates have been on 🔥offensively to start the year!#HALLin 🔵⚪️ pic.twitter.com/HE1qZmuQds

— Seton Hall Men's Soccer (@SHUMSOC) September 15, 2021
After a solid sophomore campaign that was his first as a Pirate, junior Johannes Pex has been on another level, leading the team in goals (three), assists (five), and points (11). His assist total is currently first in the nation, and he also was already named Big East Defensive Player of the Week and earned a spot on College Soccer News' National Team of the Week.
Three assists and a spot on the BIG EAST Weekly Honor Roll for Pex! ⚽️⚽️⚽️

🔗https://t.co/3xZjkdszTI#HALLin 🔵⚪️ pic.twitter.com/6EuhHXkIhk

— Seton Hall Men's Soccer (@SHUMSOC) September 14, 2021
With goals in the past two games, sophomore Raz Amir is currently tied for second on the squad in points (six) with senior JP Marin, who has four assists to his name. After these three players, the rest of the scoring has been evenly distributed by numerous other members of the roster, and in particular, another bright spot has been graduate transfer Jordan Jowers, who has tallied a goal and three assists six games into his Pirates career.
Any Seton Hall player can score at a moment's notice, as seniors Luca Dahn, Paavo Riihijarvi and sophomore Mans Saebbo have scored two goals apiece. Senior CJ Tibbling, junior Andrea Borg, graduate transfer Mattia Cella, and graduate student Camil Koreichi have also contributed one goal throughout the six games of action.
In addition, senior Maurice Williams and juniors James Boote and Denis Kelmendi have all tacked on two assists each to help bolster the already loaded offense. As always in net, graduate student Andreas Nota has collected 23 saves, with some as flashy as ever that have catapulted the Pirates to their hot start.
☝️ @realmowill#HALLin 🔵⚪️ | #BEfutbol pic.twitter.com/zyD7T3Lewd

— Seton Hall Men's Soccer (@SHUMSOC) September 17, 2021
Seton Hall is coming off an overtime thriller against the Army Black Knights that was played in West Point, N.Y., with the Pirates grabbing a 3-2 victory behind a 96th minute game-winner from Pex to secure the team's fourth win of the season. It was a back-and-forth contest, with the Pirates coming out on top behind their dominant offense that is also leading the conference in goals scored.
96' | GOOOOOOOAAAAAAL!

Pexy gets it done for the Pirates! Pirates earn the OT victory over Army, 3-2!#HALLin🔵⚪ pic.twitter.com/O4lJriMI0v

— Seton Hall Men's Soccer (@SHUMSOC) September 15, 2021
On the flip side, Providence has jumped out to a solid 3-1-1 record coming into this matchup and are currently second in the Big East on offense, right behind Seton Hall. The goal scoring is evenly distributed throughout 10 different Friars, making their lineup lethal across the board. Sophomore Lukas Burns has also been excellent in net, only allowing four goals in five games and making 17 saves.
Both of these teams are looking to move up in the top six of the Big East standings, making this game a big confidence booster for the victor when each squad faces the rest of the conference over the next few months.
89.5 FM WSOU will have all the coverage you need later tonight, with kickoff taking place at 6:56 p.m. The fantastic duo of Wilnir Louis and Jorie Mickens will be on the call, so be sure to tune in!
Jonathan Heite is the Web Editor for WSOU Sports and can be reached at wsousportswebeditor@gmail.com.
Posted in: Game Previews, Sports