One Giant Question Wild Card Round: YOU LIKE THAT? YOU LIKE THAT? LET'S GOOOOO!
Date: January 23, 2023
By: Brian Henderson
This article was originally written on Jan. 15, 2023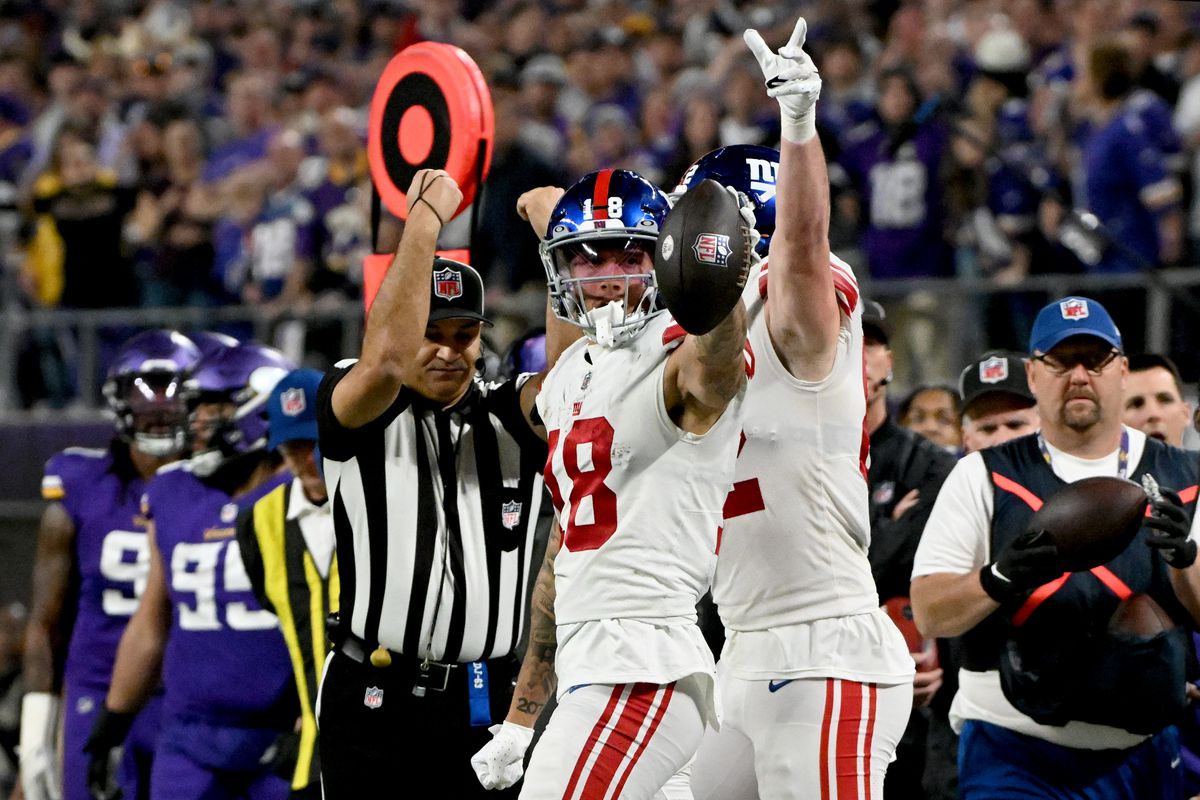 Stephen Maturen/Getty Images
Technically, this is two questions, but I think this is important enough to break tradition.
The New York Giants pull off the upset and get their revenge on the Minnesota Vikings, defeating them 31-24 in a nailbiter of a game.
God. I can't believe I'm saying that the Giants won a playoff game. The last few years have been absolutely horrible and then here comes Daboll, Wink, Kafka, and Schoen and BAM! Winning playoff team.
Giants deny the Vikings!

: #NYGvsMIN on FOX
: Stream on NFL+ https://t.co/uuhRH8WYIn pic.twitter.com/CIPFPUD3Ao

— NFL (@NFL) January 16, 2023
Let's start off with the man of the hour. Daniel freaking Jones man. Playoff debut. 300+ passing yards. Got it done with his legs too. Takes so many hits and keeps on fighting. That man has earned another contract.
You also can't not shoutout Saquon Barkley. Also in his playoff debut, scoring two crucial touchdowns and helping convert on second and third time and time again. He wanted this win. That second touchdown where he carried former Giant DT Dalvin Tomlinson into the endzone showed that he was not holding anything back.
The defense didn't look incredible, but man they showed up when it really mattered. Dexter Lawrence is a game wrecker and should have been first team All-Pro. That roughing the passer call on him (although it didn't affect the final score) was really bad and had me upset for a minute. But to be fair, the Giants got lucky with some calls in the first quarter, especially on that Hodgins touchdown.
Speaking of Hodgins, dude was cut from the Bills and then the Giants pick him up and suddenly, he's the WR1, great awareness and field presence, great hands, good route running. Again, not on the roster until halfway through the year and he's someone that you can build the team with. Shoutout Isaiah Hodgins.
What a catch Isaiah Hodgins! pic.twitter.com/pEHgUSeZ07

— JM Football (@JomboyMediaFB) January 16, 2023
Next week is the real challenge for this team. Number one seed. Philadelphia Eagles. At home. All rested and healthy.
Truthfully, I am not sure if they can pull another rabbit out of the hat, but to even be in this position is a privilege, so I'll say anything is possible. Adoree Jackson is back and I'm looking forward to the matchup with his former teammate AJ Brown.
Hope you're ready Giants fans. A new era of Giants football has officially arrived.
Brian Henderson can be reached at brian.henderson1@student.shu.edu.