One Giant Question Week 18: Who's Ready for the Playoffs?
Date: January 12, 2023
By: Brian Henderson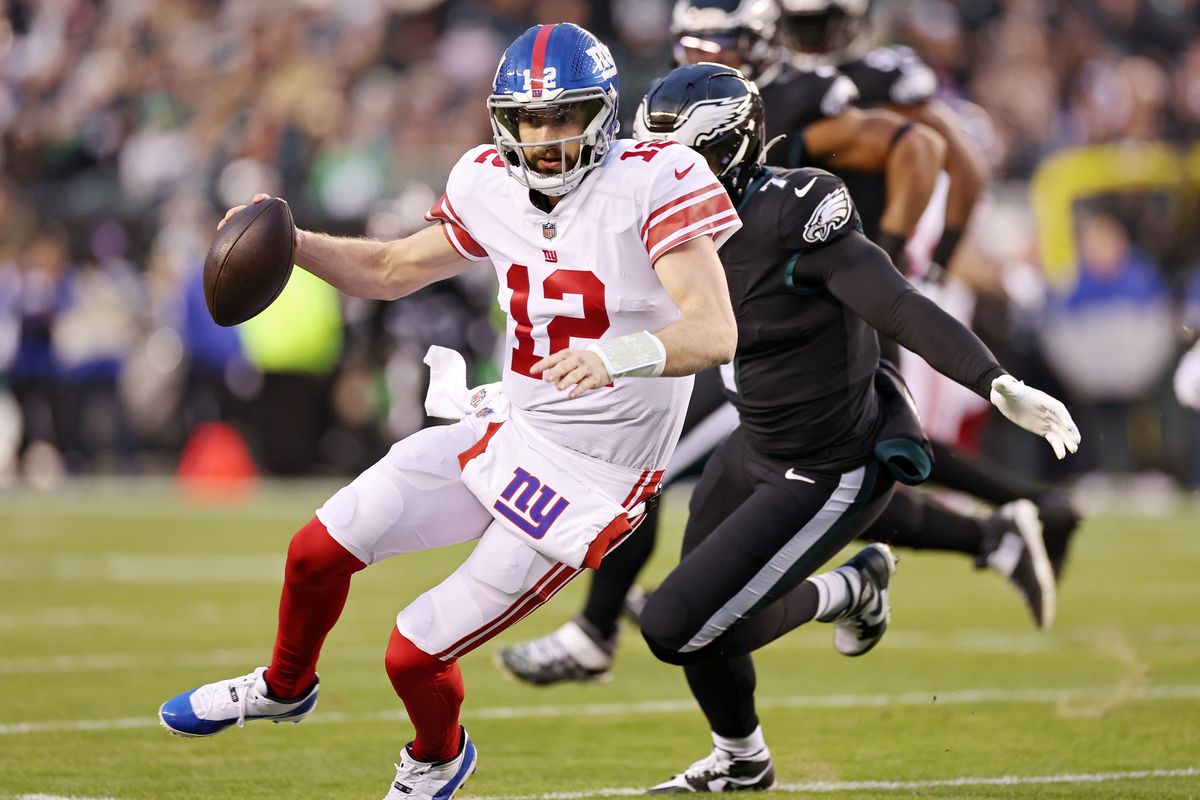 Tim Nwachukwu/Getty Images
I think I speak for every Giants fan when I say that game meant nothing. Just having some fun, you know?
Davis Webb was fun. Giants really didn't do much on offense until the fourth, but Webb ran in for a score.
The best moment of the game was the Giants second touchdown. In a moment that had only occurred in Giants fan's dreams, Kenny Golladay made a beautiful catch for a 25-yard touchdown, his first (and very possibly his last) as a Giant.
Don't even know what to say.

Kenny Golladay has a touchdown. This makes the game a win no matter the outcome. pic.twitter.com/yeVxgU7o65

— Talkin' Giants (@TalkinGiants) January 9, 2023
It's too poetic. Giants pay him big money to do literally nothing and now, NOW of all times he shows off why he was brought to New York in the first place. I love it. It's so funny to me.
Now, the Giants have a rematch with the Vikings, which is the ideal matchup. I didn't want the Giants to go against the 49ers defense and besides, the G-Men almost beat the Vikings just a few weeks ago.
Getting Saquon and the running game going will be a key. The Vikings have a high-powered offense, so controlling the clock is the name of the game here. If Danny Dimes has another huge game on the ground, that'd be perfect too.
Next, double Justin Jefferson. Make any other receiver beat you. I can accept T.J. Hockenson beating them. I will not accept KJ Osborn or an aging Adam Thielen beating them, though. JJ will probably still do what JJ does, so at least slow him down.
If the Giants get ahead early and control the clock, then they might not see a lot of Dalvin Cook, but he's still very talented, although he did get injured this week, which means the Vikings might not want to lean on him too much.
Dalvin Cook is being looked at in the blue medical tent right now.

: FOX pic.twitter.com/LBIP4j6Z07

— FOX Sports: NFL (@NFLonFOX) January 8, 2023
I want to say that regardless of what happens next week, I didn't even imagine that the Giants could get anywhere close to the playoffs. Even if they lose next week, this is a huge step in the right direction.
Go Giants. Beat the Vikings.
Brian Henderson can be reached at brian.henderson1@student.shu.edu.