One Giant Question Week 15: Will the Giants Make the Playoffs?
Date: December 26, 2022
By: Brian Henderson
This article was originally written on Dec. 20, 2022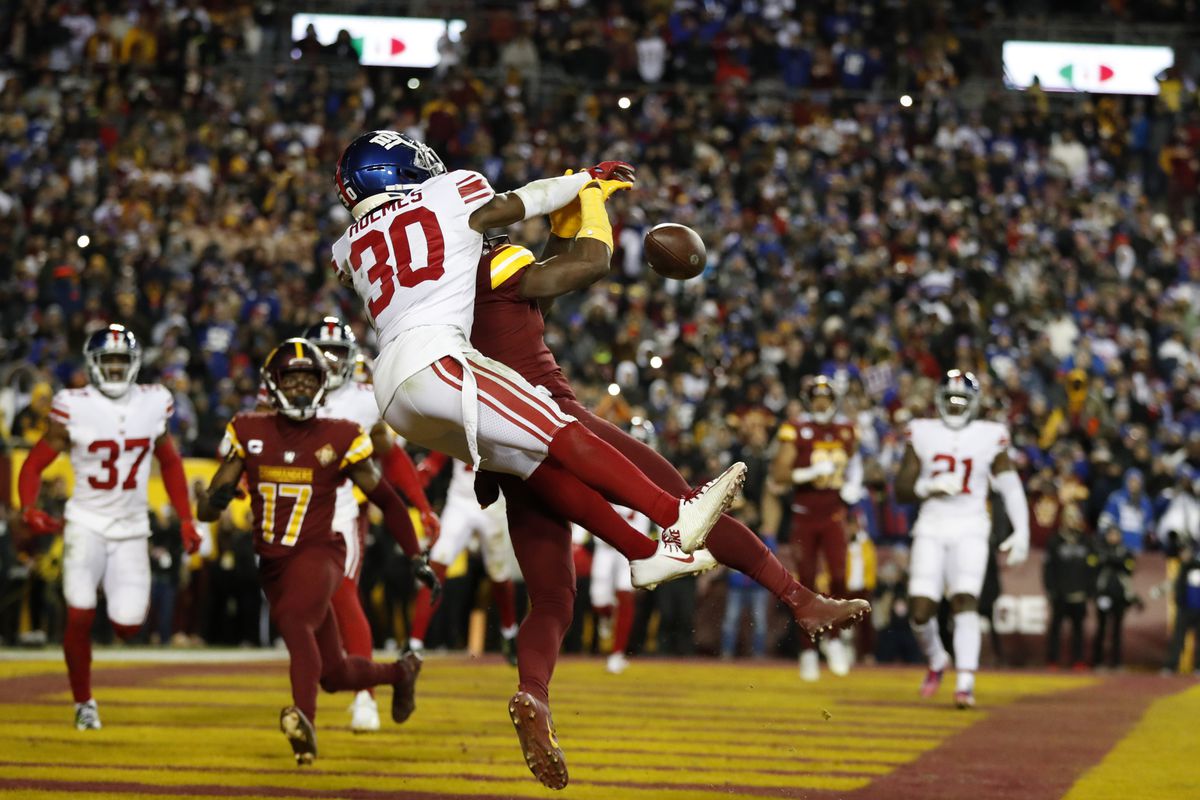 Todd Olszewski/Getty Images
The Giants got a huge win on Sunday when they defeated the Commanders in Washington 20-12.
The Giants did kind of allow the game to get a bit close in the fourth quarter, and personally, I thought we were going to see another 20-20 tie. That would've been insane.
But this was a nice bounce back game for the G-Men. Saquon had a great game. Around 20 touches for 120+ yards and a huge touchdown. But rookie pass rusher Kayvon Thibodeaux was the star of the show.
He probably had his best game of the season at Washington. 12 total tackles, which is not very common for an edge rusher, three tackles for loss, a sack, a forced fumble, a fumble recovery, and one touchdown.
Kayvon Thibodeaux is him. #TogetherBlue pic.twitter.com/SppSUKlRzm

— Giants Today (@NYGToday) December 19, 2022
That is why the Giants took him with the fifth pick. All of that potential and raw athleticism is finally being paired with great pass rush moves and tackling ability. Him, Azeez Ojulari, and Dexter Lawrence are three players the Giants need to build around.
The offense did struggle this game, especially in the first half, which is obviously concerning, but we won't focus on that for now. I do want to talk about the last couple of plays in the game.
I know that Darnay Holmes committed the most obvious pass interference ever, so some Washington fans were saying the refs sold the game, but some astute fans might have noticed that Kayvon got poked in the eye on that last play, so it should've been called back for hands to the face if it was a touchdown.
So now the Giants control their destiny. They have a brutal matchup at Minnesota, but I won't completely count them out. The Colts were able to put 33 points on their head in the first half. If Jones and Barkley have a good day running the ball, I think the Giants could make things interesting. Then they play the Colts and Eagles. Realistically, I think they go 1-2, but 2-1 is a slight possibility.
Regardless, this season has been better than I really could've thought, so I can't wait to see what happens in the last three weeks.
Brian Henderson can be reached at brian.henderson1@student.shu.edu.