One Giant Question Week 14: When Do We Want to Recognize the Inevitable?
Date: December 26, 2022
By: Brian Henderson
This article was originally written on Dec. 12, 2022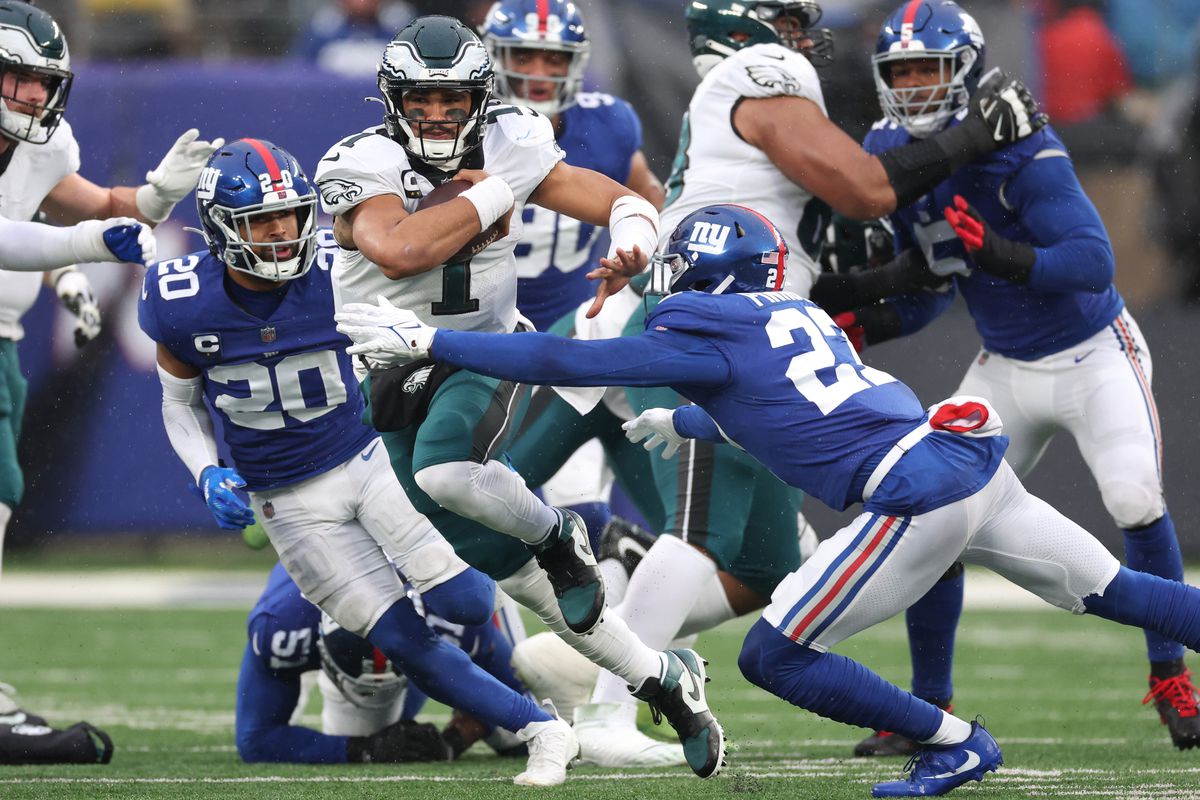 Al Bello/Getty Images
The Giants got trounced by the No. 1 seed Philadelphia Eagles in MetLife stadium on Sunday, with a score of 48-22. What a shock.
Make no mistake: this game was never close. It was never going to be close. I love the Giants from the bottom of my heart, but I got the feeling seven or eight weeks ago that this team was hiding behind a false record.
I'm not sure I need to go over stats, but I'll do it for the fun of it. Jalen Hurts only threw 10 incompletions. He threw two touchdowns in addition to running for one more. He had almost 300 total yards. The Eagles ground game combined for an absurd 253 yards and four touchdowns. Nine Eagles caught a pass.
Make it 6 TDs for the @Eagles offense today.

: #PHIvsNYG on FOX
: Stream on NFL+ https://t.co/Q0YYPeBaSr pic.twitter.com/EFaU9jICul

— NFL (@NFL) December 11, 2022
Contrast that with the Giants. Jones played ok, I guess. 18/27 for 169 yards and a touchdown. Tyrod got some action too, going 5/5 for 47 yards and a touchdown.
I get the Giants were down most of the game, but Saquon having nine rushes for 28 yards is concerning. I don't want to speculate, but I have a feeling something else is bothering him besides that neck injury that made him a game-time decision.
The Giants are 1-4 this year when Saquon Barkley gets less than 20 touches (Including last game against the Eagles)

How crucial is Saquon to this team?#TogetherBlue pic.twitter.com/IiKq98G11i

— GiantsMuse (@NYGiantsMuse) December 12, 2022
I really don't know what to think about the rest of the season. They play at Washington, a team they tied. They play at Minnesota (scared to see what ungodly statline Justin Jefferson is going to drop on the G-Men). They come home to play the Colts, and then finish out the year by playing the Eagles in Philly.
It's possible they lose all four. I think they can squeak by the Colts and maybe beat the Eagles if the Eagles rest half their starters for the playoffs. The Giants are 1-4-1 in their last six games. I don't see a light at the end of the tunnel. The offense looks rough. The defense is having trouble stopping anyone. Even the special teams (aside from Gano) has plenty of issues too.
It was fun for a time. Beating the Ravens, beating the Titans, the Packers, but it's back to reality for this Giants team. To be honest, this team exceeded my expectations for them. Maybe that'll cost them in the draft, but I don't know.
Lots of glaring issues on this team. Receiver, defensive back, linebacker, punter. What do you do with Saquon and Jones? Who knows. We'll see what Joe Schoen does when the season comes to its merciful end in four weeks. Hopefully the Giants can give all of us a bit more hope for the future.
Brian Henderson can be reached at brian.henderson1@student.shu.edu.