One Giant Question 9/19: How Long Can the Giants Keep This Up?
Date: September 19, 2022
By: Brian Henderson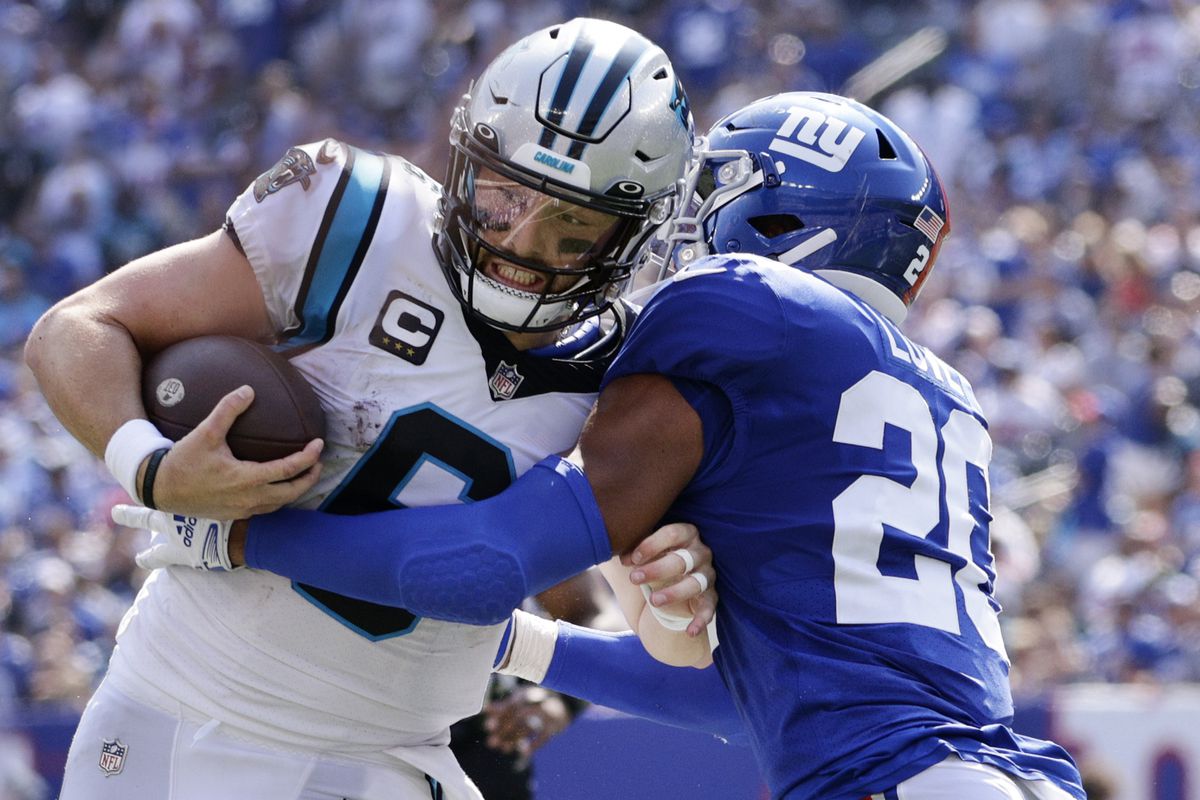 Rich Schultz/Getty Images
Well, that was a bit of a rough one.
The Giants defeated the Carolina Panthers 19-16 in Week Two, winning their first two games for the first time since 2016.
Special teams got things started off early, as Panther's running back Chuba Hubbard fumbled the opening kickoff to give the Giants excellent field position. The offense failed to take advantage of it though, as Graham Gano chipped in a field goal from 36 yards out.
In a case of déjà vu, the next Panther's next possession also ended in a fumble that, once again, the Giants only got a field goal out of.
The Panthers were able to drive down and hit a field goal of their own. After each team traded some punts, Panther's kicker Eddy Pineiro kicked it through the uprights from 32 yards, making it a 6-6 game at halftime.
After a Giants drive that netted -1 total yards, the Panthers finally found star wideout, DJ Moore, for a 16-yard touchdown that put them in the lead. Thankfully, the Giants were able to respond.
Saquon Barkley was struggling for the entire first half, but he reached the secondary for the first time on a nice 16-yard run. Following a 12-yard catch from Richie James and a 15-yard catch from tight end Tanner Hudson, another Giants tight end found the endzone.
The rookie from San Diego State University, Daniel Bellinger, caught a short pass and dove into the endzone, capping off the 10-play, 75-yard drive to tie the game.
Reminder that Daniel Bellinger has never caught a pass that he didn't believe was a TD pic.twitter.com/1Yq0FhwTDE

— Talkin' Giants (@TalkinGiants) September 19, 2022
The next five drives in the game all ended in punts, but the Giants took the lead once again with another Graham Gano field goal, the one from 51 yards away. Gano would one-up himself, kicking the game-winning 56-yard field goal late in the fourth quarter.
The New York Football Giants are 2-0, but how long can this continue? Edge rushers Kayvon Thibodeaux and Azeez Ojulari were out again, and now DL Leonard Williams could join them. Williams left the game in the third quarter with a knee injury and its severity is unknown as of the time this was written.
The offense still looked bad in the first half, squandering great field position twice. Daniel Jones had some bad mistakes out there, and the offensive line struggled with Brian Burns among other players. Frankie Luvu will get a shoutout from me, as he had 10 tackles and was a force all game for the Panthers.
Thank God for Graham Gano.
A 56-yard field goal by Graham Gano gave the Giants(-101) a victory in NY pic.twitter.com/Unql0SgxM0

— SportsLine (@SportsLine) September 18, 2022
He was responsible for almost all of the Giant's points and hit that huge 56-yarder to win. It's nice to have him on our team. We all remember his 63-yard game winner vs the Giants in 2021.
The Giants will be on Monday Night Football next week, where they could have their hands full with CeeDee Lamb and the Prescott-less Cowboys.
I'll be back to cover that one, but for now, Giants fans, celebrate being 2-0. It feels great.