One Giant Question 12/3: Were the Past Few Months Fun?
Date: December 3, 2022
By: Brian Henderson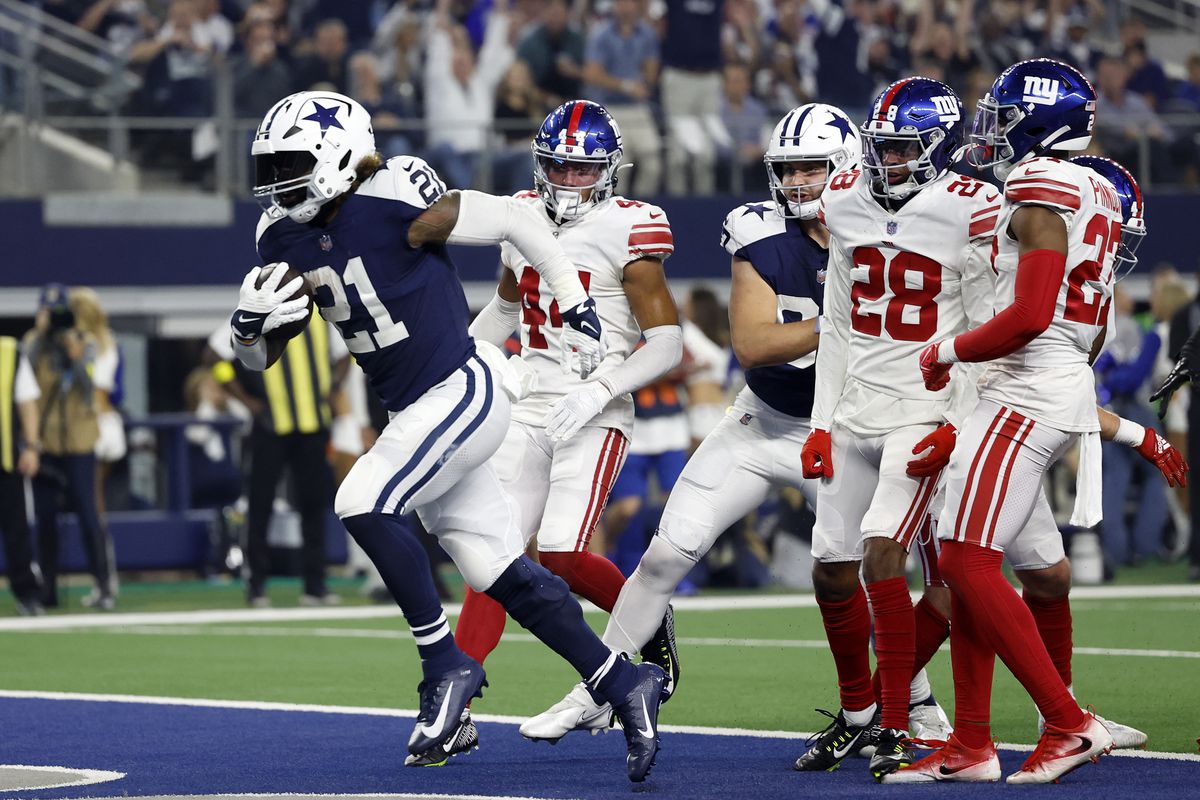 Wesley Hitt/Getty Images
Did you have fun? I had fun.
September and October were a lot of fun. I really enjoyed it, and I hope you did too.
Reality has officially struck.
Honestly, it's pretty good that I didn't write this after the game on Thanksgiving, it would be a lot more negative than this one is going to be.
The Giants lost on Turkey Day to the Cowboys 28-20, letting them sweep the season series against the Giants. The Giants scored a last second touchdown to make it appear that it was a close game, but it was over the second both teams came out at halftime.
Really everyone played bad. Jones was missing throws; Saquon couldn't run anywhere and dropped a huge pass in the third quarter on fourth down.
.@Dallascowboys @MicahhParsons11 v @Giants @saquon just a couple of Lions on the chase. Hard to turn the corner v the Hungry Lion. @PennStateFball #BaldysBreakdowns pic.twitter.com/6POTQ988Q4

— Brian Baldinger (@BaldyNFL) November 25, 2022
The defense couldn't stop the Cowboys at all and even Andrew Thomas got beat by Parsons a few times in the second half (though that's not really a knock on him, he's been incredible all year so I cannot hate on him).
The Giants are 1-3 in their last four games and now the Washington games could really be loses. Washington is 6-1 in their last seven, and I am honestly not sure if the Giants can beat them.
Of course, injuries are ever-present, and I wonder how long the Giants will pretend that things are ok. They entered the game on Thanksgiving missing 4 of 5 offensive linemen, every key receiver, a starting tight end, both starting CBs, and their starting safety. I love him, but when Isaiah Hodgins is your WR2, your team is in a rough spot.
Not to be too negative, but outside of the Colts, I am not sure the Giants have an easily winnable game for the remainder of the year. Washington is going to be tough (as I mentioned), and I won't even get into the two Eagles games and the Vikings game.
Hardest remaining strength of schedule
(via opponent win pct)

Giants .688
Bears .625
Commanders .600
Bengals .591
Jets .591 pic.twitter.com/wNdTDd697p

— NFL on CBS (@NFLonCBS) November 29, 2022
This is going to be a rough end to the season, and it would not shock me if the Giants miss the playoffs. Honestly, they don't deserve to make it, and could use the better draft position because God knows this team needs some help in the draft and free agency.
These last six games will be "make-or-break" in my eyes for Daniel Jones. I don't know if he's proven himself to be a franchise guy. He has a lot of game-winning drives so far this year, I know, but his numbers are nowhere near "franchise QB" numbers. Part of it is talent around him, but I can't keep on using that excuse. Sometimes, the new regime has to get a new guy.
I'll be back on Sunday and hopefully more upbeat.
Brian Henderson can be reached at brian.henderson1@student.shu.edu.