One Giant Question 10/31: Will Joe Schoen Trade for a Receiver Before the Deadline?
Date: November 2, 2022
By: Brian Henderson
This article was written on Oct. 31, 2022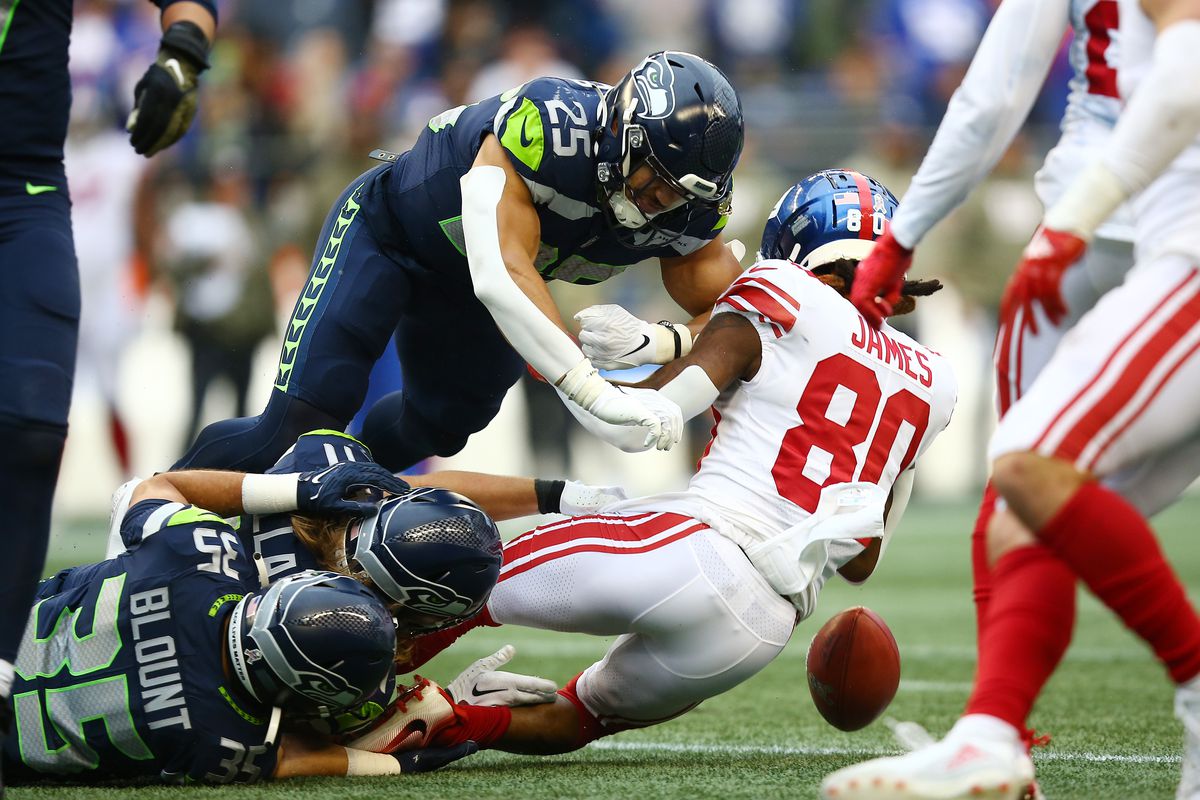 Lindsey Wasson/Getty Images
The Giants finally drop a game to the Seattle Seahawks, 27-13, and they deserved to lose this one. The offense looked stale and again, the receivers could not get any separation. Didn't help that the tackling was kind of weak too.
Honestly, I can live with this loss. Three of their last four games have been away games, including one in London. The Seahawks have outperformed expectations all year and Geno Smith is having a great season.
Before we talk about the upcoming trade deadline, I'll recap some key moments of the game.
The first quarter started with six straight drives that all ended in punts before the Seahawks finally found DK Metcalf for the 3-yard score.
The Giants, in Giants fashion, were able to answer back quickly with an Adoree Jackson strip of Tyler Lockett, which was recovered on the 2-yard line. Saquon punched it in soon after.
SMOOTH CRIMINAL. @AdoreeKnows with an impressive takeaway for the @Giants!

: #NYGvsSEA on FOX
: Stream on NFL+ https://t.co/E4IpTg1hqp pic.twitter.com/DltLDEI8cb

— NFL (@NFL) October 30, 2022
That was really it for the Giants offense. Gano hit two field goals, but Richie James made some costly mistakes on special teams. He fumbled two punts, and the Seahawks got a combined 10 points out of them.
Still the G-Men are 6-2 heading into the bye week, something I could have never imagined I'd be saying. But this team needs to address at least one major issue.
Their receiving core is horrible. They are winning games despite them, not because of them. With the draft picks this team has, including the ones they got for Toney, they should trade for a receiver.
I would say wait for the draft, but this team could make the playoffs, no use in having Jones throw to McDonalds cashiers anymore (except for Wan'Dale. He's played well).
The three names I, and most other fans, I'd assume, would be happy with are DJ Moore, Elijah Moore, and Jerry Jeudy.
DJ and Jeudy have only had their names thrown around in rumors, but you never know. The panthers are rebuilding, and the Broncos look bad, even after they beat the Jaguars.
Now Elijah Moore. He's already demanded a trade and just publicly said "I don't get the ball. I don't know" when asked about his chemistry with his QB, Zach Wilson.
This is the most likely trade target, but I don't know is he's a WR1. I see that more in Jeudy and DJ, but who knows.
P.J. WALKER LAUNCHED IT OVER 60 YARDS TO DJ MOORE TO TIE THE GAME

The extra point was no good.

(via @Panthers) pic.twitter.com/0RqOlsLI4z

— SportsCenter (@SportsCenter) October 30, 2022
Again, rough loss. Team looked bad, but they were due for a game like this. Close wins aren't sustainable and that's ok. This team is getting a week to rest and plan for the Texans, who just had Derrick Henry rush for 200+ yards and two touchdowns. Saquon better be excited.
I will, however, be disappointed if this team doesn't make a trade for a talented receiver before the deadline. Jones needs people who can separate from DBs and catch the ball.
Brian Henderson can be reached at brian.henderson1@student.shu.edu.