Nicosia's Top 25: Week of Jan. 10
Date: January 11, 2022
By: Justin Nicosia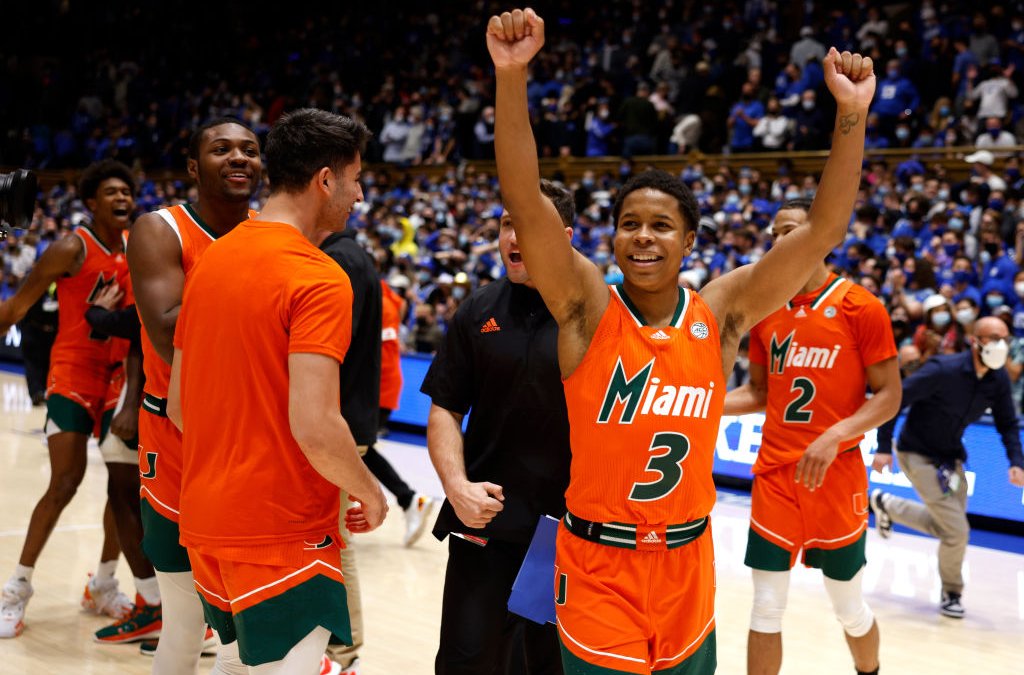 Lance King/Getty Images
Note: Written on Jan. 10
Okay, I admit it. I cheated. Last week, I didn't make a top 25.
Due to a combination of circumstances including the new year, beat writing last Tuesday's game against Butler, and attending the Knicks' amazing comeback against the Boston Celtics, I just couldn't find the time.
Fortunately, there weren't that many games of note leading up to the week I missed. About half of the scheduled games in the country were cancelled and no ranked teams lost to an unranked team.
This was not the case for the past week of games. Seven ranked teams lost to unranked teams, and while a large number of games were still cancelled by COVID, that number was far fewer than last week.
As much as I would have loved to fit Miami into the top 25 since in my absence they have become 4-0 in ACC play, and they just beat Duke on the road, I have them as my second team out.
The ACC just isn't strong enough this year for a 4-0 record alone to put them in my top 25, and as impressive as the Duke win was, it is also their lone quadrant 1 victory. If the Hurricanes beat Florida State on Tuesday, however, they should almost certainly be ranked in my top 25 next week.
Lastly, since I missed last week, the rankings listed in the "last week" section for each team will technically be my rankings from two weeks ago. Don't be surprised to see a lot more movement between teams than usual since there still are two weeks between my polls.
Without further ado, here are my top 25 rankings for this week.
1. Baylor (15-0, 3-0 Big 12)
Last week: 1
Baylor continues to be the undoubted best team in the nation. Their closest margin of victory came on the road against then-No. 8 Iowa State by five points. 12 of their 15 victories have come by double digits, and as a team, Baylor shoots 49.5% from the field while holding opponents to 59.5 points-per-game.
Woke up 3️⃣-0️⃣ in the @Big12Conference #SicEm | #CultureofJOY pic.twitter.com/ZYV8cn33Hr

— Baylor Men's Basketball (@BaylorMBB) January 9, 2022
They are the clear favorites in the best conference in college basketball and could reasonably finish with a 14-4 record or better in the Big 12.
2. Gonzaga (12-2, 1-0 WCC)
Last week: 3
Chet Holmgren has yet to develop into the unanimous top-three NBA draft pick everybody was expecting him to be entering this season. While he's still been very good for Gonzaga, most expected him to produce more than he has so far. Despite this, Gonzaga enters the week at 12-2 with a respectable 3-2 record.
They're coming off a 117-83 weekend victory against Pepperdine. The last time a Division 1 team scored more than 115 points in regulation against a conference opponent was when Samford beat The Citadel, 116-103.
3. UCLA (10-1, 2-0 Pac-12)
Last week: 4
UCLA finally got back on the basketball court for the first time in nearly a month this week. While they were supposed to play Arizona State on Wednesday, COVID issues by the Sun Devils forced UCLA to schedule a game against Long Beach State, who they promptly beat, 96-78. They then returned to Pac-12 play, beating California, 60-52.
It's still hard to get a read on what this UCLA team is capable, but to no fault of their own. They have two good non-conference victories against Marquette and Villanova and will have many more opportunities to prove themselves during the rest of Pac-12 play.
4. Auburn (14-1, 3-0 SEC)
Last week: 16
I'm finally all in on Auburn. Their lone loss was in double overtime to a full-strength UConn team, and their victories include victories over Loyola-Chicago, Florida, and an absolute defensive thrashing of LSU.
Walker Kessler is one of the best defensive bigs in the country, Jabari Smith is emerging as the best player in the upcoming NBA Draft, and Wendell Green, Jr. is an elite and true point guard.
Auburn's next test comes Tuesday against a slumping Alabama game in the home rendition of their biggest rivalry. If the Tigers win that, they'll move to 4-0 in SEC play and continue to distance themselves from the rest of the conference where they're already heavy favorites.
5. Arizona (12-1, 2-0 Pac-12)
Last week: 10
Arizona remains above everybody else in the country in average scoring margin, at +24.8. While their win against Michigan looks less impressive by the day, they haven't done anything to make me think they're not a top-10 team in the country.
We lead the country in:

Assists per game
Total assists
Scoring offense &
Scoring margin #BearDown #RunWithUs pic.twitter.com/y9phSatB77

— Arizona Basketball (@ArizonaMBB) January 8, 2022
Their lone loss, at Tennessee was still an impressive performance, and the Wildcats were a few whistles away from winning that game.
COVID pauses have hurt their chances of building their resume up to this point, but assuming their games against UCLA and USC get made up at some point, they will have four more opportunities against teams currently ranked in the top five of the AP Poll.
6. Michigan State (13-2, 4-0 Big Ten)
Last week: 9
Michigan State is one of those teams that don't exactly have a superstar player. Yet, each player in their rotation is so impactful that the Spartans are early favorites in the Big Ten despite entering the season sixth in the preseason Big Ten polls.
A big reason for Michigan State's success has been the development of Gabe Brown. He has doubled his scoring output from 7.2 points and 0.5 assists-per-game a season ago to 14.5 points and 1.1 assists this season. Marcus Bingham, Jr. is collecting nearly three blocks-per-game and Malik Hall is shooting 55.6% from three this season.
Yes 55.6%! The Spartans are so well rounded and are on track to be at the least a top four seed in March.
7. Duke (12-2, 2-1 ACC)
Last week: 2
On paper, Duke is arguably the best team in the country. A frontcourt of Paolo Banchero and Wendell Moore, Jr. is good enough to handle any team in Division 1, but Saturday's 76-74 home loss against Miami was a reminder that anything can happen in college basketball.
Duke went just 6-21 from three in that game, and a cold shooting night could be the downfall for a Duke team that takes over 35% of their shots from three-point land.
Two months ago, Miami lost to UCF at home and Dayton on a neutral site.

Today, the Hurricanes just went on the road to a packed Cameron Indoor Stadium and beat No.2 Duke.

Anarchy?

Nope.

Just college basketball.

— Justin Nicosia (@justinnicosia20) January 9, 2022
8. Purdue (13-2, 2-2 Big Ten)
Last week: 7
Purdue's offense is one of the best in the country. There's no doubt about that. That being said, their defense has some big question marks. They allowed 90 points to Nicholls State and their defense let them down in their two losses this season against Rutgers and Wisconsin.
Their signature win against Villanova is impressive, but their other notable wins, against UNC and against an Iowa team that was playing without Keegan Murray haven't wowed me. If they stay on the same pace that they started conference play with, I could reasonably see the formerly No. 1 team in the country fall out of a top-four seed by season's end.
9. Villanova (11-4, 4-1 Big East)
Last week: 21
It's one of the last things I want to admit, but it appears to me that Villanova is back.        After back-to-back losses against Baylor and Creighton, the Wildcats have rattled off four consecutive wins, including double digit victories against Xavier, Creighton, and DePaul.
Collin Gillespie reminds us why he won Big East Co-Player of the Year last season, and he is amongst four Wildcats averaging ten or more points-per-game. While this Villanova team doesn't have much bench depth, their starting lineup is one of the best in the country, and they will certainly finish in the top three of the Big East standings.
10. Kansas (12-2, 1-1 Big 12)
Last week: 8
Kansas is nine points away from an undefeated 14-0 record. But….they were also nine points away from a home defeat against S.F. Austin, or an overtime period against George Mason. The Jayhawks still have two potential All-American guards in Ochai Agbaji and Christian Braun, yet their only two wins of note were against Michigan State in the Champions Classic and Oklahoma State.
No place like pic.twitter.com/QpJYNRcsQo

— Kansas Men's Basketball (@KUHoops) January 10, 2022
Saturday's loss was against Texas Tech team without their two leading scorers and their other loss was at the buzzer to Dayton. I think Kansas still has the guard depth to be an elite team, but I'd love to see them put everything together for a couple games in a row against meaningful competition.
11. USC (13-0, 3-0 Pac-12)
Last week: 19
USC finally returned from their COVID absence to play Cal, winning 77-63. While they remain undefeated, the Trojans still only have played two games against top-75 KenPom teams, neither of which were in the top 30.
I still need to see them play games against tournament-caliber competition before I can confidently put them in my top 10.
12. LSU (14-1, 2-1 SEC)
Last week: 22
LSU is one of the teams that benefit from the fact that I didn't publish a top 25 last week. After their loss against Auburn in which they looked completely out of sorts for the entire 40 minutes, I may have dropped them out of the top 25 entirely.
Instead, they rise up the rankings all the way to No. 12. This team, especially their defense, is legit.
13. Houston (14-2, 3-0 American)
Last week: 15
What Houston has done in the two weeks since the injuries to Marcus Sasser and Tramon Mark were announced is impressive. While the competition hasn't been particularly good (Temple, South Florida, and Wichita State), a team that can keep their composure after losing two veteran stars and win three straight by an average of almost 11 points is impressive to me.
14. Seton Hall (11-3, 2-2 Big East)
Last week: 6
I was really tempted to put Seton Hall higher on this list. They remained within two possessions of both Providence and Villanova without their two tallest players (Tyrese Samuel and Ike Obiagu). They proceeded to beat Butler on the road by 15 in Obiagu's return and beat a full-strength UConn team in an overtime thriller without Alexis Yenta, who had recorded double-doubles in three of his previous five games.
Recapping a thrilling overtime win #HALLin ⚪ pic.twitter.com/RqrMDeKGsr

— Seton Hall Men's Basketball (@SetonHallMBB) January 11, 2022
At full strength, I firmly believe this Seton Hall team is a top-10 team in the country. But with that said, I can't ignore the two losses they had last week, no matter how excusable they were.
This week will be one of the "easier" weeks in the Big East for the Pirates, on the road against DePaul and Marquette, but given the nature of the Big East and college basketball in general, they both could be close games.
15. Iowa State (13-2, 1-2 Big 12)
Last week: 11
Iowa State remains one of the biggest surprises in college basketball this season. Their first loss of the season came by five against Baylor, which was Baylor's lowest margin of victory this season. Their other loss came on the road against a great Oklahoma team, who enters my top 25 this week.
Stick Together

Time To Get Back After It#Cyclones | #C5C pic.twitter.com/RoiIef1ihX

— Iowa State Men's Basketball (@CycloneMBB) January 9, 2022
While the Cyclones don't have a standout scorer outside of Isaiah Brockington, each player in their rotation is great at not only disturbing shots but forcing turnovers. Iowa State ranks 16th nationally with 9.5 steals-per-game and fifth in the country in three-point defense.
They may not be the flashy team that can score 75 points on any given night, but they play eerily similar to the Virginia team that won the national championship a few short years ago.
16. Wisconsin (13-2, 4-1 Big Ten)
Last week: NR
I'll be honest. I've been lower on Wisconsin than anybody all this season—they weren't even in my first five out two weeks ago. Monday's victory against Purdue silenced any doubt I've had of the Badgers.
Johnny Davis is a top-three player in the country right now (behind only Oscar Tshiebwe and E.J. Liddell, in my opinion), and he was phenomenal against Purdue (37 points, 14 rebounds, 13/25 shooting, 2/5 3-point shooting).
Wisconsin's only two losses came to a good Providence team without Davis, and on the road to a very good Ohio State team. They will be a fun team to watch come March.
17. Ohio State (10-3, 4-1 Big Ten)
Last week: 5
My biggest takeaway from the last two weeks is that E.J. Liddell is human. In Thursday's 16-point loss against Indiana, Liddell scored just 11 points on 3/12 shooting and 1/5 from three-point range, while turning the ball over three times.
Dropping them twelve spots against a good team may seem extreme, but as the season goes on, the Buckeyes seem more and more like a one-man show, which is not a recipe for success. We'll see how they play on Thursday against Wisconsin.
18. Xavier (12-2, 2-1 Big East)
Last week: 18
Xavier is the only team that didn't move since the last rendition of my top 25. They didn't do anything wrong per se—they won their lone game in the past two weeks, 87-72 at Butler, but four teams (Villanova, USC, LSU, and Wisconsin) did enough to earn their names above Xavier this week, countering the teams that slipped below the Musketeers.
19. Texas Tech (11-3, 1-1 Big 12)
Last week: NR
Texas Tech went against the second-best team in the Big 12 short-handed and won by a solid eight points. Playing without Terrence Shannon, Jr. and Kevin McCullar and beating a good conference opponent by multiple possessions speaks volumes to the Red Raiders' depth.
As always, this team is predicated on their defense which allows less than 60 points-per-game, but their offense is also good enough to hang with most opponents. They now have two wins against top-11 teams in the NET rankings, and they look to be the first team to beat Baylor this season when the two face off on Tuesday.
20. Loyola-Chicago (11-2, 2-0 MVC)
Last week: 25
In a spur of the moment matchup that was only made possible by both teams having their games postponed due to COVID protocols, Loyola-Chicago ended their own COVID pause with a 79-74 victory over San Francisco on Thursday in what could only be described as the best matchup between mid-major teams.
America's darling, as I call the Ramblers, have only two losses by a combined 11 points. Both were losses to teams currently ranked sixth or better in my rankings this week (Michigan State and Auburn). Loyola-Chicago is one of the best shooting teams in the country, hitting 40.3% of their three-point attempts and 50.5% of their shots from the field.
We talk about players who shoot 40% from three, 50% from the field, and 90% from the free throw line being elite talents, and this team has hit two of those three marks. While their 71.6% free throw percentage falls well short of the aforementioned 90% mark, it still ranks above average nationally.
New Year. Same Ramblers.#WIF | #OnwardLU pic.twitter.com/ChoxV2mDQt

— Loyola Men's Basketball (@RamblersMBB) January 7, 2022
Loyola's defense is also phenomenal, allowing just 62.8 points-per-game.
21. Texas (12-3, 2-1 Big 12)
Last week: 12
Texas is another one of those teams that I really need to see more out of before getting a general idea of their true talent.
Their only three games of note against teams at or close to full strength were against Gonzaga, Seton Hall, and Oklahoma State. Their 15-point victory against West Virginia, while impressive, came without the Mountaineers having Taz Sherman, Gabe Osabuohien, and Kobe Johnson.
Heading into the season with a transfer-heavy team and new coach, it made sense why Texas would schedule relatively light in the non-conference slate. I understood, and still understand, that a team with as much roster turnover and as many transfers as the Longhorns would need time to mesh together before coming to a final conclusion on their talent level.
They have the talent to be an elite team nationally, but to this point, they're one of the few teams that I still have no clue how to evaluate them. We will soon see that change though, as they play both Oklahoma and Iowa State this week.
22. Tennessee (10-4, 1-2 SEC)
Last week: 13
LSU's top ranked KenPom defense showed out Wednesday when they held Lipscomb to just 39.2% shooting, in a 95-60 victory for the Tigers.
Their next three games, which will also be the start of conference play, are against ranked opponents: at Auburn on Wednesday, vs. Kentucky on Jan. 4, and vs. Tennessee on Jan. 8.
23. Oklahoma (12-3, 2-1 Big 12)
Last week: NR
Oklahoma has lost just one game by more than four points: last Tuesday's matchup against Baylor. Their other two losses were by three to Utah State and four to Butler. Neither of those are particularly good losses, but they're not bad either.
Oklahoma's single-digit victories over UCF and Florida, as well as their double-digit victories against Arkansas, and more recently Iowa State, are more than enough for me to rank them 23rd in the country.
If they make the NCAA tournament, which they are on track to do, they will be one of the most battle-tested teams in the country. Currently, the remainder of their schedule is composed of exclusively quadrant 1 and quadrant 2 opportunities.
Their next six games and 12 of their next 13 games are of the quadrant 1 variety. They will have ample opportunity to prove themselves further over the next two months.
24. Illinois (11-3, 4-0 Big Ten)
Last week: NR
Depending on who you ask, Kofi Cockburn is the best big man in the entire country right now. He currently averages a double-double with 22.5 points and 12.5 rebounds-per-game.
Alfonso Plumber is shooting 41.9% from three and averaging 16.4 points-per-game, and Illinois has won eight of their nine games since Andre Curbelo's injury. Next Monday's game against Purdue could propel them into the top 15 if all goes well.
25. Providence (14-2, 4-1 Big East)
Last week: 17
Last week Jeff Goodman called Providence the "luckiest team" in the country, with their biggest wins (Seton Hall, Wisconsin, and UConn) coming against teams playing without significant players. Seton Hall played without Tyrese Samuel and Ike Obiagu, Wisconsin played without Johnny Davis, and UConn played without Adama Sanogo.
Saturday's W pic.twitter.com/7RsYVHVQlm

— Providence MBB (@PCFriarsmbb) January 10, 2022
I won't go that far to discount any of those victories because a quadrant 1 win is still a quadrant 1 win. But it makes their 32-point loss to Marquette far less surprising.
Providence had a very impressive non-conference slate, but only time will tell how much that will carry into the remainder of conference play.
Justin Nicosia can be reached at justin.nicosia@student.shu.edu.
Posted in: Sports