NFL Overreactions: Week Two
Date: September 21, 2022
By Justin Lotito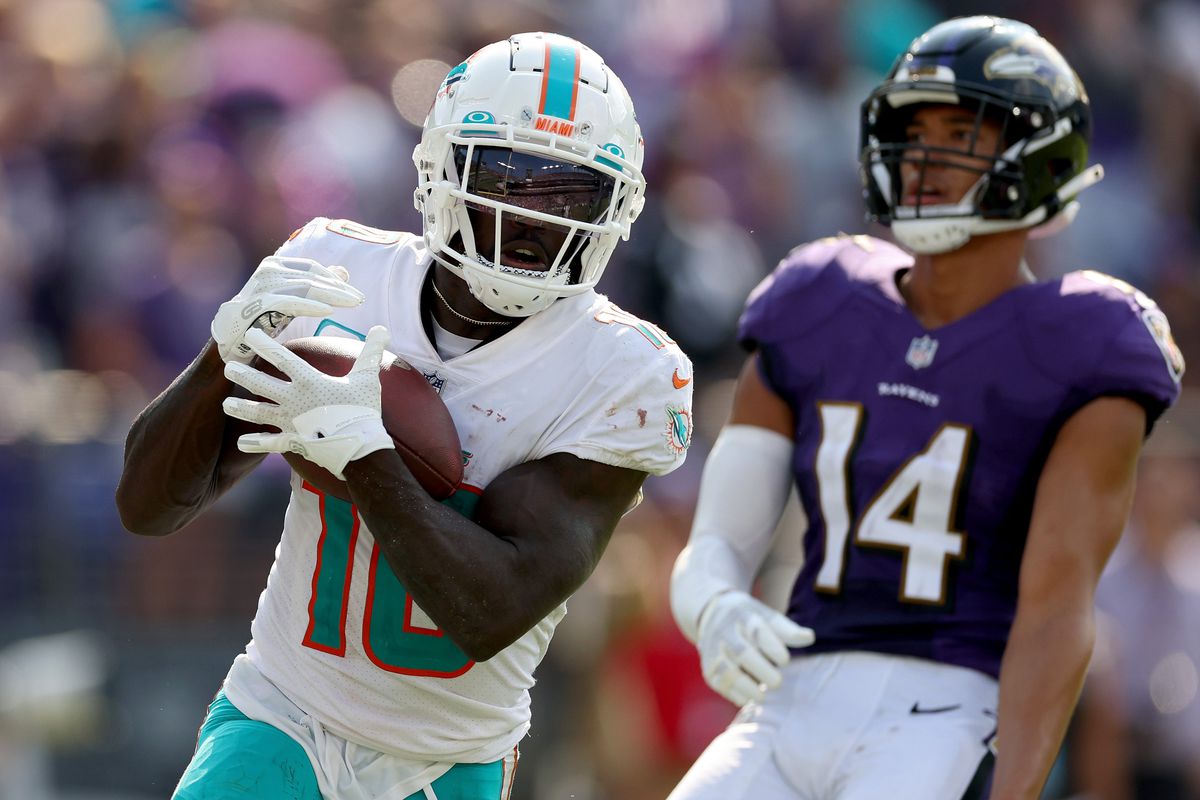 Rob Carr/Getty Images
Many of my takes from last week were spot on. Rodrigo Blankenship was cut by the Colts, the Steelers lost, and the Rams almost blew a 28-3 lead to the Falcons.
Michael Thomas continued to produce, catching six passes for 65 yards and a touchdown. My only miss may have been on the Vikings, who did fall to the Eagles. However, I believe Minnesota can turn it around next week.
With that, here are my blistering hot overreactions for Week Two.
The Chiefs Still Lead the Pack in the AFC West
It is no doubt that the AFC West is the best division in the NFL. After an eventful offseason, every team seemed to become Super Bowl contenders. The Broncos acquired Russell Wilson, the Raiders got DeVante Adams, and the Charges signed shutdown corner JC Jackson.
While every team seemed to get better, it appeared the Chiefs fell behind. They lost elite wide receiver Tyrek Hill in a stunning trade with the Dolphins. They also let star defender Tyrann Mathieu walk.
Many fans began writing Kansas City off. However, after the first two weeks of this season, it became clear that the Chiefs are still the team to beat in the West.
The Broncos have looked abysmal so far. In Wilson's highly anticipated return to Seattle, the Seahawks won. During Week Two, the Broncos barely defeated the Texans, a team that a serious playoff threat should have no trouble handling.
Las Vegas has had a disappointing start to their season. In a close Week One matchup, the Raiders lost to the division rival Chargers. In Week Two, the Raiders appeared to be running away with victory from the Cardinals. Somehow, the Raiders blew the game after giving up multiple big plays late.
The Chargers, appear to be the biggest threat to the Chiefs. Led by stars Justin Herbert and Derwin James, the Chargers are a serious threat to Kansas City.
However, Thursday night, the Chiefs proved that they are still the best in the division. In a close game, the Chiefs defeated the Chargers 27-24.
SIDEARM TOUCHDOWN @PatrickMahomes x @JetMckinnon1 pic.twitter.com/aP0TdtmSxE

— Kansas City Chiefs (@Chiefs) September 16, 2022
As long as the Chiefs have their star Patrick Mahomes, they will always be leading the pack in the AFC West.
The Lions Are Good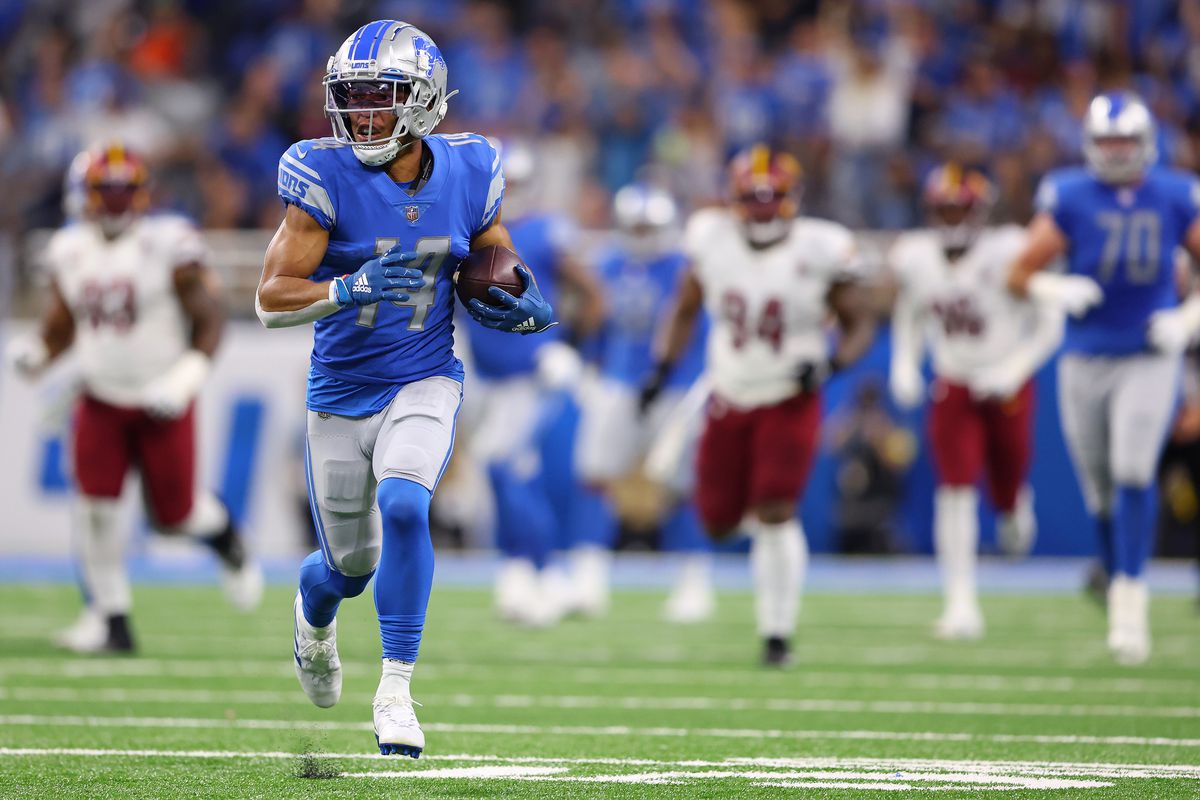 Rey Del Rio/Getty Images
You know a team has had a rough history when just calling them good is a hot take/overreaction.
After barely losing to the Eagles 38-35 in Week One, the Lions had a bounce-back win against the Washington Commanders.
Detroit got off to a hot start, taking a commanding 22-0 lead at the end of the first half. Both their offense and defense looked unstoppable.
In the second half, the game got more contested, but the Lions still were able to pull away in the end, 36-27. Notoriously, the Lions are known for choking away big leads, and losing in tragic fashion.
That was not the case in this contest. Detroit played a great game of football until the very end, stopping the Commanders surging comeback attempt.
Amon-Ra St. Brown is HIM. #OnePride pic.twitter.com/hX2aKRtiOl

— Woodward Sports Network (@woodwardsports) September 21, 2022
The Lions had outstanding playmakers on both sides of the ball. On offense, 2021 breakout star Amon-Ra St. Brown had another performance for the ages, pulling in nine catches for 116 yards and two touchdowns. St. Brown also rushed the ball twice for 68 yards.
On the defensive side of the ball, rookie Aidan Hutchison had a phenomenal performance. After a relatively quiet first career game, Hutchinson broke out, accounting for six total tackles and a staggering three sacks.
If the Lions can build off of their great win, they can possibly be a dark horse playoff team. One thing is certain, the Lions have good young players. They are also led by a fiery coach, Dan Campbell. Detroit fans can rejoice, as their franchise is finally good.
The Dolphins Are Legit Contenders
Miami had a great Week One performance, defeating their rivals, the Patriots, 20-7. Their offense had a solid showing and their defense dominated New England.
In Week Two, their stellar defense abandoned them. Things looked grim for Miami, as they found themselves down 35-14 against the Ravens. Admittedly, I was planning on writing this section about how great the Ravens looked.
However, the Dolphins offense exploded with only seven minutes remaining. Quarterback Tua Tagovailoa looked like a prime Dan Marino, throwing for six touchdowns and 469 yards.
Dynamic receiving duo Tyrek Hill and Jaylen Waddle combined for 361 yards and four touchdowns, including Waddle catching the game winning touchdown. They won 42-38.
If Miami can combine their dominate Week One shutdown defense, with their record-breaking Week Two offensive performance. They will not only be flirting with a postseason bid, but they will be serious contenders in the AFC.
The victory was a sweet one for Tua and company. For the past few years, the Alabama-product has been mocked by NFL fans, with many calling him a bust. Even during this game, many took to twitter to mock the young quarterback after the team started slow.
#FinsUp pic.twitter.com/mKZWeABKBI

— Freezing Cold Takes (@OldTakesExposed) September 18, 2022
Barstool Sports founder Dave Portnoy tweeted "Tua stinks" at halftime. Fox analyst Pierre Noujaim sarcastically tweeted, "The Dolphins don't have Brian Flores to bring in Ryan Fitzpatrick anymore so…" in reference to when Flores would bench Tua during his rookie season, in hopes to spark a comeback.
In the end, Tua and Miami got the last laugh, pulling away with a comeback that will go down in history. If Tua can continue to show that he has what it takes to elevate the Dolphins offense to a historic level, they will be a hard team to beat.
Trevor Lawrence is Having a Breakout Year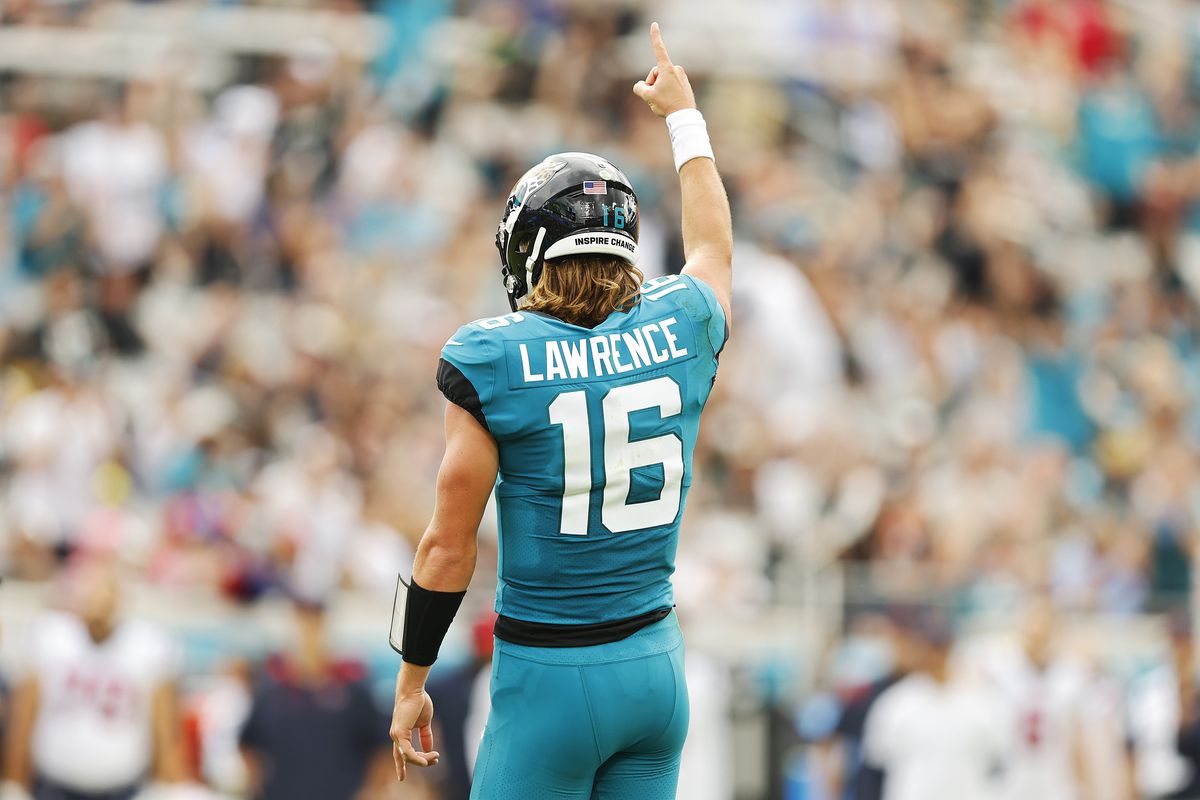 Michael Reeves/Getty Images
After a disappointing rookie season, Trevor Lawrence appears to be finally breaking out. Coming out of Clemson, Lawrence was deemed the best quarterback talent since Andrew Luck.
However, many fans were dissatisfied with his rookie year performance. During that year, he threw for 12 touchdowns and 17 interceptions, not what you would expect from a "generational talent".
During the offseason, the Jaguars did their best to surround Lawrence with as much talent as possible, signing offensive free agents Christian Kirk, Evan Engram, and Zay Jones.
After the failed Urban Myer coaching experiment, Jacksonville decided to bring in a competent coach, signing Super Bowl winner Doug Pederson.
Thanks to an active offseason, the Jags and Lawrence are off to a solid start. After barely losing to the Commanders, they destroyed the Colts. Lawrence played lights out against Indianapolis, completing 25 of 30 passes for 235 yards and two touchdowns. He also set a career-high completion percentage of 83.3.
Trevor Lawrence

2021 2022
QB Rating 71.9 96.4
TD-INT 12-17 3-1
Pass Yd/gm 214.2 255.0
Comp pct 59.6% 68.1%

It's all happening @Jaguars pic.twitter.com/R7xyNSFnGW

— NFL on CBS (@NFLonCBS) September 19, 2022
In two games, Lawrence has thrown for 510 yards, three touchdowns, and only one interception. It will be exciting to see him develop this year and show that he is a generational talent.
The Colts Season is Over
Going into the year, expectations were high for the Colts. However, after two disappointing games to start the year, it seems Indy's season is over.
Week One, the Colts tied with the Texans. Not the way you want to start the year. Week Two, the Colts were dismantled by the Jaguars, losing 24-0, the first time they have been shut out since 2018.
The Jags have shut the Colts out 3 times since 2017. pic.twitter.com/aYC2SMaPQP

— FOX Sports: NFL (@NFLonFOX) September 19, 2022
Indianapolis has not won a game in Jacksonville in seven straight years, a streak that is pathetic considering the Jaguars are one of the worst franchises in the league.
There are many responsible for the Colts lackluster start, most prominently head coach Frank Reich.
To be frank, Reich should have been fired after the Colts were blown out by the Jaguars last year. Reich's questionable play calling has cost the Colts important games, like their wildcard matchup against the Bills in 2020.
Another man who can be blamed for their lackluster start is general manager Chris Ballard. After Andrew Luck's shocking retirement, the Colts have failed to find a competent replacement. Ballard's apparent strategy is to bring in quarterbacks who are coming off terrible seasons and are clearly past their prime, a strategy that has proved to be futile.
To add insult to injury, former Colts QB Carson Wentz has looked solid in his two games with the Commanders.
Ballard has also failed to build a viable wide receiver room. If you want to be a serious team, your top threat cannot be Michael Pittman. While there is no doubt Pittman is a really solid player, the team needs another receiver to compliment him.
The Colts should consider blowing up their roster. Luck's retirement sent the team back decades, and it may finally be time for a total rebuild.
Week Three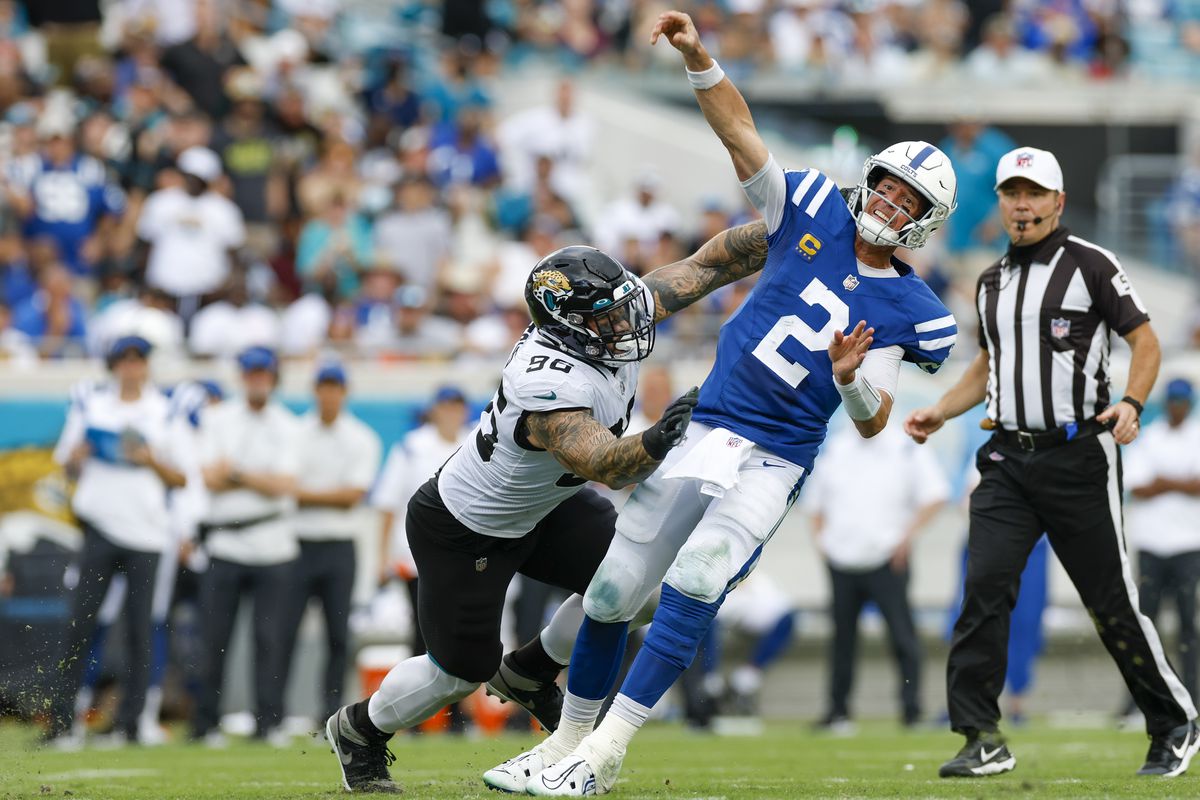 David Rosenblum/Icon Sportswire via Getty Images
Week Two was great, but I have a feeling that Week Three will be even better.
Will the Lions, Chiefs, and Dolphins prove they are legit contenders? Can Lawrence continue to show his hot hand? Will the Colts somehow disappoint me even more? Tune in next week to see if these questions are answered.
Justin Lotito can be reached at justin.lotito@student.shu.edu.