Metal Allegiance Best Buy Theater Performance
Date: October 5, 2015
By Mike McKenna
On September 17th the Metal Allegiance took to the stage at the Best Buy Theater (now renamed Playstation Theater) in New York City for an awe-inspiring and truly unique show. For those who may not know, Metal Allegiance is a metal super-group, whose principal members include David Ellefson of Megadeth, Mike Portnoy of The Winery Dogs, and Alex Skolnick from Testament; however this collective includes nearly twenty other contributors from the throughout the metal scene. Some of these include of Philip H. Anselmo, Randy Blithe, Troy Sanders, Gary Holt, Chuck Billy, Alissa White-Gluz, Mark Osegueda, and Matt Heafy.


Needless to say, Metal Allegiance is something of a powerhouse, and their performance in the Big Apple that night showcased just that. While not all members of the group were able to attend, the show still featured members of Anthrax, Testament, Megadeth, Death Angel, Slayer, The Winery Dogs and Arch Enemy.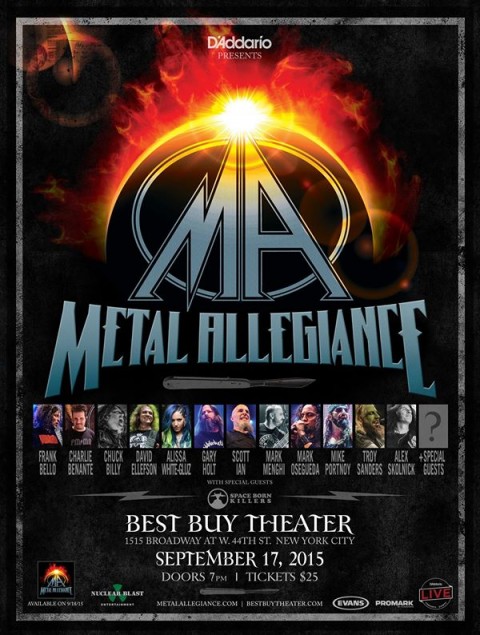 The set list for the night was unlike any I'd ever experienced at a show of this kind. The Allegiance played a blistering 27 song set with the energy of a blast furnace. While they played a number of original songs from their self titled debut, Metal Allegiance, the cover songs the band played were where the show truly shined. It was plain to see that every person on stage was having the time of their lives as they laid down covers ranging from Whiplash by Metallica to Van Halen's Eruption. My personal favorite moment was the cover of Iron Maiden's Run to the Hills with the immensely talented Alissa White-Gluz on vocals.


The cover songs were not the only surprises in store for the crowd that night, as Doyle Wolfgang von Frankenstein made an unannounced appearance during the Allegiance's cover of Last Caress by The Misfits.
The seemingly limitless energy on stage fueled the nearly 2 and half-hour set to the delight of the crowd. All in all, if you enjoy banging your head to classic metal anthems, seeing a stage full of heavy music pioneers jamming together, and just want to have a blast at a good ol' Heavy Metal show, don't miss a chance to see Metal Allegiance.

---
Please note that the opinions expressed in this review are the opinions of the writer alone. They do not necessarily reflect the opinions of WSOU, Seton Hall University, nor any of its affiliates.
Posted in: Metal, Show Review, WSOU Exclusive