Kraken Korner Vol. 6
Date: May 1, 2022
By: Dylan Camp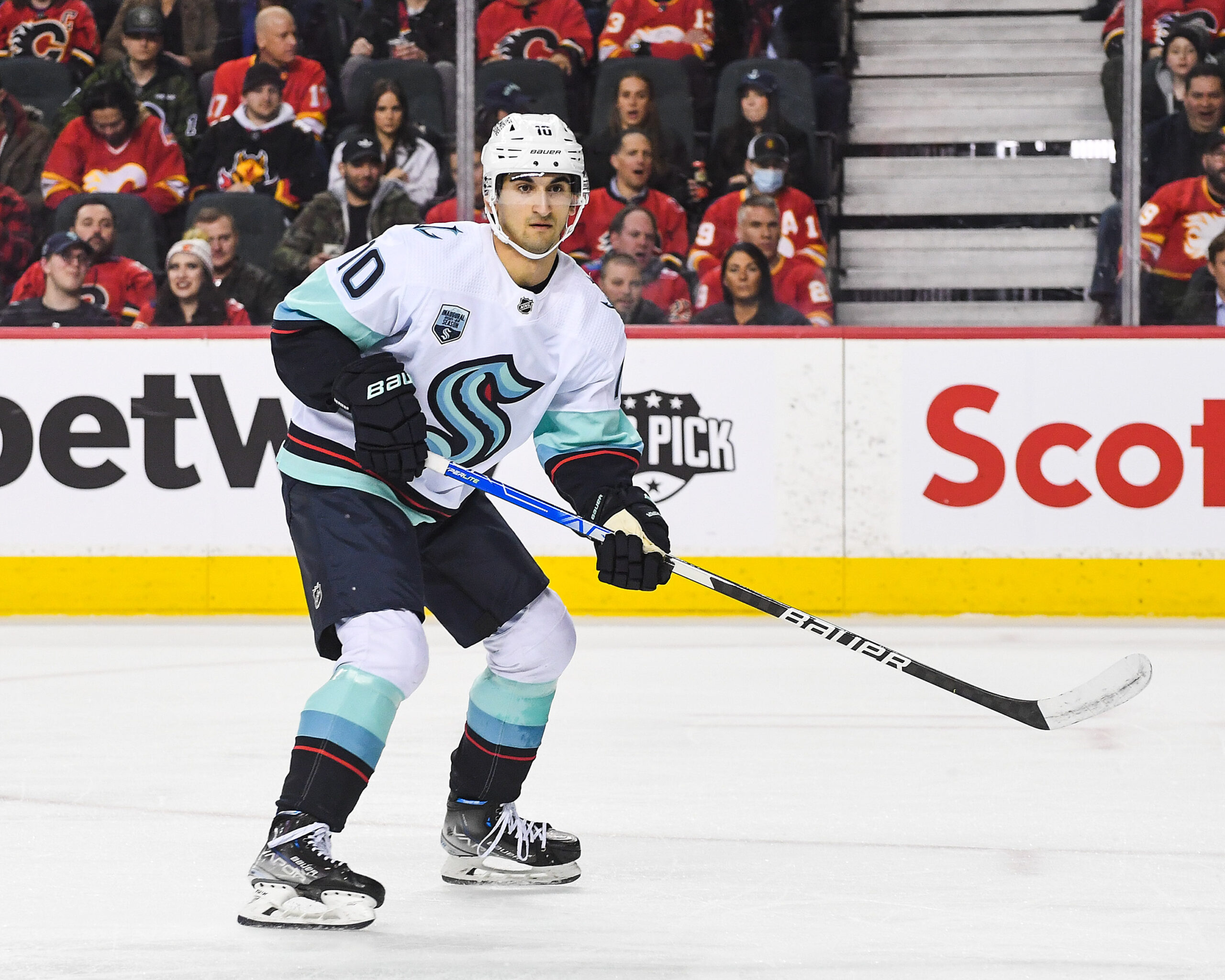 Derek Leung/Getty Images
On Sunday, the Seattle Kraken's inaugural season came to an end. They ended their season losing at the hands of the Winnipeg Jets by a final score of 4-3. Although the end of the season mirrored a majority of the disappointing year for the Kraken, there were some positive player notes from the final game of the NHL regular season.
Starting with the Kraken's red-hot rookie, Matty Beniers tallied yet another assist Sunday, his sixth assist in his short stint with the club and his ninth point overall. Beniers played 10 games at the end of this NHL season and his production was a very positive sign of things to come. Nine points in ten games should have Kraken fans excited for the former number two overall draft pick's first full NHL season next year.
don't cry because it's over, smile because it happened. pic.twitter.com/YelF898zgI

— Seattle Kraken (@SeattleKraken) May 1, 2022
Another achievement was Jared McCann hitting 50 points on the season in their final game against the Jets. McCann's 50 points was good for team lead as was his 27 goals this season.
McCann tallied an assist on Sunday against the Jets allowing him to also finish top five on the team in assists with 23. McCann signed a contract extension in early March cementing his place as a foundation piece for the early years of this franchise.
The final accomplishment of note from the final day of Kraken hockey this season was Adam Larson playing in all 82 games. In such a physically demanding sport it is an incredible ability to maintain your health and ability to stay on the ice. Larson not only played every game for Seattle, he also led the team in time on ice-per-game, Larson played over a full period in each game, averaging just over 22-minutes-per-game.
The focus for the Kraken now shifts away from this season's individual accomplishments or lack of team accomplishment and now shifts to the NHL draft. By losing in regulation Sunday, the Kraken finished 30th overall this year, which gives them the third best odds at the number one overall pick this summer.
Seattle has a 11.5% chance to land the number one overall draft pick, which will be determined by the draft lottery on May 10. The draft and free agency will hopefully help improve the Kraken roster as the franchise moves forwards.
With the regulation loss to the Jets, the #SeaKraken lock in the 3rd spot in the NHL Draft Lottery. Here are the odds of the Kraken's first round draft pick. pic.twitter.com/dy5M2btzoP

— NHLtoSeattle (@NHLtoSeattle) May 1, 2022
Dylan Camp be reached at dylan.camp@student.shu.edu.
Posted in: Sports