Kraken Korner Vol. 5
Date: January 5, 2022
By: Dylan Camp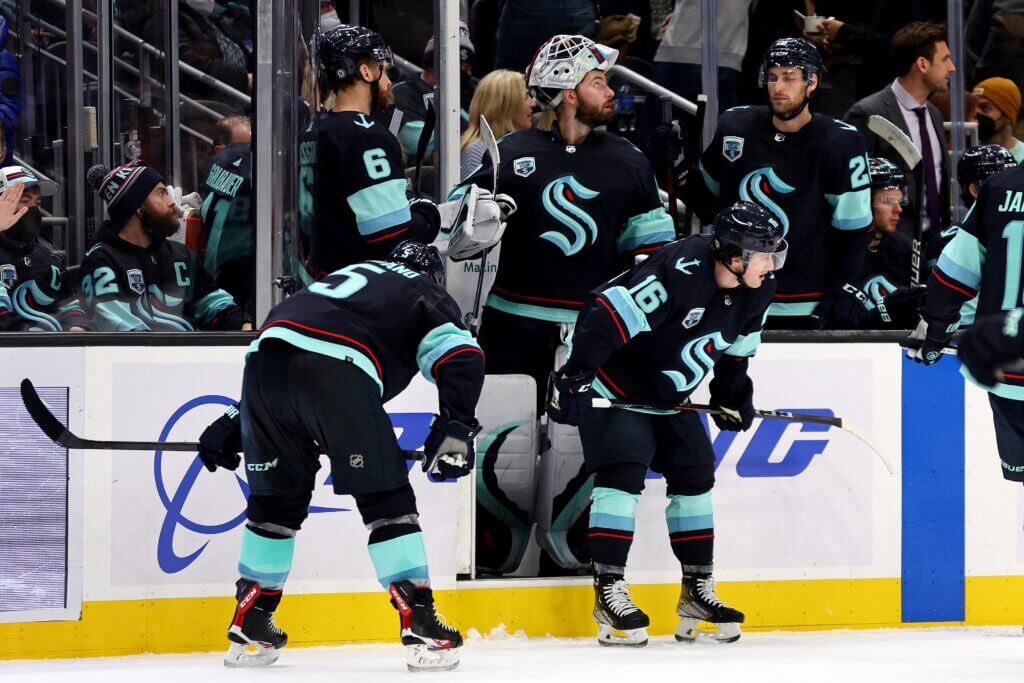 Steph Chambers/Getty Images
Note: Written on Jan. 3
As we head into the new year, the Seattle Kraken continue to hover just above the bottom of the Western Conference, sitting in 15th place out of 16 teams. The Kraken have had little opportunity to put consistent play together on the ice, only having played three games since Dec. 19.
The team had a 10-day break in late December due to four COVID-cancelled games. They then had three games in four days, collecting only one out of a possible six points against the Flyers, Flames, and Canucks, allowing 14 goals in that three-game span.
Now, the team is on another long pause and will not play until Jan. 10 due to more cancelled games. As the Kraken have yet another extended break, it's time to set the team's top-three New Year's resolutions to try and accomplish before season's end.
Due to COVID-related issues affecting the Ottawa @Senators, our home game on Jan. 6 has been postponed.

A make-up date will be announced at a later time. pic.twitter.com/A7At7fUyOq

— Seattle Kraken (@SeattleKraken) January 3, 2022
First and foremost, New Year's resolution No. 1 is that they need to decrease the number of goals they allow every game. The Kraken have allowed 3.7 goals-per-game this season, with a total of 122 goals scored against them, second worst in the league.
The top defensive teams in the league allow less than 2.5 goals-per-game, and all teams in a playoff position throughout the league allow 3.3 goals or less-per-game.
The Kraken's defensive effort has been a serious issue and with still 49 games to be played, this first resolution should be to limit their opponents to that 3.3 goals-per-game or less for the remainder of the year. Playing in front of two goalies with dazzling goals against averages from last season, the Kraken should be able to meet these expectations if they put a stronger defensive effort on the ice in front of their goaltenders.
Resolution No. 2 should be to prevent extended losing streaks, as the Kraken have losing streaks of three, four, five, and six games this season. Whether they need to change goalies, line pairings, or run intense practices, the coaching staff should do everything in its power in order to prevent extended stretches of losing games.
Your long, regional nightmare is over.

The Seattle Kraken have snapped their six-game losing streak with a 5-2 win over the Capitals. #SeaKraken pic.twitter.com/tEylYvNaXh

— Ryan S. Clark (@ryan_s_clark) November 22, 2021
Top-tier teams are capable of stopping the bleeding and not losing game after game. The top five teams in the NHL—Washington, Carolina, Tampa Bay, Florida, and the New York Rangers—have combined for only one losing streak of more than three games, which was a four-game losing streak for the Panthers.
If the Kraken want to improve as a team and end their season in a positive manner, the games following a loss must be treated with the utmost importance.
Their third resolution is to not rock the boat before the trade deadline in late March. Despite the Kraken's struggles, General Manager Ron Francis drafted a very strong roster via the expansion draft. I believe trading key pieces to a contender would be a mistake for the Kraken.
In this Covid-riddled season, the team has not meshed well offensively or defensively, but their front office gathered a very skilled group of players with strong resumes that over time should be able to become a strong team.
2021 ✅

Here's to making more fantastic memories together in 2022. 🦑 pic.twitter.com/qTAvvvSk5r

— Seattle Kraken (@SeattleKraken) January 3, 2022
The Kraken may continue to struggle throughout the remainder of the season, especially now that one of their more productive players, Brandon Tanev, is out for the year, but I believe that trading key pieces on this roster is not in the best interest for the team's future.
One additional resolution for the Kraken is getting Joonas Donskoi in the goal column as quick as possible. Donskoi has been a productive member of the team despite his lack of scoring.
The forward is tied for the team lead with 14 assists along with Jaden Schwartz and Alex Wennberg. Donskoi has scored over 15 goals-per-season during each of the last two years and can be a productive goal scorer when he is playing right.
Hopefully for the Kraken as the season ramps up again, Donskoi can get back into his goal scoring groove, because they could desperately use it.
It is no secret that the Kraken have struggled in their inaugural season and have not had the storybook introduction like the Las Vegas Golden Knights had several seasons ago. But they cannot not let their rough start dictate the rest of the season, and by focusing on drastically increasing their play one game at a time, this will help propel this team for the rest of the season and years to come.
Seattle has a week to practice and reset before their season continues against the Avalanche next Monday, Jan. 10.
Dylan Camp be reached at dylan.camp@student.shu.edu.
Posted in: Sports