Hot Takes of the Week Vol. 2
Date: January 11, 2022
By: Justin Nicosia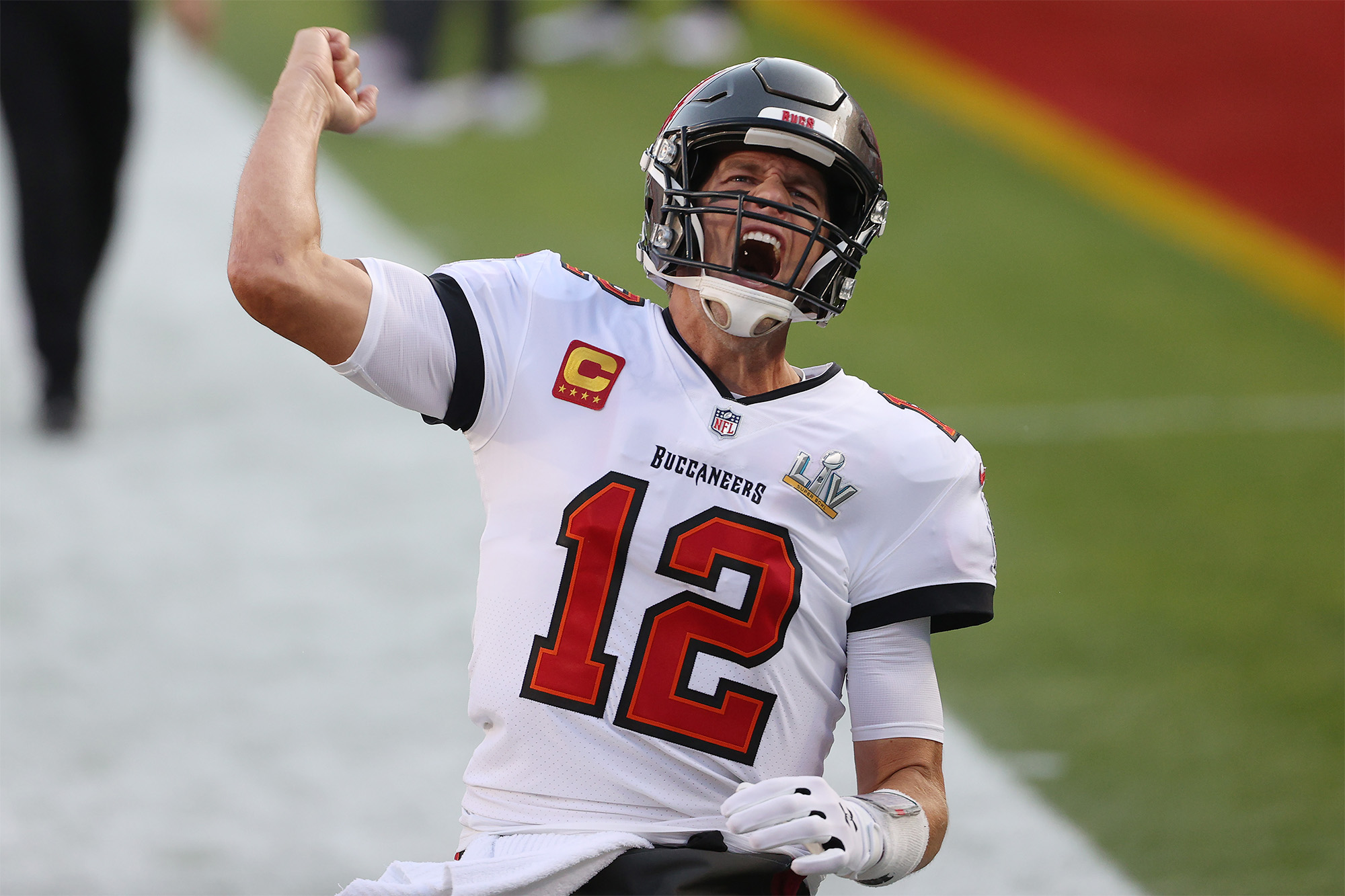 Getty Images
As we move out of this holiday break, I would first like to wish all our readers a Merry Christmas and a Happy New Year.
Before we get into this week's Hot Takes article, you should be warned of one major section at the end of this story. The third and final hot take on this list might be the most controversial opinion I'll ever publish in this series, regardless of how long this goes.
It also might be the longest explanation for any hot take, but for it, I feel like I have a lot to explain. I probably won't change any minds with it, but any reader is more than welcome to reach out to me about it whether or not they agree with it.
Warm Take of the Week: College Football Players Should Not be Able to Opt-Out of Bowl Games.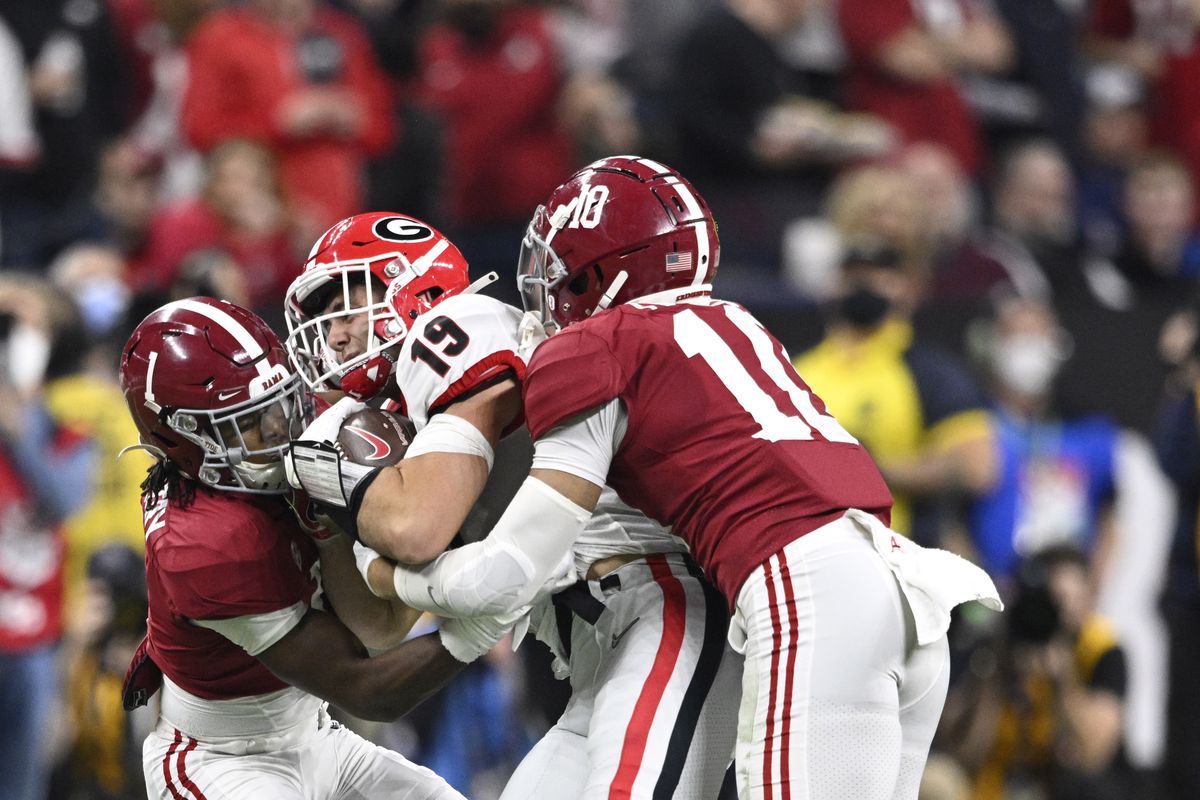 Marc Lebryk/USA TODAY Sports
Perhaps this is a selfish take from yours truly, but the sheer amount of college football players opting out of bowl games ruins the very nature of those bowl games. The reason for that is most players who opt out are NFL draft prospects who don't want to risk injury. Having the top players for each team out lowers the quality of the product on the field.
Many fans have already lost interest in any bowl game that either doesn't involve their favorite team or isn't in the College Football Playoff. Even non-CFP New Years' bowls have diminishing interest.
This is a problem because bowl season should be celebrated. Many teams view making a bowl as an achievement, and even top teams take pride in making and winning bowls. Players who opt-out show a blatant disregard for the meaning a bowl game should have, and the lack of interest amongst fans only adds to the lack of meaning to games in recent years.
I understand that players want to avoid injury, but a bowl game is still a game. If players opt-out for a bowl game, why don't they opt out of games against FCS or other buy games?
It's not a great concept that we can give players—the ability to not show up to a bowl game against a quality opponent but expect them to play in tune-up games (which they should).
Sizzling Take of the Week: Players Whose Careers Were Cut Short by Injury Should be Considered for the MLB Hall of Fame. Steroid Users Should Not.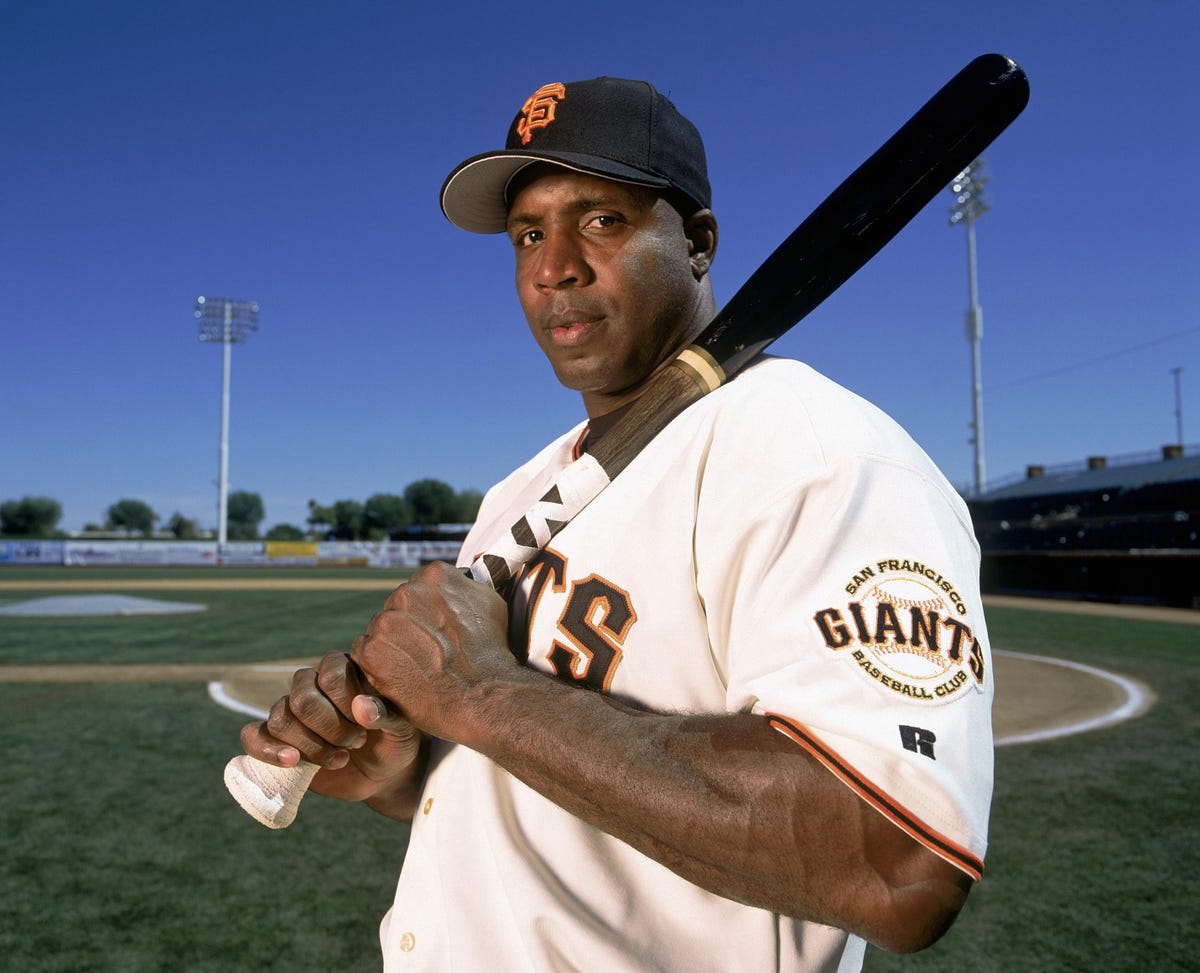 Getty Images
This year's MLB Hall of Fame ballot raises a lot of controversy. With Barry Bonds, Roger Clemens, and Sammy Sosa entering the last season of the ballot, the question of if steroid users should be enshrined arose amongst baseball fans and voters.
My personal view is if any player has been proven to take a performance enhancing drug, or in any other form cheated, they do not belong in the Hall of Fame. I give David Ortiz the exception here because it was never publicized what he tested positive with, and commissioner Rob Manfred said it was not a PED.
Personally, it shouldn't matter how good of a player somebody was before or after steroids. I'm well aware that Bonds had a Hall of Fame career before he was known to start taking steroids.
That doesn't matter to me because a) there is no way of knowing when a player actually started taking steroids (especially in the days of Bonds when regular testing was not common), and b) any player that took steroids ruined the integrity of the game and clearly did not care about playing the game fair. We should not put a players on a pedestal and give them the most meaningful and prestigious honor in the sport who did not care about making that sport fair.
2022 Baseball Hall of Fame ballot is official, for consideration by the BBWAA. David Ortiz, Álex Rodríguez and Jimmy Rollins are among those eligible for the 1st time. Curt Schilling, Barry Bonds and Roger Clemens are on for the 10th and final time. @MLBNetwork @MLB @FAN590

— Jon Morosi (@jonmorosi) November 22, 2021
Another interesting name on the ballot is Prince Fielder. Fielder had a great stretch of about ten seasons before a neck injury forced him to hang up the cleats at the age of 32. David Wright had a similar career track, with injuries forcing him to play less than 40 games in back-to-back seasons after his age 31 season. He will likely be on the ballot in 2024.
While players like Fielder and Wright will be on the ballot, they likely won't gain enough traction to stay on the ballot for more than a couple years. But I think voters should consider them and players like them because they were on track to be Hall of Famers.
The only reason they went off the track was to factors out of their control. Why penalize them for something they can't control? I understand if this player type doesn't get into the Hall of Fame, as it still is hard to put players in with less than 2,000 hits or 1050 RBIs.
But at least consider them. If there are people out there arguing for cheaters to be honored in the Hall of Fame, give those who played most of their seasons at a Hall of Fame a chance.
Flaming Hot Take of the Week: Tom Brady is the Most Overrated Athlete in Sports History.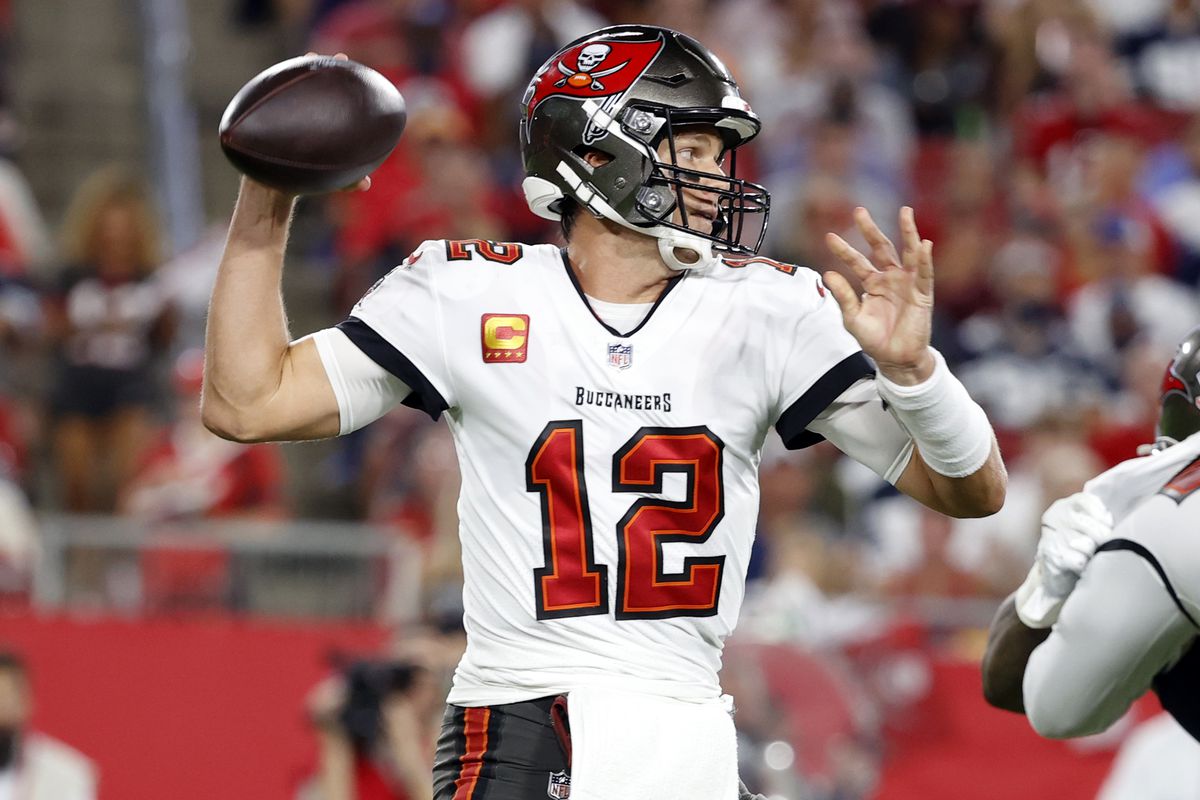 Kim Klement/USA TODAY Sports
Hey, I warned you ahead of time this would be a crazy idea.
But before everybody starts emailing me or raiding my private messages calling me delusional, let me get this started by saying Brady is still a phenomenal player, and one of the best to ever do it. But to almost everybody on this planet here in 2022, he is the UNDISPUTED Greatest of All Time.
To put into perspective how truly unique that honor is, and how much scrutiny such an honor should undergo before being taken as fact, let's take a look at the other three major sports in the United States, as well as the major sport in the rest of the world, soccer, to see how they've determined their G.O.A.Ts.
Let's start with world soccer. Currently, we have two active players, Cristiano Ronaldo and Lionel Messi who are in any G.O.A.T. conversation today. Throw out names like Diego Maradona or Pelé, and your argument could still be seen as reasonable.
If you asked any hockey fan who the G.O.A.T. was, their answer could be Wayne Gretzky, Mario Lemieux, Bobby Orr, Alex Ovechkin, Gordie Howe or even Sidney Crosby (or if you asked a Devils fan, it would be Martin Brodeur).
Of course, the NBA has the never-ending debate between LeBron James and Michael Jordan, but even Kobe Bryant's name has crept its way into G.O.A.T. conversations.
Even the sport of baseball, which seemingly has Babe Ruth as the consensus G.O.A.T. has had fans in recent years bring this into question. Most notably, this has come in the form of people giving that honor to Bonds (although I clearly disagree with this). There have even been fans saying that Mike Trout should be given that honor, albeit when his career is over.
If I had more of a grasp on the world of and history of cricket, I'm sure I could conjure up a list of players who could be considered the G.O.A.T., but unfortunately I don't know much more than the rules of the game and won't pretend I do.
Anyways, this brings me back to Brady. When the world's four biggest sports (other than cricket and obviously football) have exhaustive debates about that sport's greatest, it should raise eyebrows when the NFL's greatest is almost entirely undisputed. Not only is it almost entirely undisputed, but if you raise any questions (legitimate or not), you're shunned entirely.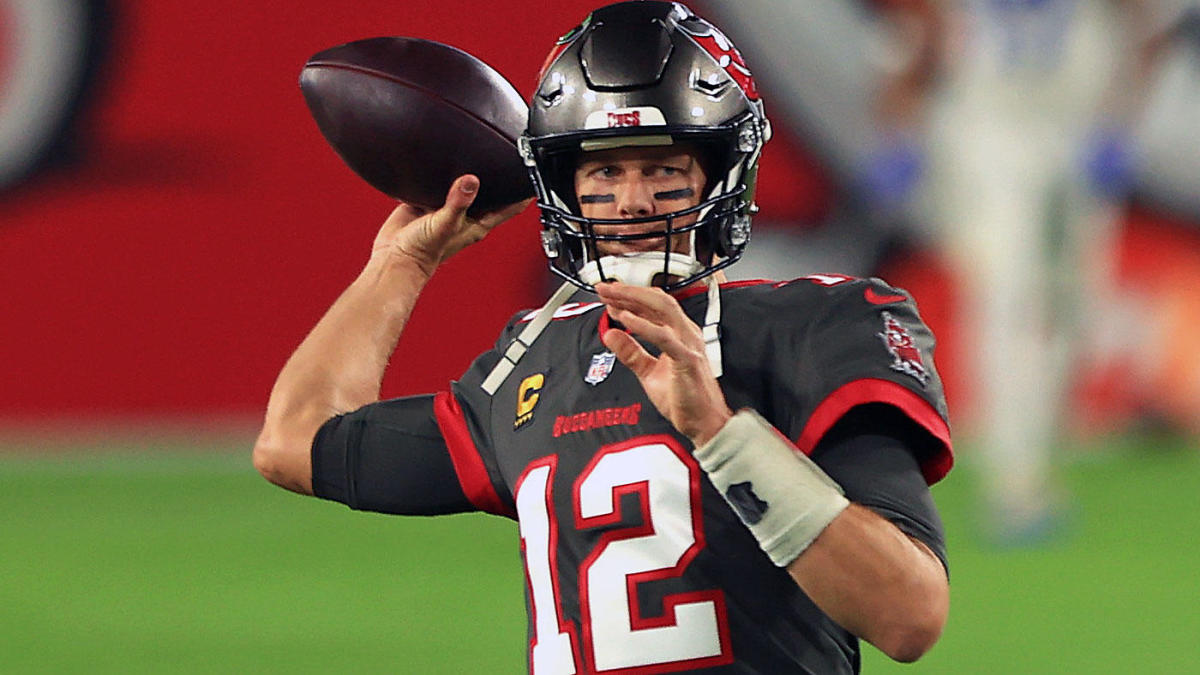 Mitchell Leff/Getty Images
For me, part of this might be philosophical—when I'm discussing how good a player is at any sport, I mainly care about skill, especially in a sport that is as reliant on an entire team as football as.
This makes sense because, by extension of calling somebody the greatest, you are implying you are almost exclusively discussing their skill. The word "greatest", quite literally means "the best."
When talking about good athletes, people exclusively talk about a player's skill, not what team they're on. Nobody calls D.J. Moore a good football player because he's on the Carolina Panthers, who have not finished above .500 in his five-year career. They say he's good because of his skill.
I'll talk about it later, but most people who argue Brady as the G.O.A.T. make the argument of almost exclusively focusing on his team's success, as opposed to his own greatness.
But for now, let's focus on his skill. For a quarterback, I would say there are four distinct and tangible skills that mark how good a quarterback is: football IQ, speed, arm accuracy, and arm strength.
I will concede that a very good argument can be made that Brady is the smartest quarterback of all time; Brady's ability to read defenses has always been amazing, and I do not wish to discredit that. I would disagree that it's the greatest of all time (personally, I believe Peyton Manning was smarter), but I would not argue with anyone that believes it's Brady.
As for the other three categories, Brady played with players better than him in each category (which doesn't even account for players that played before him).
For speed, quite literally any NFL player (aside from some linemen), and even some coaches, were faster than Brady.
But that's alright, not every quarterback needs to be Lamar Jackson, Michael Vick, or Cam Newton to be successful. In fact, if one wants to be an all-time great, it's best to not fit that playstyle.
Let's get into the arm talent skills and start with arm accuracy. Brady DOES have an accurate arm, there is no denying that. But is it really more accurate than some of his contemporary peers like Drew Brees, Aaron Rodgers, Matt Ryan, or even Sam Bradford or Chad Pennington (let alone anybody who played before him)? I find it hard to believe.
As crazy as Bradford or Pennington sounds, remember three of Bradford's eight career seasons (2015: 65.0%, 2016: 71.6%, 2017: 74.4%) had a higher completion percentage than Brady's career completion percentage (64.1%), with the latter two being much higher than Brady's 2007 career high of 68.9%.
Pennington was one of the league's most accurate quarterbacks, if not the most accurate quarterback at the time, until the third surgery on his throwing shoulder ultimately ended his career.
As for arm strength, the same principle goes. Brady's arm was never much more than league average, and he played alongside guys like Patrick Mahomes, Matthew Stafford, Rodgers, Favre, and Josh Allen with arms much stronger than his was, even at his prime.
I just find it very hard to justify a player who never particularly excelled at most skill as the greatest ever.
If that hasn't convinced you, let me ask you how many seasons can you confidently say Brady was the best quarterback in the NFL? For simplicity's sake, let's look at the nine seasons Brady received MVP votes: 2003, 2005, 2007, 2010, 2013-17) more in-depth. I'll also briefly discuss his most recent few seasons.
All stats referenced will be exclusively passing-related. I will be using interception percentage instead of total interceptions because Pro Football Reference only excludes non-qualifying passers for rate stats.
Otherwise any wide receiver, or punter, or kicker who threw the ball once or twice on a trick play would be included, as well as backups who appeared in a small sample size.
In 2003, Brady ranked 13th in completion percentage, sixth in yards, 10th in touchdowns, and seventh in interception percentage. Safe to say he wasn't the best this season, and I'd say Manning had the best season for a QB that season.
In 2005, Brady led the league in yards, was eighth in completion percentage, and was third in touchdowns, but he was also 17th in interception percentage. He also ranked so highly in counting stats because he threw the ball more often than all but three quarterbacks.
As a result, his touchdown percentage and yards-per-attempt fell out of the top five to ninth and seventh, respectively. This was still a very good season, but I think Carson Palmer and Manning had better years.
I can't argue with his MVP winning 2007 season. Brady was a huge part of a team that was one David Tyree helmet catch away from the second undefeated NFL season of all time, and he led the league in almost every meaningful state (aside from interception percentage, but he was still a respectable third). He threw for 4,806 yards, 50 touchdowns, and only eight percentages on a 68.9% completion percentage.
Brady's second MVP award came in 2010 when he led the league in touchdowns, touchdown percentage, interception percentage, and yards-per-catch. Again, I can't really argue with him being the best QB in the NFL this season (although those who argue his playoff success should be enough to anoint him the greatest athlete of all time regardless of his skill should note that he lost in the divisional round of the playoffs at home to the Jets).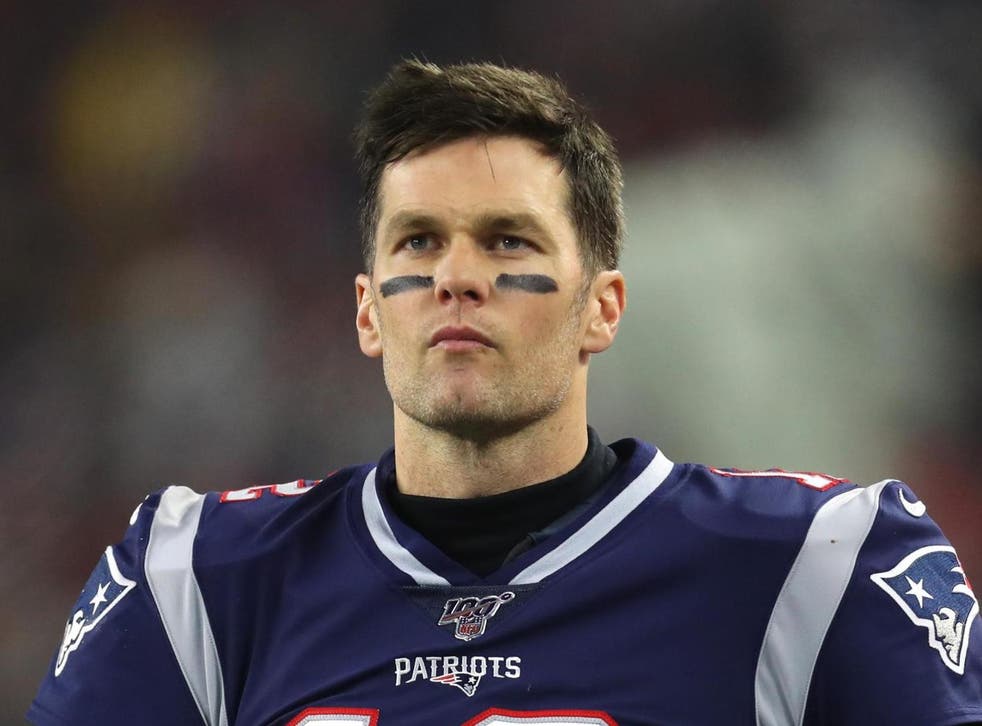 Getty Images
In 2013, we start to see Brady gain MVP votes just because his name is Brady. That season, Brady ranked 11th in touchdowns (22nd in touchdown percentage), seventh in interception percentage, 21st in completion percentage, and 12th in yards-per-attempt. Somehow, he won the final vote Manning needed to take home a unanimous MVP award.
That season, Manning led the Broncos to the second most points-per-game EVER in the NFL, had 5,477 yards, 55 touchdowns, and only 10 interceptions. Brees, Phillip Rivers, Tony Romo, and Russell Wilson definitely had better seasons as well.
In 2014, Brady earned an MVP vote, but finished 10th in passing yards (19th in yards-per-attempt), 15th in completion percentage, and sixth in both touchdowns and interception percentage. Rodgers, Luck, Ben Roethlisberger, and Manning had much better seasons this year, and none of them received an MVP vote. Romo received one vote, and had a marginally better season.
In 2015, Brady had the third most passing yards, most touchdowns, best interception percentage, but finished 12th in completion percentage and 9th in yards-per-attempt. While he may have been the best quarterback in the league this year, Newton won the MVP award, which I had no problem with, and you could make an argument for either of them or Wilson being the best that season.
In 2016, despite being suspended for four games due to cheating, Brady was the MVP-runner up behind Matt Ryan. He actually had a very impressive 28-2 TD-INT ratio, ranked second in yards-per-attempt, third in touchdown percentage, and first in interception percentage.
This would be the third season I can confidently say he had the best season for a quarterback, but it does come with the caveat that his opponents were a combined 78-112-1 (a winning percentage of 41.1%), and only three of his 12 games were against playoff teams.
In 2017, Brady won his third MVP, although if injuries to Carson Wentz and Rodgers had not happened, he likely would not have won it. Although Brady led the league in yards, was third in touchdowns, and third in interception percentage, Wentz still had more touchdowns in three fewer games, a 2.0% higher touchdown percentage, and only a slightly worse interception percentage, while also having a huge impact on the ground.
Brady was also below average in almost every single statistical category in 2018 and 2019.
Although Brady finished top three in yards and touchdowns last season, he was also below league average in completion percentage and interception percentage, and likely would not have finished in a significant position in either yards or touchdowns without having the best weapons in the entire NFL and an offensive mastermind head coach.
While he's been having a statistically great season this year, much of it can (and should) still be credited to the undeniably phenomenal group of Antonio Brown, Chris Godwin, Mike Evans, Rob Gronkowski, Leonard Fournette, Ronald Jones II, and Pro Football Focus's second-ranked offensive line.
While he likely will win his fourth MVP this season (although I believe that honor should go to Jonathan Taylor), I don't think Brady has had the best season for a quarterback this year. Most quarterbacks in this league could go into that same offense and put up the same numbers Brady has.
Even with such weapons, Brady hasn't ranked in the upper echelon of quarterbacks in rate stats this season; although he is (as of the end of Week 15) third in touchdown percentage, he ranks 11th in completion percentage, ninth in interception percentage and 15th in yards-per-attempt. These rank above average but are nothing spectacular.
While it is undoubtedly good that Brady was the best in the league, in my opinion, for three seasons, does that automatically mean he's the greatest of all time? Especially when he's had 19 other seasons to be the best that season?
Manning was better than him in many of the seasons I mentioned. Even if he wasn't, how many of the players at the beginning of this section were only the best at their position for a small percentage of their careers? How about in their entire league?
Ruth, Trout, Bonds, Jordan, James, Ronaldo, Messi, Gretzky, Crosby, Ovechkin, were all undeniably the best in their leagues (not just their position) for years and years in a row without any debate. How can we call Brady the undeniable greatest of all time when he was only the best at his position for a few years, mostly years apart from the last time he was the best?
As I said earlier, the reason most people consider Brady the G.O.A.T. is because he was an above average quarterback that ended up winning seven Super Bowls.
Yes, winning is very important in football, but it is a reflection of coaching and the team as a whole as opposed to a single player.
In Brady's 20 seasons as a starter (18 of which were coached by the best coach in NFL history), his defense was top ten in points allowed 16 times. His worst defense, this season, has allowed 21.9 points-per-game, which is still above league average.
In the playoffs, Brady has a good (not great) 4.7% touchdown percentage and 2.2% interception percentage. Those coupled with a 62.7% career postseason completion percentage and 90.4 career playoff passer rating are not elite numbers by any stretch of the imagination.
Brady's defenses have allowed just 20.8 points-per-game in Brady's 45 playoff games, often times going up against the most elite offenses in the league, and this excellence carries over to Super Bowls.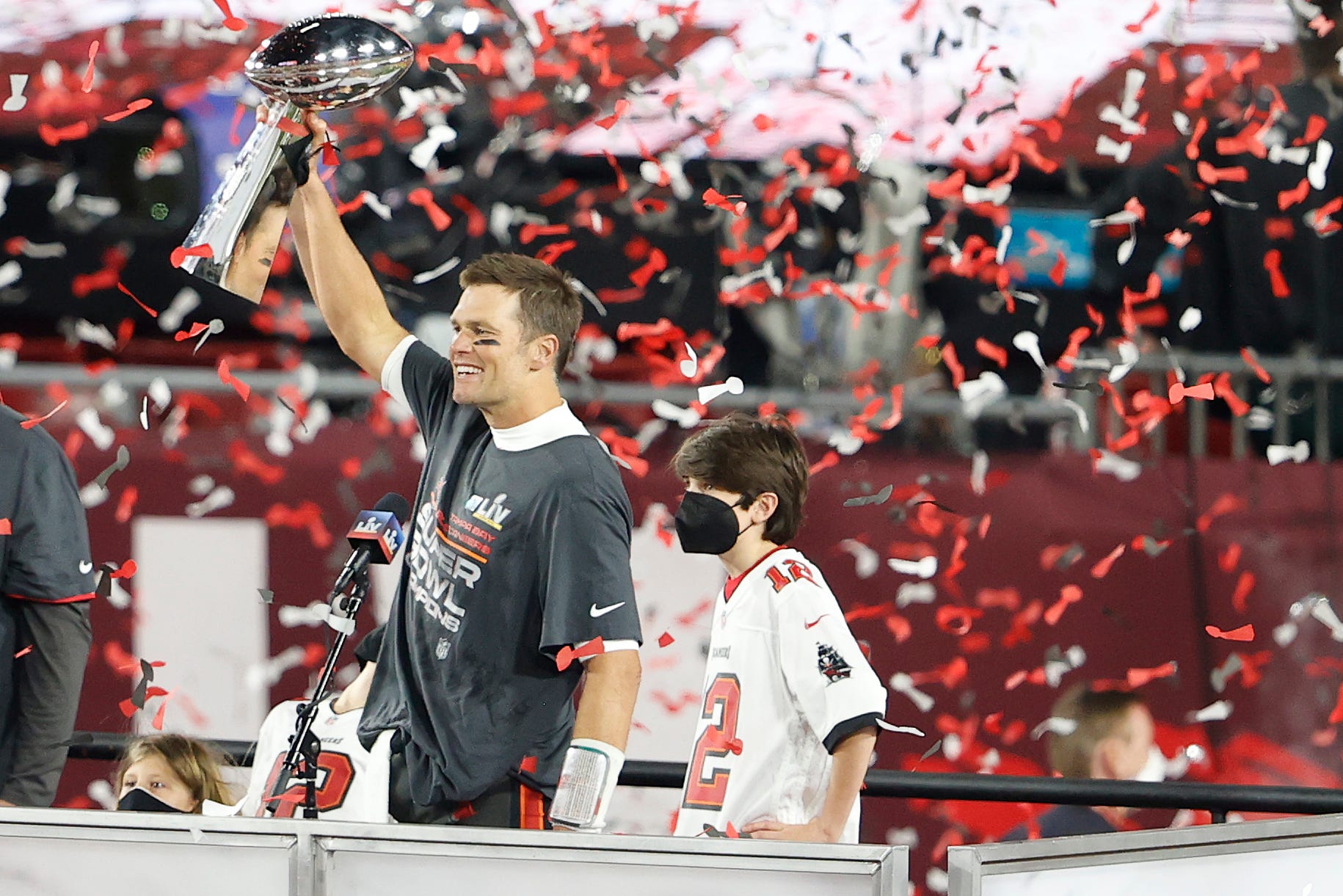 Kim Clement/USA TODAY Sports
Let's look at Brady's seven Super Bowl victories. In Super Bowl XXXVI, Brady played decent (16-27, 145 yards, one TD), but the Patriots won off the leg of Adam Vinatieri's 48-yard field goal as time expired, and their defense held the NFL's best offense (31.4 points-per-game) to just 17 points. This doesn't even take into consideration the controversial way the Patriots won three weeks prior, in what came to be known as the "Tuck Rule Game."
Two years later, in Super Bowl XXXVIII, Brady played very well (32-48, 354 yards, three TDs, and one INT), and while Vinatieri kicked another game winner as time expired, I have no problem giving Brady with much of the credit for this victory.
Next season, in Super Bowl XXXIX, the Patriots held another top-ten offense (eighth, 24.1 points-per-game), below their league average with 21 points, but he played well enough again (23-33, 236 yards, two TDs), where it wouldn't have mattered much either way.
The Patriots would not be victorious in another Super Bowl for a decade. In Super Bowl XLIX, Brady again played well (37-50, 328 yards, four TDs two INTs), but would not have been victorious if it were not for the play that made Malcolm Butler a household name.
Two years later, in Super Bowl LI, we all experienced the single biggest collapse in professional sports history when the Atlanta Falcons blew a 28-3 lead with 17:06 remaining in the game. While Brady can be credited for much of the comeback, terrible coaching decisions by Dan Quinn, quarterbacking decisions from Matt Ryan, and defensive lapses by Atlanta also led to the Patriots winning this game.
Brady does deserve a lot of the credit for leading the comeback, but much of the blame by such a monumental blunder by the Falcons has to be placed on them as well.
In Super Bowl LIII, the Patriots held a Rams offense that scored 32.9 points-per-game to three points. Los Angeles ranked 20th in points allowed at 24.0, and the Patriots were only able to score 13 points. Brady didn't have a touchdown and threw a pick (oh, and Brandin Cooks dropped a touchdown pass in the third quarter).
Last, but not least, last season with the Buccaneers, Brady was 21-29 with 201 yards and three touchdowns. A good performance, but the Buccaneers also held a Kansas City Chiefs offense with Mahomes and weapons like Tyreek Hill and Travis Kelce to nine points.
While Brady played well in most of his Super Bowls, so did the rest of his team, and it is foolish to credit him with everything. Football is a team game, and most of these Super Bowls showed that even without a good performance from Brady, his teams deserved the Super Bowl victories anyways.
Justin Nicosia can be reached at justin.nicosia@student.shu.edu.
Posted in: Sports