Evaluating the NBA's Top Draft Selections
Date: June 26, 2022
By: Matthew Soetebeer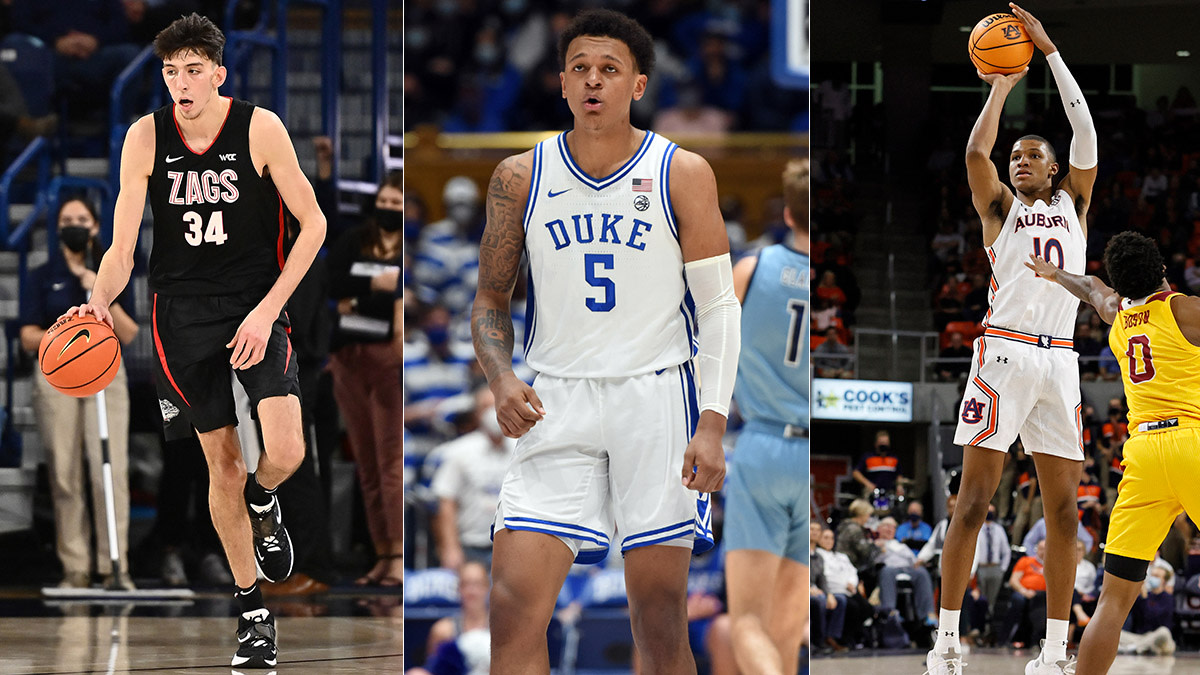 James Snook, Rob Kinnan, John Reed/USA Today Sports
My favorite night of the year: the NBA draft. It's such an electric night because of the unknown.
Whether it's a blockbuster trade or a blindside selection, something interesting is bound to go down. Fans watch eagerly, as they want to see who their team drafts and what they'll have going into next year.
Throughout the draft process, there were three players consistently talked about to be this year's top pick: Duke's Paolo Banchero, Gonzaga's Chet Holmgren, and Auburn's Jabari Smith.
They all have their strengths and weaknesses, and they are bound to make an impact in their rookie seasons.
Pick #1: Orlando Selects Paolo Banchero First Overall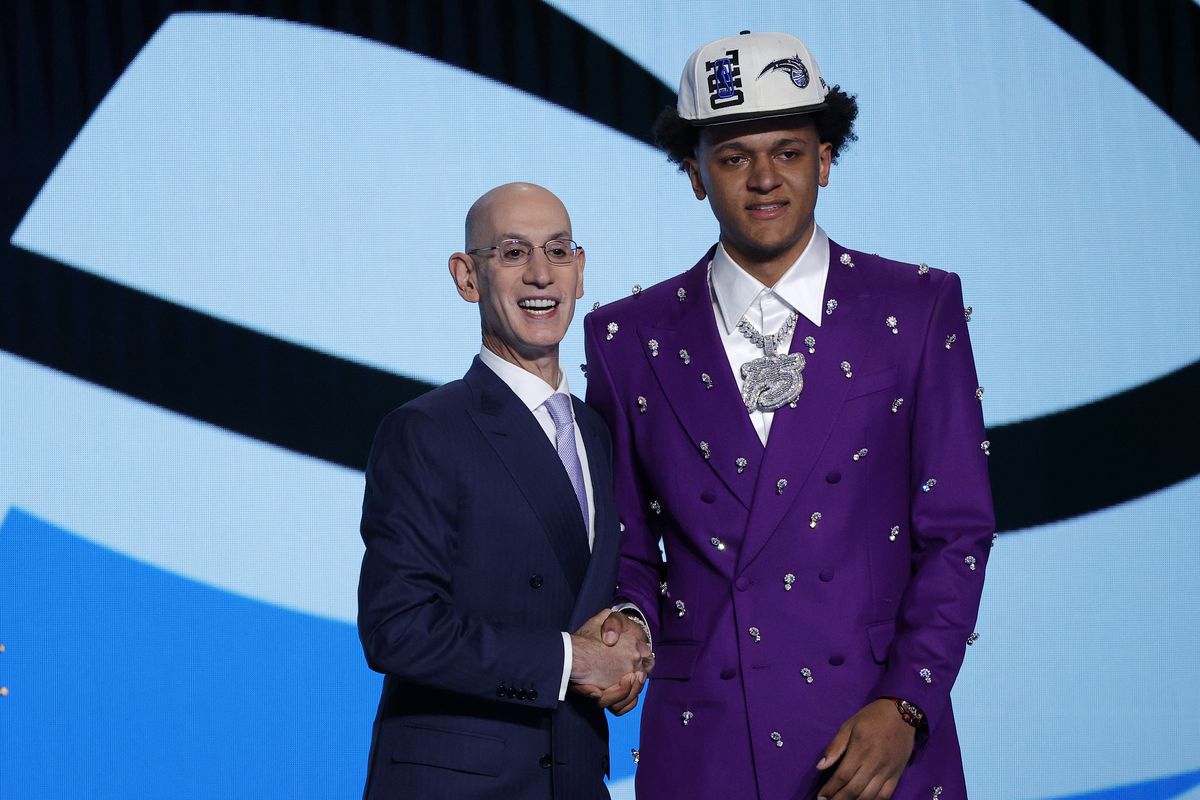 Sarah Stier/Getty Images
Banchero can create for himself and others, which many forwards are incapable of doing. He has wrap-around passes and lobs in his bag. His playmaking progressed throughout last season, as he averaged 4.3 assists-per-game in the final 12 games.
He also has the patience that is crucial at the next level. When he sees a double team, he doesn't panic. He is poised and adjusts, unlike many young players.
Banchero has good footwork, especially on his step through. A part of why he is best at playing in transition is his ball handling ability.
Players his size aren't expected to have tight handles like he does. However, he can push the pace in a heartbeat by taking the ball up the court himself and creating opportunities.
Offensive players averaged a field goal percentage of 21.9% when in isolation situations with him as the defender. This is extremely impressive, and it shows his prowess on defense when he is completely locked in.
Despite his success as an on-ball defender, there were times when he was unaware of his surroundings and was left in the dust. This needs to be fixed, as every point is valuable in the NBA.
He also shot a poor 33.3% from three on the year. However, he sunk 45% of his attempts from three in his final 12 games, which is a very promising progression.
My player comparison for Banchero is Blake Griffin when he was on the Detroit Pistons.
They're both similar in height and have little weakness. Neither Banchero nor Griffin in his stint with Detroit popped off your screen with a crazy play, but they both impact the game in a variety of ways.
Banchero's ceiling is an All-NBA player, and his floor is as a regular NBA starter. He can be a major threat in the league if he develops his three, but if not, he may be stagnant as an average contributer. He will undoubtedly have an impact on the game, as he's too well rounded not to.
Pick #2: OKC Continues the Rebuild, Drafts Chet Holmgren
A STORM IS BREWING IN OKC ⛈️

The Thunder take Chet Holmgren with the No. 2 pick in the NBA Draft! pic.twitter.com/3p18jo9MMx

— ESPN (@espn) June 24, 2022
Holmgren was a great defender at the college level, despite his lack of strength. Opponents shot a low 31% in isolation against him with him as the defender.
He averaged 3.7 blocks-per-game last season and is exceptional at staying vertical while jumping to block a shot.
He also succeeded offensively and was statistically the best driver in College Basketball. He shot 80% at the rim in non-post up situations while also being able to shoot the three and stretch the floor well.
Holmgren was significantly better on pull up threes and threes taken as a trailer than he was in pick and pop situations, though. With NBA offenses depending on the three more often, having the ability to shoot as a 7-footer is a huge plus.
The Gonzaga product also excels as a ball handler, which comes from frequently playing guard in high school. This gives him an expanded skillset that allows him to be more flexible for the Thunder.
The biggest question mark about Holmgren is his weight, or rather his lack thereof. Holmgren is 195 pounds, despite being a staggering 7 feet tall. He has little arm strength and has made barely any noticeable improvement in the weight room over the past year.
The reason that Holmgren gets called out for his weight so often is that he plays center. He's expected to defend the biggest and strongest players nightly.
I foresee the Thunder having Holmgren guard forwards more often than a typical center would, as he would get clobbered by strongmen like Joel Embiid.
His ceiling is being an All-Star, and his floor is being a role player. With his unique build and play, it is tough to find someone similar, therefore, there is little guideline to predicting his ultimate progression. However, it's safe to say that he has the skills to remain in the league for a long time.
Pick #3: Jabari Smith Jr. Falls to Houston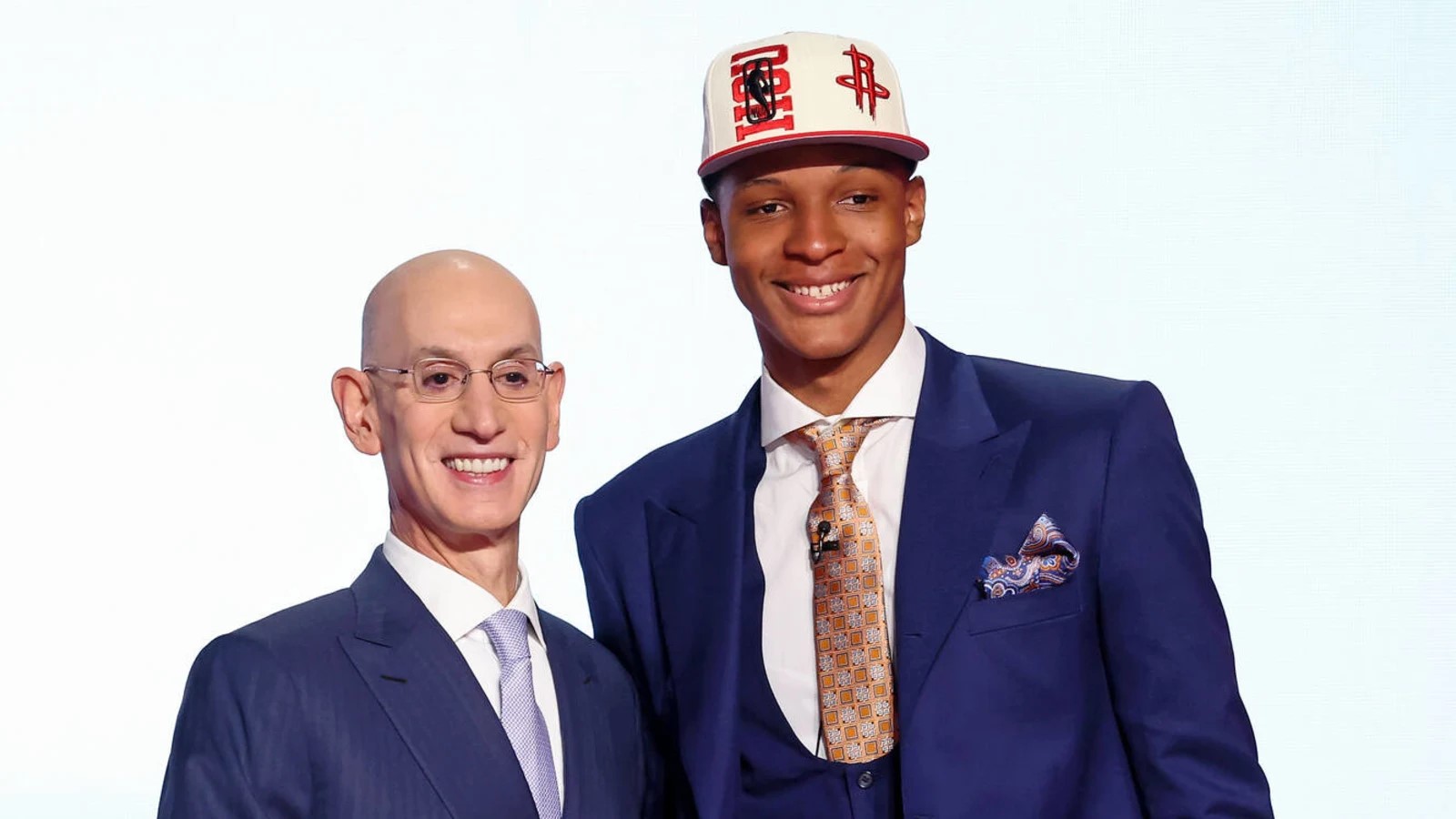 Brad Penner/USA Today Sports
Smith's height along with his high release allows him to take and make tough shots. The way he can shoot over defenders unaffected reminds me of Kevin Durant.
Smith shot a blazing hot 42% from three last season and the NBA has only been using the three ball more as the years have gone on. He's also proven effective in the mid-range.
His footwork is stout both on offense and defense and lets him flourish on the outside despite his height. Factor in his active hands, and he's arguably the best perimeter defender in the draft.
Through playing as a five in high school, he learned how to grab rebounds at an effective rate. He primarily plays on the wing, but it was crucial for his former team to have another player who could get rebounds on the floor.
Smith's biggest flaw is that he struggles to drive and score. He shot 52% in driving situations, and for someone his size, that's concerning.
Despite his solid perimeter defense, he isn't a consistent interior defender or shot blocker. For this reason, he likely won't be seeing much time at center in the NBA.
I foresee him being similar to Michael Porter Jr., a big forward with a great three-point shot. If Smith can develop as a scorer, he'll become an exceptional player in the league.
His ceiling is an All-Star selection, and his floor is a "3&D" guy. With his shooting ability, he will always have a spot in the league and will be of value to any team.
Matthew Soetebeer can be reached at matthew.soetebeer@student.shu.edu.


Posted in: Sports