AL West Weekly No. 1
Date: July 21, 2021
By: Ryan Henry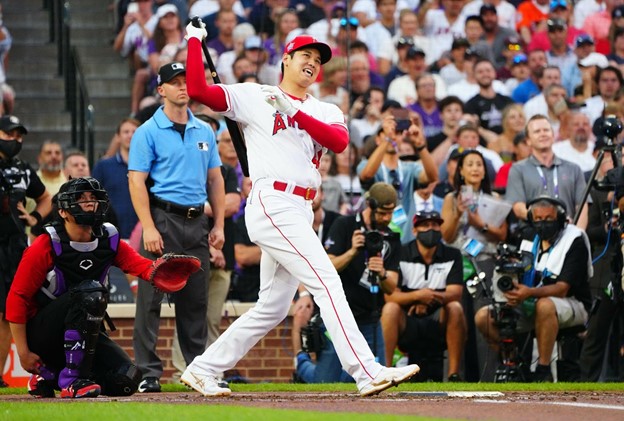 Mark J. Rebilas/USA TODAY Sports
There's no division with more amazing storylines in baseball this season than the American League West. 
Even for the bottom feeding Texas Rangers, there's some hope as they drafted Jack Leiter, son of former All-Star Al Leiter, and the player who many people considered the top prospect going into the draft. 
Besides that, there's not a whole lot to look forward to. They just got swept by the Toronto Blue Jays, losing by a run differential of 25-2. With the Rangers being mediocre, slugger Joey Gallo is once again in trade rumors, as both the New York Yankees and San Diego Padres have been reported on going all in on the 27-year-old slugger. Another Ranger who could potentially be moved at the deadline is Kyle Gibson, who is having a career year, earning his first career All-Star nod with career bests in terms of ERA, ERA+, WHIP, BB9 and H9. 
"Not sure the Yankees are gonna be adding much... They have been in conversations about getting Joey Gallo from the Texas Rangers." -Jeff Passan

We're starting to hear this more and more about Gallo, who is under control through the 2022 season pic.twitter.com/3Xffwf4HUY

— Talkin' Yanks (@TalkinYanks) July 15, 2021
There's no bigger story in the MLB this season than Shohei Ohtani, who made history once again, becoming the first player in MLB history to start in the All-Star Game as both a starting pitcher and a DH. Before the festivities even started, Ohtani was putting on a show in the Home Run Derby batting practice, hitting an absolute moonshot that almost left Coors Field. He would ultimately lose to Juan Soto in an epic first-round duel, but in the All-Star Game, Ohtani got the win, pitching one scoreless inning. Once again, "Shotime" didn't disappoint.
Here's Shohei Ohtani literally almost hitting a baseball out of Coors Field during Home Run Derby batting practice. pic.twitter.com/5vfjwHLqAY

— Brent Maguire (@bmags94) July 12, 2021
For the rest of the Los Angeles Angels' roster, there aren't a whole lot of great things to talk about. They dropped another series to the Seattle Mariners to bring their record to 46-46 and now have to play the Oakland Athletics six times in the next two weeks. Reports are saying Mike Trout is almost close to 100%, but it might be another wasted season for a team who knows all too well about wasting generational talents.
The Mariners are a puzzling team. Their record shouldn't be this good (50-44 with a negative-51 run differential), but here we are. This team just manages to win games including a division series win over the Angels where Mitch Haniger hit two home runs and scored seven runs. After a two-game series after the Colorado Rockies, their next seven games are against the Athletics and Houston Astros. 
Mitch Haniger - Seattle Mariners (22) pic.twitter.com/2Z9qMV1HWH

— MLB HR Videos (@MLBHRVideos) July 18, 2021
It should be interesting to see how Seattle approaches the trade deadline. Realistically, they're still a few years away from being contenders and the trade value of Haniger, Kyle Seager, and Yusei Kikuchi isn't going to get much higher, but you never know.
For the past few years, the Athletics have been good but not great. Despite housing one of the best records in baseball, there was always something missing that truly made them elite. I fear the same thing is happening this year. Whether it's the disappointing year from Matt Chapman or their lack of true star power, I just don't see this team making noise come playoff time. 
They currently hold the second wild card spot at 53-42, but with series losses to the Cleveland Indians, Astros, Boston Red Sox, San Francisco Giants, and Yankees, they haven't won a series against a team over .500 since the Mariners in the beginning of June. I still think Oakland can make the playoffs, but they aren't true contenders right now.
Excluding the Miami "Heatles" of the early 2010s, I don't think there is a team that has embraced the villain role more in sports than the 2021 Astros. 
While they have been losing more as of late (being swept by the Orioles and dropping two of three to the Tigers), this team doesn't care who you are. They have a death row lineup that features Yuli Gurriel, a bounce-back season from Jose Altuve, Carlos Correa, Alex Bregman, Kyle Tucker and Yordan Alvarez, who has a case for being one of the most underrated hitters in baseball right now. They also have a pitching staff that is one of the best in all of baseball, with five of their six regular starters having a sub-four ERA, and you can't forget about Ryan Pressley, who is one of the best relievers in baseball this year.
ARE YOU KIDDING!?

Jose Altuve hits a walk-off 3-run homer vs the Yankees to cap off a 6-run 9th inning for Houston!

(via @astros) pic.twitter.com/e6TnypjxSj

— FOX Sports: MLB (@MLBONFOX) July 11, 2021
For a team dead in the water just under a year ago, a lot has changed for Houston. They have hope and championship expectations because they're playing baseball their way. After coming back down 7-2 against the Yankees in the ninth inning, Jose Altuve gave the Internet one of the coldest sports pictures this year. If you remember all the drama that happened following the 2019 season, then you would understand how baller of a move this was by Altuve.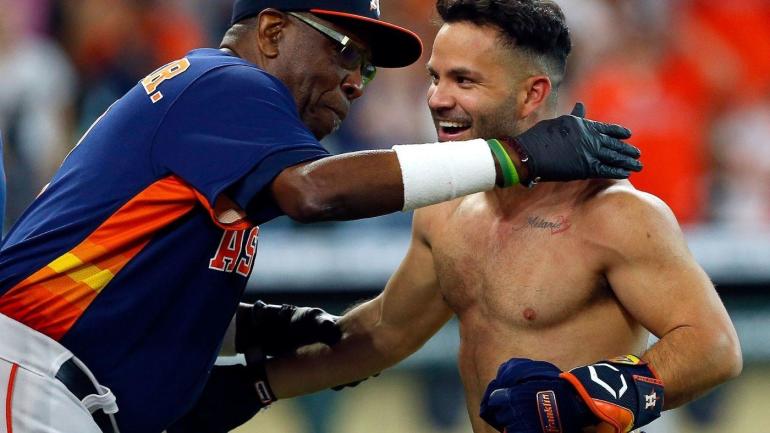 Getty Images
Now, there are rumors that this team can get even better as Washington Nationals pitcher Max Scherzer has been linked to this team according to Michael Schwab formerly of USA TODAY, giving the Astros the true ace they need to complete this deep team.
Ryan Henry can be reached at ryan.henry@student.shu.edu.
Posted in: Sports