AL East Weekly No. 1
Date: July 17, 2021
By: Michael Stamm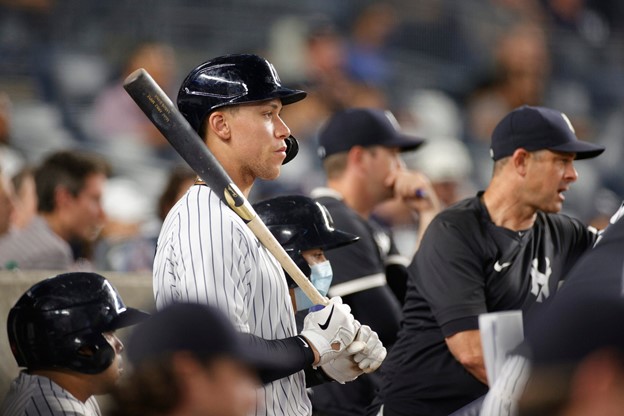 Sarah Stier/Getty Images
No team is facing more pressure to have a hot start to the second half of the season than the New York Yankees. Originally the AL East favorites, they have been inconsistent all-year and entered the halfway mark with a puny 46-43 record, holding them to fourth in the division. 
The Yankees have no more time to waste, especially as they face the AL East-leading Boston Red Sox in the first series post-All-Star break. The Yankees need to come out strong, healthy, and motivated to make a dent as they try to climb up the standings.
On Thursday, the players were ready as they warmed up around 2 p.m. at Yankee Stadium. That is until MLB officials demanded everyone to leave. Six New York Yankees players had tested positive for COVID-19, and the game that was supposed to restart their season had now been canceled. 
Following positive COVID-19 tests within the Yankees organization, tonight's game between the Yankees and the Red Sox at Yankee Stadium has been postponed to allow for continued testing and contact tracing. MLB will continue to provide scheduling updates as available.

— New York Yankees (@Yankees) July 15, 2021
While for most people, life is going back to normal, and the pandemic is slowly moving behind them. For sports, it is still a significant catalyst. Games getting canceled or postponed due to players becoming sick from the virus has dramatically decreased, but unfortunately, examples like the one in the Bronx, N.Y. are still prevalent.
The players that have caught the virus are not nobodies either. Pitchers Jonathan Loaisiga (7-3 with a 2.11 ERA this year) and Nestor Cortes Jr. (1.05 ERA in nine appearances) headline the losses from the bullpen along with Wandy Peralta. However, those guys can be replaced in the Yankees' loaded bullpen. Players like Aaron Judge and Gio Urshela, who also tested positive, cannot. Catcher Kyle Higashioka also rounds out the six Yankees who will be headed to the MLB's COVID-19 list.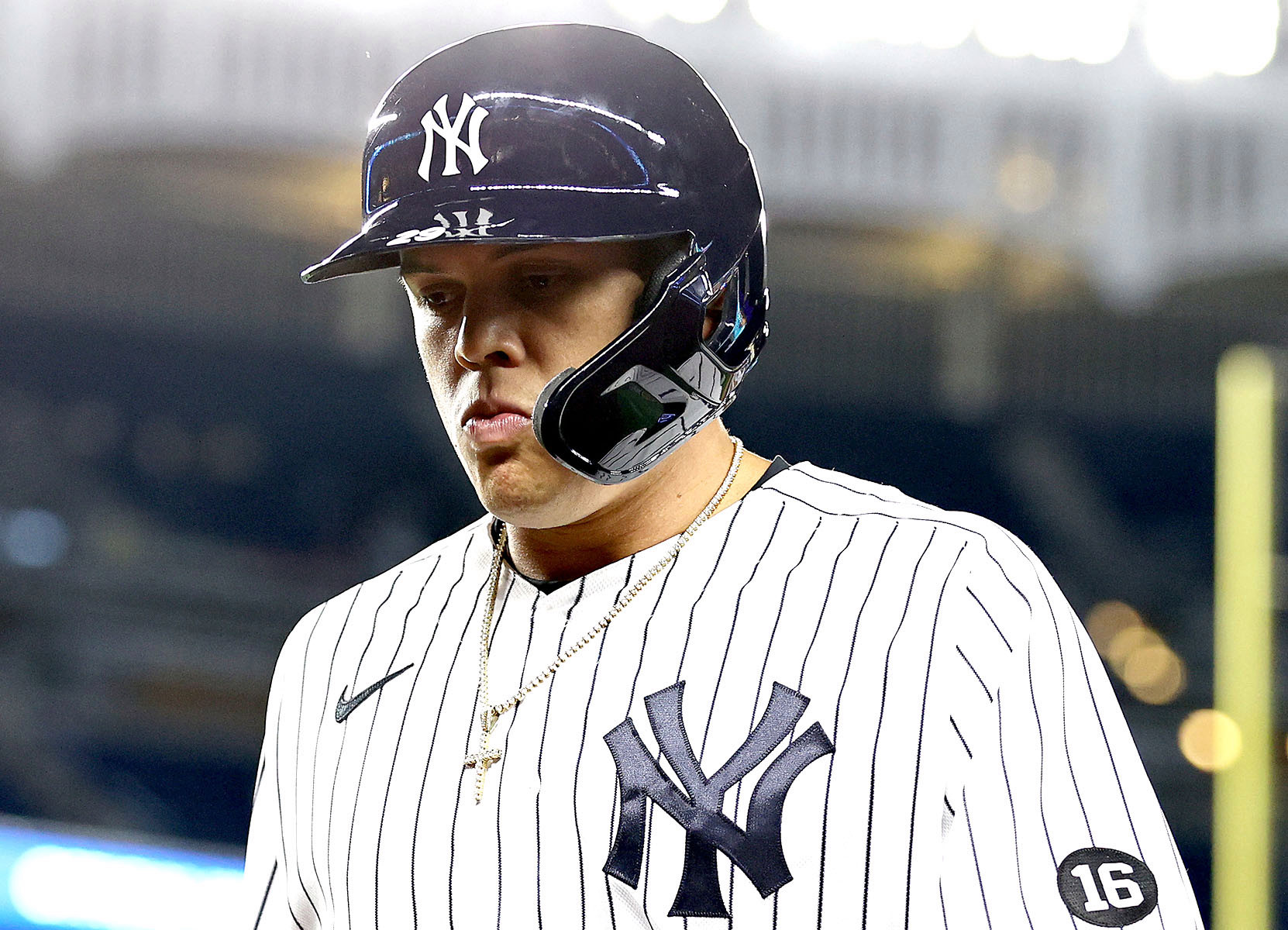 Getty Images
The complete opposite of a good start to the second half of the Yankees' season would be without their All-Star outfielder and one of the "Bronx Bombers" few consistent hitters in Urshela. This continues to follow New York's season of just disappointment, where they cannot seem to catch any breaks.
The Yankees were actually one of the first teams to cross the MLB's vaccine threshold (85% of tier-1 officials), which allows the franchise to loosen restrictions in the clubhouse. Now restrictions will be as tight as they have been in over a year as the squad has no more room for more positive tests. In good news, it seems that New York vs. Boston series will continue as scheduled, as no more players have tested positive on either team.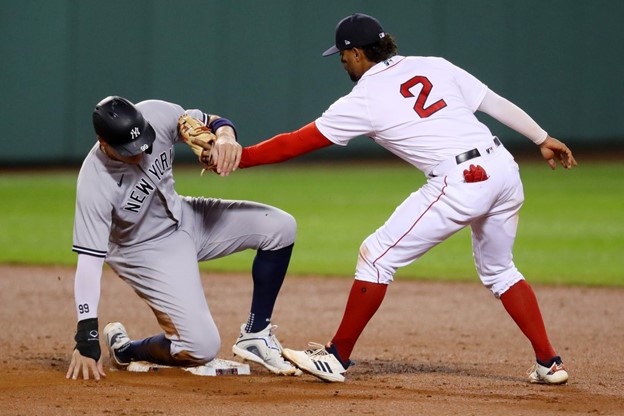 Maddie Meyer/Getty Images
Currently eight games back behind the Red Sox, the Yankees are scheduled to play Boston and the Tampa Bay Rays 11 more times before the MLB trade deadline (a crucial time for many teams that needs its own whole separate article). Thursday was supposed to be the mark of a new, pivotal stretch for the AL favorites. It still is crucial for them to win these games as Boston has gone 6-0 this year against their long-time rival.
However, they will have to do it without Judge and Urshela, leaving the already aggravated Yanks fans with even more doubt. 27 championships, right!
9th Inning:
For this week's 9th inning, I wanted to end on a lighter and much more fun note. So I looked at stats for the first half of the season and noticed something that I didn't realize before. Vladimir Guerrero Jr. can very possibly win the Triple Crown award this year.
this time last year Vlad Guerrero Jr. was in summer camp, struggling with aspects of 1B, by his own admission out of shape

one year later he is your WAR leader, a legit triple-crown threat, hitting no-doubt home runs in the All-Star Game pic.twitter.com/hQkwPfYwge

— Ben Nicholson-Smith (@bnicholsonsmith) July 14, 2021
Guerrero Jr. finished the first half of the season second in the American League with 28 home runs, first in batting average with .332, and first in RBIs with 73. So if Shohei Ohtani drops off a little in his offensive production, and the young Blue Jay continues to dominate, he has a legitimate opportunity of becoming the first winner since Miguel Cabrera back in 2012.
Vlad Guerrero Jr. wins the All-Star Game MVP 🔥 @BRWalkoff pic.twitter.com/TPAN1QzXYJ

— Bleacher Report (@BleacherReport) July 14, 2021
Add the fact that the Blue Jays will need him to stay hot as they continue to try and catch the Red Sox for first place. The problem is Guerrero Jr. does have some competitors right on his back, ready to take over in one of the three categories if he stops and takes a breath. I predict him getting two-thirds of the feat by season's end, with him losing the RBI race to Rafael Devers.
The Blue Jays certainly have a superstar on their hands that could cement his name in the record books. Alright, that's all from me this Sunday afternoon. Stay safe out there. Peace.
Michael Stamm can be reached at michael.stamm@student.shu.edu.
Posted in: Sports