WSOU Kicks Off "SkatesGiving" On November 4
Date: November 3, 2020

For Immediate Release
November 3, 2020
WSOU KICKS OFF "SKATESGIVING" ON NOVEMBER 4
All Month, Listeners Have Opportunities to Win Band-Inspired Skateboard Decks
South Orange, N.J. – Skateboarding and music go hand in hand. To celebrate the connection between skateboard culture and the punk and metal music scenes, WSOU announces "SkatesGiving."  Throughout the month of November, listeners will have the chance to win limited edition collectable skateboard decks. These decks are inspired by some of the bands WSOU plays, including Sepultura, Bad Brains, M.O.D, Obituary, Carcass, and more.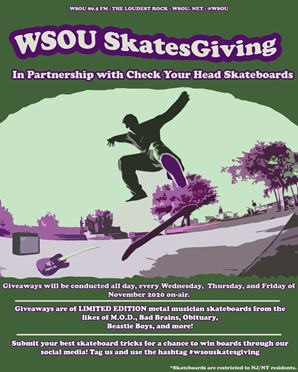 "Skateboarding has always been such a huge and crucial part of metal and punk culture," said WSOU Promotions Director Valentino Petrarca. "This promotion is us paying homage to the free spirit and loving atmosphere that metal and skateboarding has created for decades now. This contest is also a wonderful way for us to interact and connect further with our fans who have a real talent for riding and passion for music."
Listeners will have two different opportunities to participate in SkatesGiving. On-Air giveaways will be conducted every Wednesday, Thursday, and Friday in November. The station will also have a weekly social media contest where fans can win boards by showing WSOU their best skate tricks using the hashtag #wsouskatesgiving. Due to shipping constraints, the contest is limited to residents of New Jersey, New York City, and Westchester and Rockland countries.
About WSOU
WSOU 89.5 FM, which began broadcasting in 1948, is the student-run radio station of Seton Hall University. Celebrated for its loud rock format and coverage of Seton Hall athletics, WSOU's signal reaches all five boroughs of New York City and much of northern and central New Jersey and is available on iHeartRadio. WSOU was the 2016 winner of the National Broadcasters Association's Marconi Award for Noncommercial Station of the Year and a 2019 nominee for the Marconi Award for Best College Radio Station. More information about the station can be found online at www.wsou.net and www.facebook.com/WSOUFM.
# # #
Media Contacts: General Manager Mark Maben at mark.maben@shu.edu or Promotions Director Valentino Petrarca at wsoupromo@gmail.com.
Posted in: WSOU, WSOU Exclusive