3 former Pirates making appearances in the G-League
Date: February 12, 2021
By: Dylan Camp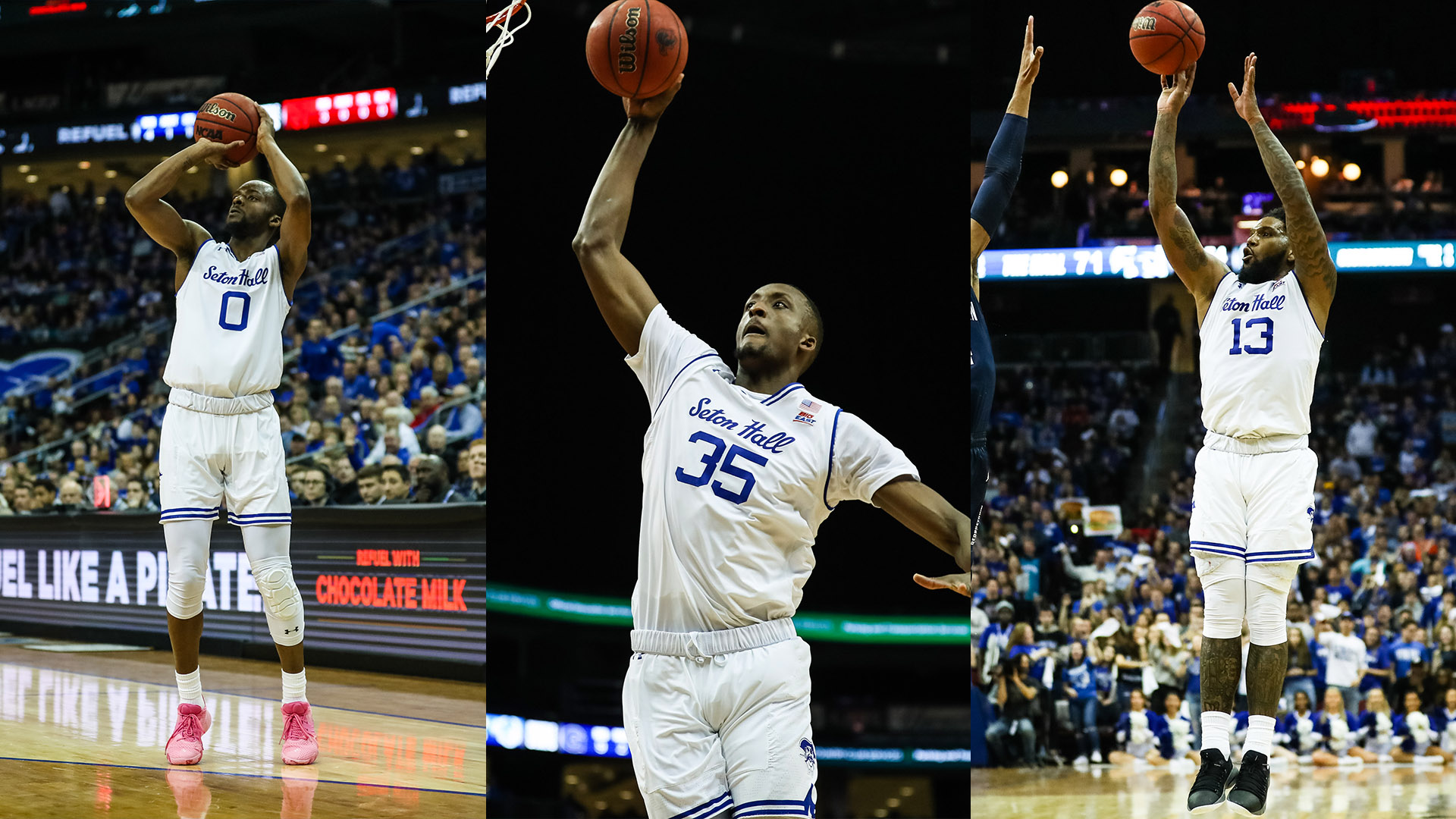 Seton Hall Athletics
Following a disappointing draft night for Pirate fans, the next day brought hope as both Myles Powell and Romaro Gill were signed by the Knicks and Jazz. Both were long shots to make their respective NBA rosters this season and have found themselves in the G-League bubble along with Quincy McKnight who was selected in the G-League draft in January.
Here is an early season update on how each player has fared so far following their first two games in Orlando:
Myles Powell
Powell has played great basketball for the 2-0 Westchester Knicks through their first few games of the season. In his first game he scored 16 points in 23 minutes of game action and in game two he put up a team high twenty-two points in about forty minutes. The significant jump in minutes indicates he impressed his coach in game one and was awarded that extra playing time in game two, and to Powell's credit he made the most of it.
Not only did he finish with a team high in points he also led the team with nine assists and grabbed four rebounds to go along with those impressive stats. The biggest improvement in Powell's game has been his efficiency. Powell has shot 50% from three-point land in his first two games (8-16) and just under 50% overall from the field (13-27). This is a huge shift from when we last saw Powell in a Pirates uniform and he was seemingly forcing his way through the end of his senior season in which he struggled with his shot.
A hard-nosed guard who can drive to the basket and hit big threes is exactly what the Knicks were looking for when they drafted Powell. If he can keep up this high level of play it bodes very well for his hopes of being on an NBA roster one day.
Romaro Gill
Gill is temporarily in the G-League playing for the Utah Jazz affiliate Salt Lake City Stars who are 0-2. Gill signed a contract with the Wellington Saints of the New Zealand National Basketball League which begins in April and when he arrives, he will literally be the biggest player their league has ever seen. But for now, he will play for the Stars and so far, Gill has logged around 20 minutes of action in each of his first two G-League games.
Gill scored four points in each game grabbing a handful of rebounds in each as well. He has been in significant foul trouble in each game which has proven to be a struggle for him thus far. In game one he fouled out in seventeen minutes and in game two he had five fouls in twenty minutes. Gill clearly provides an offensive advantage in the post but on the defensive end he has not been able to show off his shot blocking prowess Pirate fans came to love. If Gill can stay out of foul trouble, he should be able to boost his stats with increased minutes while he remains in the G-League.
Quincy McKnight
McKnight was drafted in the second round of the G-League draft last month to the Fort Wayne Mad Ants, the affiliate of the Indiana Pacers. Unfortunately, Q has not seen any action for the Mad Ants in their first two games of the season. This is disappointing because he could have matched up against former teammate Powell when their squads faced off in game one.
Scoring has not been the problem for the Mad Ants thus far it has been defense, and luckily for McKnight that is one of his specialties. If the team continues to struggle on the defensive end, McKnight may be inserted to lock up an opposing guard and will look to make an impact on other areas of the floor as well to buy himself some playing time.
Dylan Camp can be reached at dylan.camp@student.shu.edu
Posted in: Men's Basketball, Sports