2022 New York Mets Preview
Date: April 7, 2022
By: Justin Nicosia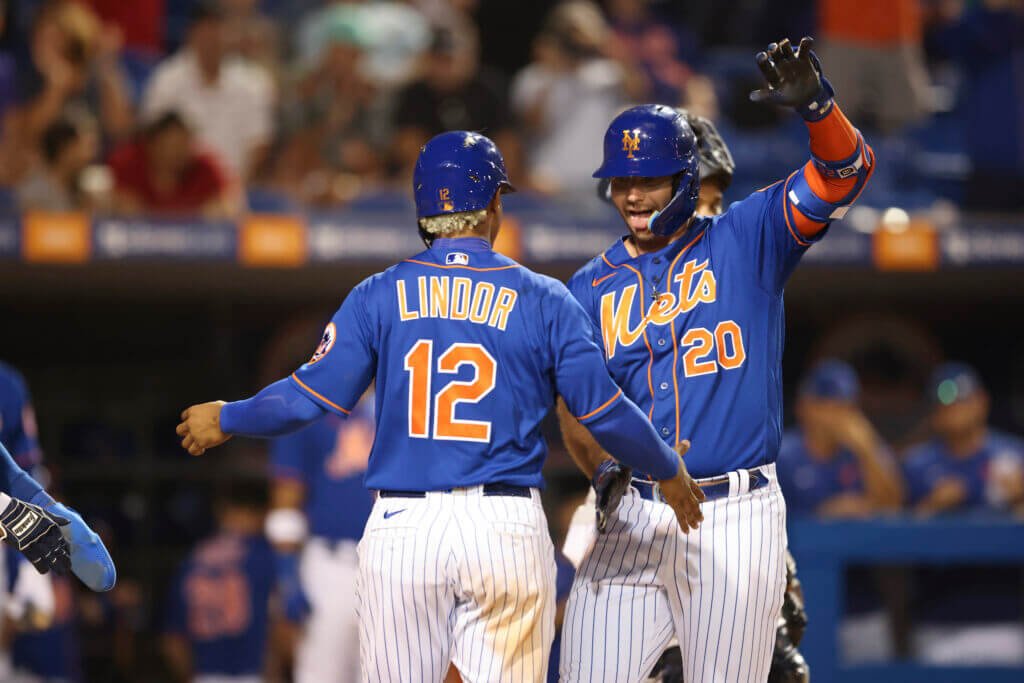 Peter Joneleit-Icon Sportswire/Getty Images
April. It's the month when groups of 20-something-year-olds climb a ladder and use steel scissors to cut down nylon nets on the courts they'd been using for the last three weekends. It's the month when bluejays, heron, and mockingbirds sing all day and into the night.
It's also the month when the fresh afternoon air is filled with the aroma of freshly-cut grass as people start to wear shorts and enjoy the warmer weather.
But more importantly than all of that, April is the month where 30 teams of 26 (or, due to the shortened spring training, 28 for the month of April) men get a fresh new start. The chance to not only make a postseason, but take home the Commissioner's Trophy, often times referred to as "just a piece of metal".
The man in charge of MLB thinks…

• The World Series trophy is merely a piece of metal.

• Owning an MLB team isn't a lucrative business or all that profitable.

• Missing a month of baseball isn't that damaging to the game.

• History and traditions can be easily changed.

— Dan Clark (@DanClarkSports) February 28, 2022
And yet despite Commissioner Rob Manfred's apathy towards the integrity of the game of baseball, be it between his handling of the Houston Astros sign-stealing scandal, or his lack of urgency to start this season on time, I sit here writing this the day before Opening Day with eager anticipation of the next six months of New York Mets Baseball.
A Look Back at 2021
After the Mets finished an underwhelming 77-85 in a season that they were season as NL contenders, they promptly fired Luis Rojas after just two seasons and hired 65-year-old, Buck Showalter.
Last season wasn't easy for the Mets. after spending 90 consecutive days at the top of the NL East, they saw their divisional lead slip away on Aug. 6, and they were never able to regain their footing.
What hurt them even more was seeing their divisional rival Atlanta Braves – who were 4.5 games out of first place at the All-Star break and having just lost star right fielder Ronald Acuña, Jr. for the season to a torn ACL – win the division, and later the World Series.
The Mets' demise last season boiled down to two main factors: a litany of injuries to key players, as well as most of their stars underperforming.
At one point, the Mets were down to Johneshwy Fargas, their 10th string outfielder, who played in seven games for the team during the month of May. 66 out of the team's 162 games were started by pitchers not on the Opening Day rotation: that's a whopping 40%!
It's FINALLY here! #OpeningDay #LGM pic.twitter.com/ZrBVNGDxp9

— New York Mets (@Mets) April 7, 2022
Michael Conforto, J.D. Davis, Francisco Lindor, Jeff McNeil, all missed over a month.
Carlos Carrasco, Jacob deGrom, Robert Gsellman Luis Guillorme, Joey Lucchesi, Brandon Nimmo, David Peterson, and Sean Reid-Foley missed at least two and a half months.
It didn't help that Conforto, Lindor, McNeil, James McCann, and Dominic Smith all had some of the biggest slumps of their careers.
2022 will be different though. Not only did the team improve on both their offense and their pitching, but I expect many Mets to have bounce back seasons.
The Offseason
The Mets began the offseason by extending qualifying offers to both Noah Syndergaard and Conforto. Syndergaard declined and was promptly signed by the Los Angeles Angels, while Conforto also declined but remains unsigned. If he signs away from New York before the draft, the Mets will be granted a second compensatory pick between the second and third rounds in addition to the one gained from Syndergaard's departure.
Javier Báez left in free agency for the Tigers, Marcus Stroman and Jonathan Villar left for the Cubs, and Aaron Loup went to the Angels. Jeurys Familia, Brad Hand, and Heath Hembree also left in free agency.
On the pitching side of things, they traded Miguel Castro to the Yankees for left-handed reliever Joely Rodriguez. They acquired starting pitcher Chris Bassitt, who had a 3.15 ERA in 27 starts last season, in exchange for minor leaguers JT Ginn and Adam Oller.
The Mets also signed Max Scherzer, a three-time Cy Young winner, and undoubtedly one of the top-five pitchers of the 21st century. They added lefty Chasen Shreve, who is fresh off of a 3.20 ERA season, to the bullpen.
To help with the bats, they added Mark Canha, one of the league's premier walk-drawers, who also has decent power. They signed Eduardo Escobar, who will likely split time with Davis at third, but can play anywhere on the infield with the potential to have a 30 HR season.
Starling Marte also joined the team and looks to be the opening day right fielder. Marte is a career .289 hitter who can play gold glove defense and led the league in stolen bases last year.
Tylor Megill reacts to being named our #OpeningDay starter. pic.twitter.com/ETk52ZNer0

— New York Mets (@Mets) April 7, 2022
Bounce-Back Candidates
There are three Mets that I see as prime candidates to have a bounce-back 2022 campaign: Lindor, McNeil, and Smith.
Lindor's 2021 seems underwhelming on the surface; he had a career low in RBI with 63 and his triple slash of .230/.322/.412 were also all career lows. However, that was weighed down by a 1-for-29 stretch he had at the end of April and early May.
After May 6, when that stretch ended, Lindor slashed .249/.330/.468 with 19 home runs and 60 RBIs in 99 games. His gold glove defense was still there, and he certainly has the ability to replicate that 99-game stretch with the bat in 2022.
McNeil entered the 2021 season with a career batting average of .319 and a career on base percentage of .383. In 2021, those numbers fell drastically. On the season he hit just .251, reaching base at a .319 clip.
During 2021, McNeil eliminated the leg kick from his batting stance, which may have been the result of a hamstring injury suffered in May. With a full offseason of recovery and watching film, I'm confident McNeil will be able to adjust back to his 2020 and prior self.
My last bounce-back candidate for New York comes in the form of Smith. Smith recently revealed that he was playing with a torn labrum from late-May of last season onward, a fact previously unknown to the public. What was known to the public were the nagging wrist and groin injuries he also dealt with last season.
All three of those injuries can drastically affect a batter's swing. Presuming Smith is fully healthy, he could return to the .316/.377/.616 form he had in 2020. In fact, my bold prediction of the season will be that Smith slashes at least .300/.350/.600 once again.
The Pitching
Pitching has always been the Mets' strong point, and this year is no different. Although the best pitcher in baseball will be out for at least the first month of the season, the rotation is still in phenomenal shape. Scherzer has shown that he's still a true ace, and Bassitt is a great No. 2 option.
If Taijuan Walker can play like he did before the All Star break last year, he is a phenomenal No. 3 starter, and young arms like opening-day starter Tylor Megill and lefty David Peterson have shown a lot of potential in their short time in the big leagues. Imagine how strong this rotation will be when deGrom returns.
@Starlingmart pic.twitter.com/izPgYz8ab7

— New York Mets (@Mets) April 6, 2022
The bullpen, while without Loup, remains very strong. The back-end trio of Trevor May, Seth Lugo, and Edwin Diaz will be able to shut down many lineups in the late innings of games.
While Rodriguez and Shreve aren't on the same level as Josh Hader as far as lefty relivers go, they both can get the job done more often than not.
Drew Smith and Sean Reid-Foley will be the Mets' long relief options and are both capable of giving three innings of solid work if a starter's night gets cut short.
Look for the Mets to have much of the same success pitching as they did last year when they ranked ninth with a team ERA of 3.90.
The Hitting
I know we said this last year, and ended up being very wrong, but the Mets' lineup is so good and so deep, where McCann may be the only weakness in this lineup. Not only do the Mets have a lot of potential leadoff hitters; Canha, Marte, McNeil, Nimmo, Lindor, and even Guillorme could reasonably lead off on any given day, but they also have a lot of power in their lineup.
Pete Alonso, Canha, Robinson Cano, Escobar, Lindor, and McNeil could all hit at least 25 home runs this season, and a few of them could hit over 40.
It just sounds different off the bat of the Polar Bear. ‍❄️ pic.twitter.com/XuspDwJmhV

— New York Mets (@Mets) April 6, 2022
Even without mentioning Smith, I just named 10 members of the Mets' lineup who could fit a vital role in a very successful way. It will be tough to predict the lineup Showalter decides is the most optimal lineup as the season goes on, but I'll list mine right now.
Projected Lineup:
1. Brandon Nimmo, CF
2. Starling Marte, RF
3. Francisco Lindor, SS
4. Pete Alonso, 1B
5. Mark Canha, LF
6. Jeff McNeil, 2B
7. Eduardo Escobar, 3B
8. Dominic Smith, DH
9. James McCann, C
BENCH: Robinson Cano, J.D. Davis, Luis Guillorme, Travis Jankowski, Tomas Nido
That lineup top-to-bottom would already go toe-to-toe with some of the best in all of baseball, and it still has Cano, Davis, and Guillorme coming off the bench. This team may have struggled to score runs last year, but as long as they stay healthy, I don't see it happening given the new additions, and the different managing style Showalter has to Rojas.
In The Pipeline
Now that I've extensively gone over the Mets' likely major league roster, who can we expect to see coming up in the near future?
The Mets currently have three prospects ranked in the top 100 of MLB.com's prospect rankings:
Francisco Alvarez (10th ranked) is a catching prospect who most likely will not be called up until 2023, but he has a bat with the potential to be as good as Mets Hall of Famer Mike Piazza. His fielding, while not a liability, still has some work to do, but either way, Alvarez has the potential to be one of the best catchers in all of baseball in just a few years.
Brett Baty (27th ranked) is a third baseman who has recently started to play the outfield and could get the call early in this season. He grades as an all-around good hitter, with the ability to spray the ball to any part of the field, but with good enough of an eye to draw walks at an elite clip. He isn't the fastest guy in the world but has a very good arm which will benefit him greatly as either a third baseman or an outfielder.
Ronny Mauricio (78th ranked) is the third and final Met to crack MLB's top 100 prospect rankings and could see time in the majors as soon as next year. He currently plays shortstop, but with Lindor as New York's shortstop of the future, will likely make the transition over to third base.
Mets #2 and #3 prospects Brett Baty and Ronny Mauricio pic.twitter.com/83Xib1J6J7

— Eli Fishman (@elijfishman) April 4, 2022
He struggles with seeing the ball at times, and strikes out a lot, but his power more than makes up for it, mashing 20 home runs in just over 100 games last season. Defensively, his reactions are second to none, which will give him Gold Glove potential.
The three other prominent prospects you can expect to see in the majors this season are Mark Vientos, Khalil Lee, and Nick Plummer.
Vientos is a play-anywhere type of player, and although his fielding is average at best, his cannon of an arm makes up for it. Offensively, he can succeed both with power and contact. Last season, he hit .281 with a .352 on base percentage and 25 home runs, playing in both AA and AAA.
If Lee sounds like a familiar name, that's because he is. He appeared in 11 MLB games last season during the height of the Mets' injury concerns, and while he didn't do well in his short stint, he wasn't MLB-ready. This year, he will be, and he brings a phenomenal defensive presence in right field with great speed and a decent bat.
Plummer is also an outfielder, and he came over to the Mets after the Cardinals opted to not resign him. The 25-year-old is a little bit older than most prospects, but he was always seen as a long-term project, even after the Cardinals drafted him.
Fortunately, the minor league part of that project is almost complete, and when he makes his Major League debut with the Mets, expect him to be a patient hitter at the plate who draws a ton of walks and barely strikes out. He may not have the most power in the world, but he'll get on base, and his speed will help him score often.
Justin Nicosia can be reached at justin.nicosia@student.shu.edu.
Posted in: Sports