2021 Pirate Player Preview: Tray Jackson
Date: September 13, 2021
By: Jorie Mickens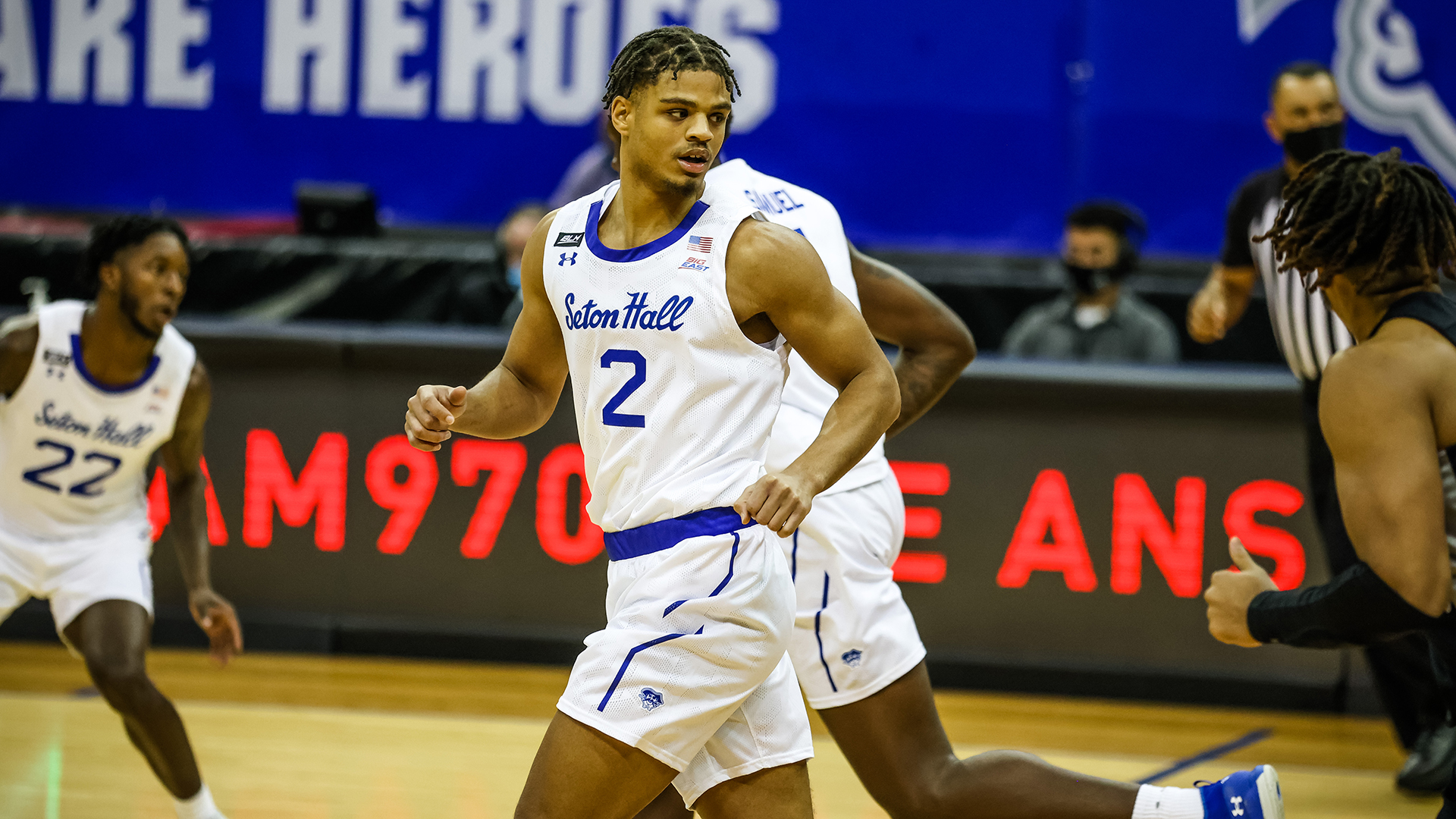 Seton Hall Athletics
Back in 2018, Seton Hall heavily recruited Tray Jackson, a four-star power forward prospect from Detroit. 
For the next two years, the Pirates' efforts were deemed ineffective as Jackson committed to Missouri. However, the team's endeavor proved worthwhile because after the 2019-20 season, Jackson announced he would be relocating to South Orange, N.J.
𝙉𝙚𝙬𝙘𝙤𝙢𝙚𝙧 𝙌𝙪𝙚𝙨𝙩𝙞𝙤𝙣𝙨 ▪ Tray Jackson

We think that today is a good day for you to meet @_Trayjacks 🏀#HALLin 🔵⚪ pic.twitter.com/PoXg5HkD7k

— Seton Hall Men's Basketball (@SetonHallMBB) December 17, 2020
Prior to college, Jackson was ranked the No. 94 player in the Class of 2019 by 247Sports. After his time at Western International High School, Jackson completed a prep year at Sunrise Christian Academy in Wichita, Kan., one of the best basketball prep schools in the nation.
During his freshman year at Missouri, Jackson appeared in 26 games off the bench and averaged 8.1 minutes-per-night. While that is more time than he saw with the Pirates last year, there is reason to believe Jackson will get more run as a junior considering he was not eligible to play until mid-way through the 2020-21 season.
Despite losing Sandro Mamukelashvili to the NBA, the power forward spot remains one of Seton Hall's premier positions. Third year player Tyrese Samuel will likely assume the starting role, but others like Jared Rhoden, Alexis Yetna and Jo Smith can all play that position as well. Jackson will need to separate himself from the rest of the pack.
Luckily for him, his mixture of size and skill makes him one of the most unique players on the roster.
Athletically speaking, few can hold a candle to Jackson, as he is a tremendous vertical threat and moves well laterally on the perimeter. His athleticism should help him gain the upper hand over his teammates and more importantly, his opponents.
Offensively, Jackson is most effective getting downhill and attacking the basket. Back in high school, Jackson was borderline unstoppable when he caught the ball on the perimeter and got to the rim. And his incredible leaping ability allowed him to secure offensive rebounds and convert second-chance opportunities.
But the southpaw is more than just a slasher, as Jackson showcased an ability to stretch the floor as well. While he is not a knock-down shooter, if Jackson continues to develop this area of his game, it will make him a much more versatile player who could play both the small and power forward positions.
During his one year with the Tigers, Jackson garnered a reputation of being a poor defender by local media. It is worth mentioning that Jackson was only a freshman playing spotty minutes under head coach Cuonzo Martin, who is known for running a complicated defensive system.
We do not have much to base our projections on given Jackson only appeared in three games last season. But WSOU's Sports Director Heaven Hill summed it up perfectly last year saying, "Once the 2021-22 season rolls around, after he's had ample time to adjust and learn Coach Willard's playbook, Jackson could be a powerful force in the frontcourt for the Pirates for years to come."
Blessed to be apart of the family 🙏🏽💙 #HALLin #FREEGROOVY pic.twitter.com/hT6ijo3ZrK

— TJ (@_Trayjacks) April 27, 2020
It is time for Jackson to turn that hype into production, and something tells me he could have a special year for Seton Hall.
Jorie Mickens is an Assistant Sports Director for WSOU Sports and can be reached at jorie.mickens@student.shu.edu.
Posted in: Men's Basketball, Sports, WSOU