2021 NBA Draft Most Underrated Prospects
Date: July 19, 2021
By: Kahlei Smith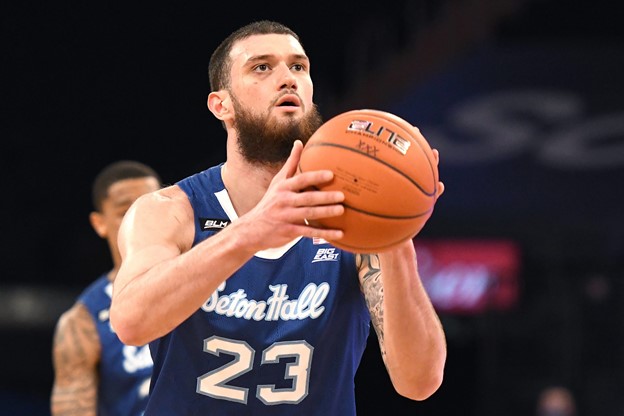 Mitchell Layton/Getty Images
We are roughly two weeks away from this year's NBA Draft where the world will witness the best college players get selected to play on the biggest stage. 
We've learned through previous drafts that many prospects who were picked within the top 10 turn out to be franchise-caliber players, while some turn out to be busts. However, many who were drafted beyond that range were given a chance by a team and have blossomed into stars or quality role players. Some players that come to my mind are Rudy Gobert, Khris Middleton and Klay Thompson. 
Although managing to draft high-quality players is a tough science, I think this year's draft has a lot of players who display skills that will translate well in the NBA, making it difficult for teams to pass up on them. 
That being said, here are three prospects who I believe are underappreciated by NBA scouts and will surprise people if they get a chance to play at the next level.
1. Chris Duarte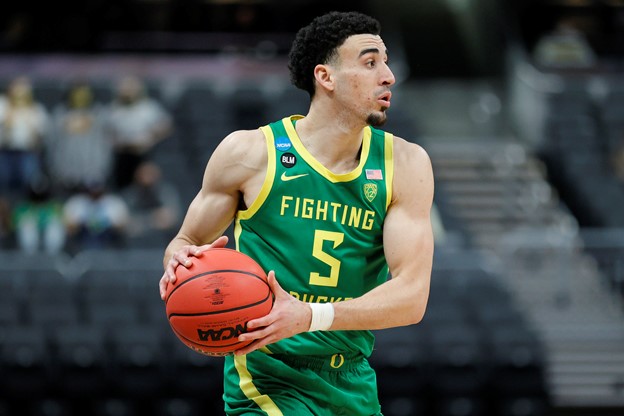 Sarah Stier/Getty Images
Duarte isn't the most notable player from this year's draft given his unorthodox journey; however, his performance at Oregon has stood out to most scouts who project him to be a middle-to-late first round pick. I included him on my underrated list because I think his game speaks higher than his projection. 
Duarte is a 6-foot-6 senior from Puerto Plata, D.R. and moved to New York to play basketball at Redemption Christian Academy. After high school, Duarte attended junior college at Northwest Florida State where he was named NJCAA Division I Men's Basketball Player of the Year in his sophomore season. 
He played his final two years in college at Oregon, becoming a Jerry West Award recipient and averaging 17.1 points, 4.6 rebounds and 2.7 assists in his senior season. His team ended up making a Sweet 16 appearance in the NCAA Tournament this season before losing to USC.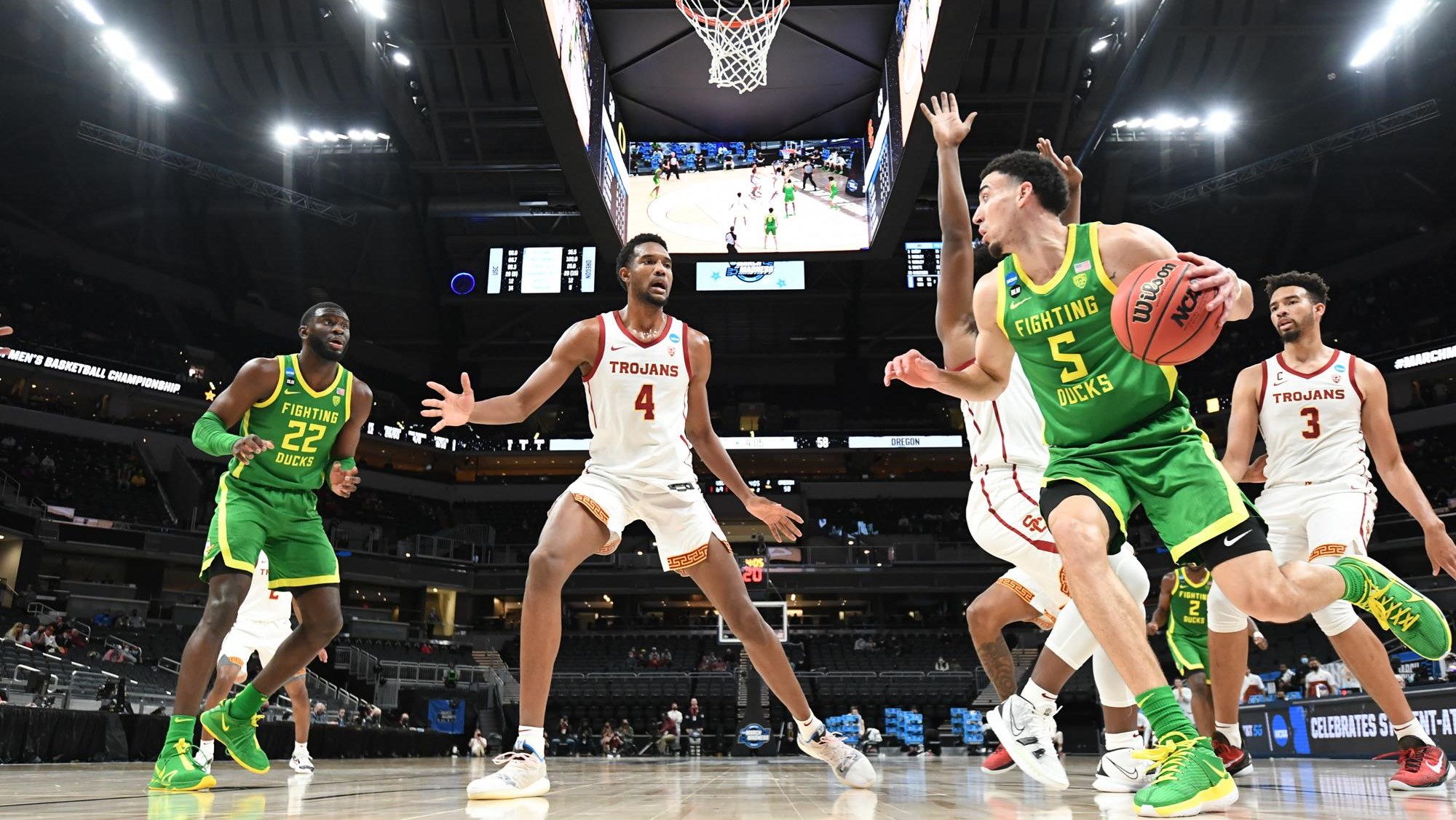 NCAA Photos/Getty Images
What stands out to me about Duarte's game is his shooting ability. Duarte shot 42.2% on 5.5. three-pointers-per-game. He has fluid shot mechanics and great rhythm before he receives the ball. His knockdown shooting ability reminds me of Thompson, who is a top tier catch-and-shoot player. Like Duarte, Thompson wasn't projected as someone with elite athleticism who will easily blow by defenders, but Duarte has shown that he could put the ball on the floor. He is also not the best shot-creator and facilitator, but his constant movement and unselfishness will serve him well at the next level.
With respect to defense, Duarte earned a spot on the Pac-12 All-Defensive Team this year, which was predicated on his off-ball defensive awareness. There is concern on how well he could play defense on-ball given that there are quicker players at the next level, but I believe Duarte will evolve into a perennial 3 and D player. 
Although he is very old for NBA draft standards (24 years old), he has the skills to be considered an NBA-level ready talent. I think his maturity will translate well on a team who is in win-now mode and can utilize his game effectively. 
2. Mitch Ballock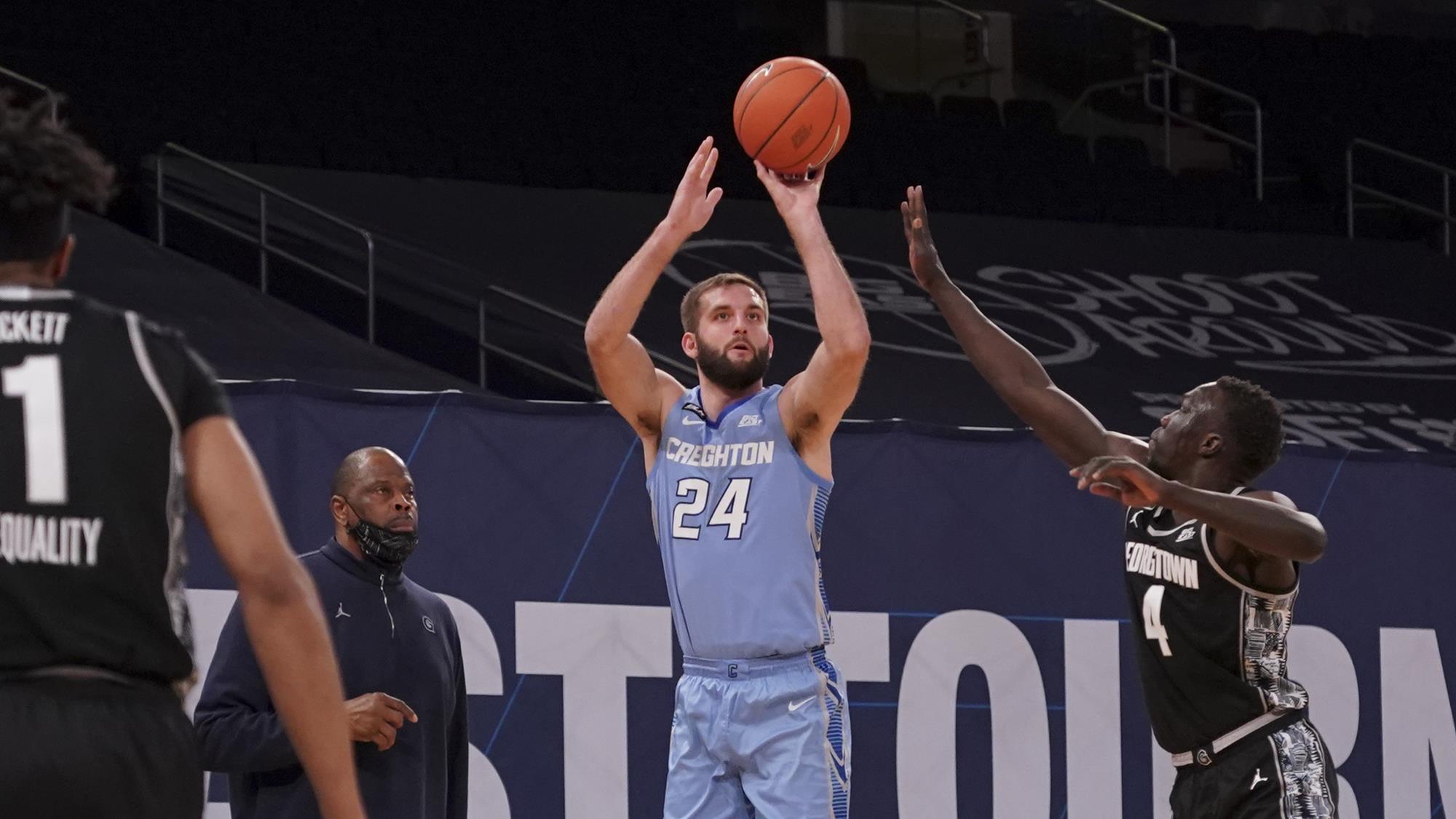 Porter Binks/Creighton Athletics
This is not a name you'll hear in the mainstream sports media, but Creighton has a knack for producing sharpshooters who have had good careers in the NBA. Ballock is a 6-foot-5 senior from Eudora, Kan., who attended Eudora High School and earned the Gatorade Kansas Player of the Year award after his senior season. He committed to Creighton over Kansas who recruited him heavily, and immediately made an impact by making Big East's All-Freshmen Team.
He is now a graduating senior, and the one skill that separates him from most is his sharpshooting ability. This year, Ballock has averaged 9.9 points shooting around 38% from three at 6.4 attempts a game. His numbers don't immediately jump out, but his skillset speaks volumes. Ballock possesses NBA-range shooting ability that many teams could use to their favor.
As a lefty, he has a quick, smooth shot and doesn't need much time to catch and shoot. I'd compare him to Kyle Korver, who also played at Creighton. Like Korver, Ballock achieved multiple games of eight or more three-pointers at Creighton. He currently ranks third in all-time three-pointers made (308) behind Korver and Ethan Wragge.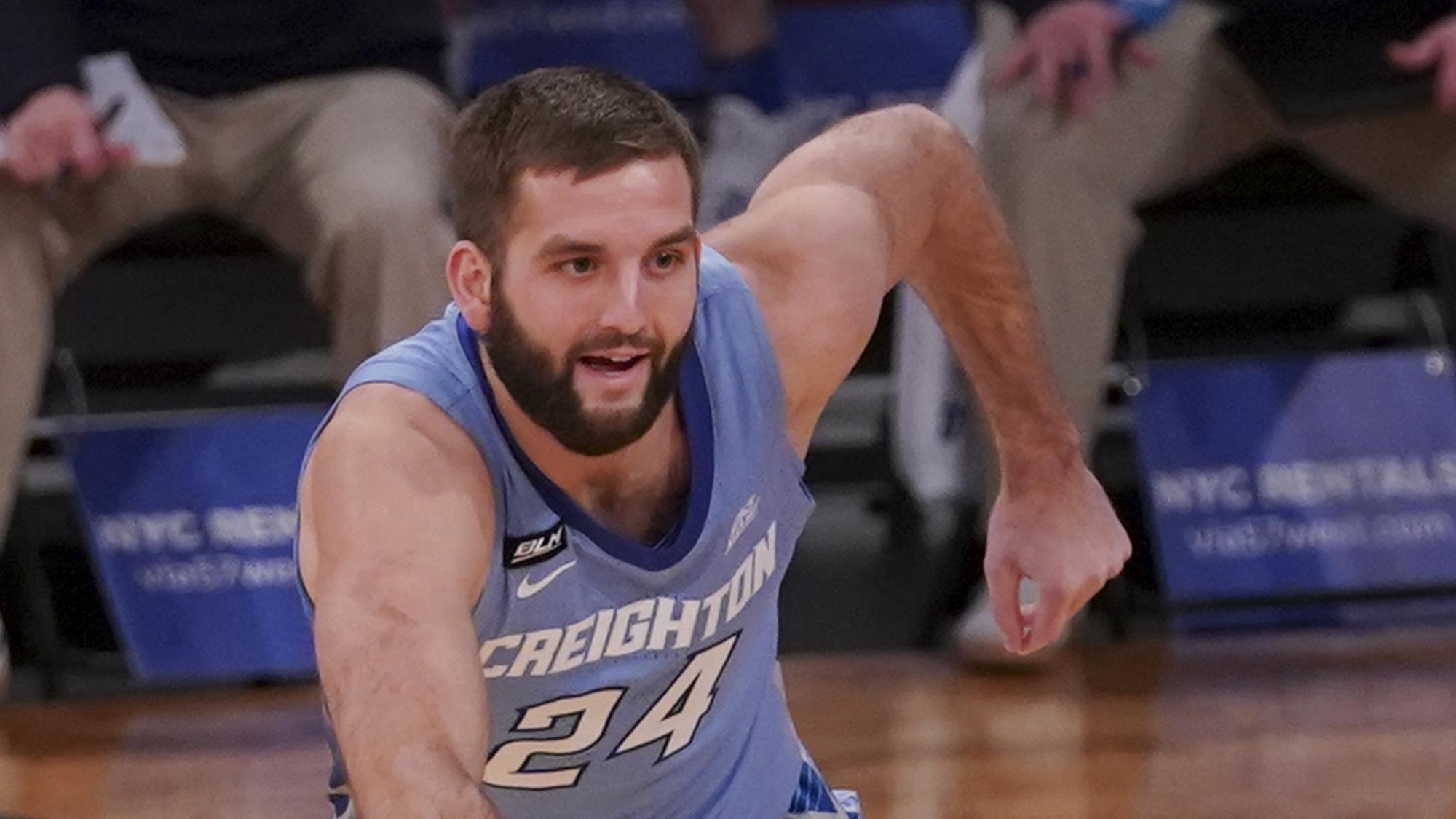 Porter Binks/Creighton Athletics
On the downside, Ballock is not very fast, which limits his offensive ability to create his own shot and blow by defenders to the basket. He also struggled as a mid-range shooter when defenders ran him off the line at Creighton. At 6-foot-5, Ballock is undersized at the wing position but also lacks lateral quickness to defend small guards. While he is not an absolute blackhole on defense, he'll struggle since he is limited athletically.
I understand why some mock drafts don't include him in this year's draft, but I know there is at least one team who could use him as an effective role player in their offensive system.
3. Sandro Mamukelashvili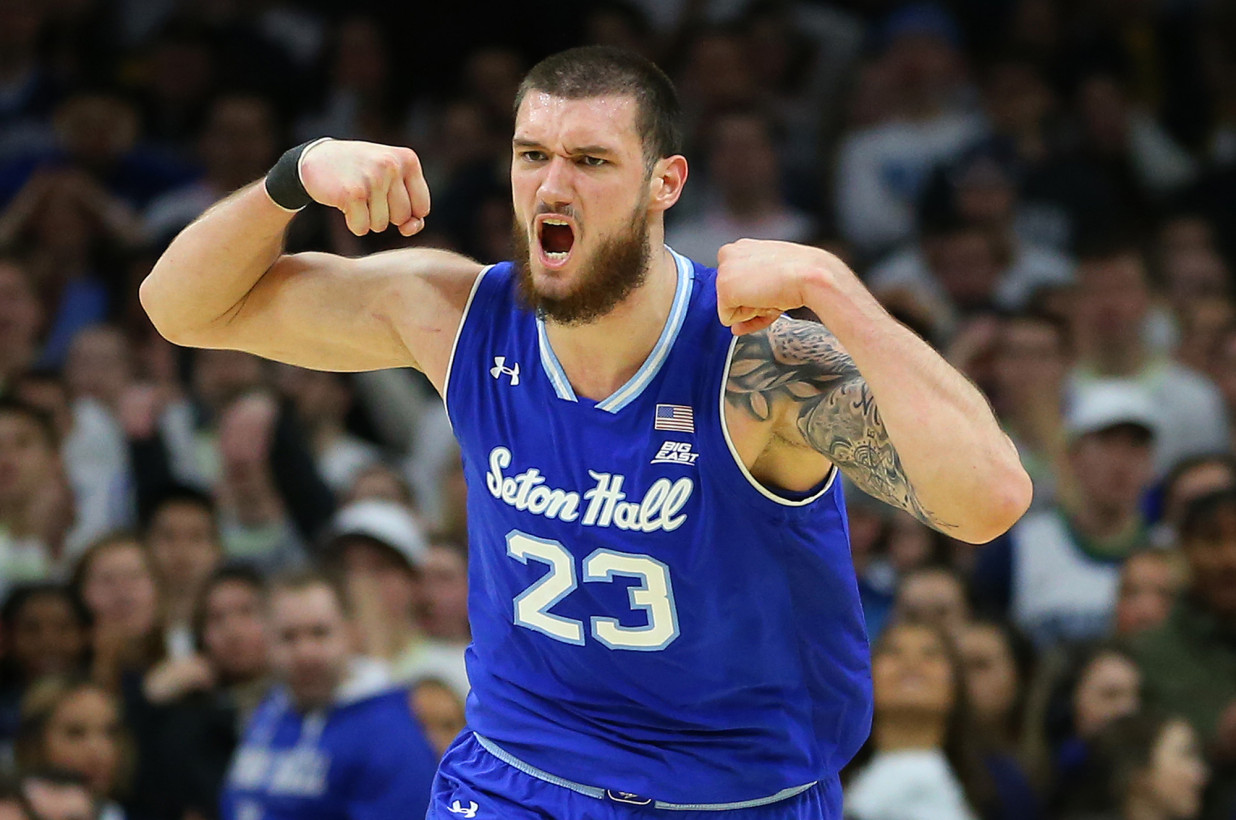 Getty Images
Finally, I can't forget to include "Mamu" himself on my list. It boggles me that most mock drafts don't have him listed because of how well he played during his time at Seton Hall. Mamukelashvili is a 6-foot-11 senior who was born in New York and grew up in Tbilisi, Georgia. 
He played high school basketball in Italy and would eventually play for Montverde Academy for one year before attending Seton Hall. In his senior season, Mamukelashvili averaged 17.5 points, 7.6 rebounds and 3.2 assists, earning him Big East Player of the Year and was a Karl Malone Award finalist.
Mamukelashvili is the proto-typical point-forward who can do a little bit of everything on the court. Offensively, he is a great playmaker who can pull up from three, drive downhill to the basket, and execute all types of passes anywhere on the court. 
He is a great spot-up shooter who can play in pick-and-pop situations. The Seton Hall star is also an underrated pick-and-roll player because he is mobile and possesses high-IQ. His offense also shows glimpses of Joe Ingles and Nikola Jokic due to his selfless style.
Here's some @DraftExpress footage of 6-foot-11 and 22-year-old @SetonHallMBB senior prospect Sandro Mamukelashvili showing deft touch with six straight bank shots, including one at the horn ahead of 2021 #NBA combine scrimmages in #Chicago pic.twitter.com/9Z4E4HRIv5

— DraftExpressContent (@DXContent) June 24, 2021
He is not the quickest player, which affected him on the defensive end as he had trouble staying in front of guards who are quicker than him in college. He is also not a huge rim defender, only getting 15 blocks in his last season.
Additionally, guards in the NBA could go past him in the pick-and-roll given his weaker lateral quickness. However, if his defensive IQ in off-ball situations serves him well in the NBA as it did at Seton Hall, he will not have to worry on the defensive end. 
Mamukelashvili showed that he could be a versatile big man for today's NBA at Seton Hall. I would not be surprised if he gets his name called or earns a late spot on an NBA team.
Kahlei Smith can be reached at kahlei.smith@student.shu.edu. 
Posted in: Sports