Recap: Pirates Lose to Drexel at Home, 1-0
Date: September 5, 2021
By: Justin Nicosia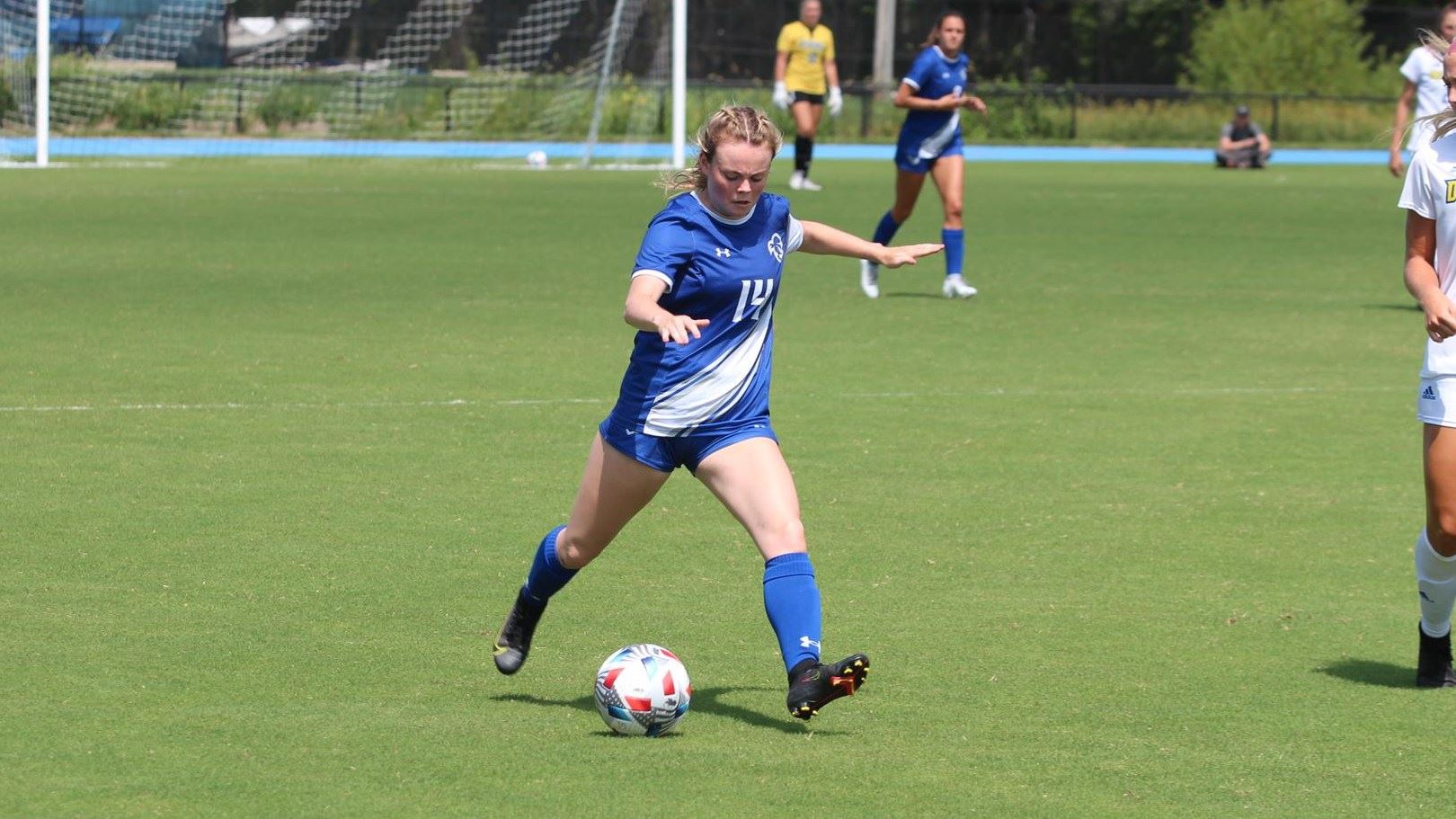 Seton Hall Athletics
The Seton Hall Pirates women's soccer team lost their second game in a row after falling to the Drexel Dragons 1-0 in a home game Sunday afternoon. After putting up three clean sheets to start the season, the Pirates lost for the first time this season in double overtime, 1-0, against Farleigh Dickinson last Friday.
Drexel's lone goal of the game came in the 78th minute off the foot of sophomore Annalena O'Reilly on a penalty kick after a foul by senior defender Dani Brinckman occurred inside the box.
78' | Drexel draws a penalty in the box and they convert to take a 1-0 lead.#HALLin

— Seton Hall Women's Soccer (@SHUWSOC) September 5, 2021
Junior goalie Grace Gordon, who played for Drexel back in 2019, made two saves during the game, bringing her season average to 90.5% and today's Drexel goal brought her goals allowed per 90 minutes up to 0.39.
Offensively, the Dragons led the Pirates in shots (8-7), while the Pirates had more on target (four as opposed to Drexel's three). Julia Aronov came off the bench and led the Pirates in shots with two, both of which were on goal. Drexel also had more corner kicks than Seton Hall, with a 3-1 advantage.
The Pirates had their best offensive chance from Sophie Liston hitting the crossbar in the second half, and Even after conceding the penalty kick, the Pirates maintained pressure on Drexel up until the 89th minute, when Riley Basler had a shot that went just wide left.
Best chance of the game so far. Sophie nearly finds the net!#HALLin pic.twitter.com/niEbT4FH03

— Seton Hall Women's Soccer (@SHUWSOC) September 5, 2021
Sunday afternoon's performance further shows us the improvements the Pirates made to the team this year especially on the defensive side, as they have only allowed 0.40 goals-per-game, compared to the 2.54 goals they allowed each game last year. They have been playing with a much more aggressive style of play this year, and they consequentially committed 13 fouls Sunday.
While this style of play did ultimately lead to the foul that resulted in Drexel's penalty kick, it has helped the Pirates improve as a whole, on the most glaring hole in their disappointing 2-9 record from the 2020-21 season. 
FINAL | Drexel 1, Seton Hall 0

We're back at it on Thursday at 6 PM against Iona at Owen T. Carroll Field.#HALLin

— Seton Hall Women's Soccer (@SHUWSOC) September 5, 2021
The Pirates will host Iona on Thursday in their second-to-last home game before the conference slate begins on Sept. 23.
Justin Nicosia can be reached at justin.nicosia@student.shu.edu.
Posted in: Women's Soccer, Sports, WSOU