Recap: Elmore scores 1,000th point as Pirates win, 67-55
Date: February 20, 2021
By: Michael Stamm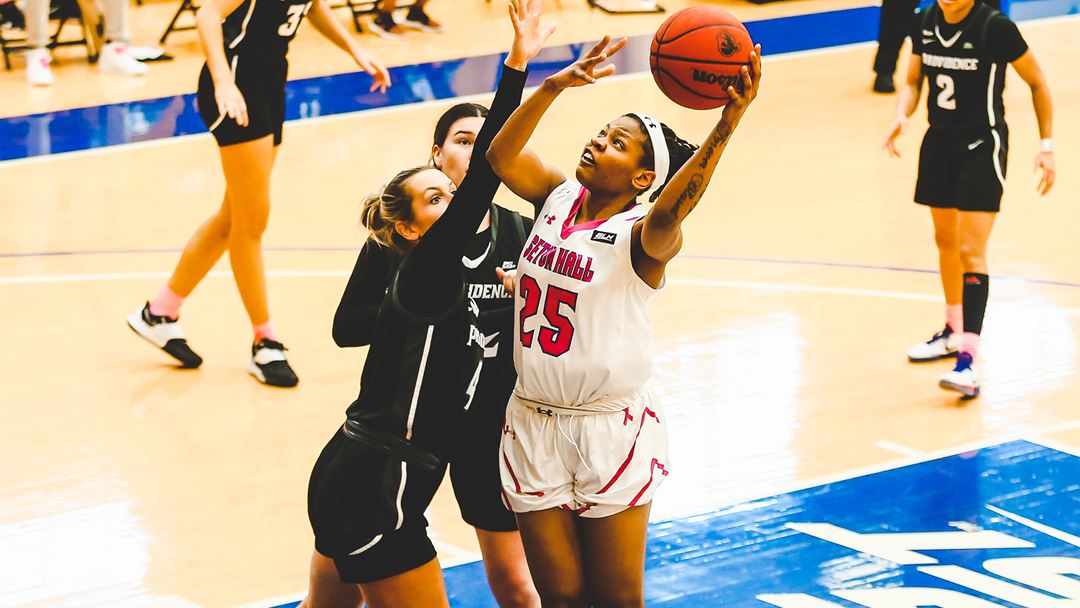 Seton Hall Athletics
On Saturday afternoon, Seton Hall walked into Walsh Gymnasium for the last time this season as they defeated the Providence Friars 67-55. The Pirates improved to 11-6 overall (9-5 conference), while the Friars drop to 6-10 overall.
This game was pretty much all Pirates throughout as Providence only had the lead for less than four minutes, all in the first quarter. Senior guard Desiree Elmore led the Seton Hall offense in scoring and rebounds as she had 23 points (nine of 20 from the field) and 12 boards. Guard Mya Jackson also had a good game as she led the team in threes. Jackson finished with 14 points and three rebounds.
Superstar players Andra Espinoza-Hunter and Lauren Park-Lane had slower games, but each still scored double digit points with 13 and 10 points, respectfully. Sophomore forward Mya Bembry had an efficient game grabbing rebounds as she had 11, with four of those being offensive.
Elmore also accomplished scoring her 1,000th point in this one to make the win even sweeter for the Pirates.
With 23 points in @SHUWBB 67-55 win over Providence, @DElmore21 eclipsed 1,000 career points 🎉🔥

Congratulations! pic.twitter.com/ecLtojxZFl

— WSOU Sports (@WSOUSports) February 20, 2021
On the Friars side, stars Mary Baskerville and Kyra Spiwak never were able to get anything going as the Pirate defense was consistently pressuring them on them. Baskerville finished second on the team in points with 12 and Spiwak came away with nine points. Forward Alyssa Geary led Providence in points and rebounds with 17 and nine.
The Pirates started off hot in the first quarter hitting four of five from deep, especially Jackson who had two of those threes. The second quarter, though, is when the Pirates really started to pull away. Elmore, Jackson, and Espinoza-Hunter all had 7+ points in the second quarter as they finished the first half leading by 15.
The Pirates are looking strong at the half, leading Providence, 42-27.

Jackson has 13 points, Espinoza-Hunter has 12 and Elmore has 11.

Lauren-Park lane has six points, five assists and no turnovers.#HALLin pic.twitter.com/6ms28TyzoS

— Seton Hall Women's Basketball (@SHUWBB) February 20, 2021
During the second half the Pirates started to show to slow down on the offensive side of the court scoring only 25 points during the second half. It was their defense though that was able to not allow Providence to make a comeback late in this game. Seton Hall forced 15 turnovers, scoring 19 points off those turnovers. The Friars cut the lead too ten late in the fourth, but Mya Jackson stole the ball away from Grace Efosa-Aguebor to seal the win for the Pirates.
Despite the score, Seton Hall is going to need to see more from their main scorers if they want to win these last three games of the season. With a four-day rest until Seton Hall travels to meet Xavier, look to see superstars Espinoza-Hunter and Park-Lane rest up and come out hot in this final season stretch. You can listen to that game on 89.5 FM WSOU, your flagship station for Seton Hall women's basketball.
Michael Stamm can be reached at michael.stamm@student.shu.edu