Preview: No. 20 Seton Hall Pirates Start Two-Game Road Trip at DePaul
Date: January 12, 2022
By: Joe Cammarota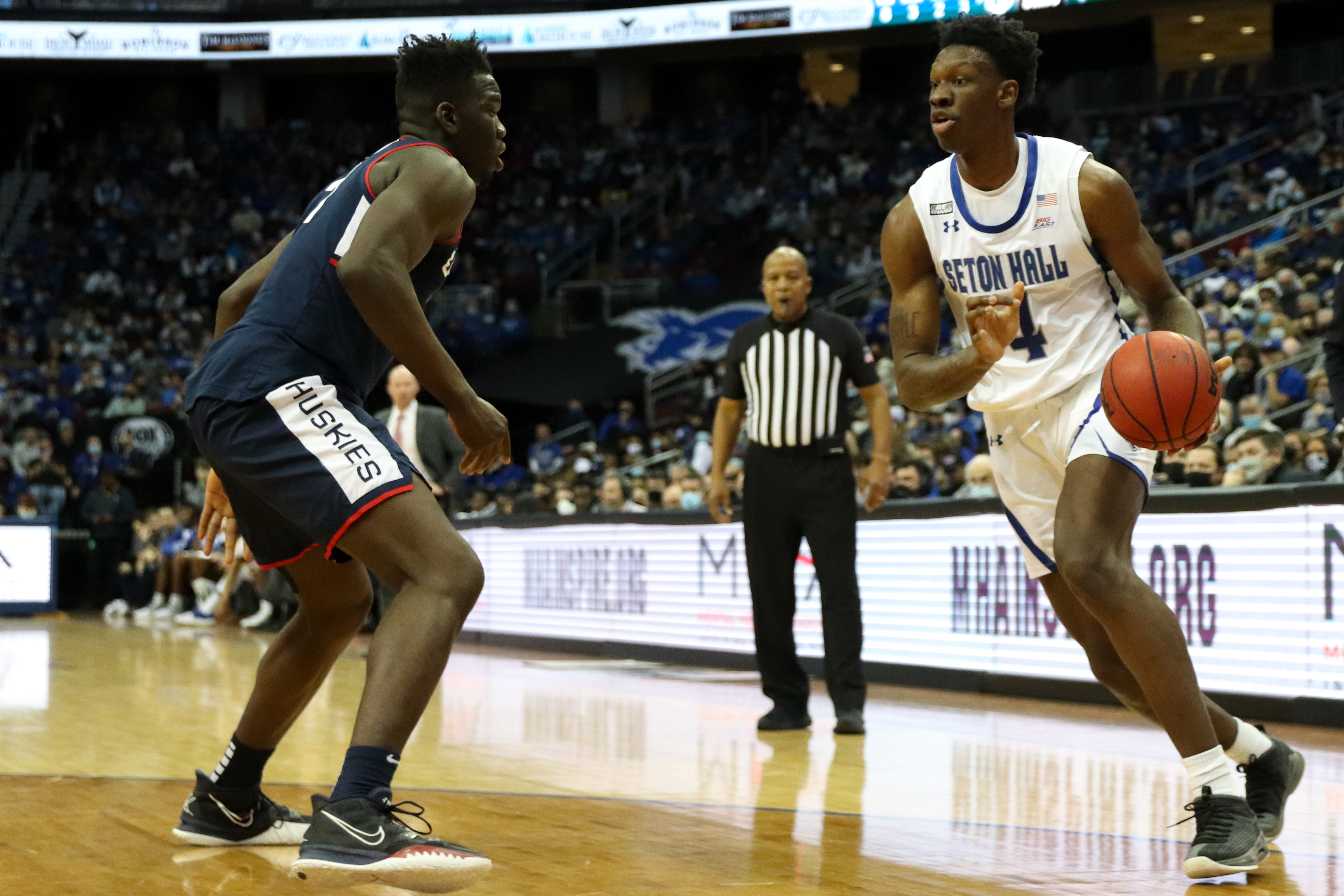 Kayla Fonseca/WSOU Sports
The No. 20 Seton Hall men's basketball team (11-3, 2-2 conference) travels to Chicago on Thursday evening to take on the DePaul Blue Demons (9-6, 0-5 conference) in a make-up game from Dec. 23.
The Pirates will look to put a three-game win streak together, while DePaul is looking to get their first win in the Big East.
Up 4 spots this week #HALLin ⚪️ pic.twitter.com/qL3zofL2Ip

— Seton Hall Men's Basketball (@SetonHallMBB) January 10, 2022
For Seton Hall, they have been led this season by their senior forward, Jared Rhoden. Not only has Rhoden taken up a leadership role that is clearly seen when the Pirates are playing, but also he has been great with the ball in his hands on offense.
Rhoden has a silky-smooth mid-range game that has helped him lead the Pirates in scoring with 16 points-per-game. In addition to his contribution on the offensive side of the ball, Rhoden provides support on both the glass and in the lanes. Rhoden is also averaging 7.1 rebounds-per-game and has 19 steals on the season.
A big time steal for a big time win #HALLin ⚪️ pic.twitter.com/EIxr1eheBD

— Seton Hall Men's Basketball (@SetonHallMBB) January 10, 2022
Seton Hall isn't a one-man team, as graduate senior Bryce Aiken has had a great bounce back season for the Pirates after struggling with injuries throughout last year. Aiken is the guy Seton Hall goes to in end of game situations, as he is a pure scorer.
On the season, Aiken is averaging 12.9 points-per-game. Aiken is also pretty good from the behind-the-arc as he is shooting the three at the second highest clip on Seton Hall at 32%.
Finally, after just returning from COVID protocols, junior Tyrese Samuel has had a breakout season and is a player to watch. Playing either at the four or five, the stretch big has seen his scoring numbers balloon.
This season, the Canadian forward is the third highest scorer on the Pirates, averaging 10.5 points-per-game. In addition to being helpful on the offensive side of the ball, Samuel is second on the team in blocks with 15. The Canadian big man is also good on the glass, grabbing 6.9 rebounds-per-contest.
BA's got five dimes and Reesey's up to seven points early!#HALLin ⚪️ pic.twitter.com/8JL8nHT4gH

— Seton Hall Men's Basketball (@SetonHallMBB) January 8, 2022
Looking at the Blue Demons, DePaul is led by senior guard, Javon Freeman-Liberty. The guard grew up in Chicago and has helped his hometown college get out to a 9-6 record.
If the Blue Demons are to turn their season around, it is going to be because of how well Freeman-Liberty is playing. So far, the guard is averaging 21.4 points-per-game, 7.6 rebounds-per-game and is shooting at a 44% clip from the field.
Just last game, Freeman-Liberty had a double-double in a losing efforts against Marquette, as he pitched in 24 of DePaul's 76 points and grabbed 10 rebounds.
Javon with the tough finish on the run

Back-and-forth we go at Fiserv! #BlueGrit pic.twitter.com/UktSgAs4Ka

— DePaul Basketball (@DePaulHoops) January 12, 2022
In addition to Freeman-Liberty, sophomore forward David Jones has shown promise in helping DePaul turn their season around. Jones is averaging 15.4 points and 7.2 rebounds-per-night.
" . . ."

Ladies and gentlemen, @CoachTStubbs is bringing a new attitude to @DePaulHoops. #BIGEASThoops pic.twitter.com/zdlW0PeOoT

— BIG EAST MBB (@BIGEASTMBB) January 12, 2022
Standing at 6-foot-6, either Rhoden or Myles Cale will draw the matchup against Jones. It will be important for the Pirates to make sure Jones does not get comfortable on offense and to limit a bulk of DePaul's scoring to mostly coming from Freeman-Liberty.
Make sure you tune into 89.5 FM WSOU at 5 p.m. for the game, as Joe Matthews and Heaven Hill will be on the call from the Wintrust Arena.
Joe Cammarota can be reached at joseph.cammarota@student.shu.edu.