Dynamic Duo of the Backcourt
Date: May 23, 2021
By: Michael Daly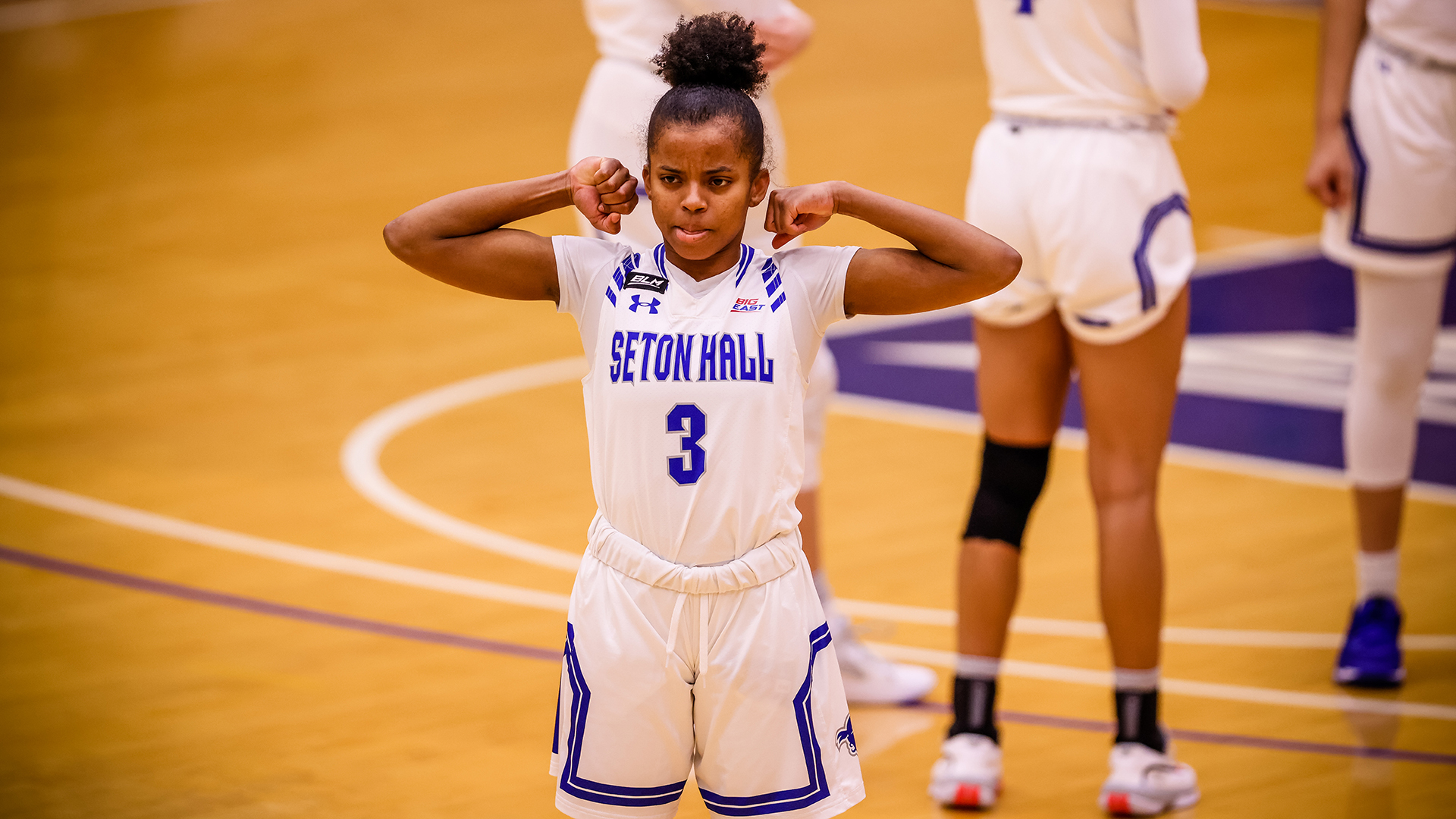 Seton Hall Athletics
Seton Hall women's basketball will have one of the most experienced backcourts in the entire country for the 2021-2022 season. When Lauren Park-Lane and Mya Jackson grace the hardwood for their junior years, they will be hungry to show the nation that they deserve more recognition.
The Pirates are coming off of an impressive season that had them on the cusp of their first NCAA Tournament appearance in five years. Unfortunately, Seton Hall did not play in a postseason tournament beyond the Big East Tournament in Uncasville, Conn. One major reason why Seton Hall played so well last season was because of their guard play. Park-Lane and Jackson were not the only key contributors in their rotation of guards; however, Seton Hall had several players that could play as a guard and forward.
Jackson and Park-Lane are pure guards that work well with the ball in their hands, as well as moving without the ball. Big East opponents saw glimpses of what it is like to defend Jackson and Park-Lane at the same time in the 2019-2020 campaign, but this past season was the real showcase for these two. Both juniors finished in the top four in team scoring.
🏆 After jumping from 6.7 ppg her rookie season to 17.4 ppg this year, @SHUWBB's Lauren Park-Lane wins #BIGEASTwbb Most Improved Player! pic.twitter.com/y3JVI1iRjk

— BIG EAST WBB (@BIGEASTWBB) March 4, 2021
Park-Lane finished second on the team in scoring with 17.5 points-per-game, while Jackson averaged 10.6 points-per-game through 21 contests. It is worthy of note that Park-Lane missed several games with an injury, but she was still a factor when she returned at the end of the season. Both guards made significant advances in their performances, and it showed as their scoring averages increased steadily.
The 2020-2021 season was the best season so far for Park-Lane, as she received several Big East honors. She also had the game of her life against UConn in December with 29 points and six assists. Along the same lines for Jackson, she had four games with 20 or more points scored. Jackson and Park-Lane are electric scorers and can take any game over.
PIRATES WIN!!

Sophomore Mya Jackson scored a career-high 27 points and The Hall shot 59.0% from the floor to improve to 2-0.#HALLin 🏀🏴‍☠️🏀 pic.twitter.com/VkA8vB6SJY

— Seton Hall Women's Basketball (@SHUWBB) December 12, 2020
Seton Hall has a loaded roster for the upcoming season and these two juniors will be relied upon even more than they were last season. With Park-Lane's speed and Jackson's shooting, these two will be a tough matchup for any opponent. Seton Hall will have a loaded roster for the approaching season, and it will be an entertaining season for the Pirates.
Michael Daly can be reached at michael.daly@student.shu.edu.
Posted in: Sports, Women's Basketball