WSOU's Fall Concert Series Set to Rock New York City
Date: August 29, 2018
South Orange, N.J. – Move over "rocktober."  WSOU 89.5 FM's "Rotten Apple Fest" concert series will keep New York City headbanging from September through December.  The concert series will feature established and rising heavy metal and hard rock bands, including Clutch, GWAR, Beartooth, Blessthefall, August Burns Red, and more.  The eleven concerts in the series will be held at venues throughout New York City, including Irving Plaza in Manhattan, Brooklyn's Warsaw Hall, and the Knockdown Center in Queens.
"WSOU is excited to be offering this fall concert series for our loyal listeners throughout the tristate area," said Promotions Director Natalie Linares. "What is special about Rotten Apple Fest is that it takes WSOU's signature sound beyond Manhattan into Brooklyn and Queens as well.  This is a great way for both the station and the bands to connect with fans."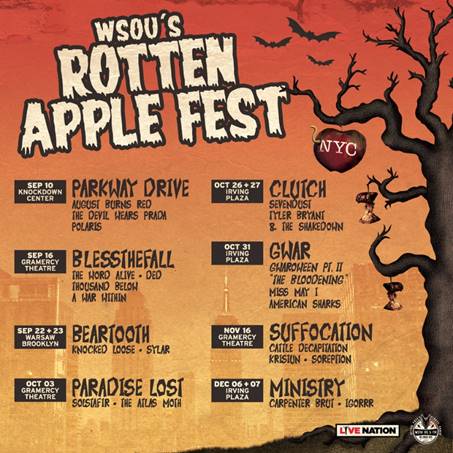 Rotten Apple Fest features bands that are favorites among listeners to the heritage loud rock station. The first show takes place on Sept. 10 with Parkway Drive performing at the Knockdown Center in Queens, N.Y.  The Knockdown Center is a unique art center and performance space in a 100-year old factory building.  Ten more shows will occur around New York City through Dec. 7.  The complete concert series is as follows:
·  Sept. 10, 2018 - Parkway Drive with August Burns Red, The Devil Wears Prada and Polaris at the Knockdown Center in Queens, N.Y.
·  Sept, 16, 2018 – Blessthefall with The Word Alive, DED, A War Within, and Thousand Below at the Gramercy Theater in New York, N.Y.
·  Sept. 22 & 23, 2018 – Beartooth with Knocked Loose and Sylar at the Warsaw in Brooklyn, N.Y.
·  Oct. 10, 2018 - Paradise Lost with Solstafir and The Atlas Moth at the Gramercy Theatre in New York, N.Y.
·  Oct. 26 & 27, 2018 – Clutch with Sevendust and Tyler Bryani & The Shakedown at Irving Plaza, New York, N.Y.
·  Oct. 31, 2018 – It's Gwaroween Part II with GWAR, Miss May I and American Sharks at Irving Plaza, New York, N.Y.
·  Nov. 16, 2018 – Suffocation with Cattle Decapitation, Krisiun and Soreption at the Gramercy Theatre, New York, N.Y.
·  Dec. 6 & 7, 2018 – Ministry with Carpenter Brut and Igorrr at Irving Plaza, New York, N.Y.
More information about WSOU's Rotten Apple Fest concert series can be found on WSOU's Facebook page at www.facebook.com/WSOUFM. Tickets may be purchased at https://bit.ly/2Ln6dla. 
Posted in: Metal, WSOU Exclusive, WSOU