WSOU-FM Collects Clothes For The Pine Ridge Indian Reservation
Date: June 11, 2018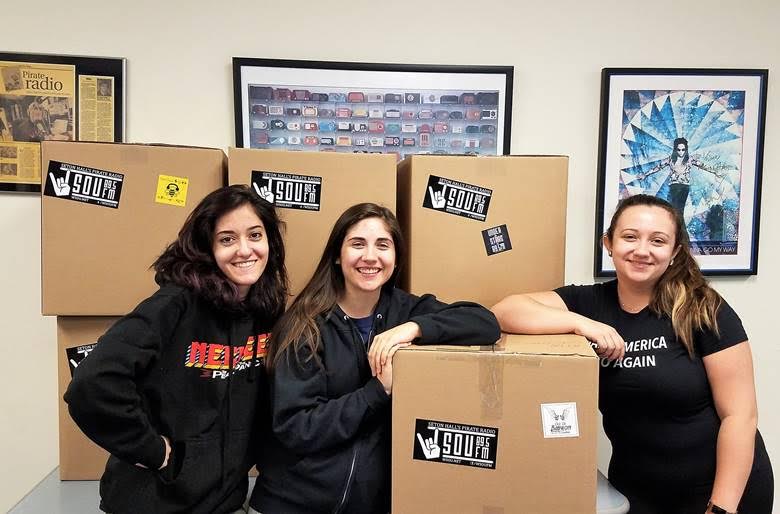 (Left to Right): WSOU Promotions Director Natalie Linares, DJ Jocelyn Rogalo, and Station Manager Alicia Campos helped pack seven boxes of clothes collected by WSOU for distribution on the Pine Ridge Indian Reservation in South Dakota.
South Orange, N.J. – As part of the station's ongoing commitment to community service, the students at Seton Hall University's WSOU-FM just completed a clothing drive for the Our Lady of the Sioux Church on the Pine Ridge Indian Reservation in South Dakota. The clothing will benefit members of the Oglala Lakota community, as well as others on the reservation. The student managers of WSOU collected enough donations to ship seven large boxes of clothing and shoes to Sister Barbara Bogenschutz, the church's parish life coordinator, who will facilitate distribution.
"From our annual food drive for the Community Foodbank of New Jersey to collecting supplies for area schools to this clothing drive, the students at WSOU understand the importance of giving back," said WSOU General Manager Mark Maben. "Servant leadership is a core Seton Hall value and one of the things students learn at our station is that radio is about more than entertainment, it's about community service as well."
WSOU's relationship with the Our Lady of the Sioux Church began in 2014, after a staff member participated in a university-organized mission trip to the Pine Ridge Indian Reservation. Seeing a basic necessity that the station could provide, the student suggested that some WSOU T-shirts be donated to the church for distribution to those in need. Since then, the amount and variety of clothing collected by students has grown steadily.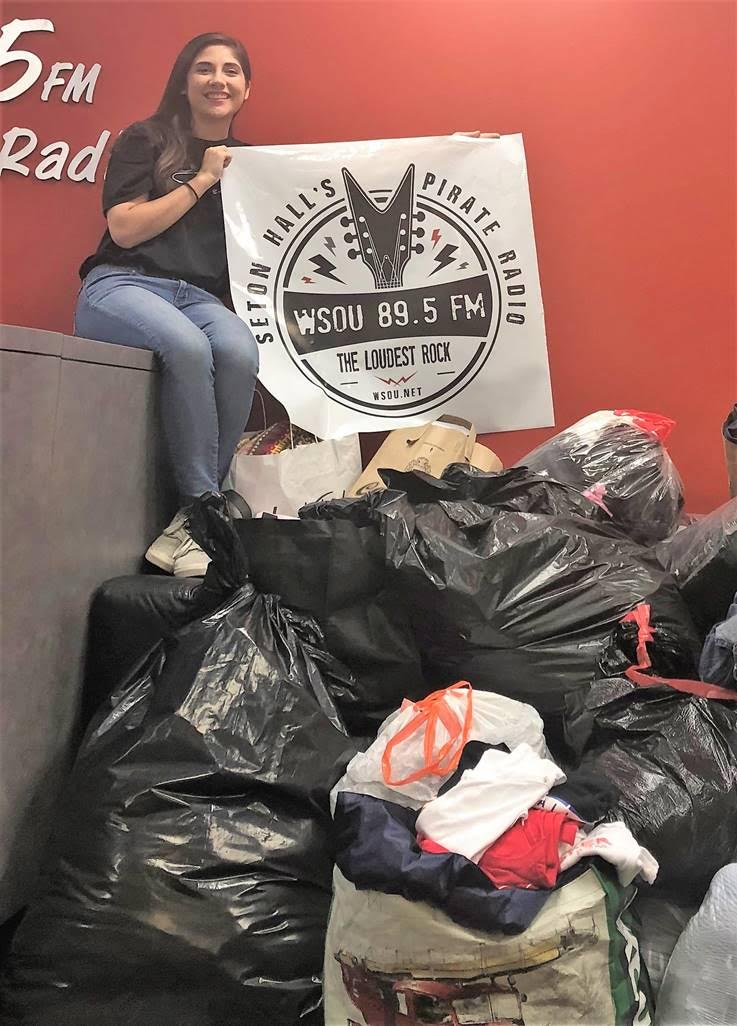 Jocelyn Rogalo, co-host of Sunny Side Up, with some of the clothing donations collected by the students of WSOU.
WSOU 89.5 FM, which began broadcasting in 1948, is the student-run radio station of Seton Hall University. Celebrated for its loud rock format and coverage of Seton Hall athletics, WSOU's signal reaches all five boroughs of New York City and much of northern and central New Jersey and is available on iHeartRadio. WSOU was the 2016 winner of the National Broadcasters Association's Marconi Award for Noncommercial Station of the Year. More information about the station can be found online at www.wsou.net and www.facebook.com/WSOUFM.
Posted in: WSOU