Show Review: Carnifex, Revocation, DevilDriver and Whitechapel at Stage 48
Date: June 15, 2014
Every year the summer is always one of my favorite times of the year for concerts. It is time for festivals and giant tours. This year's summer began for me with the monstrous lineup of DevilDriver, Whitechapel, Carnifex, Revocation, Rivers of Nihil, and Fit for an Autopsy.This concert was also my first time at Stage 48. After walking into the main floor of the venue it is a fairly small venue but can still fit a good amount of people. The show was heavy right from the beginning with Fit for an Autopsy taking the stage first. This was the first time I saw them with their new signer Greg Wilburn from his old band The Devastated. The first few songs had some PA troubles but as the set went on they sounded amazing. They mixed up songs off their two albums nicely which was good for an old fan like me. My favorite song they played was "The Jackal".
After FFAA was Rivers of Nihil, a fairly new band who put out their debut album, The Conscious Seed of Light, on Metal Blade Records. They were the only band going into the concert I had never seen; I missed them the first time I was supposed to see them a few months ago at the New England Metal and Hardcore Fest. I was very excited and the only reason I was disappointed was that they weren't allowed more songs to play. My favorite song they played was "Mechanical Trees".
Up next was Revocation who in my opinion is one of the more underrated bands in metal today. David Davidson not only is an amazing guitarist but his vocal range is very impressive. When you combine the two together it is very mind blowing, especially seeing him live. This was my third time seeing them and definitely won't be my last. After opening up with a couple songs off their latest 2013 self-titled release they played a new song titled "Madness Opus" which Davidson described as "one of the heaviest songs they've ever written" and it was heavy indeed. The best part of their set was during "Invidious" an actual banjo player came on stage to play the banjo bridge at the beginning the song. This made my day because the last time I saw them this didn't happen. My favorite song of the night was "Dismantle the Dictator" and I don't care if it is one of their most popular songs, the guitar work and chemistry is phenomenal live.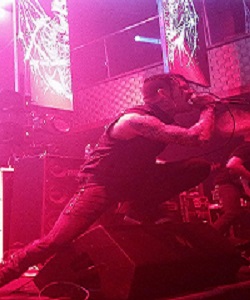 Before the two headliners came on stage was the perfect band to set the mood for them, Carnifex. This was my second time seeing Carnifex and unfortunately both times have come this year since they got back together but I am not complaining. They played the same setlist that I saw them play the first time which was heavily dominant off their 2014 release Die Without Hope. This album has been one of my favorites of this year so far which made me happy to see a good amount of songs off it but there's nothing I enjoy more than old Carnifex. The highlight of their set came during "Lie To My Face" during its crushing breakdown I was in the pit and got kicked in the knuckle messing me up for the night. There's nothing better than leaving a show with battle wounds. My favorite song of the night was "Lie To My Face" regardless of my hand injury, "Hatred and Slaughter" was a close second.
After Carnifex it was time for the first of the two co-headliners, Whitechapel. I might be wrong but this show was around the 10th time I have seen Whitechapel and they have never disappointed. As soon as they came on stage they meant business and were on a mission. They hardly stopped in between songs which I didn't mind because the transitions were very well done. Not only that, but Phil Bozeman's vocals get more guttural every time it is mind blowing. Their setlist was a heavily dominate off their new 2014 release Our Endless War and the 2012 self-titled release but they still managed to play two songs off The Somatic Defilement and "Possession". I was upset however that nothing was played off A New Era Of Corruption, it's become a very overlooked album. Surprisingly, this was my first time seeing Whitechapel that they did not play "This Is Exile", their go-to wall of death song. That did not stop them though as the wall of death still made its appearance during the set. I have been watching Whitechapel grow and mature as a band for years now and while some of their latest release had to take time to grow on me I love the direction they are going in. My favorite song of the night by them was "Prostatic Fluid Asphyxiation".
Finally it was time for the main event of the night, DevilDriver! This was my fourth time seeing them and in the past half year or so alone, and my third time after seeing them twice on the Trivium tour they did recently. Right from the beginning the energy was electrifying as they opened up with "End of the Line". As a whole their setlist was very similar, if not almost identical to their setlist on the previous tour but I did not mind too much. As always Dez Fafara sounded awesome with one of the most metal microphones in the world. If you haven't seen it you must, it glows neon green and he holds it just like an old school wrestling or boxing ring announcer. Unfortunately due to train troubles I had to leave the show before DevilDriver got off stage, but from what I got to see they absolutely killed it. My favorite song of the night and easily one of my favorite songs by them was "Not All Who Wonder Are Lost".
As a whole, even with the hand injury, I had such a fun time at the concert and cannot wait to see another show at Stage 48 I was very impressed with the venue.If I had to pick, my favorite band of the night was probably Revocation. This band has one of the brightest futures in all of metal in my opinion and I need their new album already!
Posted in: Metal, WSOU, WSOU Exclusive, Show Review