Pirates Use Nine Aces To Topple Georgetown For Second Straight Win
Date: October 4, 2017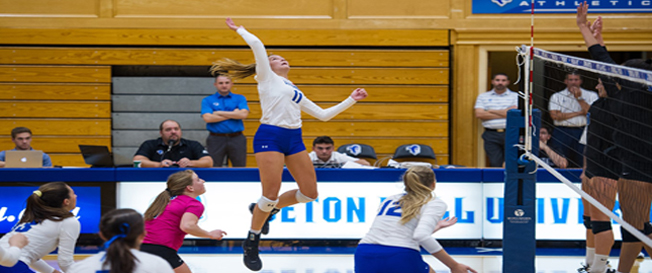 Photo Via SHU Athletics
By: Tim Best
The Seton Hall volleyball team picked up a well-needed win at home on Wednesday, defeating the visiting Georgetown Hoyas in four sets in the friendly confines of Walsh Gym.
Abby Thelen led the way for The Hall with 18 kills and only committing one attack error. Dominique Mason added 14 kills while setters Sophia Coffey and Maggie Cvelbar each tallied 20 assists.
In the opening set, the Pirates took advantage of five aces to take it 25-18. Two of these aces came courtesy of freshman Elizabeth Sottung, who had only played in two sets this season prior to Wednesday. The Westfield, N.J. native was playing in place of Miranda Higginbotham, who was kept out of action (Illness). Coach Allison Yaeger was impressed with the way that her freshman stepped up in such a tight spot.
"We had to look to one of our freshman to step up and she did," Yaeger said. "To step in as a freshman in a crucial Big East match, she did a great job."
The Pirates finished with a season-high nine service aces.
Georgetown answered strongly in the second set, winning it 25-17 to even the match at one set a piece. Symone Speech and Alyssa Sinnette paced the Hoyas in that set and the defense stifled the Pirates' offensive attack. Coming out of the locker room, Thelen and the rest of her teammates sensed how crucial it was to win the third set to take back momentum in the match.
"Our serve-receive game really broke down during that second set," Thelen said. "It was really important to pick it back up again in the third and fourth sets."
As great as the hitters were in the third and fourth sets, Yaeger credited the setters for their success in those sets.
"A lot of times, the setters don't get enough credit," Yaeger said. "We obviously have players who can put the ball away for us, but they need a good set for them to do that. They did a great job distributing the ball tonight."
The Pirates won the third set 25-21 and rolled in the following set 25-16 to secure the win and get them over .500 in Big East play for the first time this season.
They will now turn their attention to a big road trip this weekend as they will visit Xavier and Butler, who are both currently 2-3 in conference play. The first match of this trip will be on Friday against Xavier at the Cintas Center at 7 p.m.
Tim Best can be reached at timothy.best@student.shu.edu or on Twitter @TheRealTimmyIce
Posted in: Sports, Volleyball, WSOU