Two veterans on the day the ball stopped bouncing
Date: March 24, 2020
By: Dalton Allison
"This shit is real." A man who normally professes his thoughts without the need to use profanity, Bob Ley summed up the global consciousness.
The global effect of the COVID-19 pandemic has not failed to crack into what most Americans feel to be an unalienable right to consume: sports. In addition to throwing our nation's healthcare industry into crisis mode, wreaking havoc on the economy, and endangering small businesses from state to state, the disease has put a complete halt to professional sporting events.
Across the globe, be it soccer to basketball, nothing is being dribbled, dunked, or scored on the professional level. So, what does that mean for fans who are accustomed to consuming sports on a daily basis, and even more so, the networks who provide the medium to consume these sports?
It means different things for the various networks that are typically supplying coverage of March Madness basketball and NFL Free Agency this time of year. For CBS, it means showing games from past tournaments to try to quench the thirst of a basketball-thirsty nation. For ESPN, it is coming up with creative content from their expansive library, such as the temporary rebranding of ESPN 2 as ESPN 8: The Ocho. For FS1, it means live streaming NASCAR iRacing events with actual NASCAR drivers behind the virtual wheel.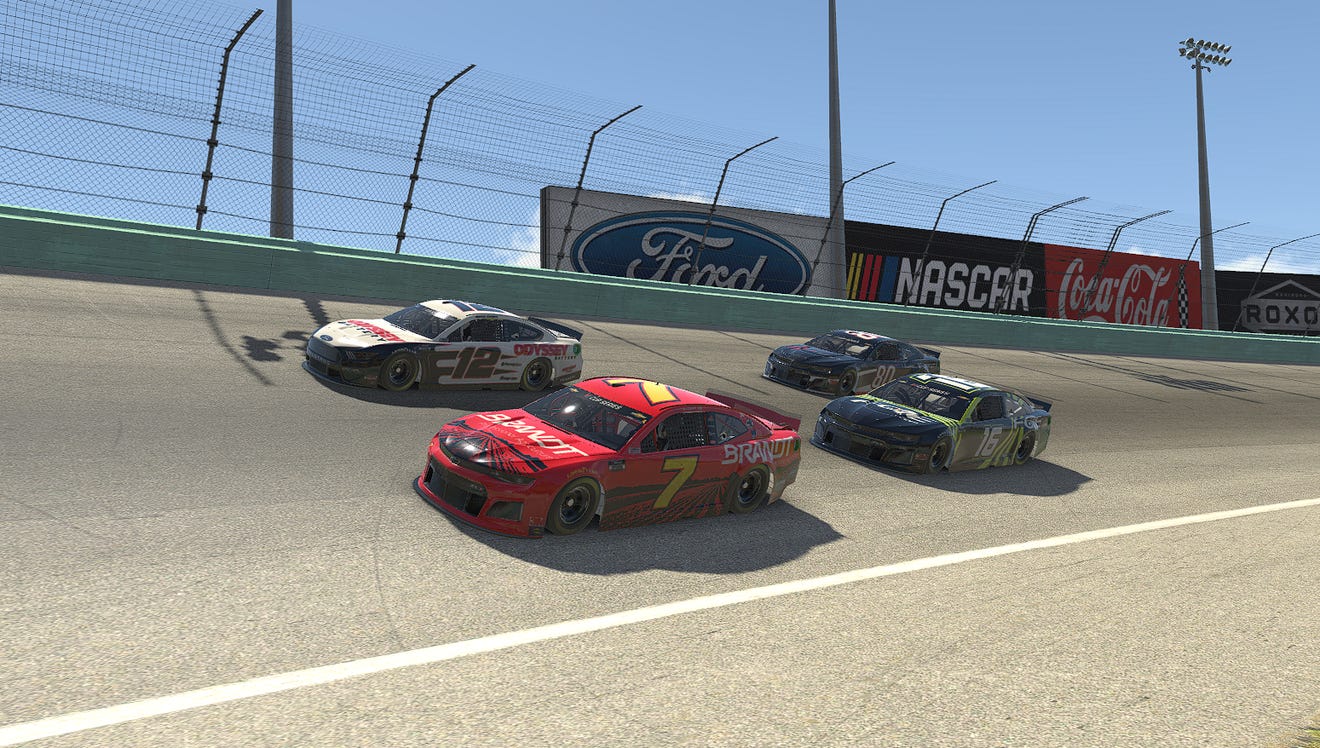 An image from a NASCAR iRacing event. Credit: NASCAR
"It is a slow moving 9/11," Ley told me on Monday when speaking about the crisis. "There is a lot of diversion going on. I think that there is a boom market in nostalgia stuff. Places with a dense library can go into that."
Bob Picozzi, who spent 13 seasons doing local television play-by-play of UCONN women's basketball, realizes the struggle that the networks are currently working through to get content on the air. "You have to feed the monster; something has to be on the air. They're in a bind, and somethings will draw more eyeballs than others."
Beyond sports networks struggling to provide content to air that remains fresh, the athletes who perform in front of the camera are facing a scenario that had most likely not even crossed their consciousness, yet is now providing them with an unprecedented problem in their hands. How can I be a professional athlete with no professional athletics in the foreseeable future?
This problem looms even larger on Olympians, who saw their 2020 Tokyo Summer games postponed until at least 2021. This has ramifications for so many who are involved: from athletes who perform in low-revenue sports, to freelance sports media members who were contracted to work the games, to aging superstar athletes such as Sue Bird.
"Think of the people who made a commitment to be involved with their country to the 2020 Olympics for their country." Picozzi lamented. "Bird will be turning 40, and you're asking her to extend her career for another year."
If Bird were to compete in the now 2021 games, her and fellow WNBA star Diana Taurasi would be vying to become the first ever basketball players to win five Olympic gold medals.
Despite the rest of the world sending a lot of distress signals that COVID-19 was a severe problem, it took a while for the exact severity to sink in with the sports world. A seminal moment in which the virus and the sports world will forever be interlocked is Rudy Gobert's now infamous press conference where he touched the microphones of the reporters stationed in front of him. Days later, Gobert tested positive for the virus along with teammate Donovan Mitchell. Gobert was lambasted for his handling of the situation, but Ley argues that there were positives to be taken from the situation.
"The positive is that sports are so visually important that it took his test to wake a hell of a lot of people up."
And his test did exactly that. By the end of the week, it seemed all professional sports had ceased to operate. Both Ley and Picozzi were adamant however that sports is only a small margin of the world that is being affected.
"The least concern will be who is broadcasting NFC Football on Sundays. These questions will become prosaic as sports is part of a larger social mosaic." Ley told me.
While there is nothing to report on in terms of live game action, both veterans reminded me that there are still stories that need to be told, especially those regarding human interest. Picozzi noted the on going "Senior Night" segment that originated on Scott Van Pelt's version of SportsCenter that has since spread to other renditions of the show.
"It is great because it is interactive, and an awful lot of people play sports in this country, so just think of all the seniors that were impacted by this."
They also reminded me that there are certainly ways to keep busy during the pandemic. For Ley, it came in the form of providing commentary to a restream of Snow Classico, which saw the U.S Men's Soccer team take on Costa Rica in a qualifying match for the 2014 FIFA World Cup. The U.S came out victorious in Denver that day 1-0, on a field blanketed in Rocky Mountain snow, thanks to a goal off of the foot of Clint Dempsey.
Picozzi is staying busy in a way completely separate from sports, and indulging himself in some quality Netflix time.
"For now, we [Picozzi and his wife] are working our way through The West Wing. We're 22 episodes in, so that leaves 134 episodes to go."
Dalton Allison is the Sports Director at 89.5 FM WSOU, and can be reached at dalton.allison@student.shu.edu.