Trevor Lawrence: a budding football superstar
Date: September 16, 2020
By: Jimmy Bliss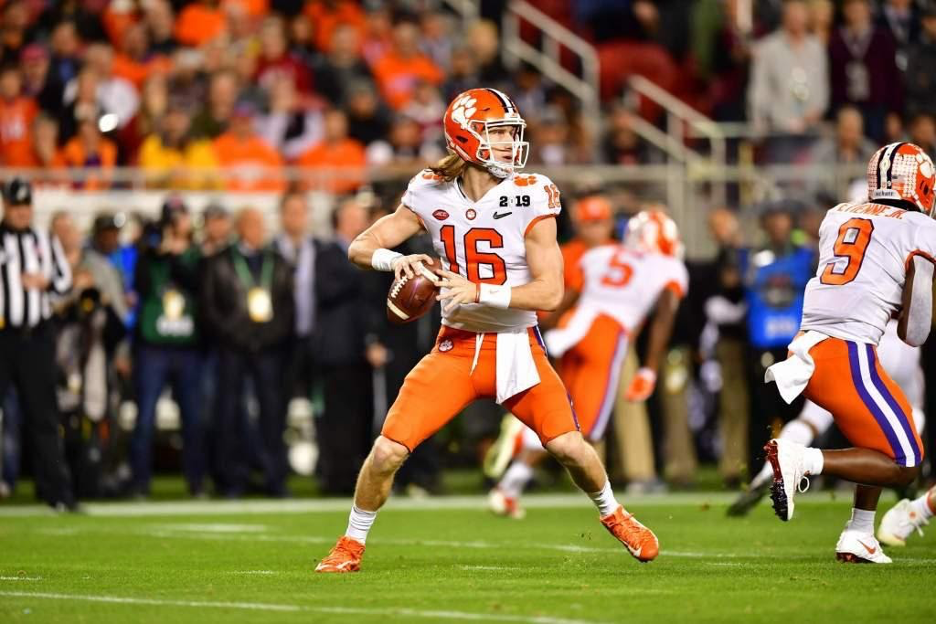 Clemson Athletics
Tom Brady, Mike Trout, and LeBron James are household names in American sports. But in 15 years, a new name will enter the discussion as the best player in their sport. This young man has been making headlines since he was in high school and hasn't skipped a beat in college.
Ever since his first collegiate game, NFL scouts have been head-over-heels for him. Presumably the No. 1 pick in the 2021 NFL Draft, Clemson QB Trevor Lawrence is the NFL's next big thing. If you were to create your perfect NFL quarterback, hand selecting his size, arm talent, athleticism, pocket presence and leadership, you would end up with Lawrence. Standing at 6-foot-6-inches tall and weighing 220-pounds, Lawrence has the ideal body to dominate the NFL for the next decade. This is the ideal size for the NFL because he is tall enough to see over the mammoth NFL offensive linemen but isn't too tall that he's an easy target for defensive players.
His throwing motion will also be of the ideal time frame, as the longer the arm of the quarterback, the longer wind up time and the longer the release. His arm strength is second to none, as he can throw the ball 50 yards down the field and make it look easy. He knows exactly how to throw each pass, whether it needs to have a soft touch to allow receivers to run underneath it, or if he needs to riffle the ball into tight coverage to move the chains.
If you ever question Lawrence's athleticism, all you need to do is watch the Clemson vs Ohio State game in the 2020 College Football Playoff. He ran circles around the Buckeyes' defense, as he ran the ball on 16 occasions for 107 yards and scored one touchdown. One of the most important plays of the game occurred with just over one minute to play in the second quarter, as Clemson's star quarterback ran for a 67-yard score. That moment sent shockwaves around the college football world. Ohio State did everything they could to slow down his passing, but just when you think you've gotten the best of Lawrence, he pulls another trick out of the bag.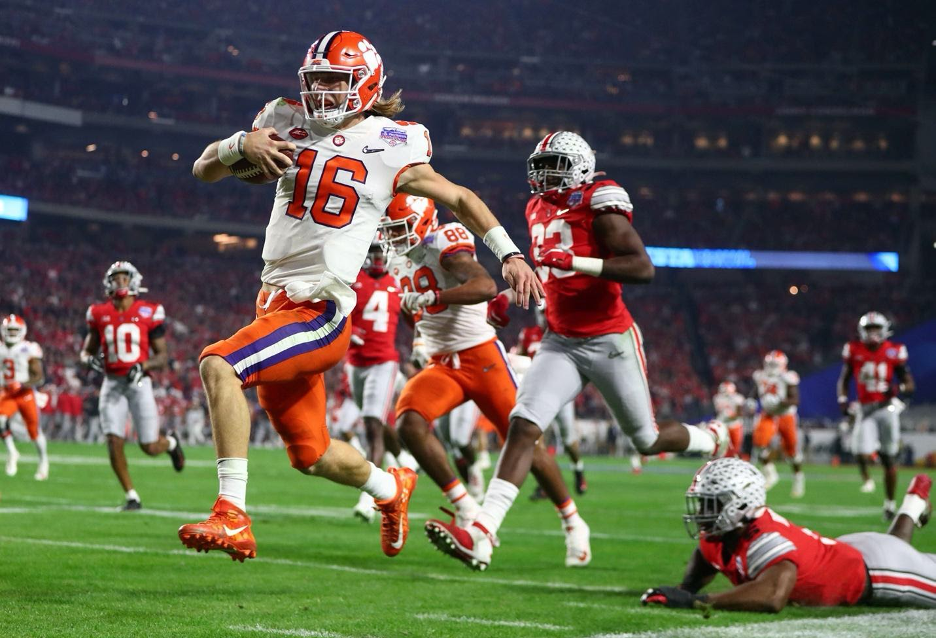 Mark J Rebilas/USA TODAY Sports
Lawrence's pocket presence is arguably his greatest quality. He has an internal clock that is unteachable, especially to 20-year-old college kids. He knows that if he doesn't get the ball out of his hands within three seconds, he's going to get sacked, so he either tucks it and runs, or he keeps his eyes downfield and delivers a dime to one of his teammates. He also has elite awareness in the pocket, knowing when the step forward, backward, or to either side, buying him enough time until one of his targets creates separation.
Lawrence's leadership has been on full display in 2020. In a year heavily influenced by politics, after a number of police brutality incidents, Lawrence has once again dazzled the public with his maturity. He has educated himself with the intentions of the Black Lives Matter movement and made strides in uniting both sides of the issue.
"I've learned that every truly good thing in life comes from being brave and stepping into the uncomfortable," Lawrence said at a Black Lives Matter Rally at Clemson University. He went on to say "It's uncomfortable to set aside everything I know about America and listen to someone else's perspective. However, it's necessary. Recently I've realized that the America I experience is different from the America that my brothers and sisters experience… If there's anything I can do to help, or to bring light to the situation, then I will."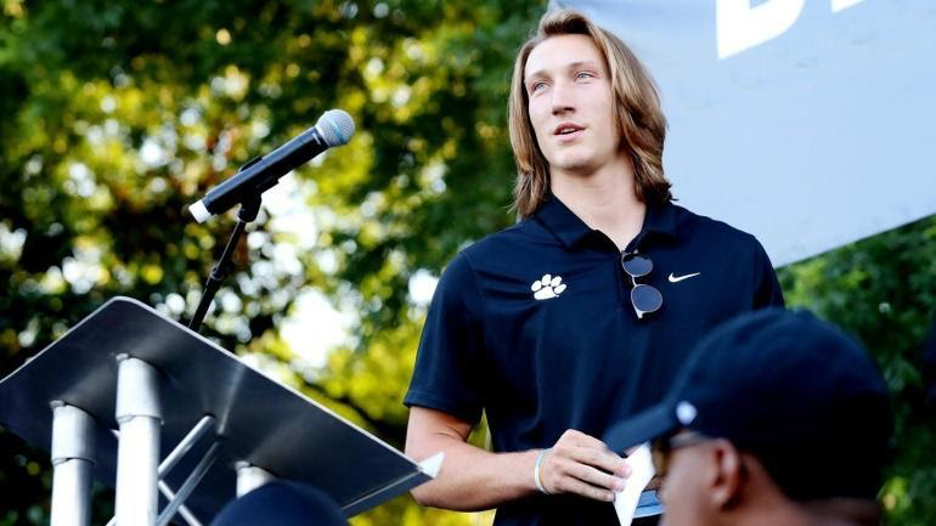 Getty Images
Lawrence realizes he must do everything in his power to raise awareness to social injustice in America. He may not experience what millions of African Americans experience on a daily basis, but he acknowledges the fact that what is happening cannot be ignored.
On the gridiron, Lawrence has proven game in and game out to be a leader. On both sides of the ball, Lawrence is integral to the Tigers success. With the offense, Lawrence is not hesitant to talk to a young wide receiver, or an experienced one, and clear up any uncertainty. You will often see Lawrence go over to one of his teammates and correct them on their route running. He is patient with his teammates, but tough on them when he needs to be.
As for the defense, he is always present in what they're doing on the field. If they make a big play, Lawrence is the first to run over to them and let them know about it. If they give up a big play, or give up points, he will be right there to encourage them, pick them up when they're down, and give them the "I got this" look.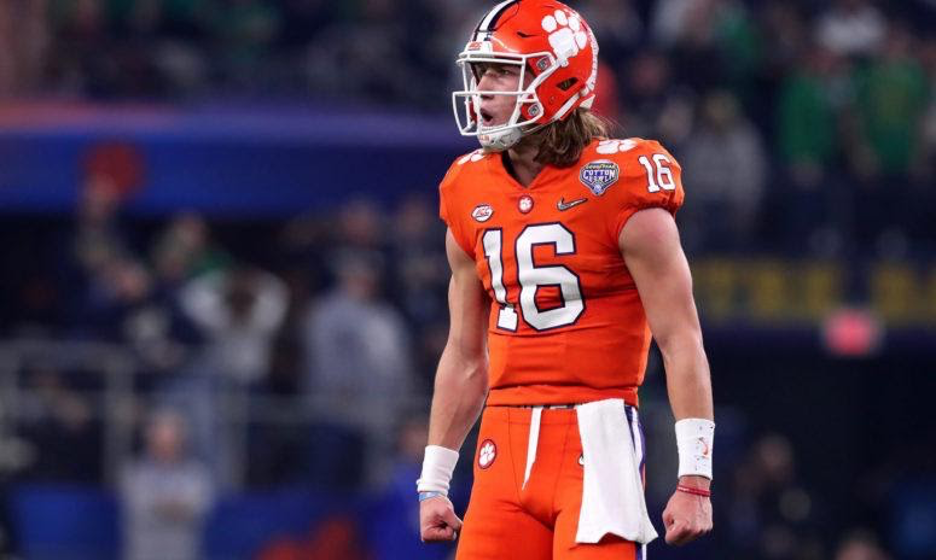 Tom Pennington/Getty Images
Racking up 6,945 passing yards along with 66 touchdowns, against only 12 interceptions, Lawrence's first 2 seasons of college football have been nothing short of sensational. Add an additional 740 yards rushing and 10 touchdowns to the already impressive passing statistics, and we very well might be watching the greatest college football player of our lives. Now under year three in Dabo Swinney's offensive system, his numbers will only improve from here on out. But Lawrence's success on the collegiate football field isn't a huge surprise, as it can also traced back to his high school days in Cartersville, Ga.
A four-year starter for the Cartersville Purple Hurricanes, Lawrence rewrote the record book for high school quarterbacks. He shattered a numerous amount of records that were set by modern-day Houston Texans QB DeShaun Watson, including passing yards and passing touchdowns. Following his senior year, 247sports, a scouting website for high school football players, ranked Lawrence as the No. 1 football prospect in America. Not only this, but they ranked him as the sixth greatest high school football prospect in the history of college football.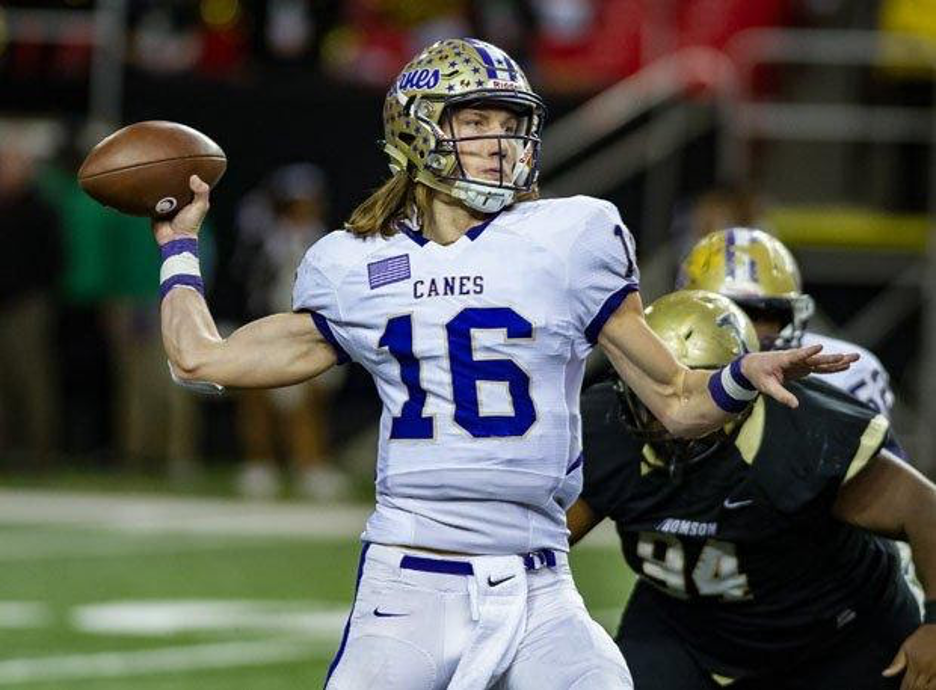 Will Fagan
His dominant showing in the Elite 11 QB camp cemented his spot as the best QB in the country, and as the second best QB prospect of all time, only behind Vince Young. Lawrence has the tangibles and intangibles to dominate the NFL for years to come. On every snap of every game, Lawrence proves his worth as the best college quarterback in the country. Losing only one game so far in his college career, which came in the 2020 National Championship game against LSU, he has displayed to the American public that he is a born winner.
The cool, calm and collected personality that Lawrence possesses is contagious, and gives the Clemson football team the utmost of confidence. Many scouts have said Lawrence's game reminds them of Peyton Manning's game, as their ability to read the defense and deliver the perfect pass are nearly identical. If Lawrence can keep a level head on his shoulders and not get caught up in the limelight, he may surpass Manning on the list of all-time greats. Although it is not an easy feat, and many may get caught up in the hype, Lawrence possesses everything a legendary quarterback possesses, and very well may end up as the greatest quarterback of all time. Only time will tell.
Jimmy Bliss can be reached at james.bliss@student.shu.edu.